This One Pan Bake Parmesan Chicken and Vegetables is the perfect meal for busy nights - main dish and side dish all cooked on one pan!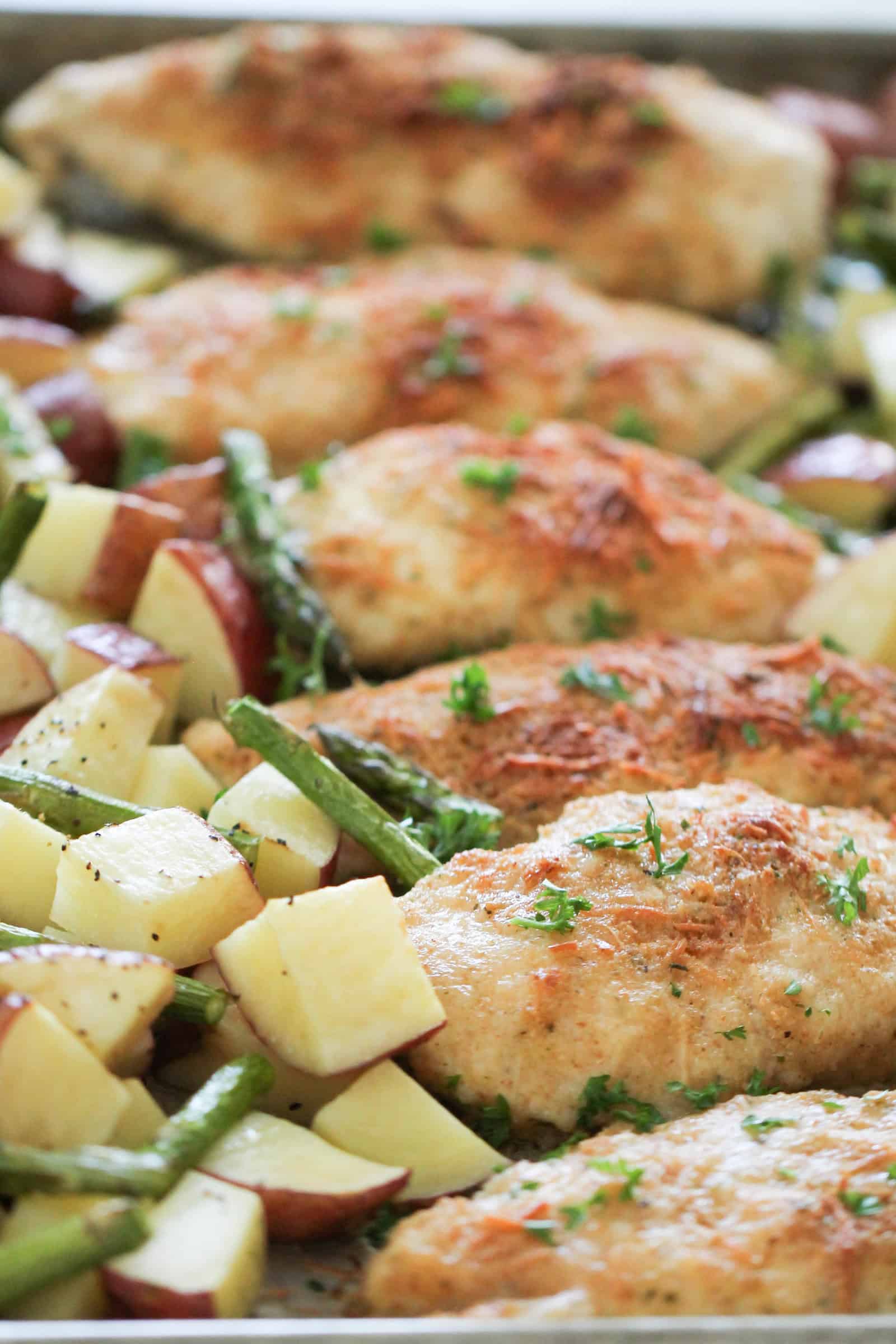 One Pan Baked Parmesan Chicken and Vegetables all cooked together on one baking sheet pan!
The best part about this recipe is the cleanup – I love knowing that there is only one dish to clean.
Ingredients in One Pan Baked Parmesan Chicken:
butter
Italian seasoned bread crumbs
grated Parmesan cheese
garlic powder
boneless skinless chicken breasts
baby red potatoes (diced)
asparagus (cut into bite-sized pieces)
olive oil
Salt and pepper, to taste
fresh parsley
How to make One Pan Baked Parmesan Chicken:
Step 1: Preheat oven to 400 degrees F. I know this may seem hot, but this will help the inside stay juicy while keeping the outside crispy.
Step 2: Spray a cookie baking sheet pan with nonstick cooking spray; set aside. I prefer to use an olive oil based, non-stick cooking spray, but you could really use any.
Step 3: In a shallow dish, melt butter. I did this in my microwave. You could also do this step over the stove, but I prefer a few seconds in the oven, in a microwave safe bowl.
Step 4: In another shallow dish combine breadcrumbs, Parmesan cheese, and garlic powder. This is what you will be dipping your chicken breasts in.
Step 5: Dip chicken into butter and coat in crumb mixture; place in prepared pan.
Step 6: In a large bowl, toss red potatoes and asparagus in olive oil and spread loosely around chicken in pan.
If you are looking for a few other vegetable ideas for this recipe, read our list of substitutions below.
Step 7: Bake for 20 minutes, or until chicken is cooked through and vegetables are tender.
Garnish with fresh parsley, if desired.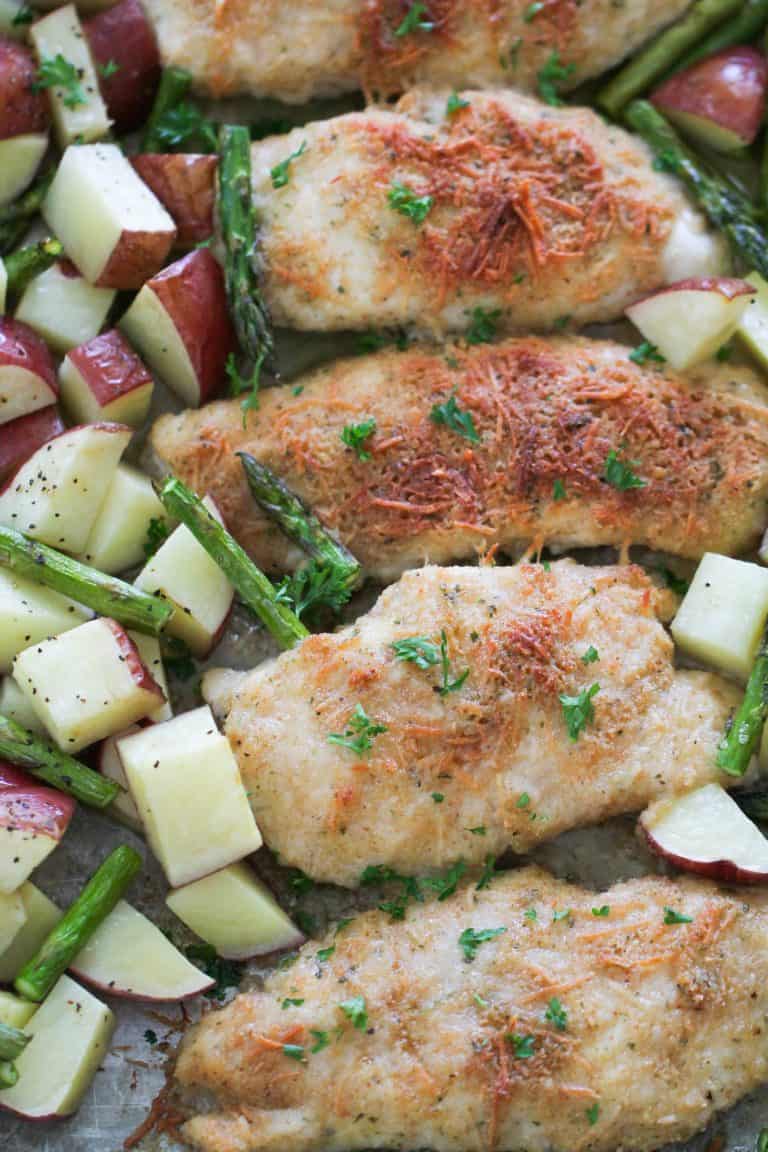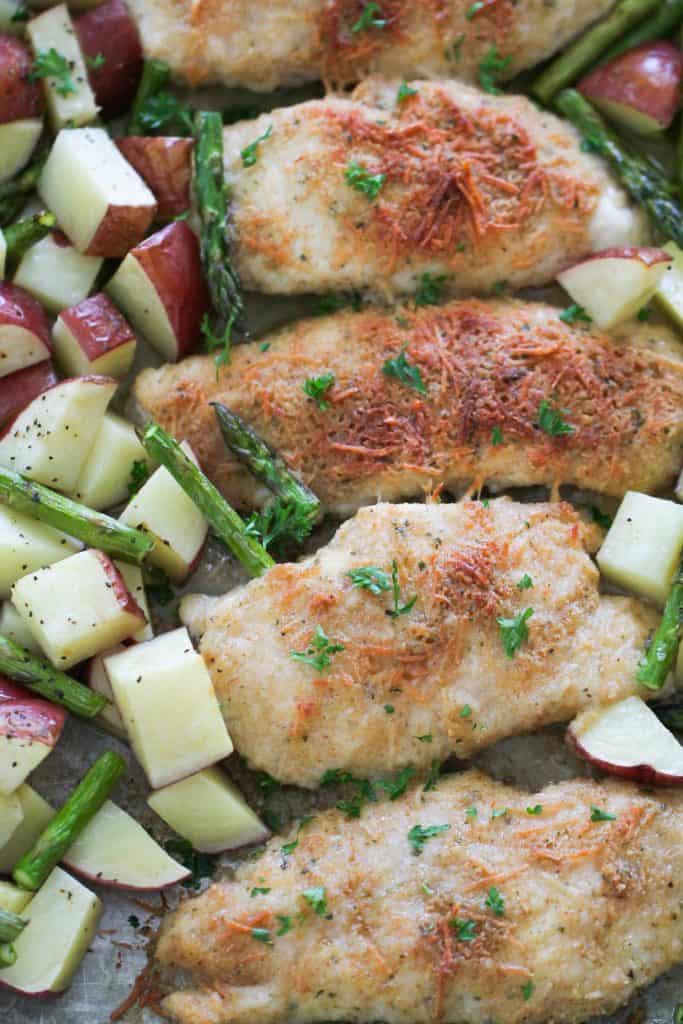 What other vegetables could I use?
If you are not a green bean and red potato fan, you could easily replace them with any of the following:
Carrots
Mushrooms
Zucchini
Sweet potatoes
Squash
Broccoli
Cauliflower
Looking for more One Pan Recipes?! Try our One Pan Stuffed Pepper Casserole!
We have hundreds of simple and delicious recipes, your family will love.
We take you through each recipe, step by step, and show you exactly how to make it.