Filled with veggies, our Instant Pot no-bean chili with ground beef is a perfect family recipe. Even though this is a no bean chili recipe, it is still hearty and delicious as ever!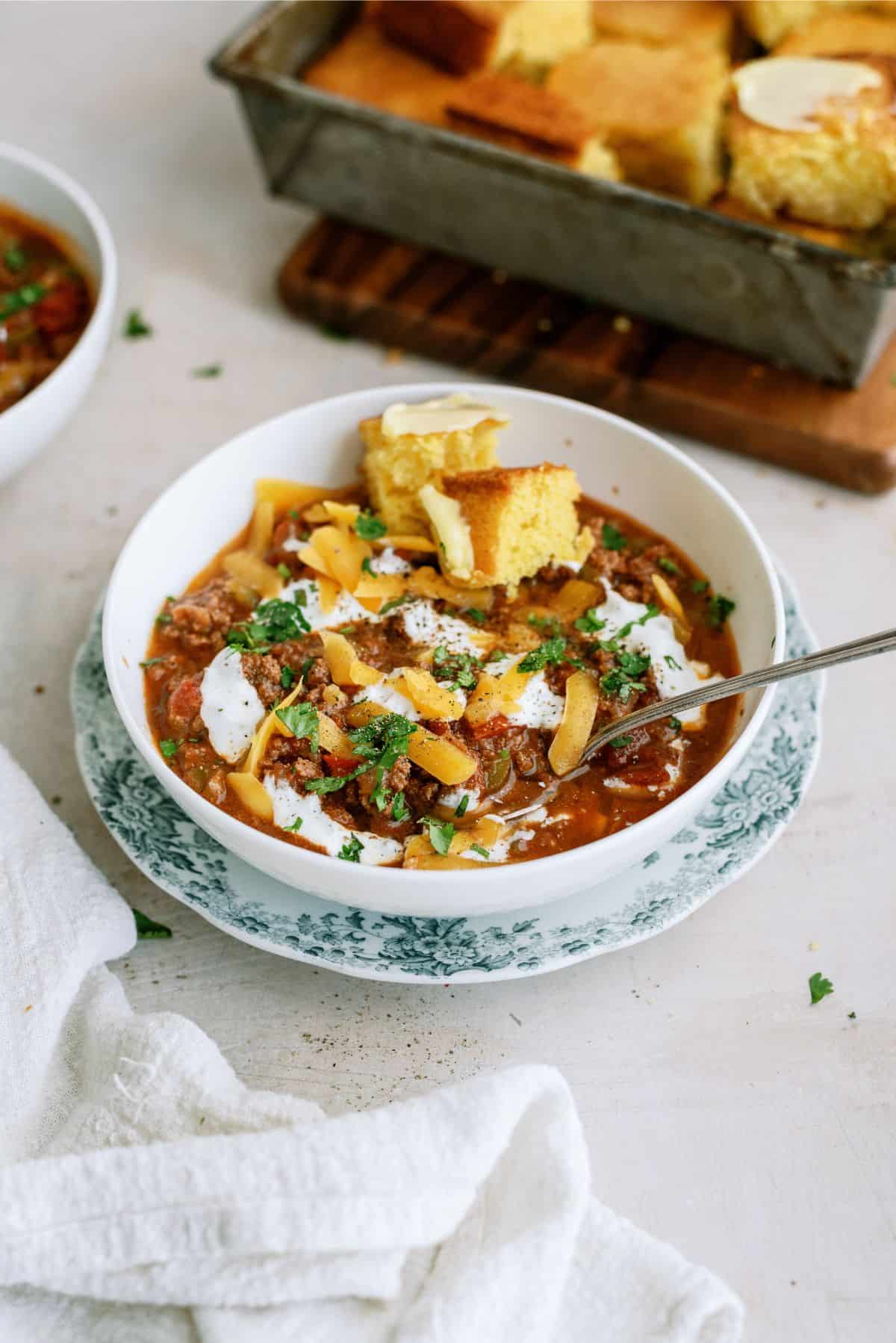 We are so excited to introduce you to our new Instant Pot no-bean chili with ground beef recipe. Since it is filled with veggies and beef, this is a great low carb recipe that you can enjoy without compromising on flavor!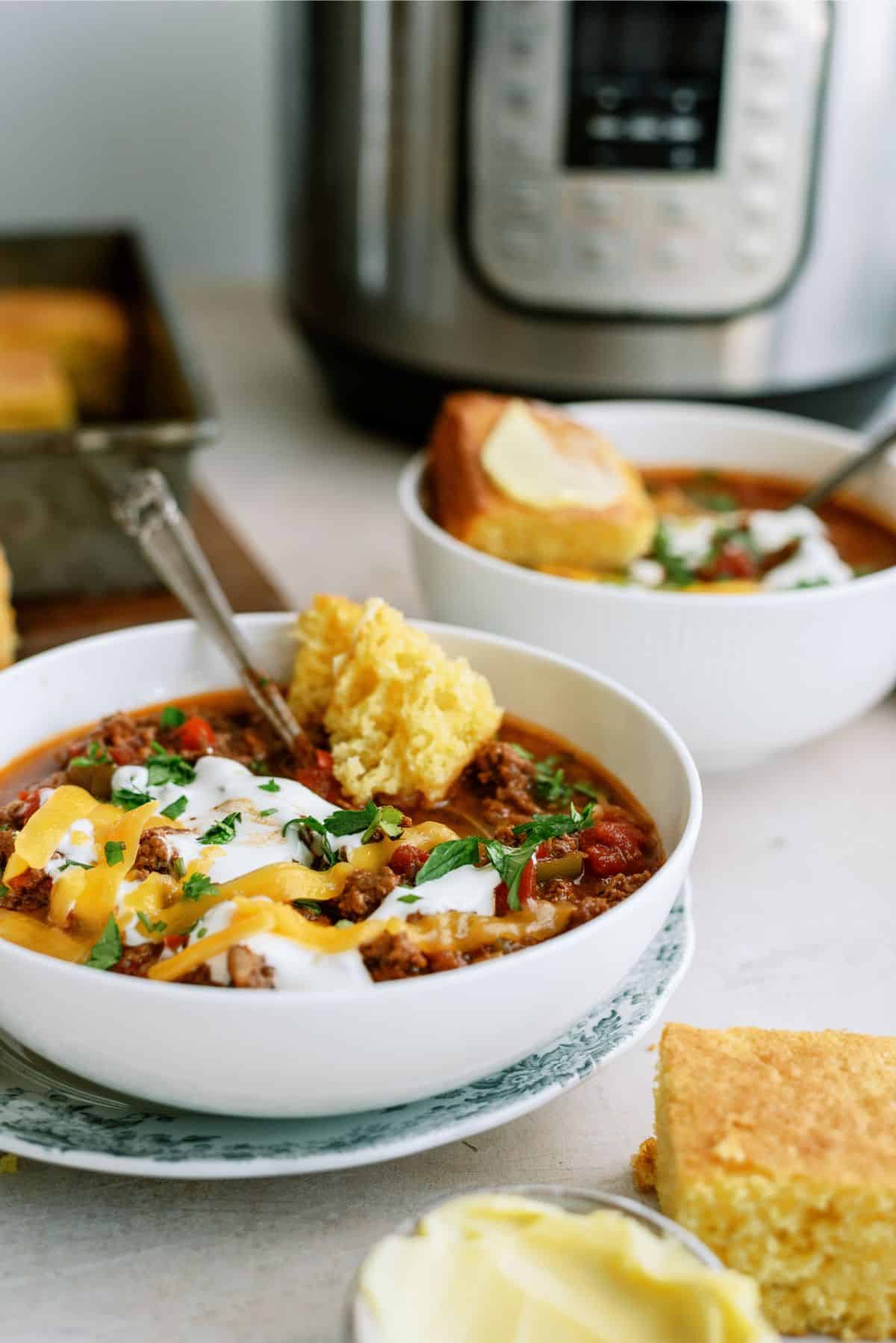 I promise you this Instant Pot chili recipe will be on repeat in my kitchen, especially as the fall weather continues to roll in over the next month. After a few bites of this delicious chili recipe, you won't even remember that you are missing out on the beans, and you were even able to sneak in some extra vegetables for those that don't love them.
When you make the chili in the Instant Pot you can skip the wait time to develop all of those wonderful chili flavors and get right to the good stuff. It is a great recipe to feed a crowd or a larger family, but also is wonderful as leftovers too!
Some of my favorite recipes to serve with this Instant Pot chili con carne is our easy homemade cornbread or our copycat Famous Dave's cornbread muffins recipe. If you aren't a huge fan of cornbread then our 30 minute homemade rolls or easy homemade rolls recipes are great options to serve with this no-bean chili recipe too!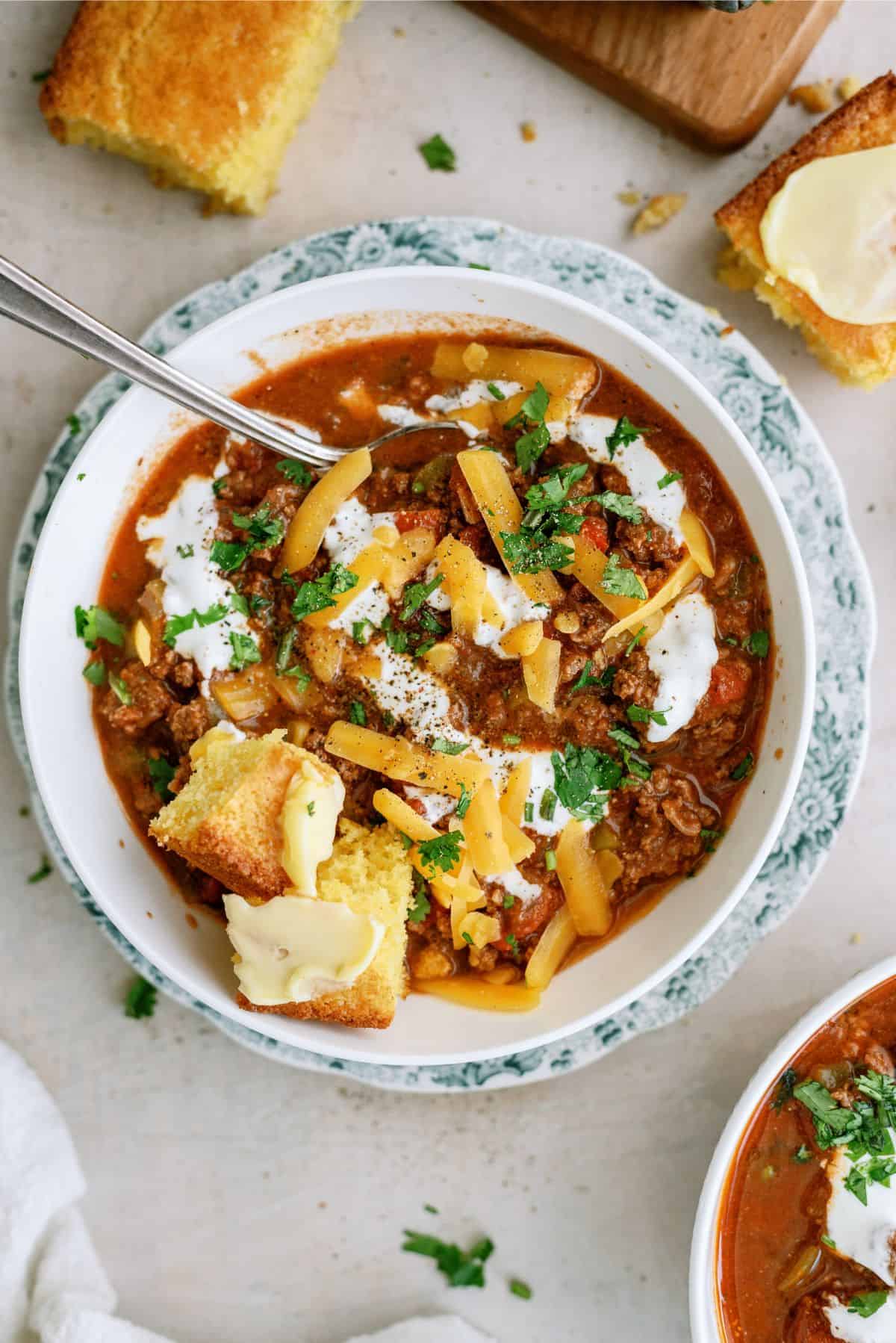 Ingredients You Need to Make Our Instant Pot No-Bean Chili with Ground Beef Recipe:
Olive oil
Diced onion
Diced red bell pepper
Diced green bell pepper
Diced celery
Minced garlic
Lean ground beef
Diced tomatoes, undrained
Tomato sauce
Chile powder
Smoked paprika
Garlic powder
Ground cumin
Oregano
Granulated sugar
Cayenne pepper
Salt
Pepper
Chili toppings
How To Make Our Instant Pot No-Bean Chili with Ground Beef Recipe: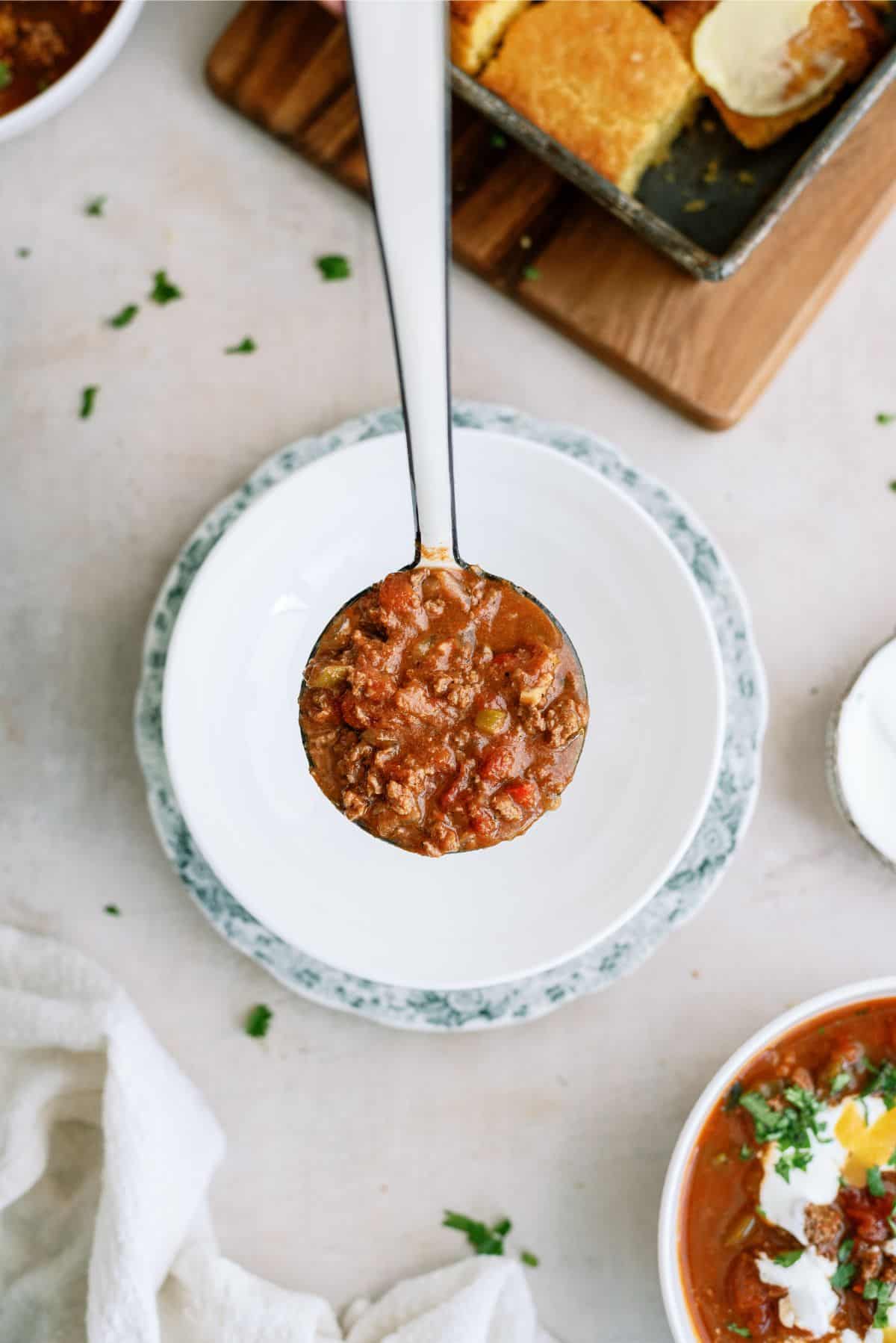 Get out your Instant Pot and let's get started.
Plug in the Instant Pot and press the SAUTE button.
Once the screen reads HOT, add in the olive oil.
After a minute or so, add in the diced onions, red and green bell peppers, celery, and minced garlic to the pot and saute it all together for 3-4 minutes or until the vegetables start to become tender.
Next, add in the lean ground beef and cook it along with the veggies until it browns all the way. This should take about 5-7 minutes.
After the meat is cooked, scrape down the bottom of the pan well with a wooden spoon to make sure there are no burnt pieces stuck to the bottom (this could end up turning off the Instant Pot and give you the BURN notice).
Now, add in the diced tomatoes (the whole can, do not drain the juice), tomato sauce, chile powder, smoked paprika, garlic powder, ground cumin, oregano, granulated sugar, a dash of cayenne pepper, and then sprinkle in some salt and pepper.
Once everything is in the Instant Pot, place the lid on and lock it into place, making sure the valve is in the SEALING position.
Next, press the PRESSURE COOK or MANUAL button and set the timer for 12 minutes.
COOKING NOTE: Remember that while the meal will cook for 12 minutes, after the Instant Pot comes to pressure, which can take about 10-15 minutes.
After the Instant Pot timer is done, you can either do a quick release of the pressure or let it sit on warm until you are ready to serve. Just depends on when you need it.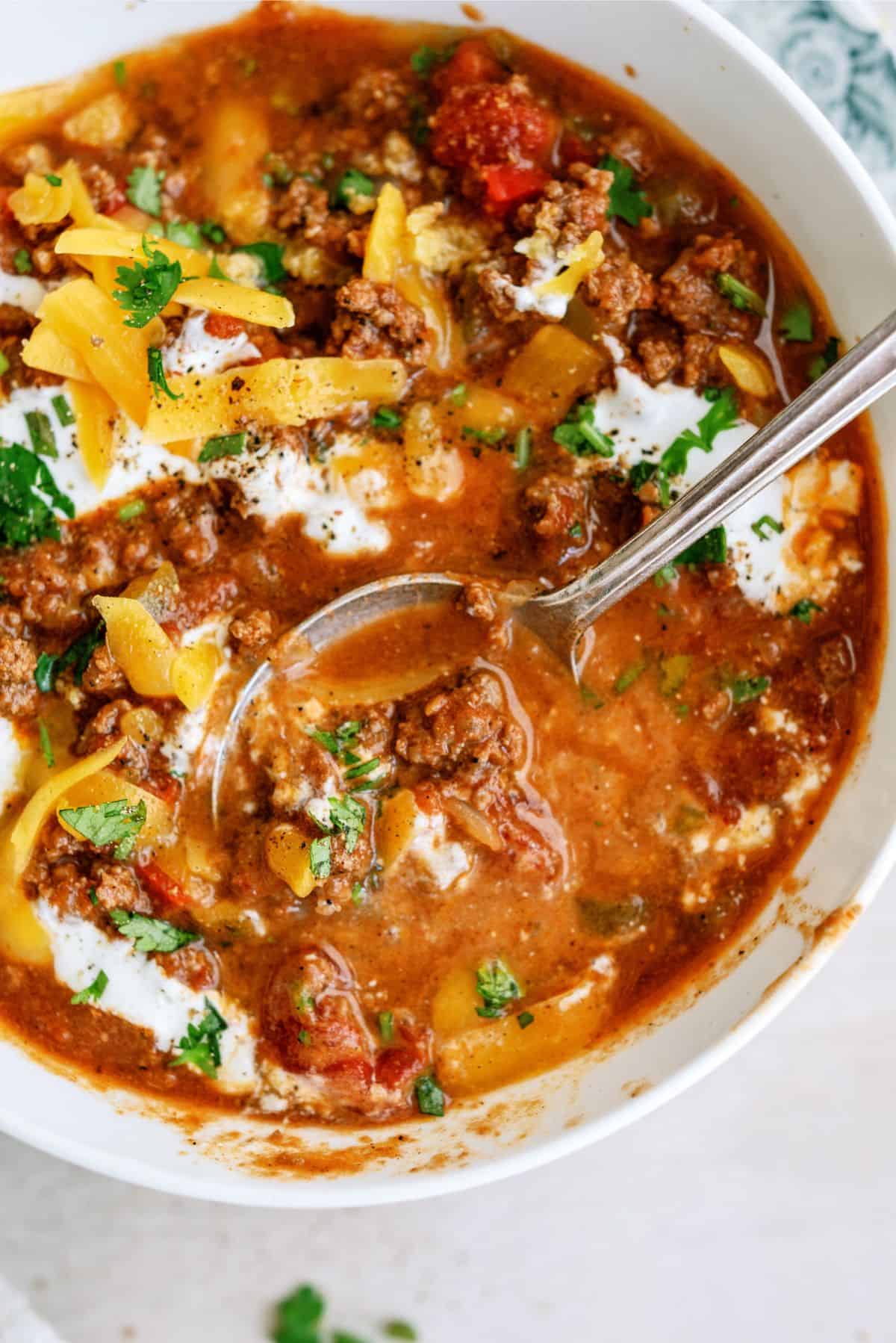 If you let it sit, the flavors will only get better!
When you are ready to eat, remove the lid, and then scoop and serve the chili with your favorite toppings and sides.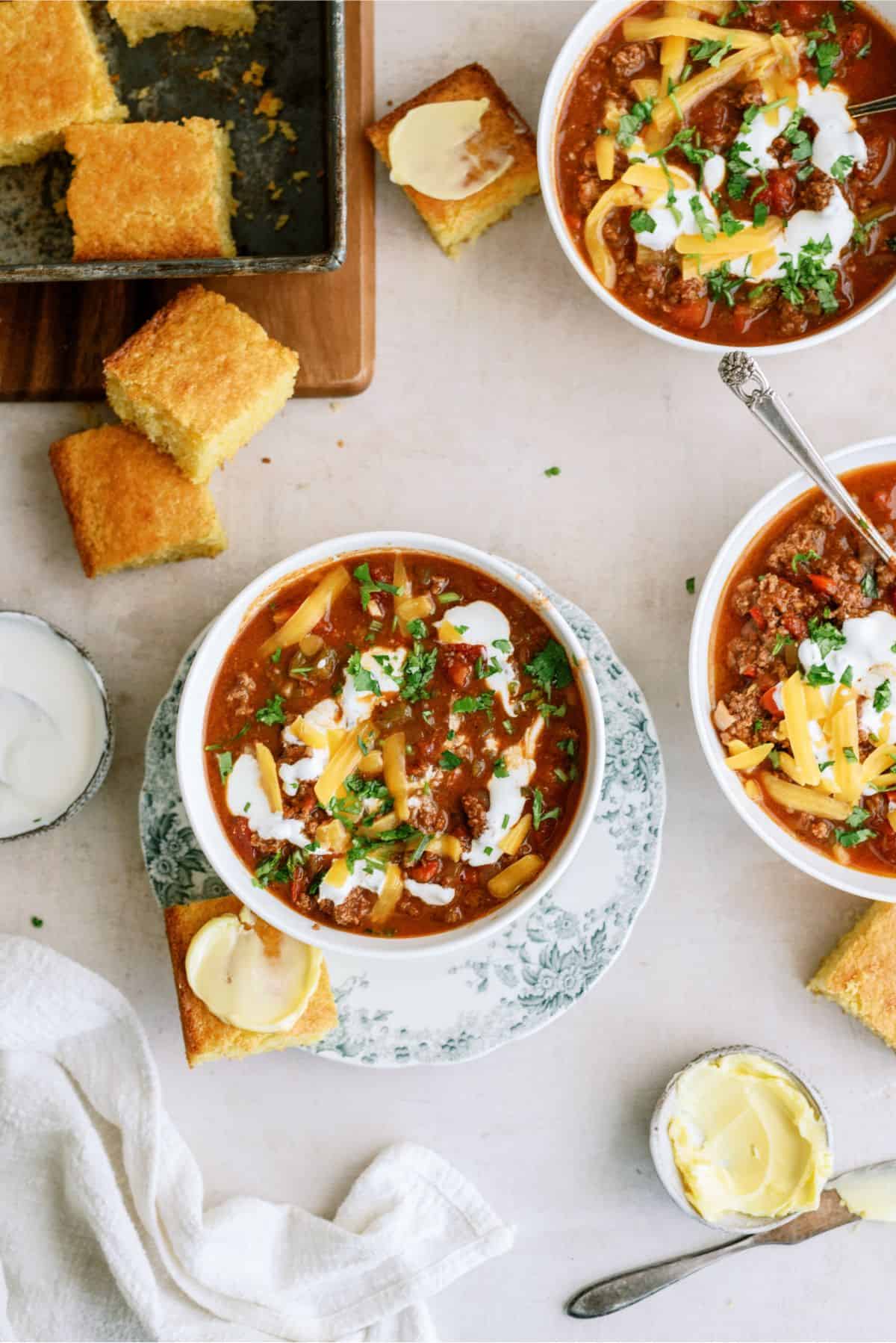 To Make Instant Pot Chili Con Carne You Will Need:
Instant Pot (THIS is our go-to Instant Pot)
Can opener
Wooden spoon
Spatula