These Hawaiian BBQ Chicken Kabobs have chicken, fresh pineapple, peppers and onions grilled and basted in a sweet and tangy barbecue glaze. The perfect chicken kabobs for summer grilling - serve with a side of white rice and additional sauce for an amazing dinner.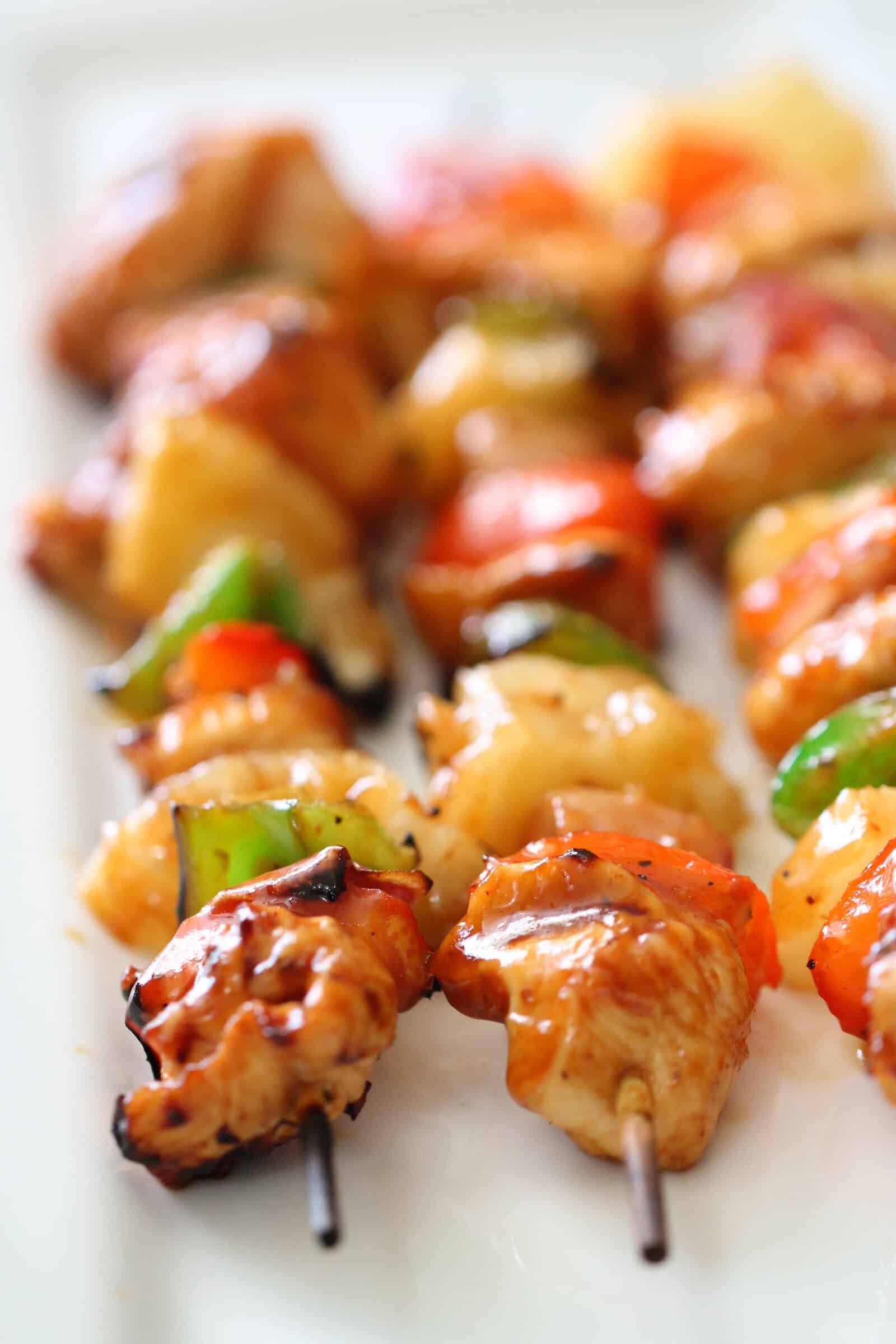 Can you make kabobs ahead of time?
The most time-consuming part of making chicken kabobs is cutting and marinating the meat and vegetables.
After cutting your meat and vegetables, you can store them in individual airtight containers in the refrigerator for up to 3 days.
You can also skewer your cut meat and vegetables and store in an airtight container or cover a plate tightly with plastic wrap and refrigerate for up to 3 days before cooking.
Place the chicken kabobs directly on the grill when you are ready to cook them.
Want even more BBQ Chicken?! Try our BBQ Chicken and Potato Casserole!
Can you freeze kabobs?
If you want to freeze these kabobs, skewer meat and vegetables as directed in the recipe then place on a baking sheet and place in the freezer.
After your chicken kabobs are frozen, you can cover them with foil in a single layer on a baking sheet for long-term storage or move them to a Ziploc freezer bag.
How to cook frozen kabobs
Remove frozen kabobs from the freezer and place directly on a grill heated to medium-high heat. Grill for 15 minutes total, rotating every few minutes.
Use a meat thermometer to make sure that the internal temperature of the chicken is 165 degrees F.
How long do you cook kabobs on the grill?
When you cook kabobs on the grill, you want to be sure that all the sides of each kabob touch the grill.
Most kabobs require about 10-15 minutes to cook.
You can rotate your kabobs 4 times and let them cook for 3 minutes on each side to ensure doneness and a nice crispy exterior.
How do you store leftover kabobs?
Leftover kabobs can be stored off or on skewers, in an airtight container in the refrigerator for up to 4 days.
I find that it's easier to store the leftover kabobs off of their skewers, just in a reusable air-tight container (like these ones). It makes for a really easy grab-and-go meal the next day!
Related Recipe: If you love BBQ Chicken you'll want to try this Monterey Chicken Recipe!