If you are looking for an easy chicken recipe to make for dinner, this Monterey chicken recipe is it! You can make it in 30 minutes or less and have a wonderfully flavorful chicken dinner.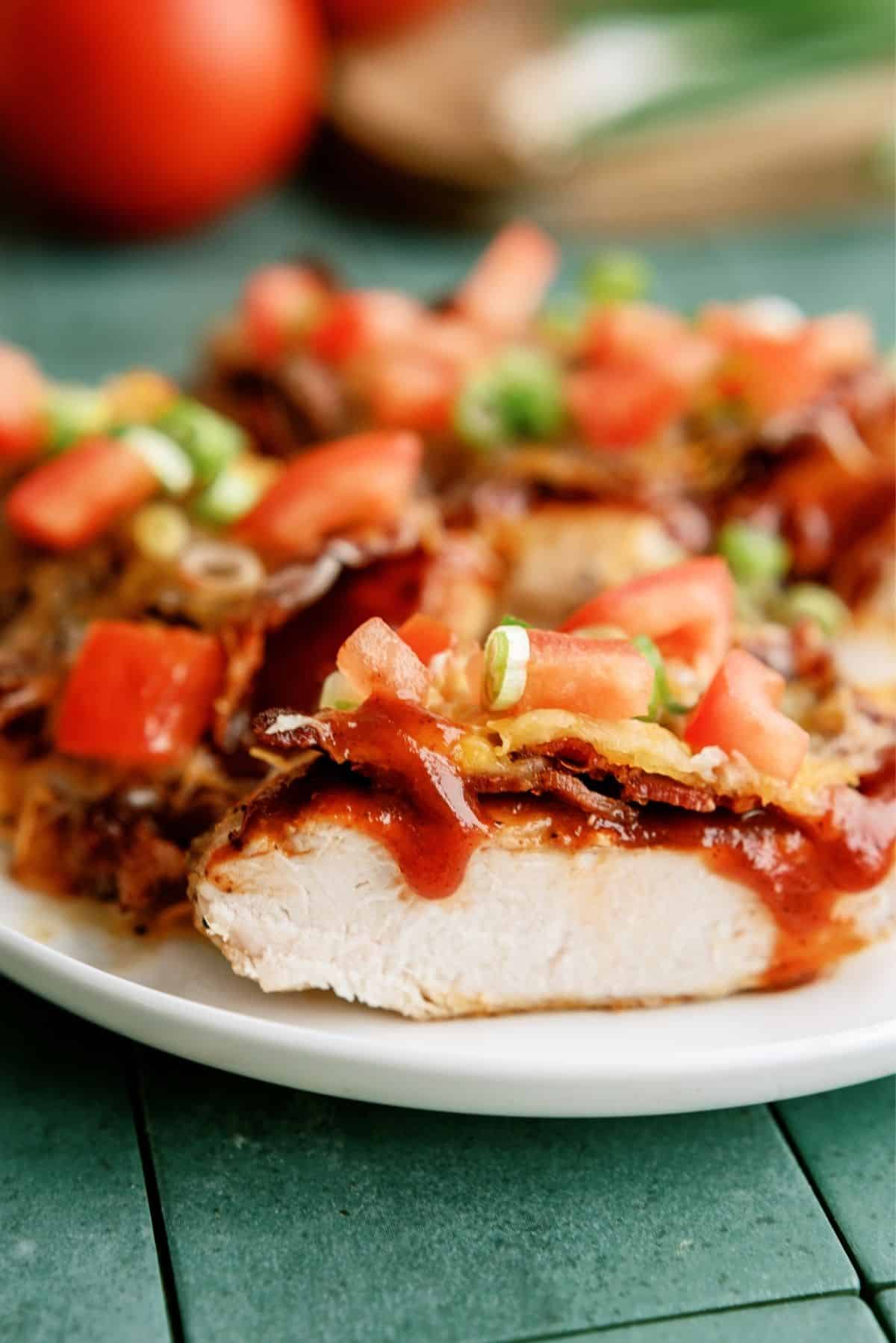 Monterey chicken was born out of the need to create something different for dinner, but still use chicken and have a budget-friendly recipe. Not to mention that the flavor is amazing.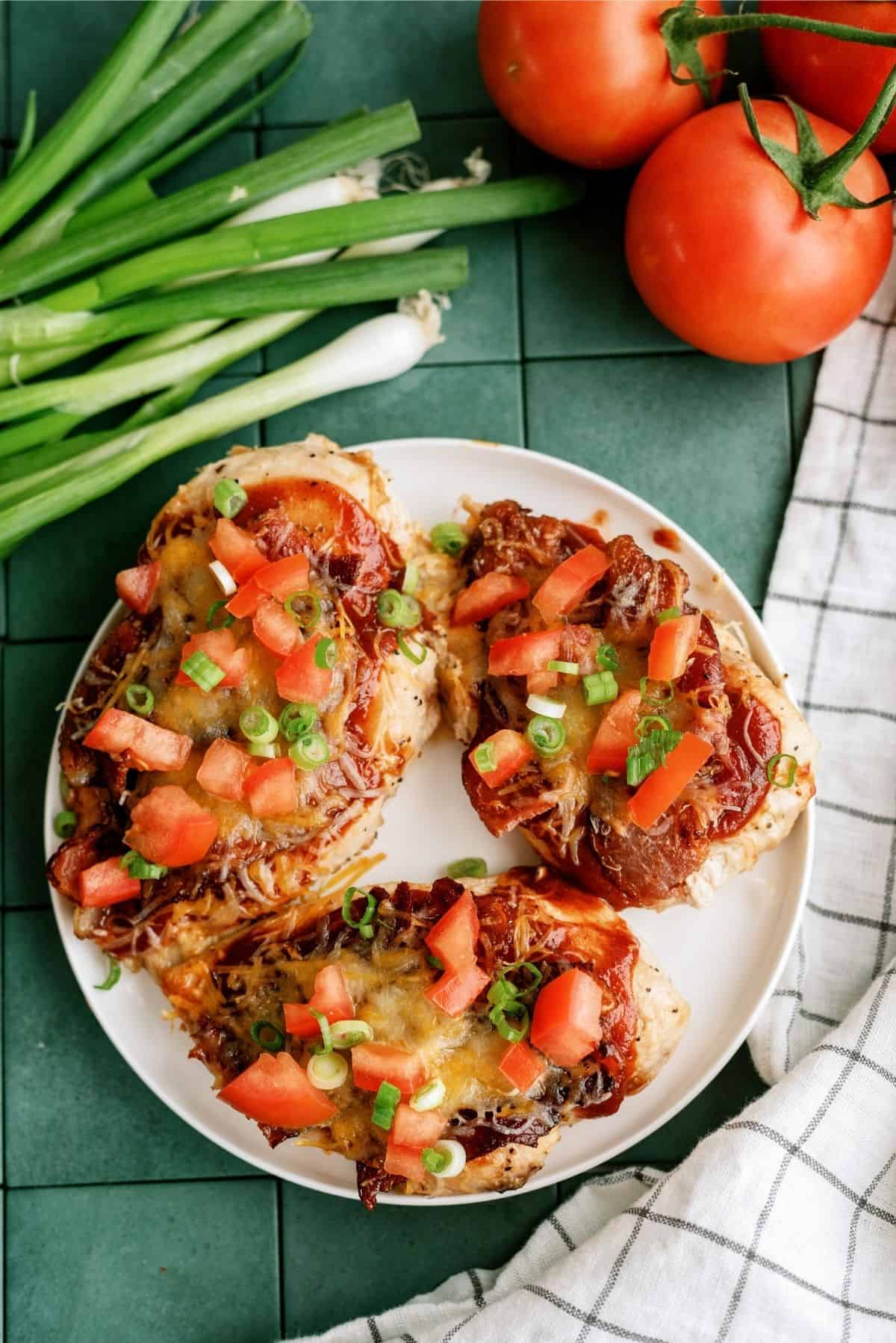 I love that this easy chicken recipe can be made in about 30 minutes, add a side or two and you have a fantastic meal. My kids especially love it because it is filled with cheese and bacon.
This has become a popular dinner recipe in our house, so it is found on the dinner menu at least twice a month if not more.

Some great sides to pair with this Monterey chicken dinner recipe is our Instant Pot green beans, some homemade rolls, and a fresh apple cranberry walnut green chopped salad!
Ingredients You'll Need For Our Monterey Chicken Recipe: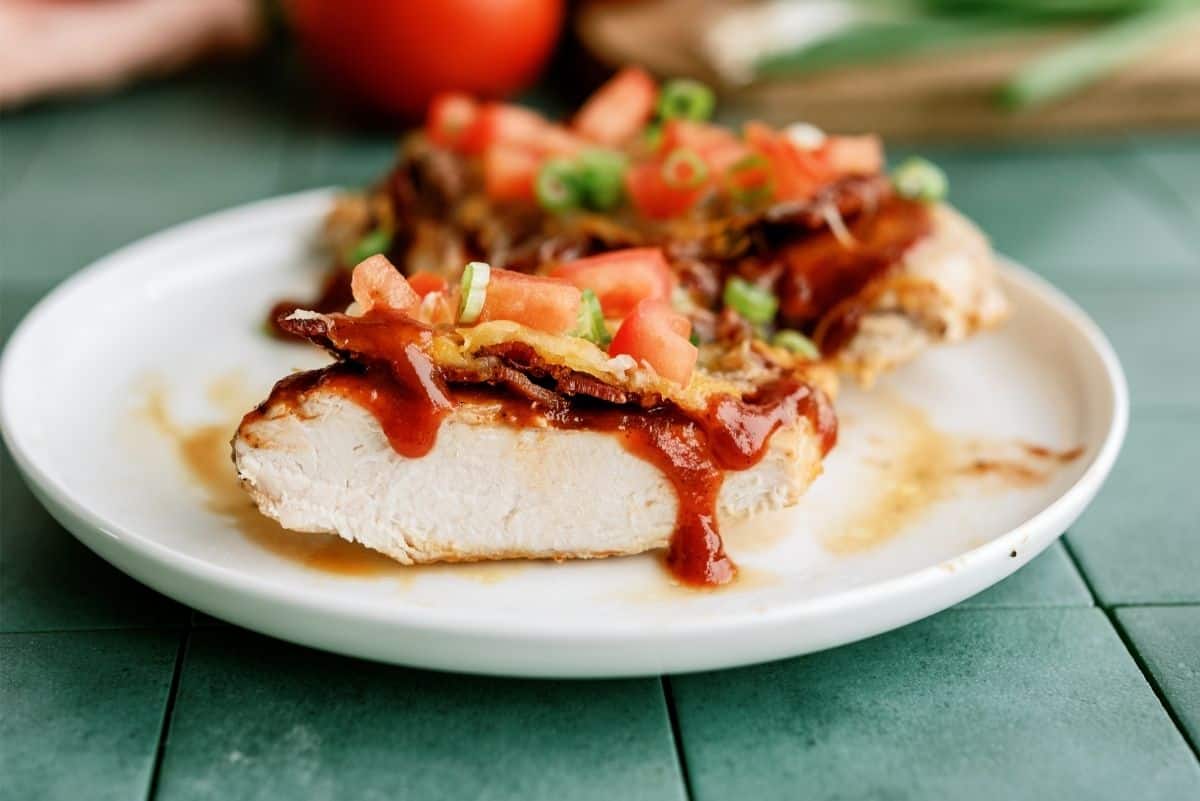 Boneless chicken breasts
Salt
Pepper
Barbecue sauce
Cooked bacon
Shredded Monterey Jack cheese
How To Make Our Monterey Chicken Recipe:
Begin by pounding the boneless chicken breast until they are nice and flat.
Then season them generously with salt and pepper on the front and back.
Once that is done, cook the chicken on a grill over medium hight heat for about 6-7 minutes each side or until the chicken is fully cooked and is at least 165 degrees fahrenheit.
If you do not intend on using a grill, simply use a skillet or the awesome Ninja Foodi grill and spray it down with nonstick cooking spray and cook it the same.
Once the chicken is done cooking transfer the chicken breats to a large baking sheet lined with aluminum foil and preheat the broiler to 500 degrees.
Then spread 2-3 tablespoons of barbecue over each chicken breast.
Now top each piece of chicken with 2 slices of bacon and a handful (about ¼ cup) of shredded Monterey Jack cheese.
Place the pan in the broiler for 2-3 minutes or until the cheese is melted or in the microwave until the cheese is melted.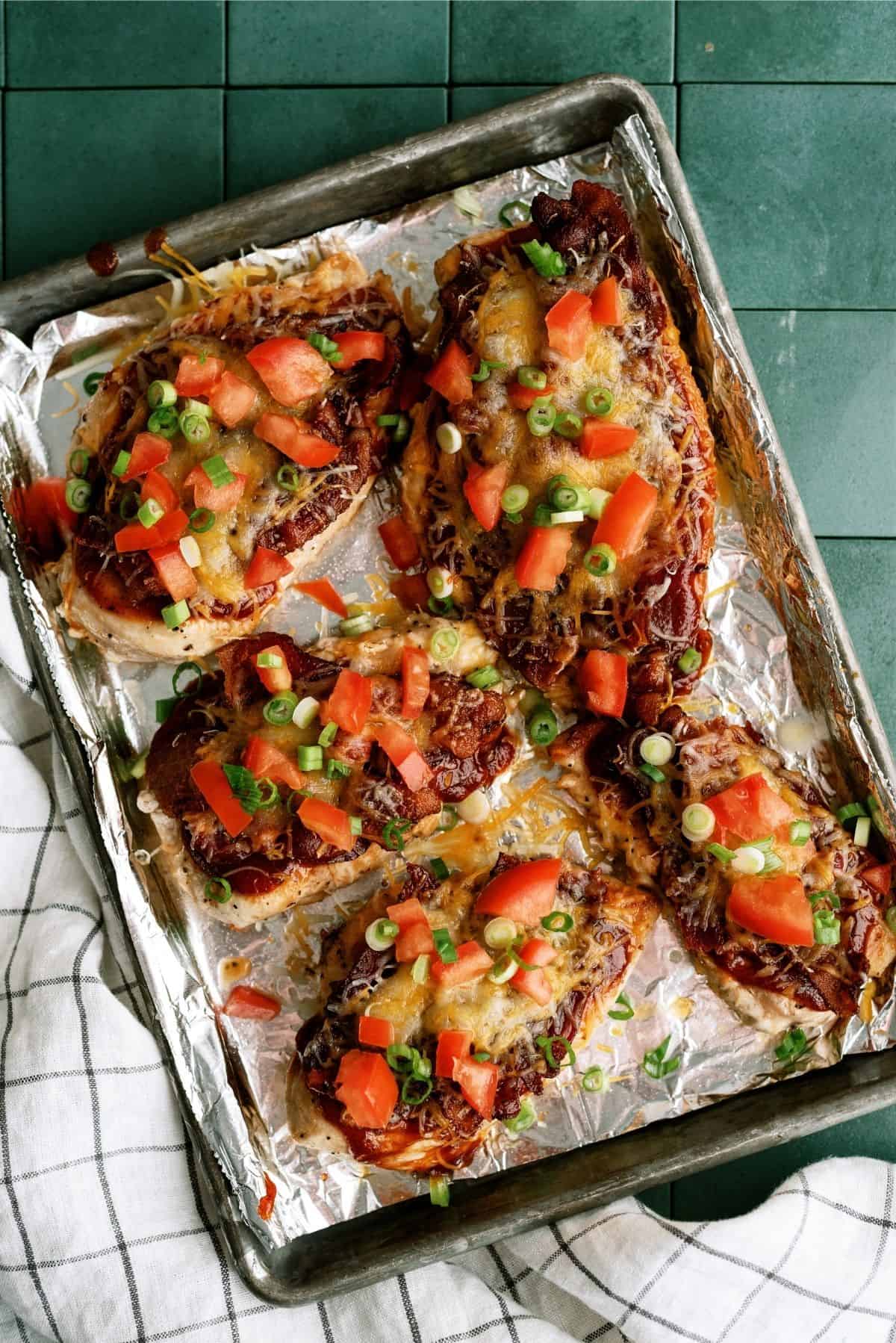 After the cheese has melted, top it with diced tomatoes, and green onions and serve it immediately.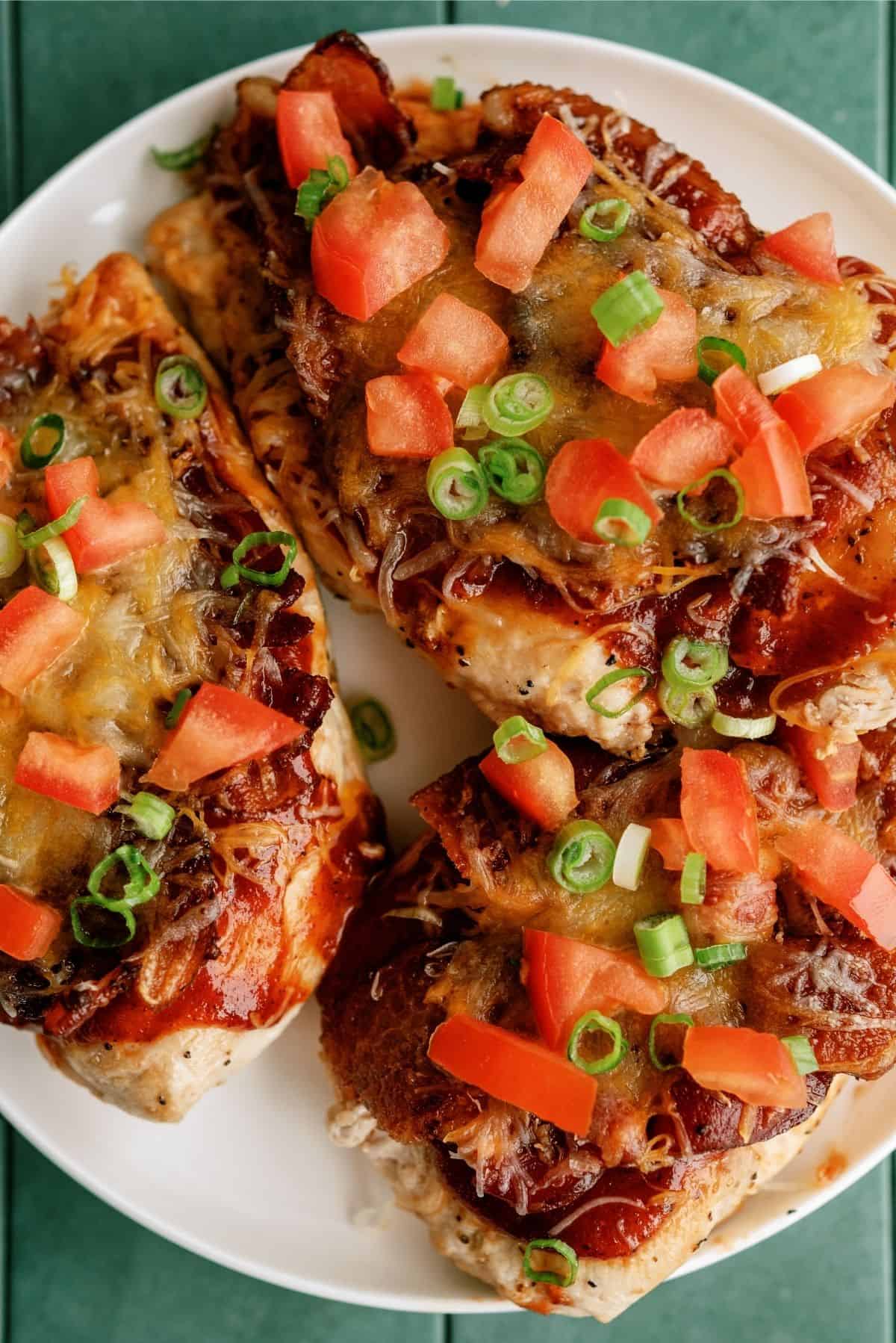 To Make This Popular Dinner Recipe You Will Need:
Grill or Ninja Foodi (like THIS one)
Large baking sheet
Aluminum foil
Nonstick cooking spray