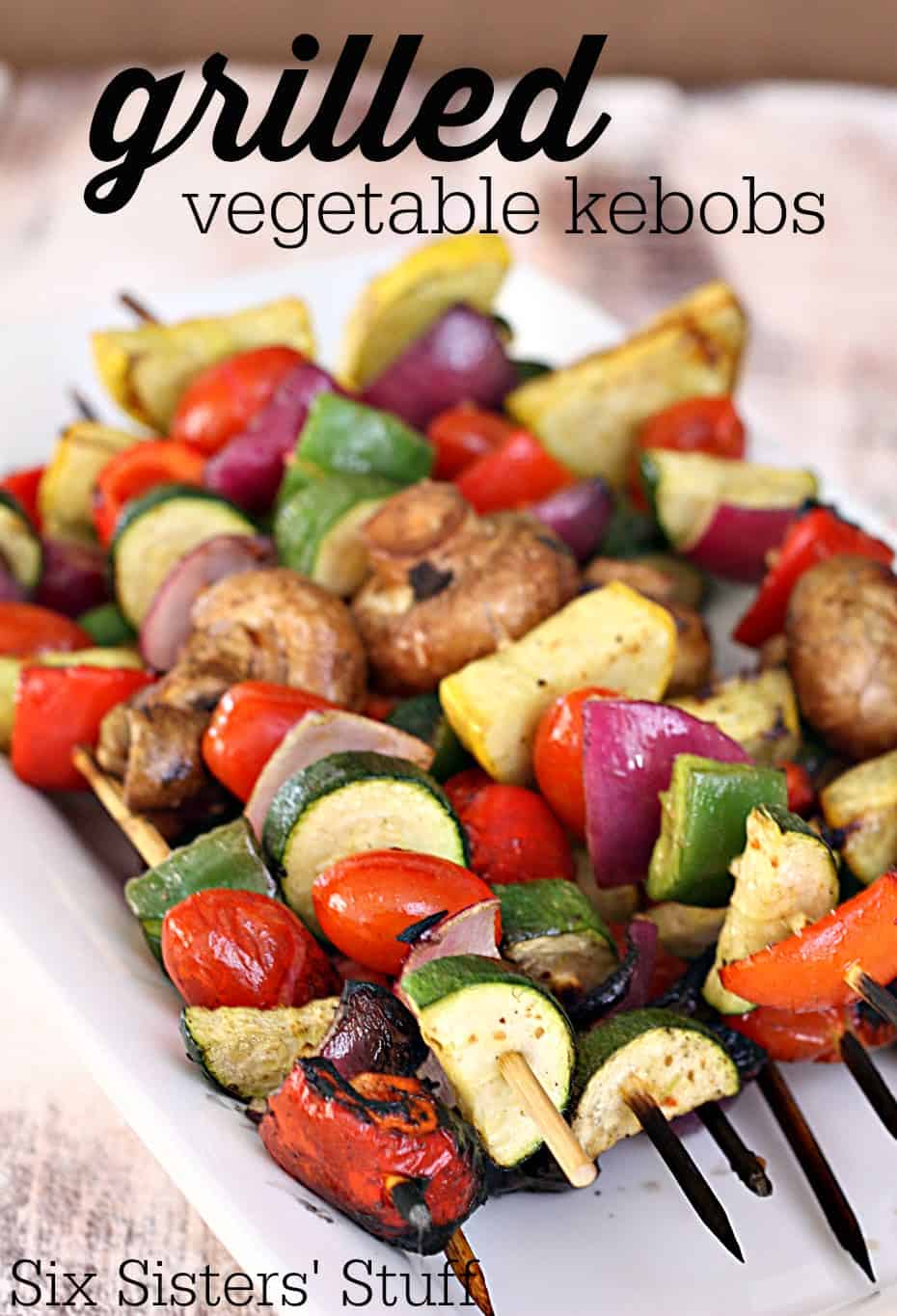 Now that the Utah snow has finally melted, grilling season has begun!!
I don't have a problem coming up with main dishes, but side dishes are definitely not my strength! This is one of my favorite side dishes to make whenever we are grilling- just throw them all on the grill at the same time and your complete dinner is done!
(PS- this really isn't a recipe, more of an idea . . . I just use whatever I have on hand. Anything goes!)
Grilled Vegetable Kebobs
Ingredients:
1 red bell pepper, chopped into large pieces
1 green bell pepper, chopped into large pieces
1 cup fresh mushrooms
1 large zucchini, thickly sliced
1 large yellow zucchini squash, thickly sliced
1 cup cherry tomatoes
1 red onion, chopped into large pieces
1 cup Italian dressing (my favorite is Wishbone Robusto Italian– not a sponsored post, just my honest opinion!)
Directions:
Place all vegetables in a large bowl. Pour the dressing on them and mix until all vegetables are evenly coated. Cover with plastic wrap and let marinade in the fridge for at least 30 minutes (I left mine for about 2 hours).
Remove vegetables from marinade (save your marinade) and thread onto skewers. If using wooden skewers, let them soak in water for about 30 minutes to prevent burning.
Heat grill to medium high heat and place skewers on top of grill. Cook vegetables until the grill marks start to show (about 10 minutes), rotating vegetables occasionally. If desired, baste with additional marinade.
Makes about 6-8 servings.
Looking for more vegetable dishes?
Oven Baked Carrot Sticks
Roasted Sweet Potatoes and Brussels Sprouts
Garlic and Parmesan Zucchini
Creamy Cauliflower Gratin
The Best Homemade Salsa
Check out the NEW Six Sisters' Cookbook!
With over 150 recipes, we have put together 52 menu plans to make meal time a lot easier.
You can order our book HERE on Amazon!