Cheesy Ranch Potatoes are a staple at our house. They are so easy to make and taste amazing. They come together quickly and make the perfect side dish.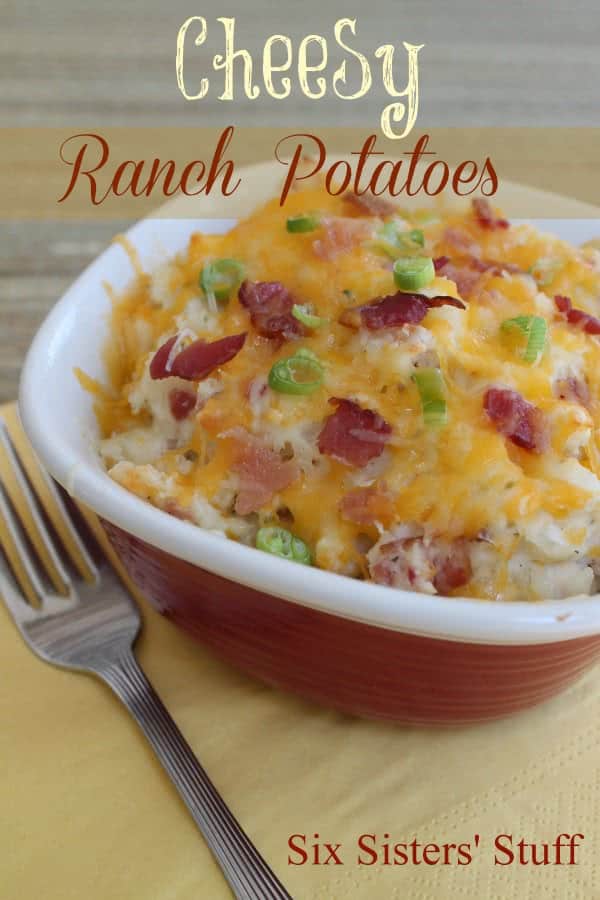 Once I read a meme about how potatoes are a power food. They literally make some of my favorite things such as potato chips, baked potatoes, mashed potatoes, hash browns, french fries and so much more.
It really is true. They are a power food. Probably not what other people consider to be a power food, but definitely what I consider to be a power food. It can transform into just about anything.
These ranch potatoes are one of our favorite side dishes.  We often triple the recipe when we have the whole family together and have no  leftovers.  It's a family favorite.
It only requires a few simple ingredients and comes together quickly.
add a little more flavor:
This dish is delicious as is, however, I like to add a little ranch seasoning mix to give it just a little extra flavor. It is so yummy with a little kick of ranch seasoning mix.
related article: if you love these cheesy ranch potatoes, you'll want to try our Baked red potato wedges. 
would this recipe work in a slow cooker?
I have only made this in the oven, however, you could make this in the slow cooker. You will definitely want to spray the oven with non stick cooking spray, or use a slow cooker liner, but it would work.
You may need to add a little more moisture as well, depending on how fast it cooks out. We recommend cooking it on high, instead of low.
would any potato work for this recipe?
For this recipe, we used russet potatoes, however, really any potato would work for this recipe. I have never made it using sweet potatoes because I usually use russet.
I have made this recipe using mini red potatoes and it was absolutely scrumptious. You can also peel the potatoes, or keep the skin on. I like the texture of the skin, so I usually keep it on.
You could also use golden yukon potatoes. My friend makes her Cheesy Ranch Potatoes with them, and it is delicious every time.
We have hundreds of simple and delicious recipes, your family is going to love. We take you through each recipe, step by step, and show you exactly how to make them.
looking for more potato side dishes? here are a few of our favorites: