This cheesy ranch potatoes recipe is the best potato recipe! It has everything you could dream to be in them, like ranch, cheese, bacon, and of course creamy mashed potatoes.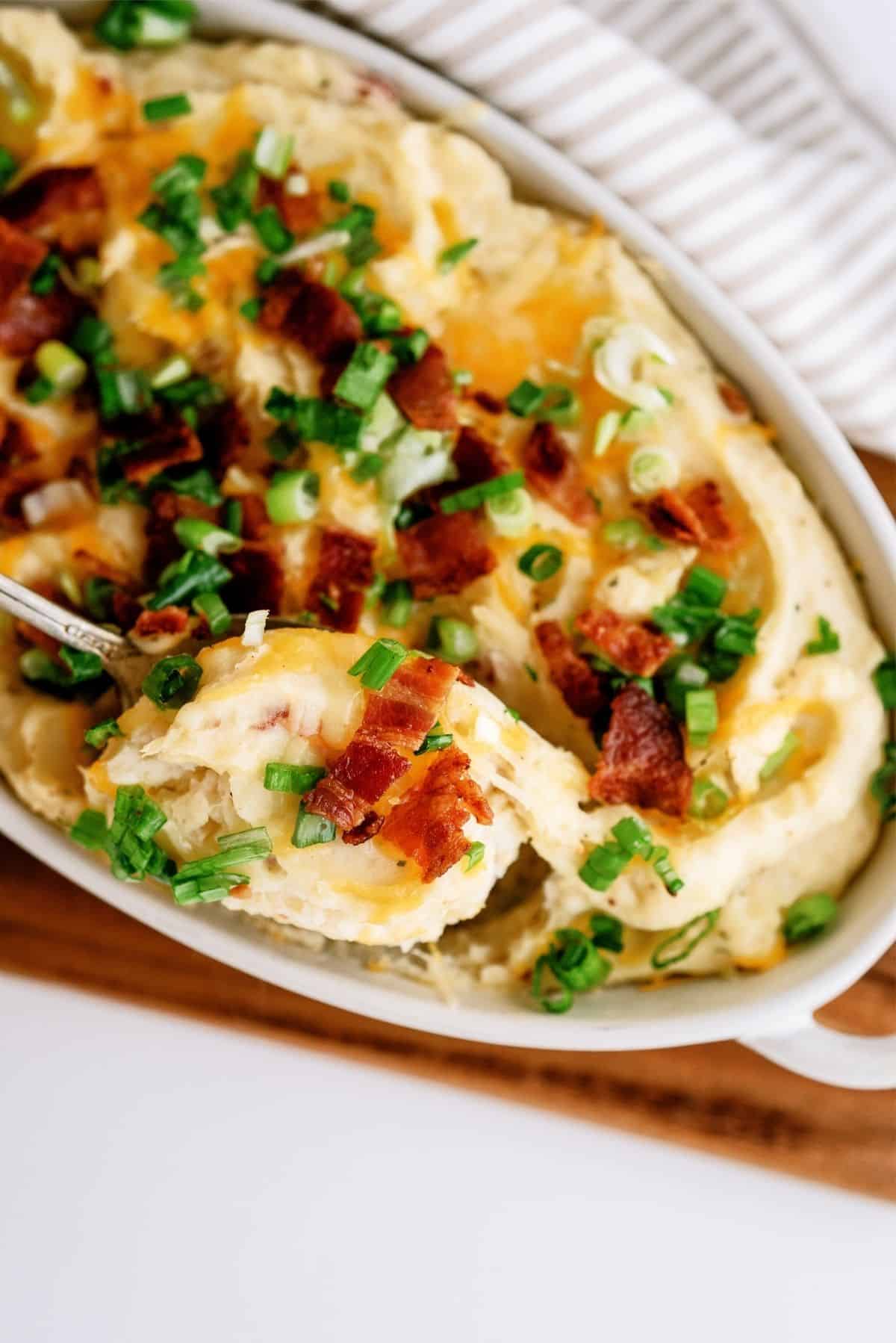 Mashed potatoes are a good that can heal my soul and thus cheesy ranch potatoes recipe always hits the spot best. The flavor is unmatched and absolutely the best baked cheesy ranch potatoes recipe you will find.
If anyone asks me what my favorite side dish is I immediately answer with this tasty recipe. Once you try it, you will understand.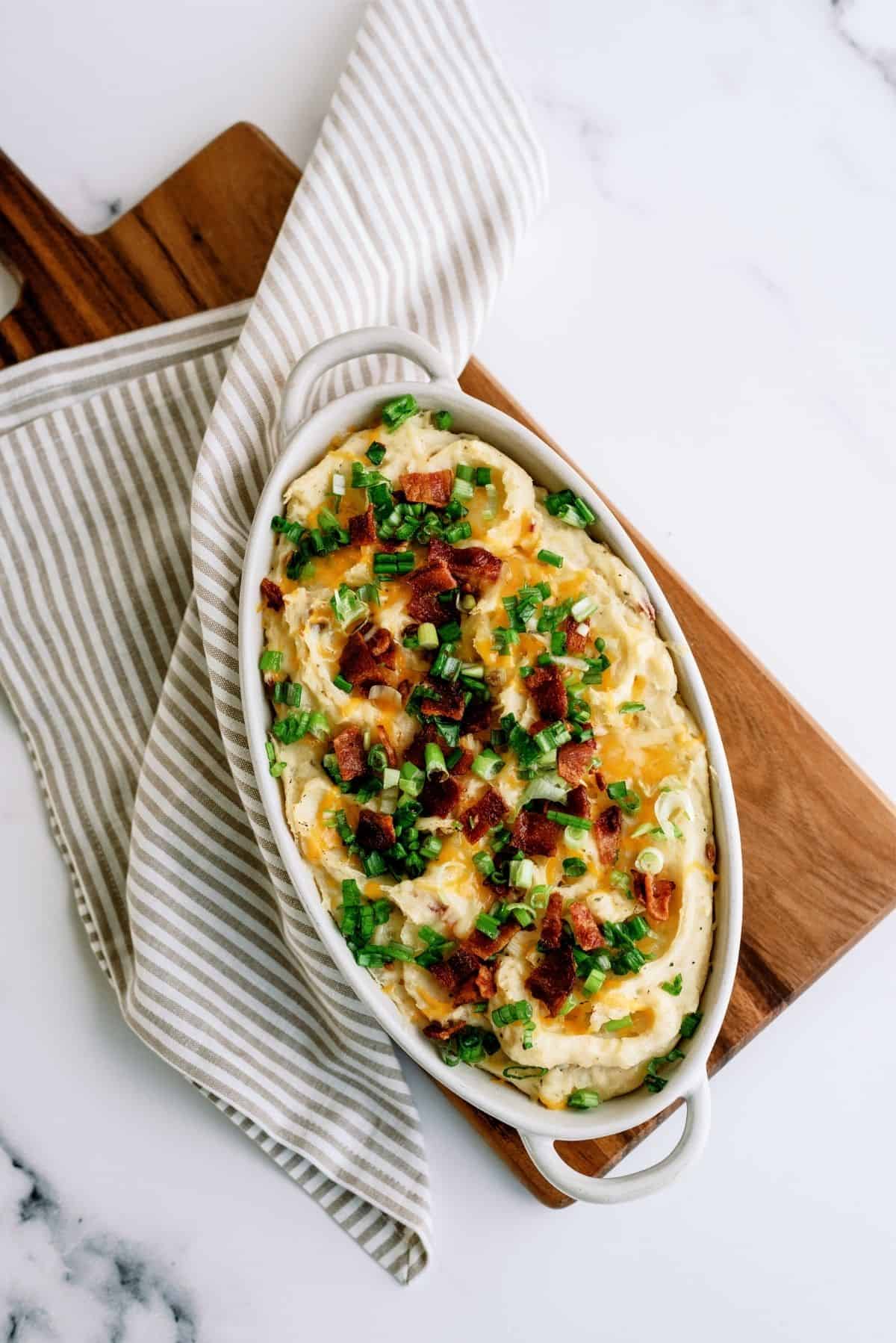 Not to mention that this recipe is always a hit with my husband and kids because they absolutely love cheese and potatoes so it is right up their alley. They ask for these all the time.
While these are truly some of the best potatoes I've ever had, they are not the only ones because well we live potatoes in all forms. My family loves our cheesy hashbrown potato casserole, Mom's sweet potatoes recipe, and of course the classic slow cooker creamy mashed potatoes too!
Ingredients You'll Need For Our Cheesy Ranch Potatoes Recipe:
Large russet potatoes
Cream cheese
Sour cream
Yellow onion
Shredded Colby Jack cheese
Bacon
Salt
Milk
Salt
Milk
Ranch dressing mix
Green onion
How To Make Our Cheesy Ranch Potatoes Recipe: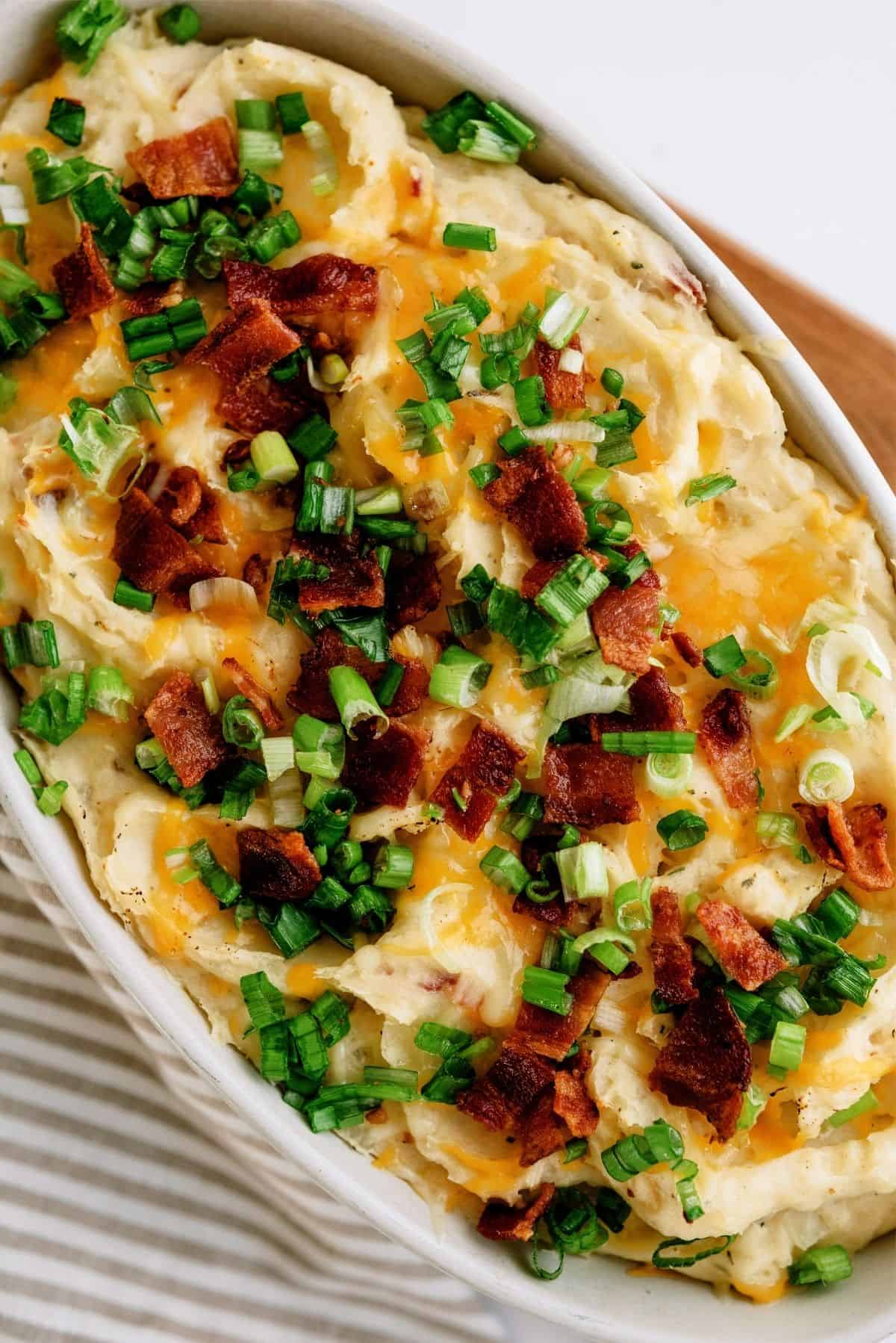 Start by washing the potatoes well and then pie wing them with a fork in several places.
Once that is done for all the potatoes, place them in the microwave and heat them up for 10 minutes on high.
When they are done, remove them from the microwave and let them cook down slightly.
While they are cooling, preheat your oven to 350 degrees and grease an 11×7 pan.
Now in a large mixing bowl combine the cream cheese and sour cream and use a hand mixer to beat them together until they are nice and smooth.
When they are creamy, add the diced yellow onion, half of the cheese, half of the bacon bits, and salt and continue mixing it all together.
After the potatoes have cooled slightly, cut them in half and use a spoon to remove the white flesh of the potatoes from the skin, and mash it up in a medium mixing bowl.
Once they are mashed, add them to the cream cheese mixture and mix it all together.
Now stir in the milk and ranch dressing mix and combine it all together.
Next spread the potato mixture out evenly in the prepared pan and place it in the oven and bake it uncovered for 30 minutes.
When the timer is done, remove the pan from the oven and sprinkle on the remaining cheese, bacon, and green onion and place it back in the oven for another 5 minutes or until the cheese is melted.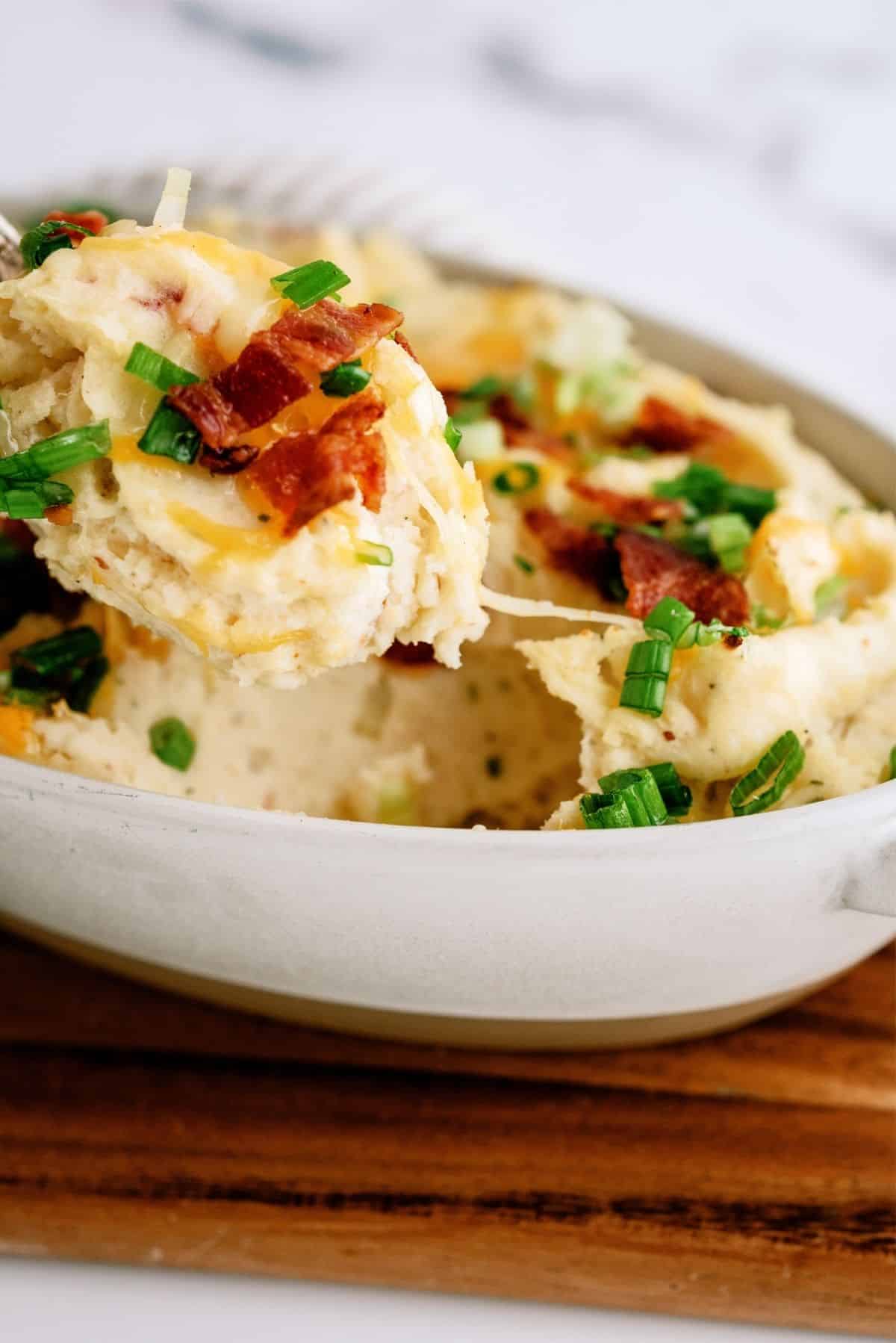 Then just serve it immediately with dinner or dig in with a fork. 😉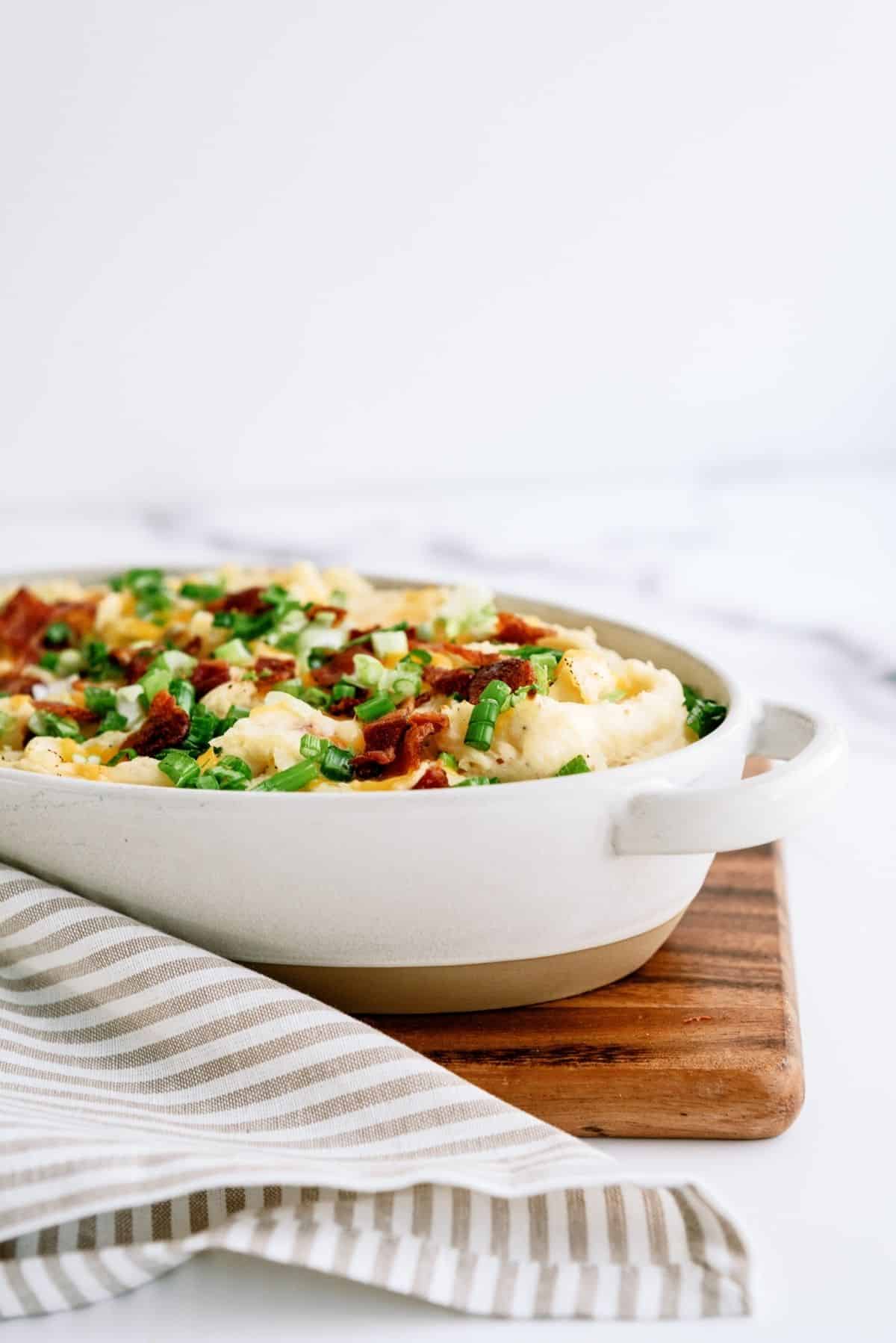 To Make Our Cheesy Baked Potatoes You Will Need:
11×7 baking pan (THIS is a great one!)
Nonstick spray
Fork
Hand mixer
Spatula
Large mixing bowl
Medium mixing bowl