Only 5 ingredients are needed to make our Grandma's 5 cup creamy fruit salad: pineapple, mandarin oranges, coconut, marshmallows and . . . SOUR CREAM. While not a typical creamy salad, it's a timeless classic that we grew up with and all love. And it comes together in a matter of minutes! It's a perfect side dessert salad to serve, especially in the summer months.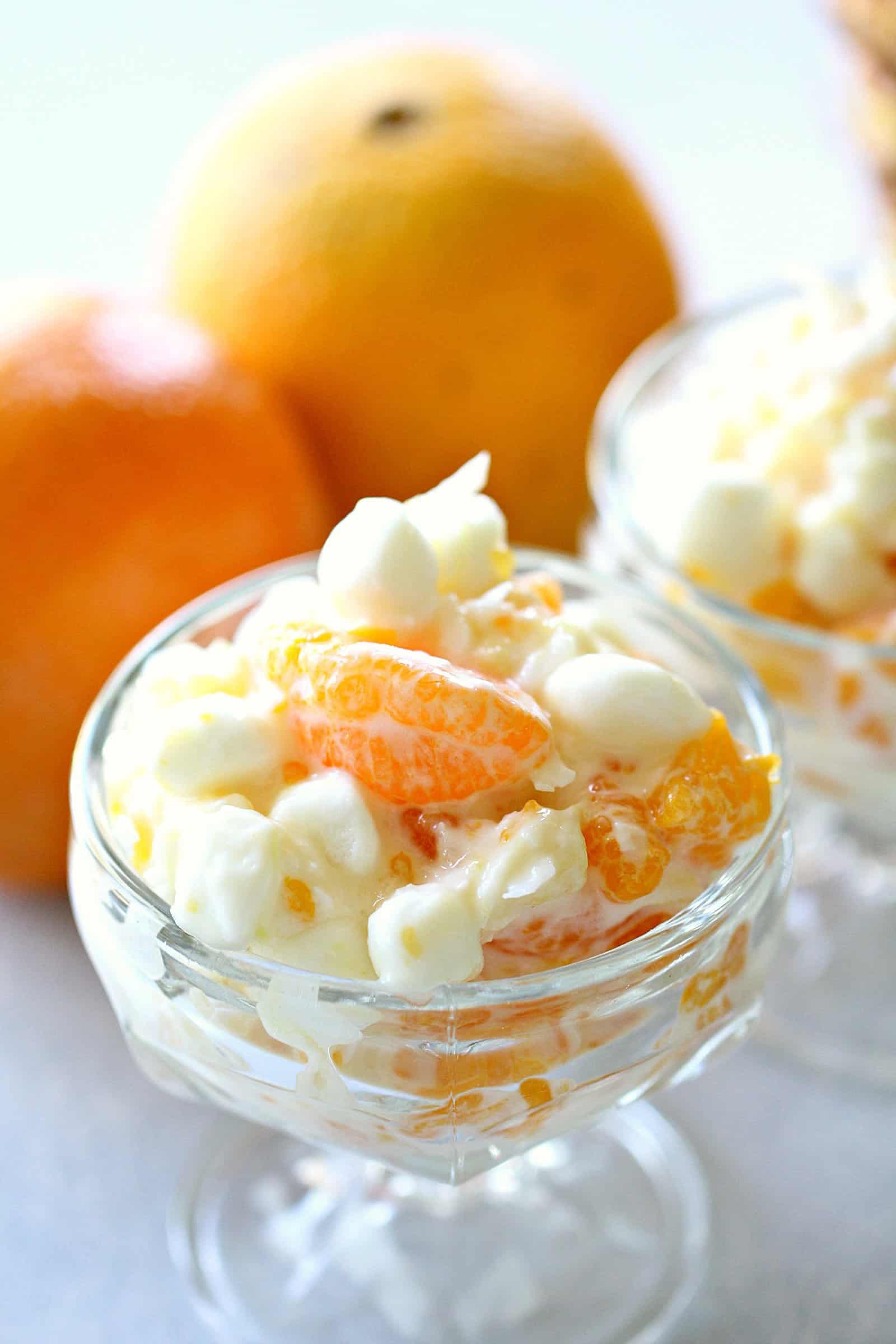 This Grandma's 5 Cup Creamy Fruit Salad recipe comes straight from our Grandma!
Our sweet grandma is an amazing cook. Every holiday, we would head over to her house for a delicious dinner and this salad made an appearance all the time.
It's so simple to make – you just dump it all in a bowl, stir it together, and you're done! It's a great recipe to have on hand for your summer picnics, serving big crowds, or bringing to family gatherings.
This dish can also be doubled or tripled if you need to feed a crowd. It's similar to our 5 Minute Ambrosia Salad here!
I never thought to ask what the ingredients were in this recipe – 2 cups of fruit, 1 cup of coconut, 1 cup of marshmallows, and 1 CUP OF SOUR CREAM.
I couldn't believe it – SOUR CREAM?!
Well, you better believe it!
I don't typically care for the taste of sour cream, but you would NEVER know that is what holds this salad together! I think that the sweetness of all the sweet fruit, coconut, and marshmallows offsets the sour of the cream. It's the perfect combination!
I would highly recommend making this the day you plan on eating it (it won't hold up as well the next day), but make it at least 2-3 hours before serving. Let it chill in the fridge, and the sour cream will soak up all the sweetness of the fruit.  That's what makes it taste delicious and so sweet and creamy. It's such a simple fruit salad but makes for the perfect sweet treat!
What if I don't like sour cream in my 5 cup fruit salad?
I get it – it really is a strange ingredient in a fruit salad.
But – don't knock it until you try it. Seriously. Just try it and see how it goes.
However, if you really don't want to use sour cream, you could swap it out for whipped cream, Cool Whip, vanilla yogurt, or Greek yogurt. You could even try and do a 1/2 cup of sour cream and a 1/2 cup of one of the mentioned substitutes. No matter what you choose to do, it's a great dish that the entire family will love.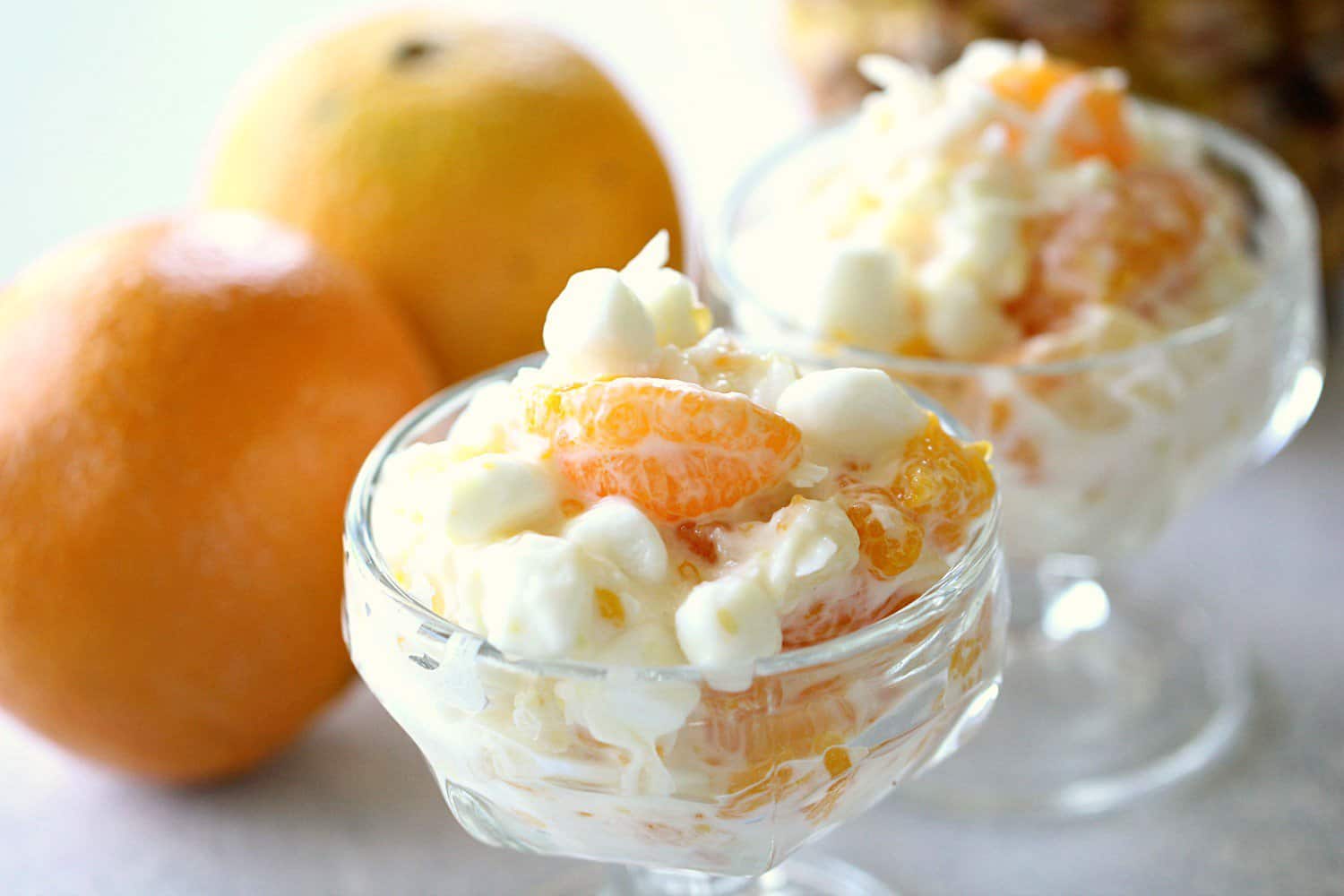 Other variations of this 5 Cup Creamy Fruit Salad
If there is an ingredient that you don't like (such as coconut flakes), feel free to leave it out and substitute it for something else.
There are lots of ways that our readers have shared about how they make this salad. Here are some of their ideas below:
add in chopped walnuts or pecans for added crunch
to make it sweeter, stir in a little bit of powdered sugar – it will also offset the tartness from the sour cream
add in a small jar of diced maraschino cherries
add in a can of drained fruit cocktail (drained)
add in dried cranberries and a dash of cinnamon
stir in 2 Tablespoons of instant lemon pudding mix for a lemon-taste
use Pina Colada flavored yogurt in place of the sour cream
top with corn flakes for an added crunch
add diced apples (if you don't like coconut, apples are a great alternative because of the crunch)
add halved grapes (red or green)
add sliced bananas
add some marshmallow creme in with the sour cream to sweeten it up
To make our Grandma's 5 cup creamy fruit salad you will need:
Canned Mandarin Oranges
Crushed Pineapple
Mini Marshmallows
Coconut
Sour Cream
Be sure to have these items on hand for this creamy fruit salad: