Oven-Roasted Veggies make the perfect side dish for any meal. Drizzled in olive oil and seasoned with your favorite dressing mix, these will turn out beautifully every single time.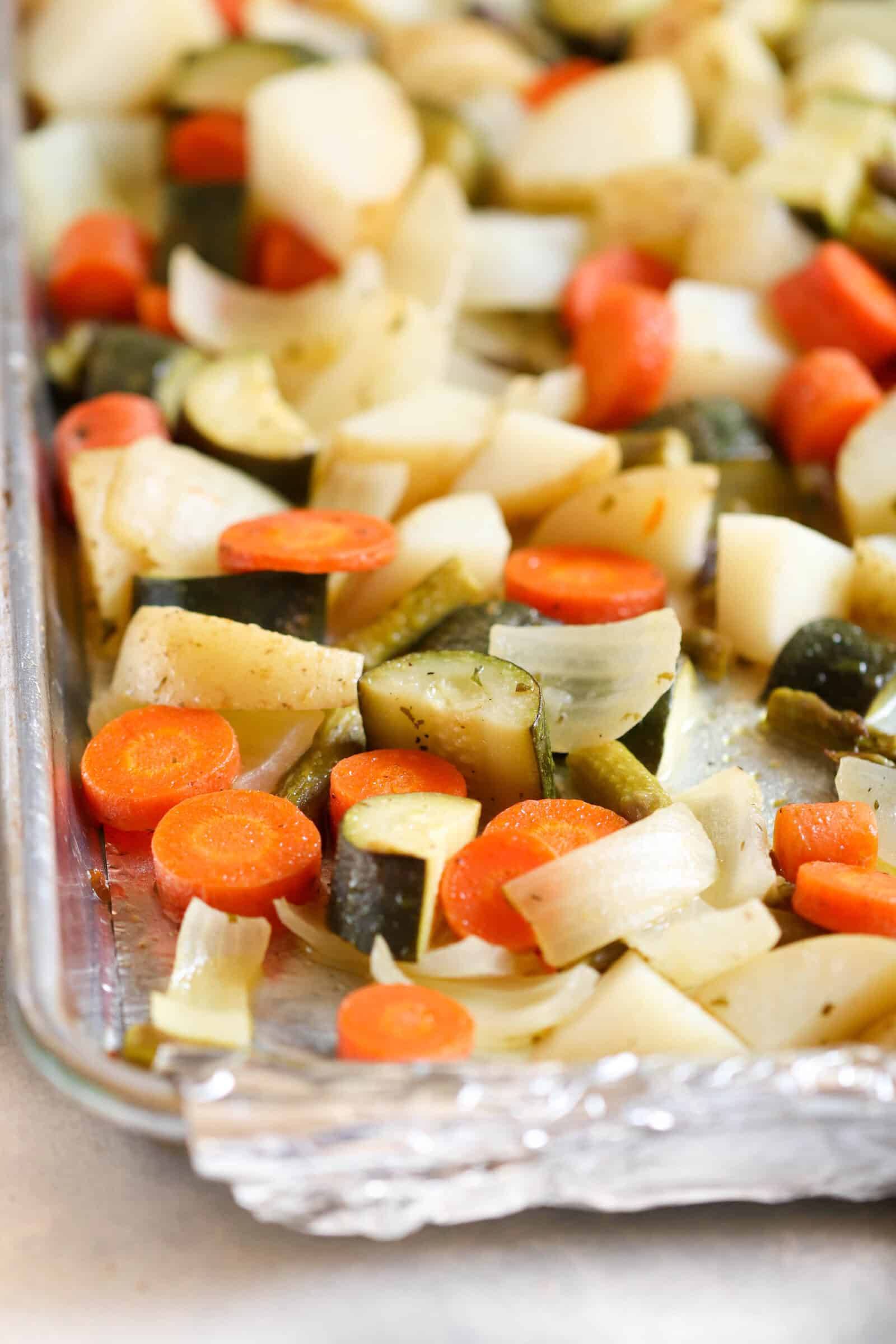 These oven roasted vegetables are so simple, but they turn out perfectly every single time.
We love this recipe because it's so versatile – it's a great way to use up all the vegetables you need to use from your crisper drawer. And because they're tented in foil, no matter what type of vegetable you're using, it will work.
How to make Oven Roasted Vegetables:
Preheat oven to 350 degrees.
Place a large piece of foil on a cookie sheet (make sure it's as long or longer than the cookie sheet). Spread the chopped veggies on top of the foil in a single layer. In this batch, we used an onion, zucchini, potatoes, carrots, and asparagus.
Drizzle veggies with olive oil. (Between the aluminum foil and the olive oil, it will make for a quick and easy clean up and no sticking).
Sprinkle the packet of dressing mix over the veggies and mix thoroughly (you can use a spatula, but we've found the easiest way to do it is with your hands). Make sure that all the veggies are covered with oil and dressing mix.
Place another piece of foil over the veggies (you may need use two to make sure it is fully tented). Close the edges of the foil. It should look like one giant hobo dinner.
Cook for about an hour (the thickness of your veggies will determine how long it takes). You can check at 50 minutes to make sure they don't get too soft.
Related Recipe: Try our Slow Cooker Roasted Vegetables!