This is hands-down the Best Pork Chop Marinade out there! These grilled pork chops always turn out juicy with this marinade recipe. And the best part about this marinade is that it calls for ingredients you probably have in your pantry right now.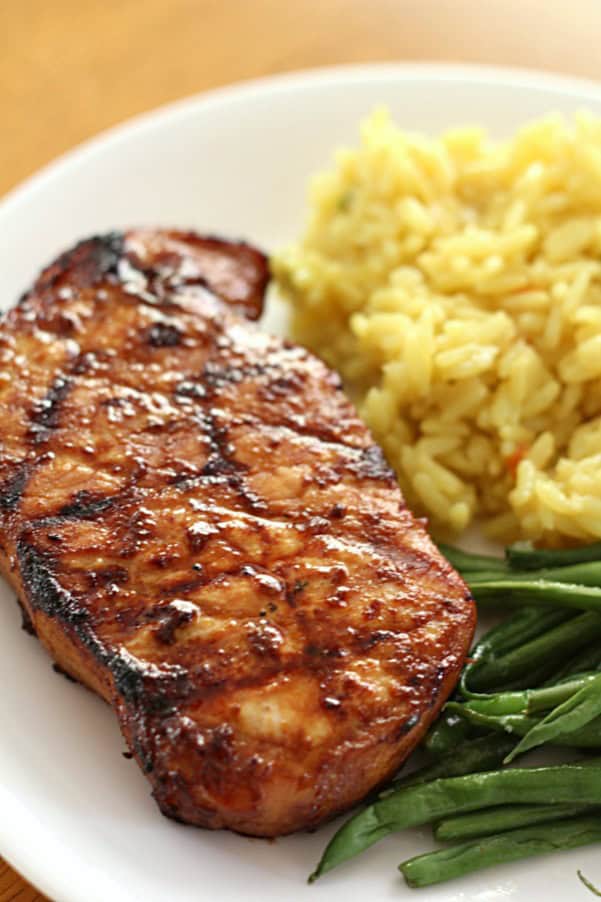 I love grilled pork chops, especially if they are juicy and flavorful. This Pork Chop Marinade for Grilling will give you both.
My mom has been using this recipe as her pork chop marinade for years (she found it in the newspaper many years ago) and it's been my go-to pork chop marinade ever since she gave it to me.
Pork chops sometimes cook up dry, but this marinade makes the pork so juicy and full of perfectly-balanced flavor. It's fail-proof!
This recipe also works great with chicken. Either protein is delicious.
To make this simple pork chop marinade you will need:
Soy Sauce (This is the secret ingredient that makes it so juicy! It doesn't taste Asian-flavored at all)
Chili Sauce (you can find this by the ketchup at the grocery store)
Honey
Vegetable Oil
Green Onions
Curry Powder
Substitute ingredients
If you don't have chili sauce, feel free to use some sriracha (it will definitely add a kick!) or even a Thai chili sauce.
If you don't have curry powder, try this homemade curry powder recipe: 1/2 teaspoon tumeric, 1 teaspoon cumin, 1/2 teaspoon ground coriander, and 1/2 teaspoon chili powder.
Mix all seasonings together and keep in an air-tight container, using what you need for the recipe.