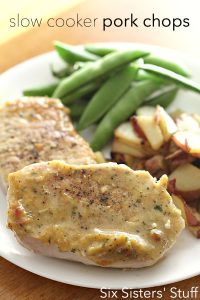 Who knew that such simple ingredients could make such an amazing meal?!
Ingredients:
4 thick-cut pork chops, bone in or boneless
1 (10.75 oz) can cream of chicken soup (I used 98% fat free)
1 (1 oz) package dry ranch dressing mix
4 cloves garlic, minced
1/2 cup chicken broth
pepper to taste
Directions:
Combine soup, dressing mix, garlic, and broth.  Sprinkle chops with pepper (do not salt).  Place chops in slow cooker and pour soup mixture over top.  Cover and cook on high 4 hours or low 6-7 hours.  Serve over rice or hot potatoes.