Fresh and creamy and extremely tasty, this strawberry fruit pizza is a great summertime dessert. Make this will all of your freshly picked strawberries!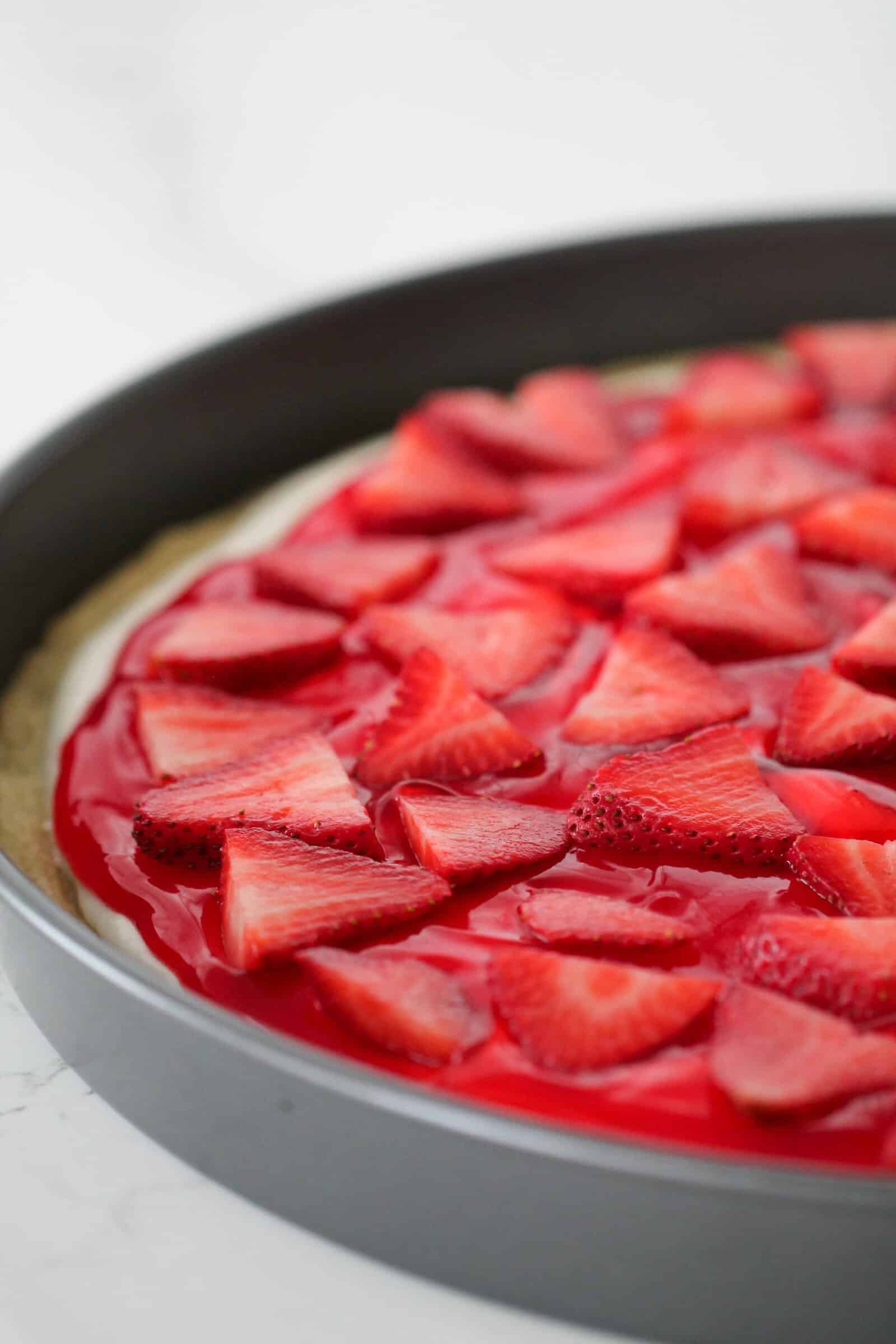 You can use freshly picked strawberries or the ones you buy from the store for this Strawberry Fruit Pizza recipe with sugar cookie crust will turn out fantastic. Not to mention it is super simple and done in no time! The hard part is waiting to eat this healthy(er) pizza!
Strawberries are a hot commodity around here especially the ones we pick ourselves. There is just something about picking your own strawberries that make them taste just that much sweeter!
If you have never made a fruit pizza before this is a great one to start with. It is so simple to put together, perfect for beginners and even a fun thing to do with your kids! This summer dessert has it all. It has the fresh, creamy, and sweet flavors your tastebuds are longing for!
Need more fruit pizza recipes or dessert pizza recipes to try? Why not take a look at some of our amazing recipes! Try our watermelon fruit pizza recipe, mini sugar cookie fruit pizza recipe, and our super tasty patriotic fruit pizza recipe! All are easy to make and have that wonderful fresh fruit!
Okay, make sure you have everything in the lists below to be prepared to make our delicious summer dessert recipe!
Fruit pizza with cream cheese ingredients:
Refrigerated sugar cookie dough

Cream cheese

Cool whip

Vanilla extract

Powdered sugar

Strawberry pie filling

Fresh strawberries
If you prefer to make your own sugar cookie dough, take a look at this simple sugar cookies recipe from Allrecipes.com and then use the dough for this recipe!
You will also be using these items for this Pillsbury sugar cookie fruit pizza: