I love a good frozen snack every now and then, especially when they are healthy and full of all the good stuff. These Skinny Frozen Strawberry Bites are both healthy and delicious. They come together in minutes and freeze quickly. You will love these.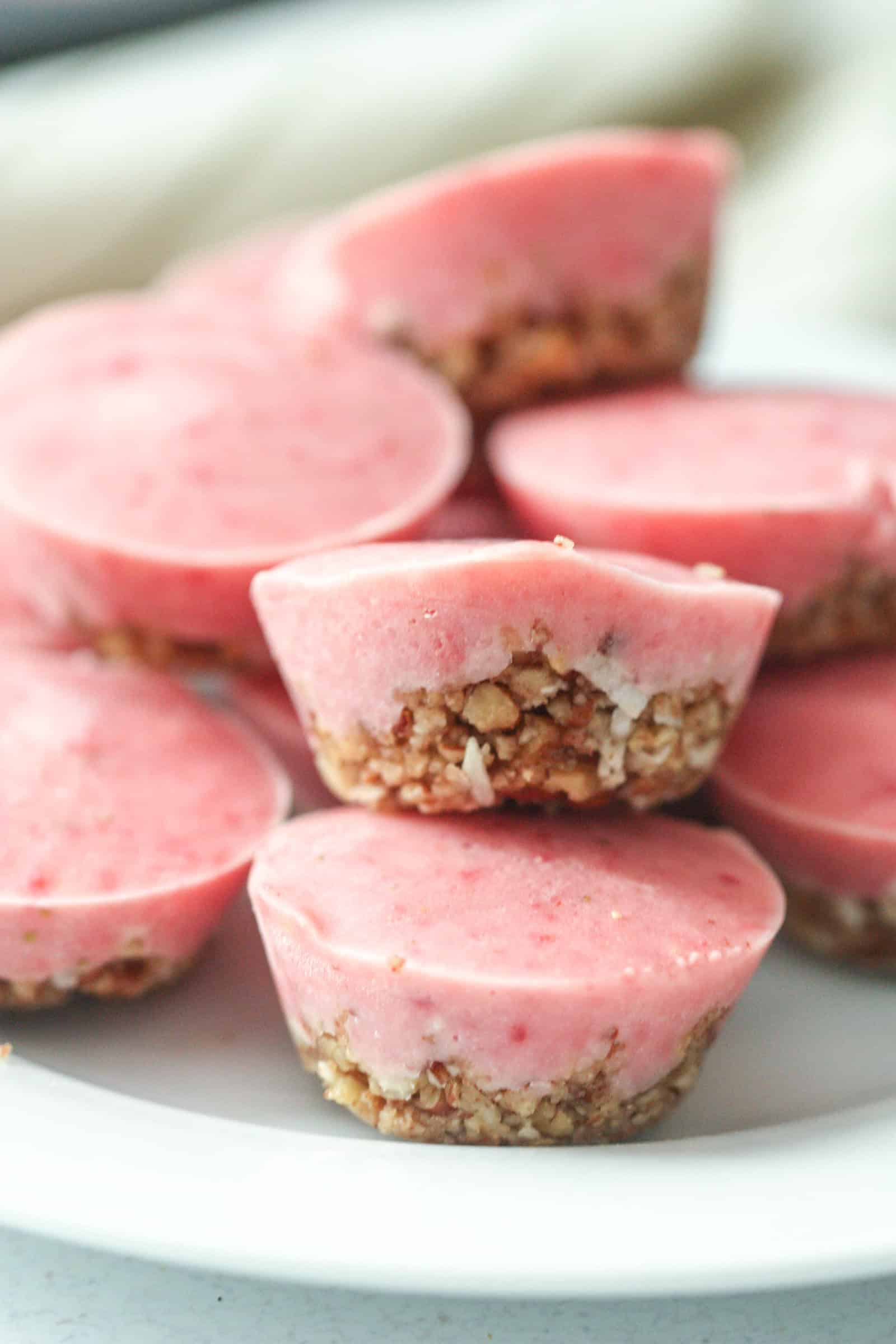 These Skinny Frozen Strawberry Bites are the perfect combination of sweet and salty. They are a delicious combination of creamy, frozen, and just the right amount of crunch, with a pecan bottom.
It is starting to heat up here in Utah, and when that happens, I usually turn to ice cream or a sugary popsicle to help.
However, that's not going to help me feel confident in my swimsuit. So I decided to create a delicious healthy snack that would tempt me more than a sugary snack.
Your tastebuds are going to go crazy for these.
How to make skinny frozen strawberry bites:
-You'll first want to start with your base. This is an easy mixture of pecans, unsweetened coconut, a little honey, and a little bit of olive oil.
This crust is simple, easy and comes together in a matter of seconds, with the help of a blender. If you aren't a pecan person, you could use almonds, cashews, or even graham crackers or vanilla wafers.
Simply place all the ingredients into a blender, and blend until only small granules. I like mine to have a little texture so I don't blend it until it is sand texture, but just until it has a few visible pecan pieces left.
If you don't have unsweetened coconut on hand, you can also use sweetened.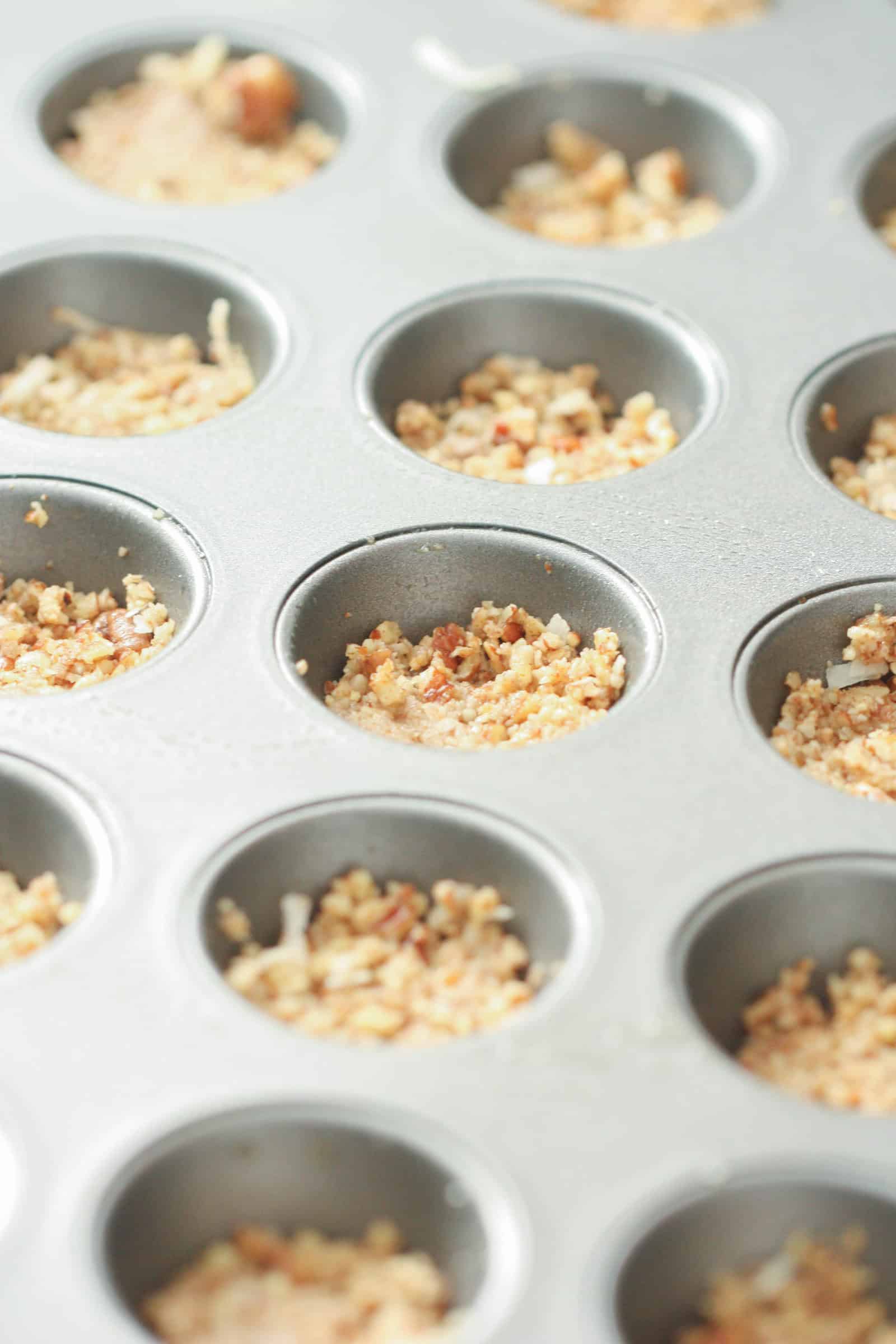 Once you have blended the crust to your desired texture, press it into the holes of your mini cupcake tin. I sprayed mine with non-stick cooking spray before I pressed in the crusts.
This is optional, but I highly recommend it. Sometimes they can be tricky to slip out, but spraying it before hand definitely made a difference.
If you do not have a mini cupcake tin, you could also use a regular sized one, the bites will just take longer to freeze and won't exactly be bite size.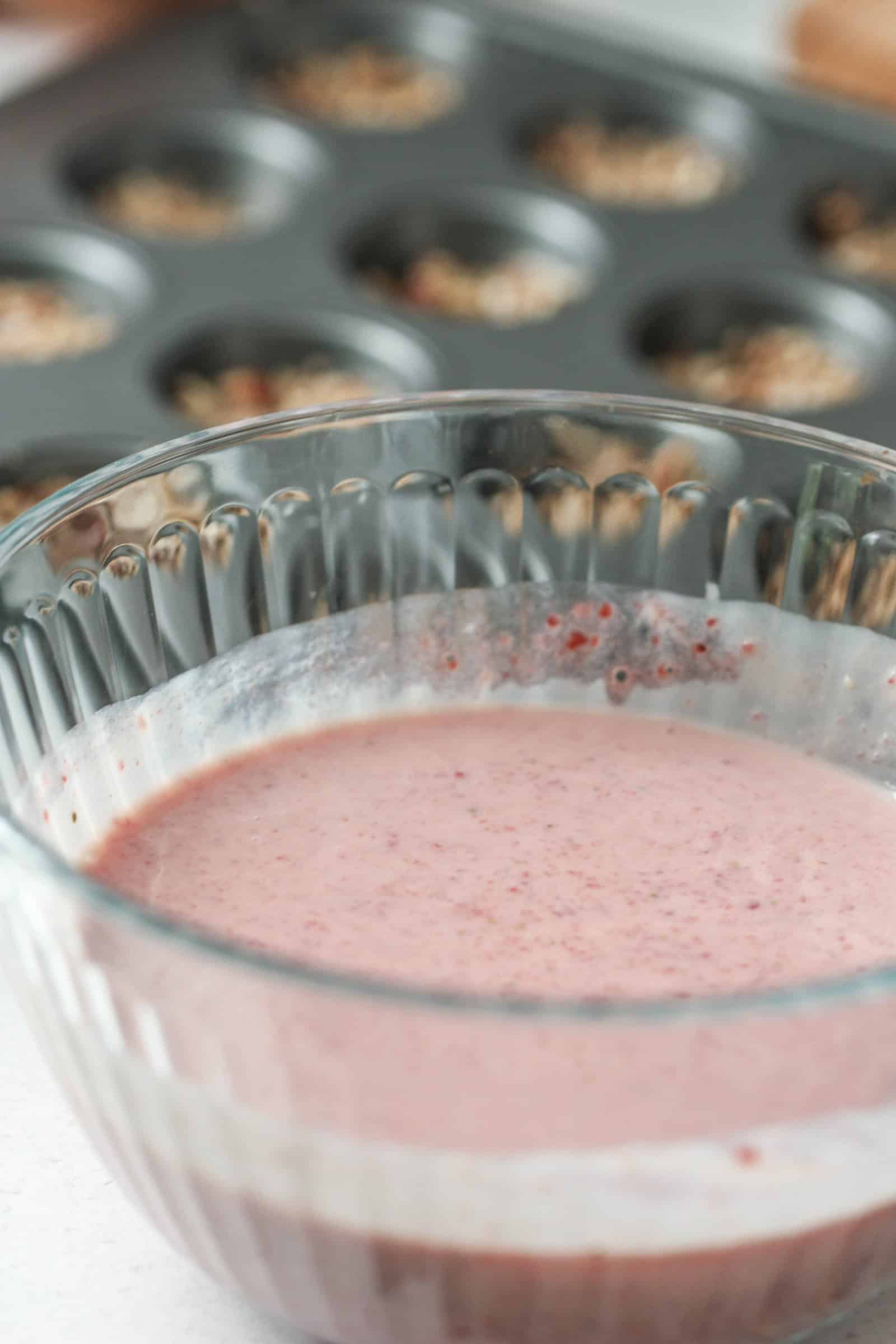 Once all your crusts have been pressed into the tin, you can begin to make your filling. This is a filling with just a few simple ingredients.
Since these are Skinny Frozen Strawberry Bites, I used fresh strawberries, but any fruit would be delicious with this recipe.
You can also use frozen fruits, but I prefer the taste of fresh. I can't wait for peach season to try this recipe with peaches.
Blend your strawberries, then fold in some Greek yogurt. You can use any flavor of Greek yogurt. This would be delicious with a vanilla Greek yogurt, but strawberry would also be yummy.
I used plain Greek yogurt just to avoid those extra sugars, but any type of Greek yogurt flavor would taste delicious. I would recommend using Greek yogurt because it is thicker and has a more distinct flavor that pairs well with the fresh fruit.
I have never tried using regular yogurt, but I imagine they would freeze differently and the bites would be more icy, than creamy.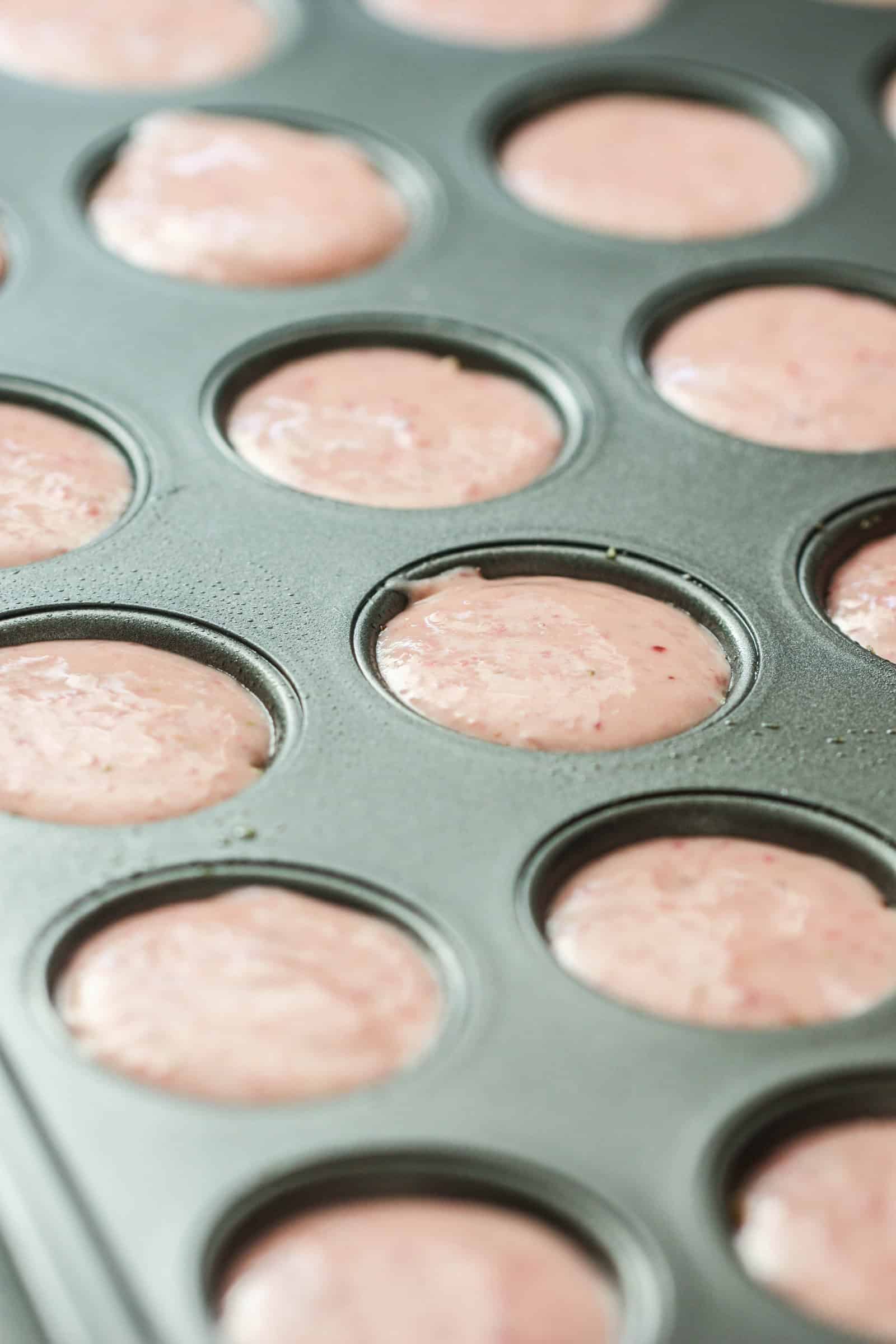 -Spoon the filling on top of the pecan crust. Don't fill it up over the top, just to the top.
You don't want them to pour over because they expand just a little bit when they freeze, and you don't want them to run over onto the cupcake tin and lose their cuteness.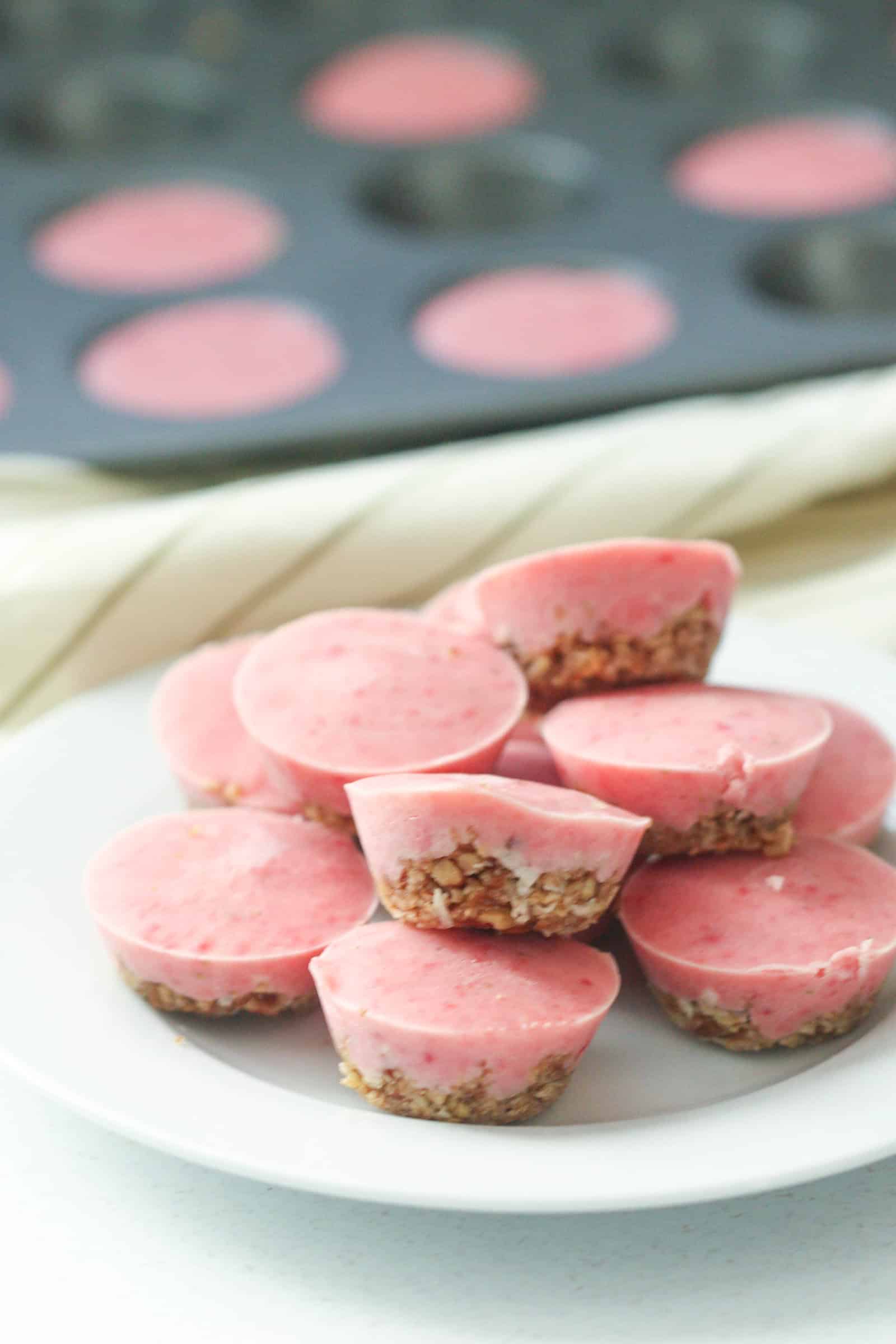 Place them in the freezer and freeze for about 30 minutes. You can also top them with more coconut before you put them in the freezer, for garnish.
We recommend doing this before you freeze them because once they are frozen, they will just fall off the top.
Garnishing before will help them stick and freeze to the top. You could also garnish with a raspberry or strawberry slice.
Once frozen, I just spooned them out. If they were frozen too long, take a skinny knife and outline the edge of the frozen strawberry bite. Eat and enjoy.