I love fruit pizza, but the kids absolutely love having their own personal fruit pizza. This recipe is great for kids, because they can decorate their own, delicious, fruit pizza. Adults love them too. They are a light and refreshing dessert.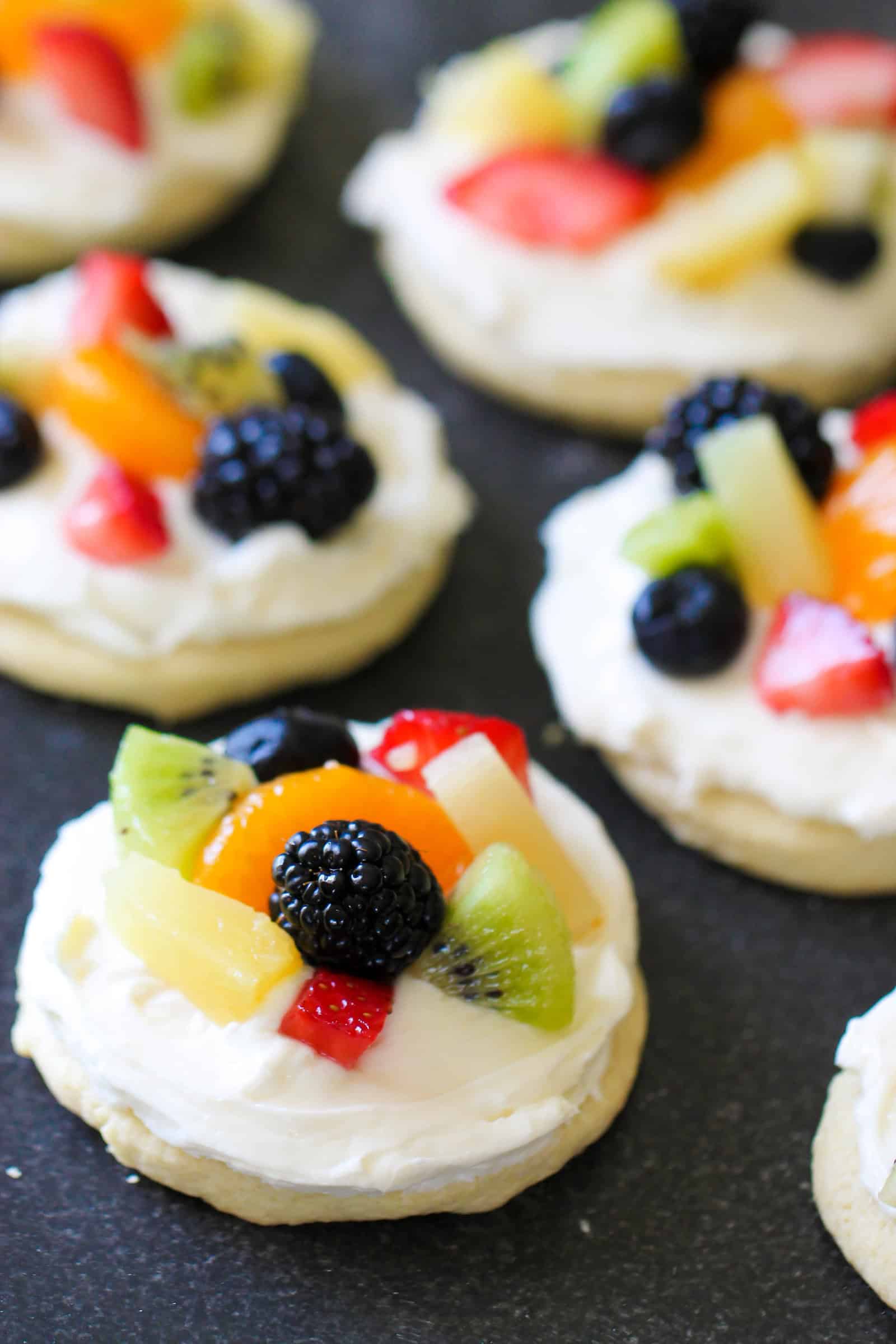 We LOVE pizza at our house, including yummy sugar cookie fruit pizza. Our mom has been making this treat for us since we were little and we think that this recipe is the best.
Take our mom's famous sugar cookie recipe, add a sweet cream cheese layer and top it off fresh fruit- this counts as healthy food, right?
These are so easy and fun to make, plus you can get the kids involved and let them decorate their own mini pizza. This is also always a huge hit when we take it to parties.
The recipe below either makes about 36-48 cookies (depending on what size you make them) OR one large pizza with 12-18 cookies leftover.
Related Recipe: Don't forget to try our tasty Strawberry Fruit Pizza!
How to make sugar cookie fruit pizza
Step 1: Mix softened butter with sugar, eggs and vanilla. Stir well.
Step 2: Then mix in flour, baking powder, baking soda, salt and milk. Chill dough for about an hour and it will be easier to roll out.
Step 3: Roll out the dough on a floured surface until it's a little more than 1/4 inch thick. Use a circle cookie cutters to make the circles for the dough.
Step 4: Place on cookie sheet and bake at 350 degrees for 10 minutes. Let the cookies cool completely before adding the cream cheese layer.
Cream Cheese Layer:
Step 5: Mix together cream cheese, powdered sugar and vanilla. Beat until smooth. Fold in the Cool Whip and stir well.
Step 6: Spread cream cheese layer over cooled sugar cookie.
Step 7: Start adding the fruit and top with fruit of your choice.
Love cooking as much as we do? Join our FREE private Facebook Group: Six Sisters' Dinner Club!
Why should I chill the cookie dough?
Chilling the cookie dough chemically changes the cookie dough.
Chilling the dough allows the sugar to take on more moisture and fats in the cookie dough, allowing sweeter tasting cookies.
They are also slower to burn when refrigerated. They cook more evenly.
We recommend refrigerating your cookie dough for about 30 minutes. We have found (scientifically as well) that this is the desired amount of time for cookie dough to refrigerate.