This Strawberry Jell-o Salad uses ripe bananas, crushed pineapple, and strawberries to add sweetness to it. With a layer of sour cream in the middle to offset the sweetness, it's the perfect dish.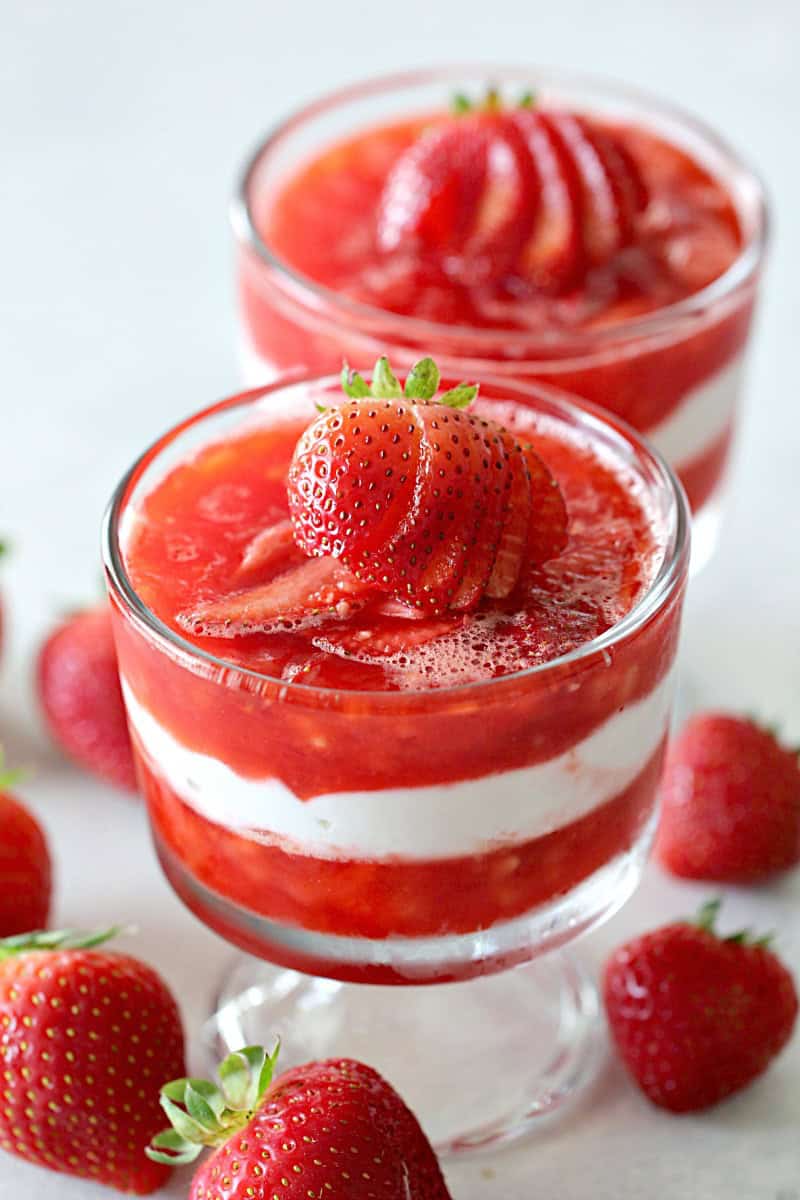 When I have leftover ripe bananas, I usually will whip up our favorite Banana Bread or Banana Cookies . . . but then I found this Layered Strawberry Jell-o Salad Recipe that calls for ripe bananas!
Apparently this is a very old recipe that has been around for generations.
My mom and grandmas make some incredible jell-o salads, but this one is being added to the list of favorites!
The secret to this dish: Sour cream
Now I know what you are thinking . . . sour cream in Layered Strawberry Jell-o Salad with Ripe Bananas?! YES!! Trust me on this one!
The sweetness from the strawberry jell-o (even if you use sugar-free jello) and the fruit kind of takes this over the top, but the sour cream is the perfect counter balance!
The slightly sour and super creamy texture perfectly even-out this jell-o salad.
If you want, you could cut the amount of sour cream used in half, or even mix a little bit of sugar in with the sour cream, but I promise that you will not need it.
How do you make layered strawberry jell-o salad with fruit?
Growing up, my mom was always mixing fruit into our jell-o – mandarin oranges in orange jell-o, peaches in peach jell-o, raspberries in raspberry jell-o, fruit cocktail in lime jell-o . . . it's easy to do!
For this recipe, we will be using crushed pineapple, ripe bananas that have been smashed, and strawberries.
Mix together the jell-o and water as directed in the recipe and once it's dissolved, slowly mix in the fruit.
Make sure that all the fruit is covered by the jell-o and you are good to go!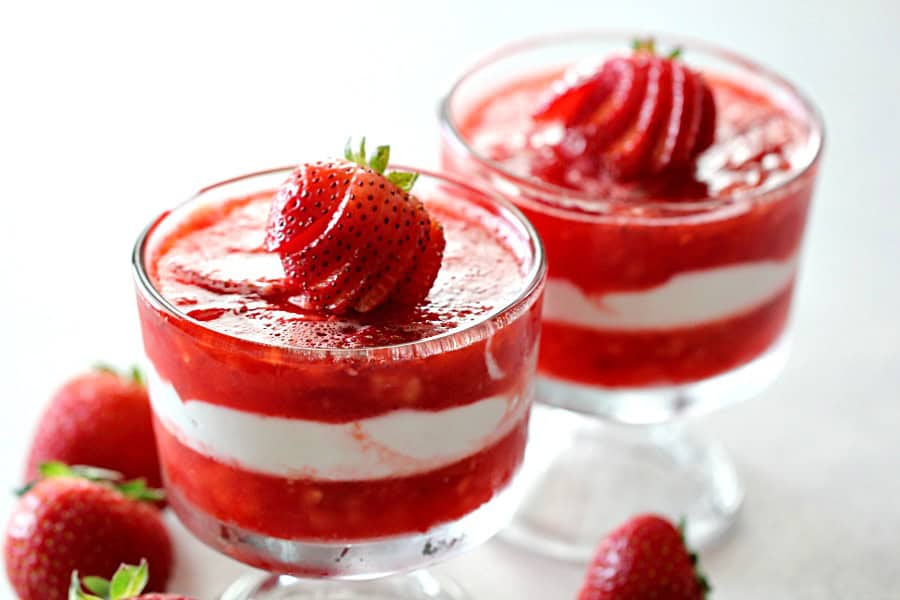 Can you use frozen fruit in Layered Strawberry Jell-o Salad?
You bet! Frozen fruit is a great alternative to fresh fruit in jell-o, especially when fresh fruit is not in season.
For this recipe, you will want to be sure that your frozen strawberries are sliced.
Can you substitute cool whip or whipped cream in place of the sour cream in Layered Strawberry Jell-o Salad with Ripe Bananas?
For this recipe, I would not recommend substituting whipped cream or cool whip in place of the sour cream.
This dish is already so sweet that the sweetness from the whipped cream or cool whip would take it over the top.
However, a great substitute would be plain Greek yogurt or vanilla Greek yogurt.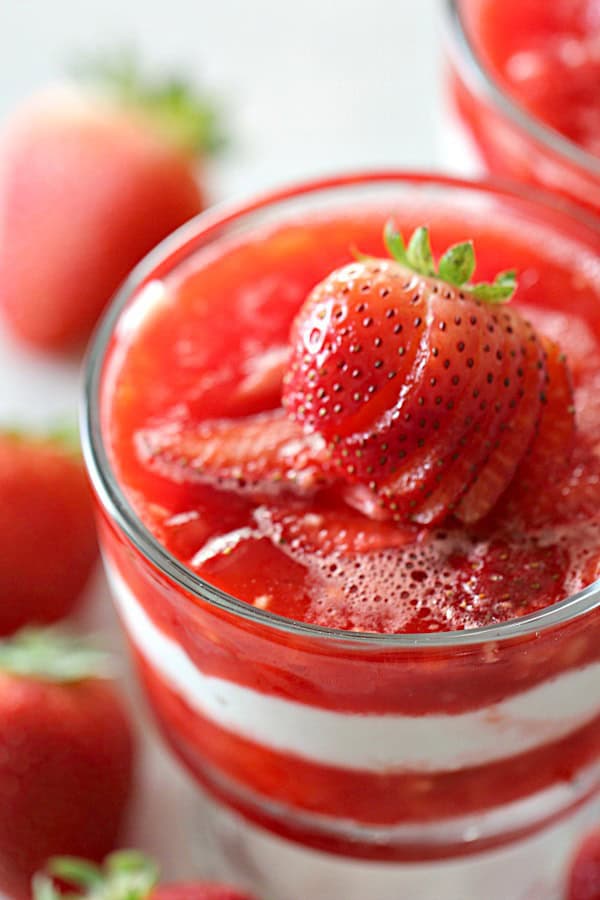 How to make the strawberry Jell-o layers:
Making the layers is pretty simple. You can make this dish in a large bowl, mini trifle bowls (like I used in the picture), or even in a 9×13″ dish.
For the first layer, pour half of the jell-o mixture into the bottom of whatever pan you are using (or, if you are using mini trifle bowls, pour about 1/10 of the mixture into the bottom of the trifle bowl).
Place pan in the freezer for 10 minutes to let it set-up a little bit. Be sure not to put the remaining jell-o that's in your mixing bowl in the fridge because we don't want it to set up yet!
Just leave it out on the counter until it's time to use it.
After the jell-o has started to set in the freezer, pull it out and spread a layer of sour cream on top of it. It helps to stir the sour cream before using it. Spread the sour cream layer evenly on the jello, then slowly pour the remaining jello on top of the sour cream.
Cover your jell-o and let it set up in the fridge for at least 3 hours before serving.