BBQ Pork Sloppy Joes, have taken the original Sloppy Joe, to a whole new level. The sweet tasting pork with the tangy bbq sauce, makes the perfect combination. Your family is going to love this new twist on a family favorite.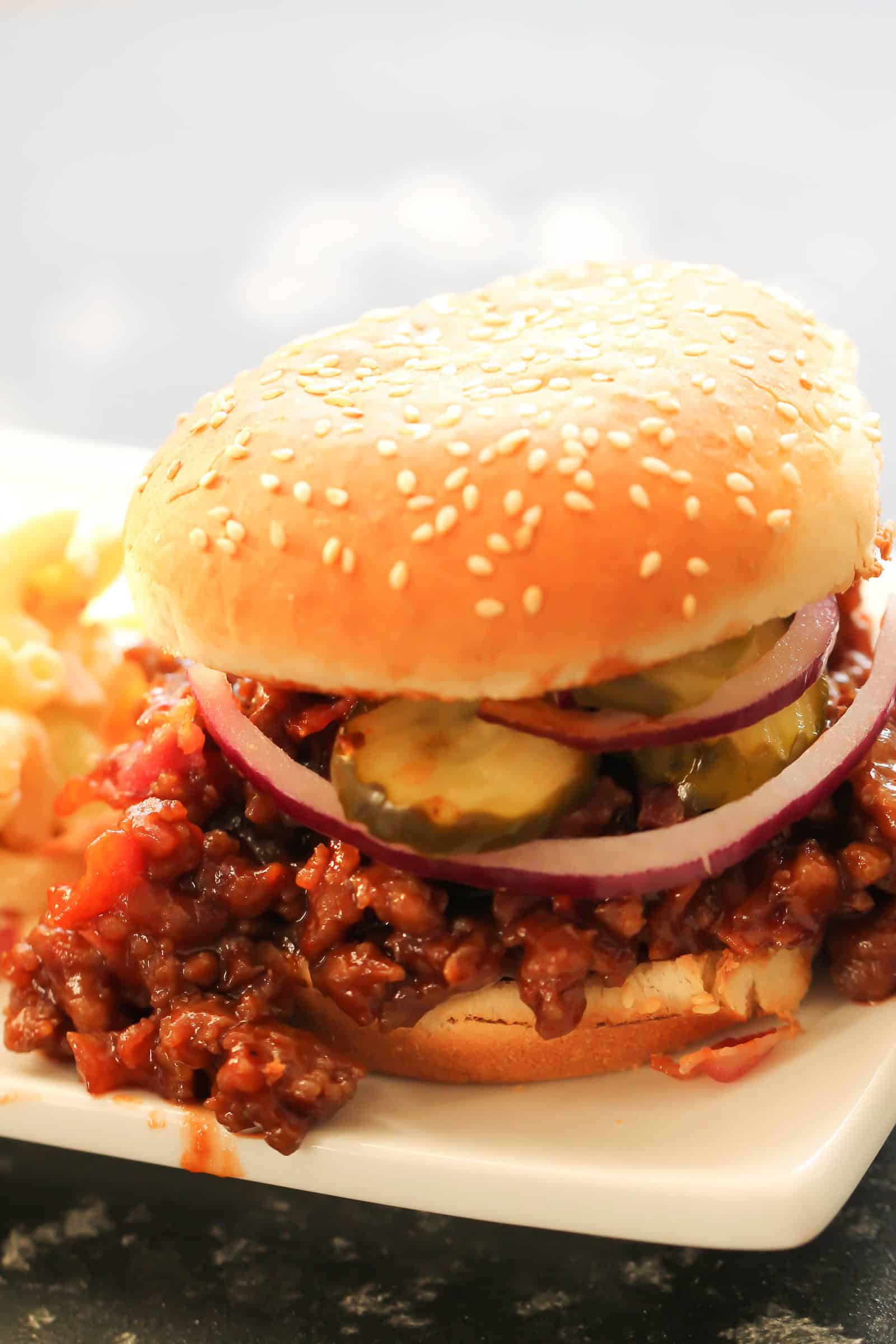 We have taken the good old "Sloppy Joe" to a whole new level. You will love this Porky Joe bursting with bbq flavor and bacon. It's sure to be a family favorite.
My kids always request this one. It is so simple to throw together and tastes amazing. I love the taste of the pork and the bbq together.
If you have never tried a pork sloppy joe, this is the recipe you need to try. It is so easy to make and your picky eaters are going to love it.
How to make BBQ Pork sloppy joes
Step 1: Cook the sausage and onion together in a pan. You'll want to brown the sausage all the way through until completely cooked. Drain grease well.
If you are looking for a healthier alternative, we recommend using turkey sausage. It cooks the same as any other sausage, and tastes delicious.
Step 2: Add in about 1 1/2 cups of the bbq sauce. You may add more for your liking. I usually like more, but I am a sauce person. There is no such thing as too much sauce. Heat the sauce through.
Step 3: Spread the open hamburger buns on a cookie sheet. Spread butter on the inside of each bun and broil for about 1-2 minutes until barely golden. (watch closely so they don't burn).
If you are looking for a short cut, you could also spray the buns with a butter or non stick cooking spray.
Step 4: Remove from oven and spread the meat mixture onto the bottom half of the bun.
Step 5: Top with cooked bacon crumbles, onion slices, and pickles.
I cooked my bacon from the morning before, but you could also use bacon bits, or pre-cooked bacon by the meat and sandwich meat section, at the store.
I also liked the sweet pickles on my Sloppy Joes, but my husband swears by bread and butter pickles.