For an easy dinner recipe make this slow cooker creamy chicken tetrazzini recipe! It is a wonderful chicken breast recipe that you can make right in your slow cooker and enjoy a super creamy sauce over tetrazzini.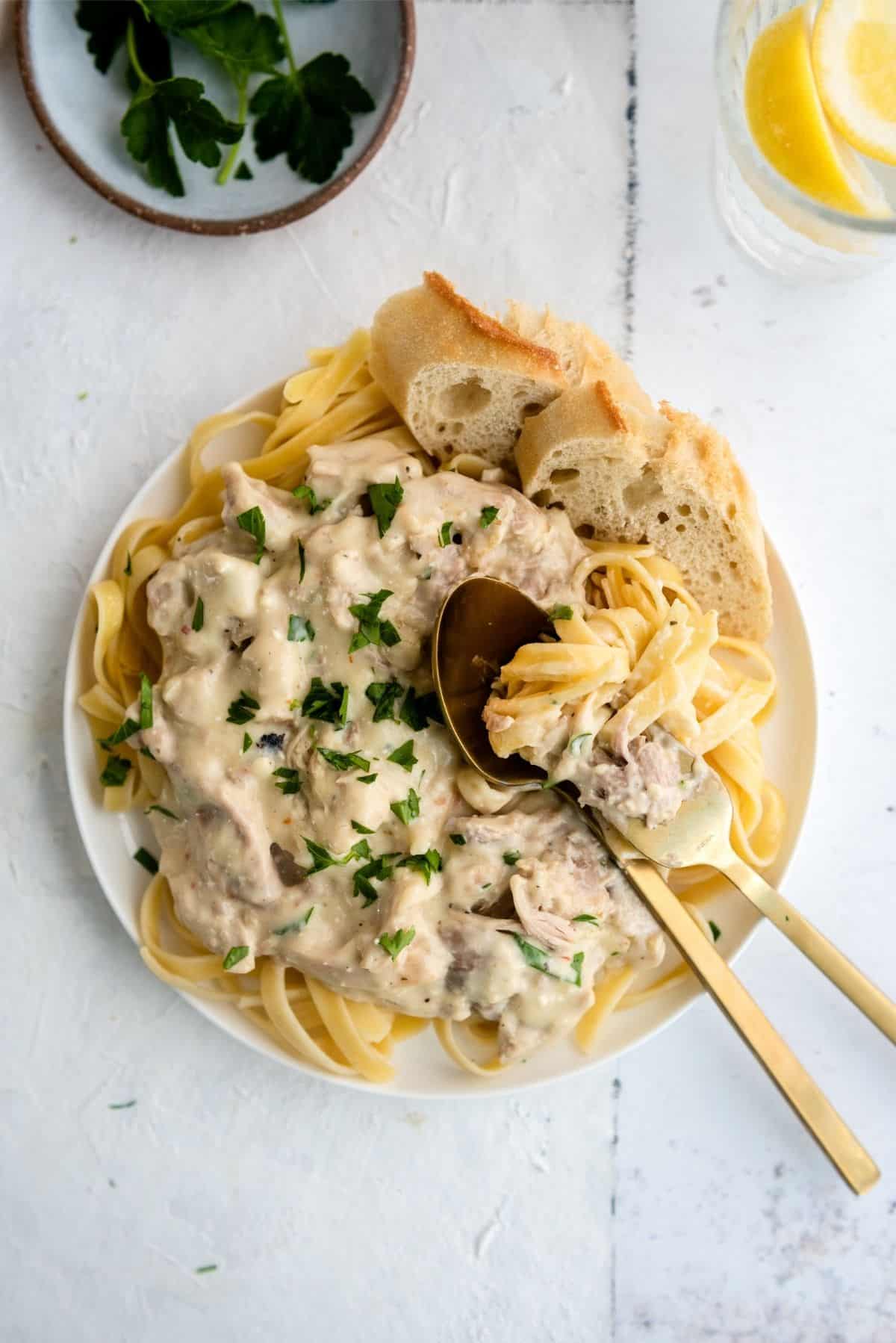 Our slow cooker creamy chicken tetrazzini recipe is the perfect favorite family dinner recipe. You can make this easy chicken tetrazzini recipe in the slow cooker and enjoy it as an easy, yet tasty dinner for the family.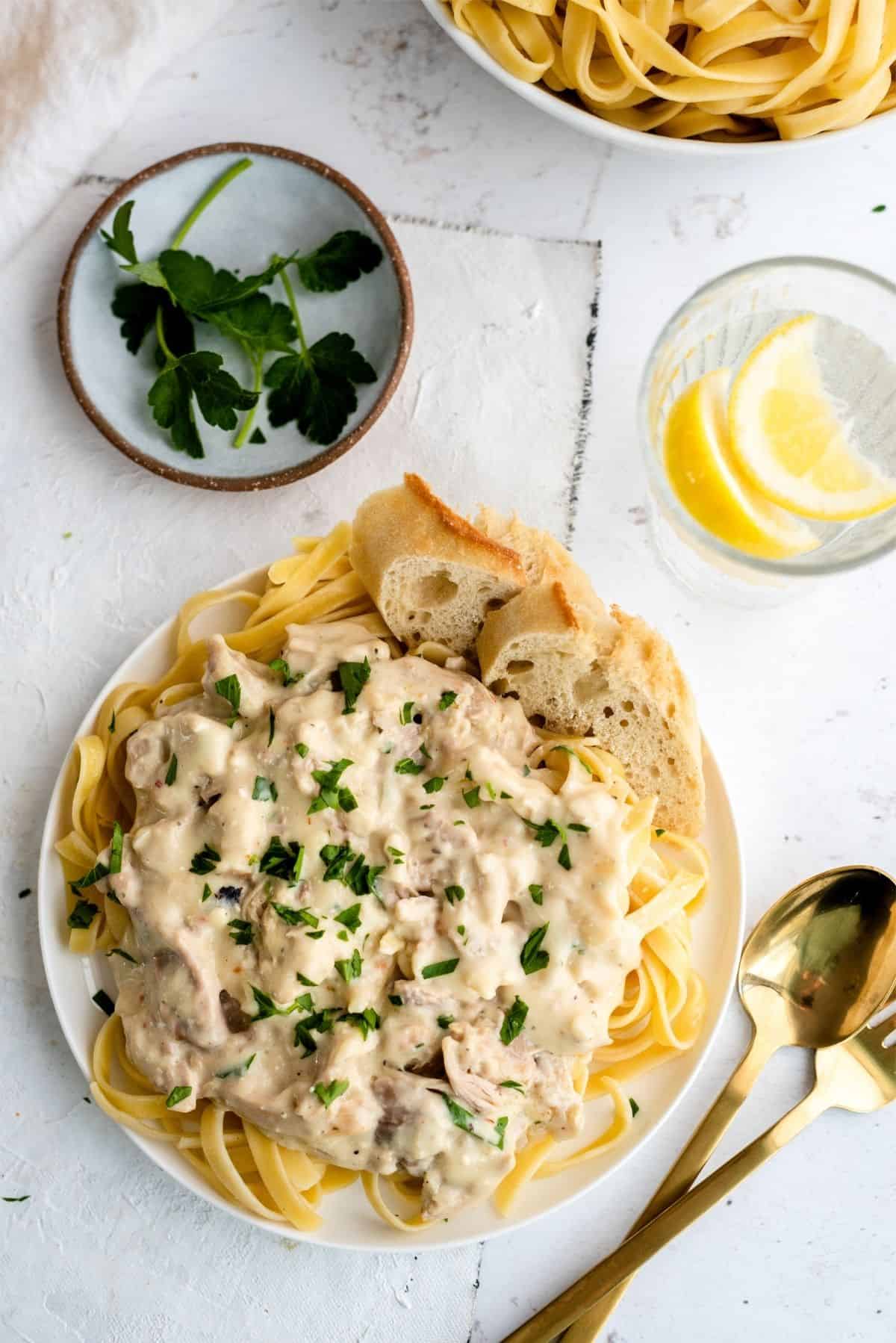 You can make this slow cooker chicken with cream cheese to make the perfect creamy sauce to toss the fettuccine in. Also, you can make this while you're gone, and come home to a delicious meal in a matter of 10-15 minutes.
This is a great meal to enjoy the same day, and makes wonderful leftovers too. Our family devours this recipe though, so there is not often too many leftovers, so if you are planning on leftovers, double the recipe.
When I make this tetrazzini I enjoy serving it with, cheesy garlic texas toast, sheet pan garlic breadsticks, and garlic parmesan skillet rolls are always fun too! Pretty much all the garlic things need to be served with the tetrazzini.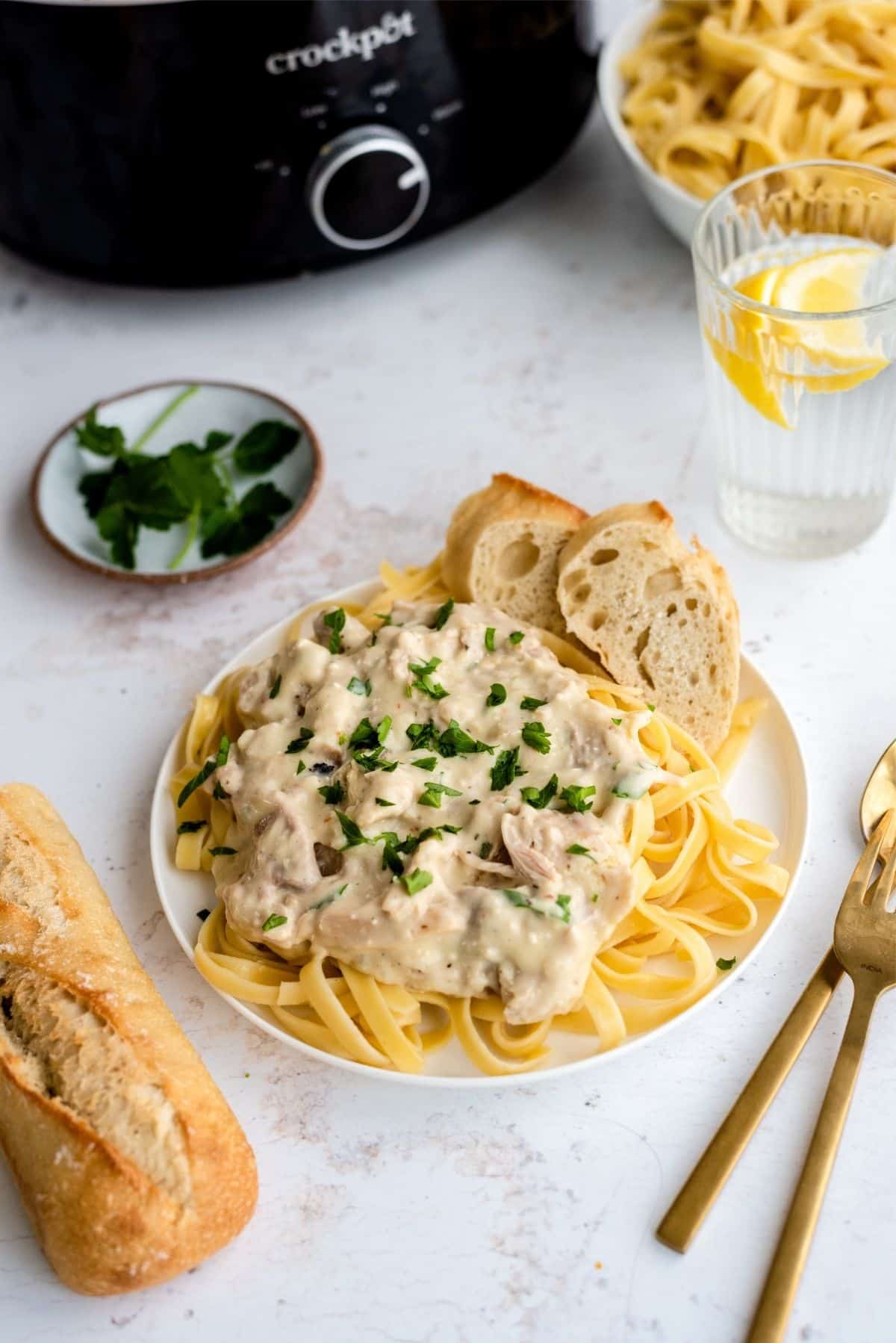 Ingredients You'll Need For Our Slow Cooker Creamy Chicken Tetrazzini Recipe:
Boneless, skinless chicken
Butter
Italian salad dressing mix packet
Onion
Minced garlic
Can of cream of chicken soup
Chicken broth
Cream cheese
Cornstarch
Fettuccine
Fresh parsley
How To Make Our Slow Cooker Creamy Chicken Tetrazzini Recipe: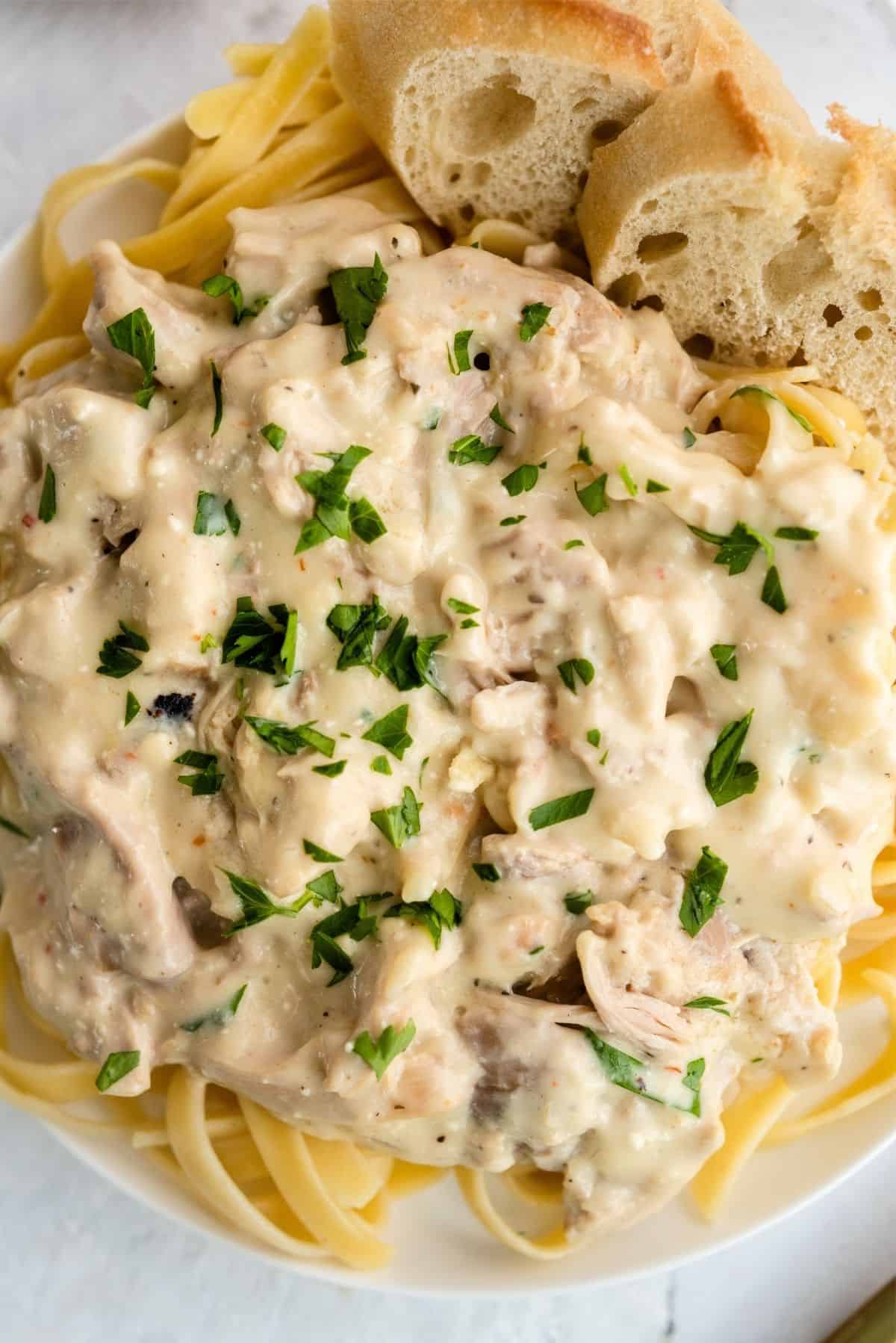 Begin by getting out your slow cooker and spraying it down with non-stick cooking spray.
Then place the chicken breasts in the bottom of the slow cooker and pour the melted butter on top of chicken breasts.
Now sprinkle the dry Italian dressing mix on top of chicken and melted butter.
Next you need to add in the diced onion and minced garlic to the slow cooker.
Now in a small mixing bowl, whisk the cream of chicken soup and chicken broth together and then pour it over top of the chicken.
Then cut up the cream cheese into small cubes and place it on top of the chicken.
Place the lid on top of the slow cooker and cook it on high for 3-4 hours.
While the chicken is cooking, make the fettuccine according to the directions on the back of the packaging.
Once the time is done, remove the chicken from the slow cooker and use forks or a hand mixer to shred the chicken and set it aside.
While the chicken is out of the slow cooker, add in the cornstarch and whisk it together until it is nice and smooth.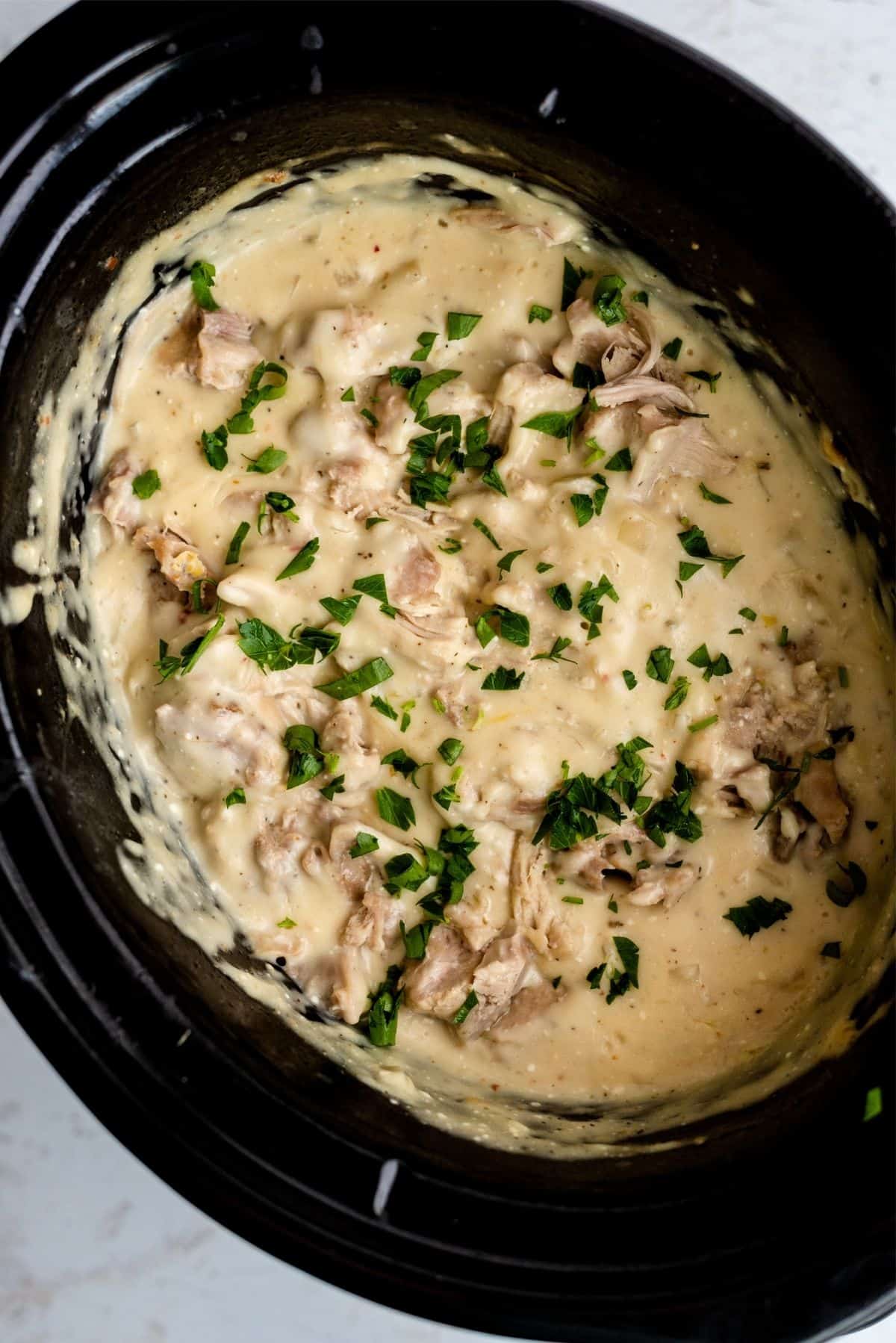 Now add the chicken back into the slow cooker along with the fettuccine and mix it all together until it is well combined.
When you are ready to eat, serve it on a plate and garnish it with freshly chopped parsley.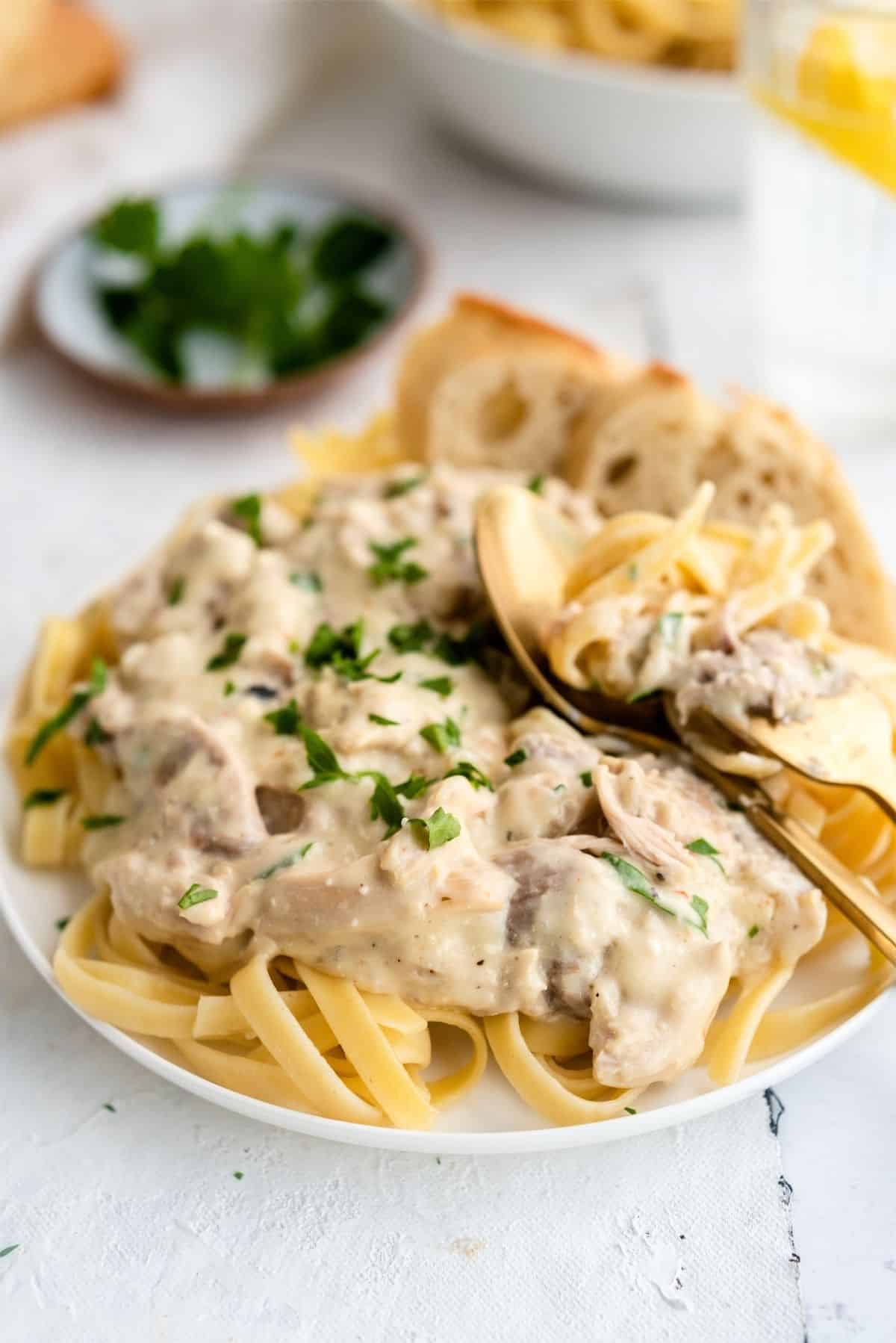 To Make The Easy Chicken Tetrazzini You Will Need:
Slow cooker
Nonstick cooking spray
Whisk
2 forks or hand mixer (THIS is my all time favorite hand mixer)