We are a pasta loving family and this Sun-Dried Tomato Fettuccine is up there with the BEST of them, which says a lot, coming from pasta critics. You have to try this delicious meal. you can also make it vegetarian and gluten free. It's perfect for everyone.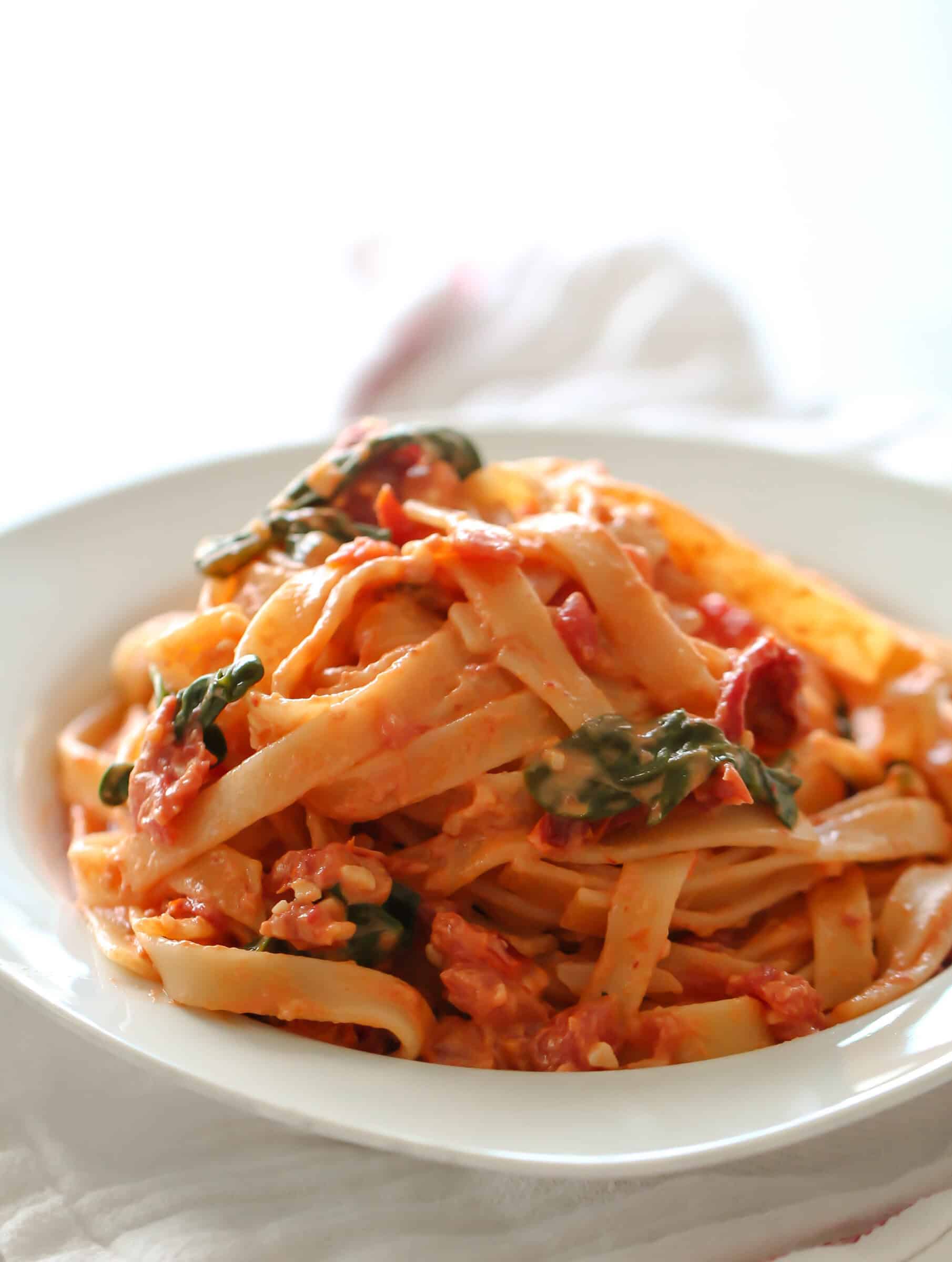 My husband's favorite food is fettuccine Alfredo. I don't mind it but prefer pasta with a tomato based sauce, so I combined the two and made this Sun Dried Tomato Fettuccine Recipe.
It is so creamy, delicious, and beyond easy to make. If you are looking for a simple dinner, this is your recipe. You can throw it together in minutes, and it tastes absolutely amazing.
What meat could I add to this fettuccine recipe?
If you are like my husband, you need meat in every meal. I am a meat lover as well, so I will usually add meat to this recipe.
I like to keep it easy and basic. I will add any meat I have on hand. With this recipe, I have tried:
-Grilled Chicken
-Boiled and Shredded Chicken
-Ground Beef
-Ground Turkey
-Shredded Turkey
-Turkey Sausage
This recipe is extremely versatile. You could also use a different sausage, but I prefer the turkey sausage because it it a little lighter on my stomach.
How can I make this Sun-Dried Tomato Fettuccine gluten free?
If you are looking to make this recipe gluten free, we recommend using a gluten free pasta. These are found on the gluten free aisle at grocery stores.
Tips to simplify and recipe shortcuts:
I love how simple and easy this recipe is. I am always looking for shortcuts when I cook, or ways to save time. This recipe, is definitely a time saver as it is.
If you are looking to make this recipe a little ahead of time, I recommend cooking your noodles ahead of time and adding about a Tablespoon of olive oil to them, to keep them from sticking together.