A huge pan of easy homemade breadsticks ready in less than 45 minutes! Top with your favorite herbs and seasonings to make these a family favorite.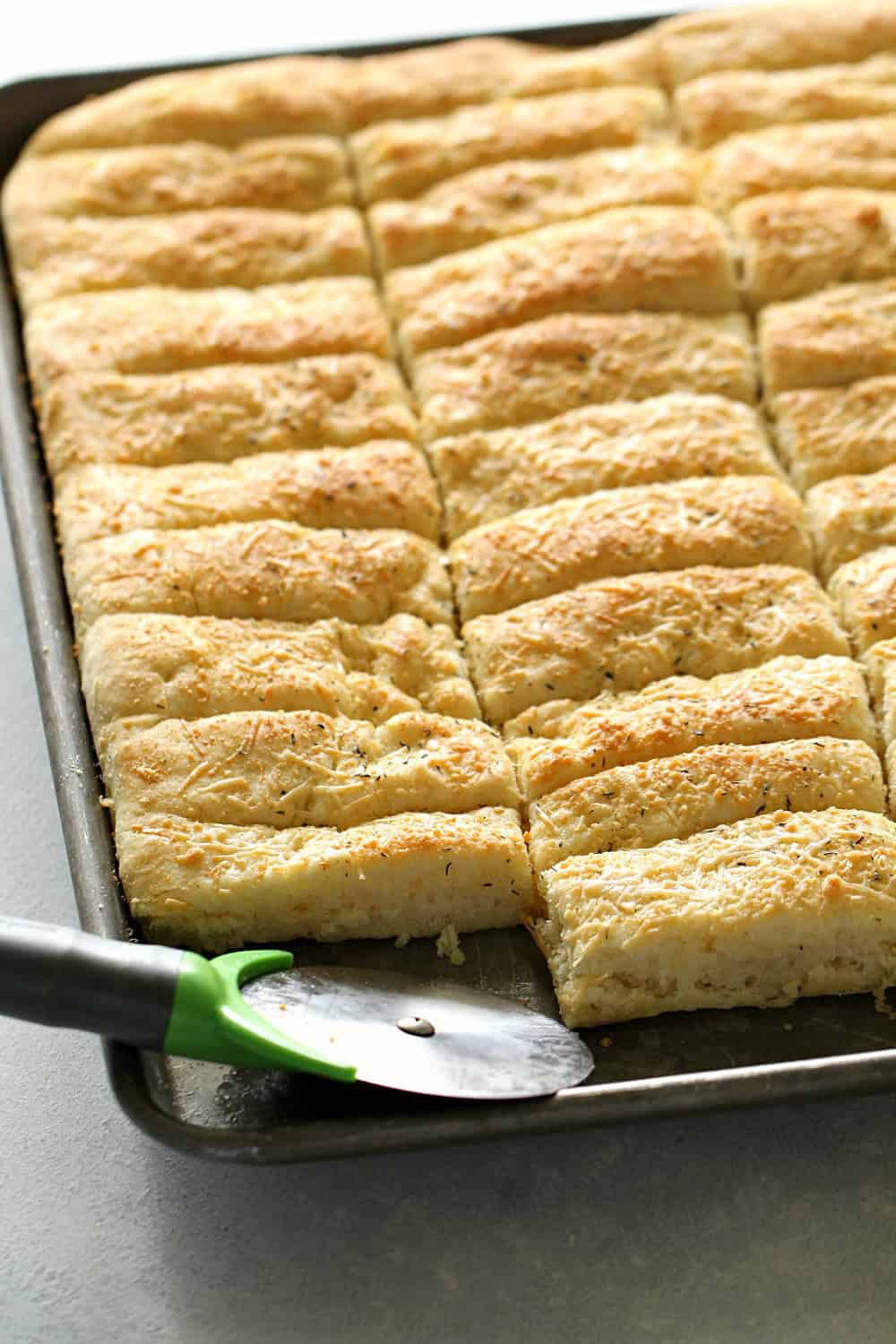 I absolutely love homemade bread, I decided to try this recipe for Sheet Pan Garlic Breadsticks. Everyone says that they are simple and I am happy to share that they really are!
I get so nervous when it comes to using yeast because I feel like it never turns out right.
I am also not a super patient person, so the long process of waiting for dough to rise before it can bake is not something I want to deal with. Our 30 Minute Dinner Rolls are more my jam- mix them up, toss it in a pan, and bake!
If yeast and homemade bread intimidates you, this is the recipe you need to try!
They only take 45 minutes from start to finish and only have to rise for a few minutes. Homemade bread in a hurry!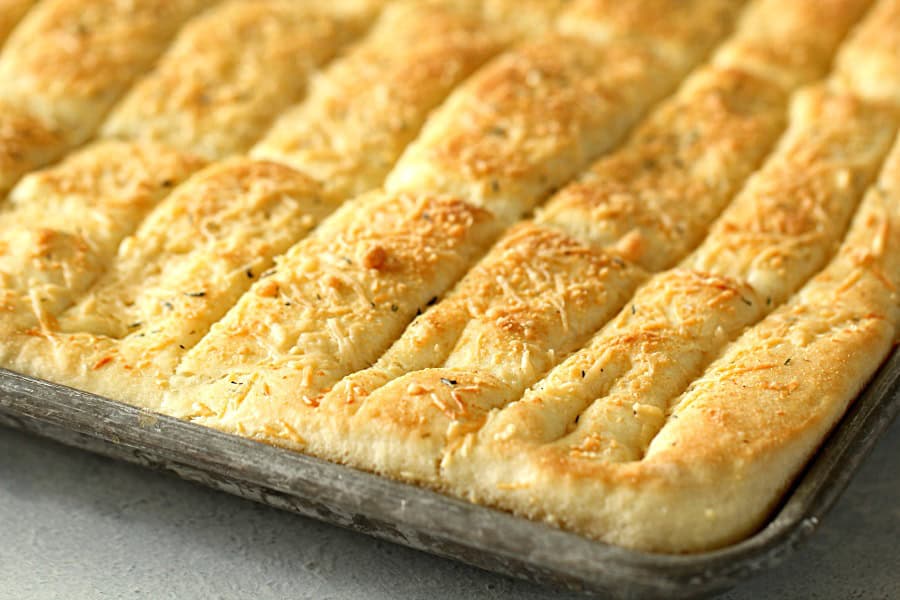 Ingredients needed to make Sheet Pan Garlic Breadsticks:
warm water
sugar
yeast
salt
flour
butter
seasonings
Parmesan cheese
How to make Homemade Sheet Pan Breadsticks:
These breadsticks are simple to make! Follow these steps and you will have breadsticks in no time.
In the bottom of your mixer (I used a KitchenAid mixer), mix together water, sugar, and yeast using your dough hook attachment. Let it rest for 5 minutes.
Add in the salt and flour and mix until it's all incorporated. Mix on high speed for 5 minutes, then let dough sit and rest for 5 more minutes.
Melt the butter and pour half into the bottom of a large baking sheet (I used a cookie sheet that was 17″x10″x1″). Spread the butter around the entire pan using a spatula.
Place the bread dough in the center of the pan and let it sit for a few minutes.
Spread the dough out (I just used my hands) to the edges of the pan. Pour the rest of the melted butter on top of the breadsticks and spread evenly (I used a spatula to do this part).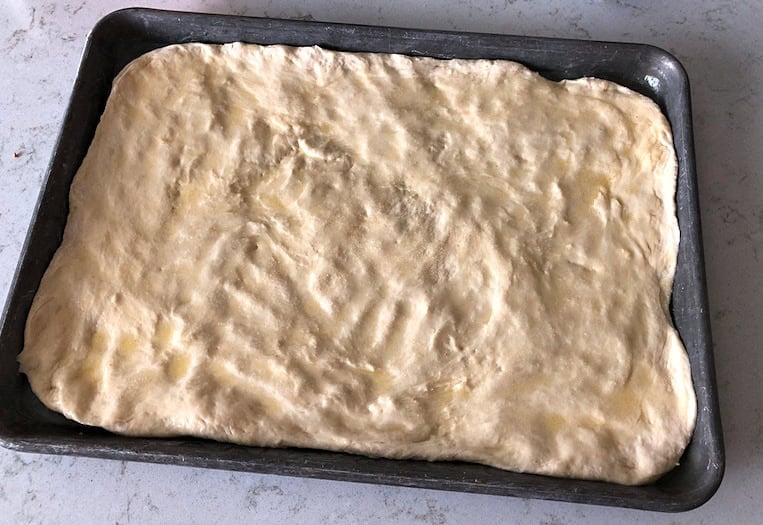 Now it's time to sprinkle with seasonings! For this, anything goes. Some people like to use Johnny's Garlic Seasoning or garlic bread seasoning, but I just use a combination of my favorite seasonings that I have in my pantry (garlic powder, oregano, thyme).
Sprinkle your seasonings all over the butter, then top with some fresh shredded Parmesan.
Using a pizza cutter, cut your dough into small breadsticks (doing this before they cook makes it so easy to cut up after they cook). I did rows of 3×12 and got 36 breadsticks. You can make these as long or short as you want – the size is up to you!
I love the smaller size because they are perfect to serve with soup or chili – they make the perfect "dipping" breadsticks.
Stick these breadsticks in a preheated oven at 170 degrees and cook for about 8 minutes (they should rise about an inch). Turn up your oven to 350 degrees (while your breadsticks are still in there – they will continue to bake while the oven preheats) and bake breadsticks for 12-15 more minutes or until they start to turn golden.
Remove from oven and let cool for a few minutes, then follow the indentations using a pizza cutter to cut the breadsticks.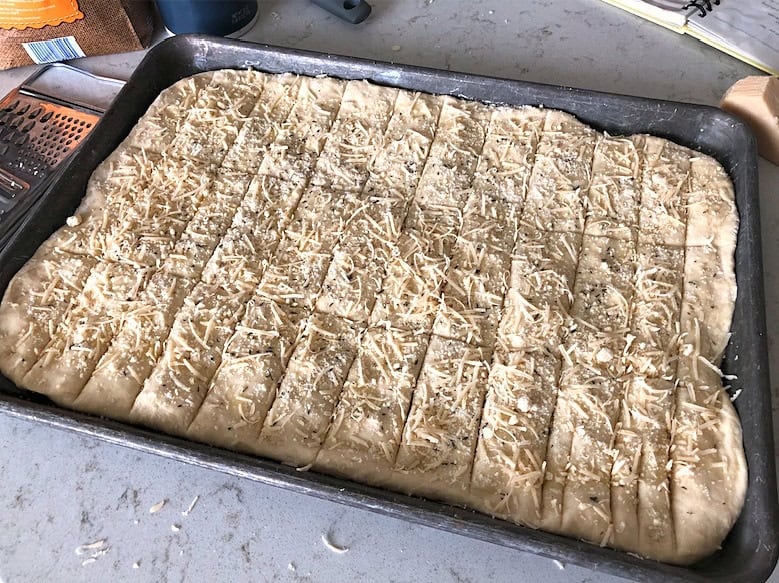 Tips for making these Garlic breadsticks:
To get the right temperature of water, let your tap water run all the way on the hot side for about a minute. If the water is too cold, your dough won't rise.
Sometimes it's hard to use a pizza cutter on the breadsticks that are touching the edge of the pan. If that's the case for you, feel free to use some kitchen scissors to cut where the pizza cutter can't reach.
Fresh shredded Parmesan cheese is my favorite, but you could also use the grated Parmesan cheese that comes in a container.
Feel free to use fresh herbs to sprinkle on top – they taste delicious!