This Bacon Wrapped Cream Cheese Stuffed Chicken is a staple in our family. The texture of the cream cheese is perfect with the soft crunch of bacon. Your mouth needs to experience this flavor combo. It is so easy to make and tastes amazing.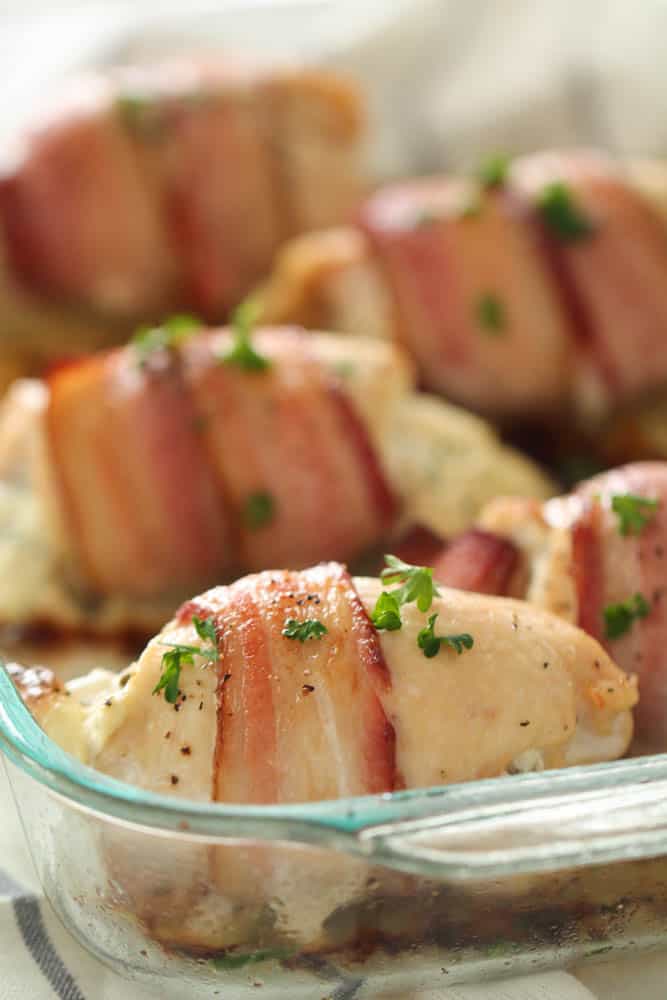 I know the name for this recipe is long, but it is probably one of the easiest recipes you will ever make! I love just about anything with bacon involved, and this recipe definitely fell into that category.
Everyone will think you spent so much time in the kitchen preparing this delicious dinner, but it only takes 10 minutes to throw together.
Serve with a fresh green salad, like our Walnut Pear Salad, and you'll have an amazing dinner ready to go in less than an hour from start to finish.
How to make bacon wrapped cream cheese stuffed chicken:
Step 1: Preheat oven to 400 degrees F.
Step 2: Spray a 9 x 13 inch baking dish with nonstick cooking spray.
Step 3: Lay chicken out flat and season with salt and pepper.
Step 4: Spread 1 tablespoon of chive and onion cream cheese spread on each chicken breast.
Step 5: Roll up chicken breast.
Step 6: Wrap or roll a piece of bacon around each chicken breast (secure with a toothpick, if necessary) and lay seam side down in prepared pan.
Step 7: Bake for 30 minutes then broil on high for 3-5 minutes until bacon becomes crisp.
Step 8: Garnish with fresh parsley and serve.