Cheesecake will always be one of our favorite desserts. Then add some oreos and chocolate into the mix and it's a little bit of Heaven!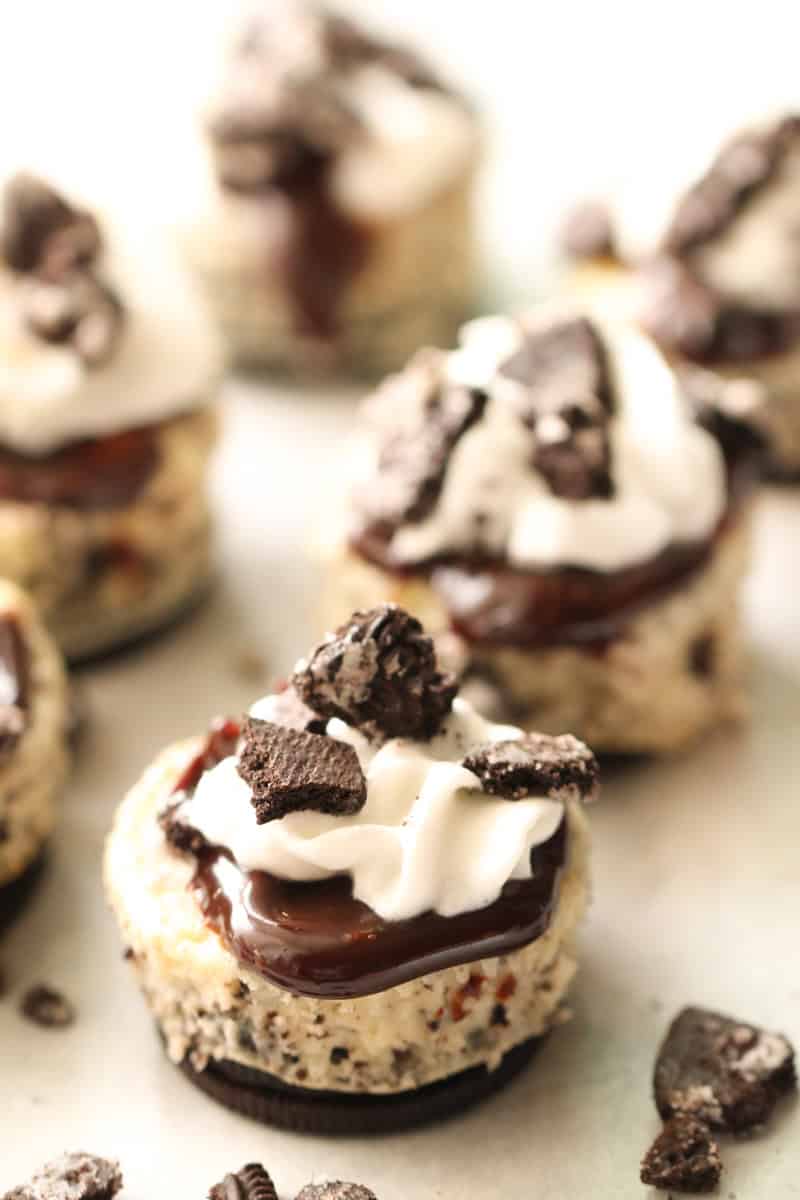 Oreos have been around for many years. Since 1912 to be exact.  We often came home from school to a glass of milk and some Oreo cookies. I think we kept Nabisco in business. You are going to love these mini Oreo cheesecakes. They are so easy to make, but look like you spent a lot of time in the kitchen. They are great for a family dessert, or serving to guests for a special occasion.
We have many cheesecake recipes on our site. Some are no bake and others require some baking. They are all simple and delicious. One of our favorites is White Chocolate Raspberry Cheesecake.
A few easy steps to make mini oreo cheesecakes
You can assemble these Mini Oreo Cheesecakes in a few easy steps.  Line your muffin tin with 24 cupcake liners. Place an Oreo in the bottom of each liner.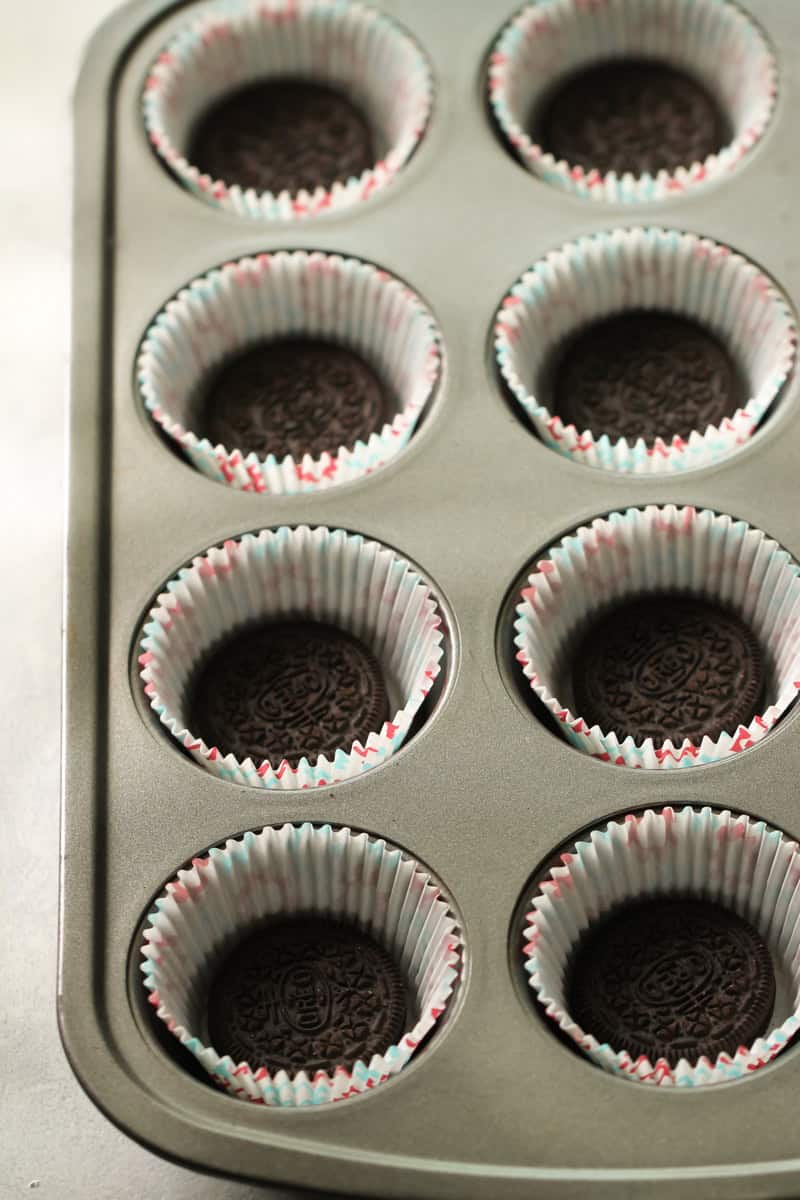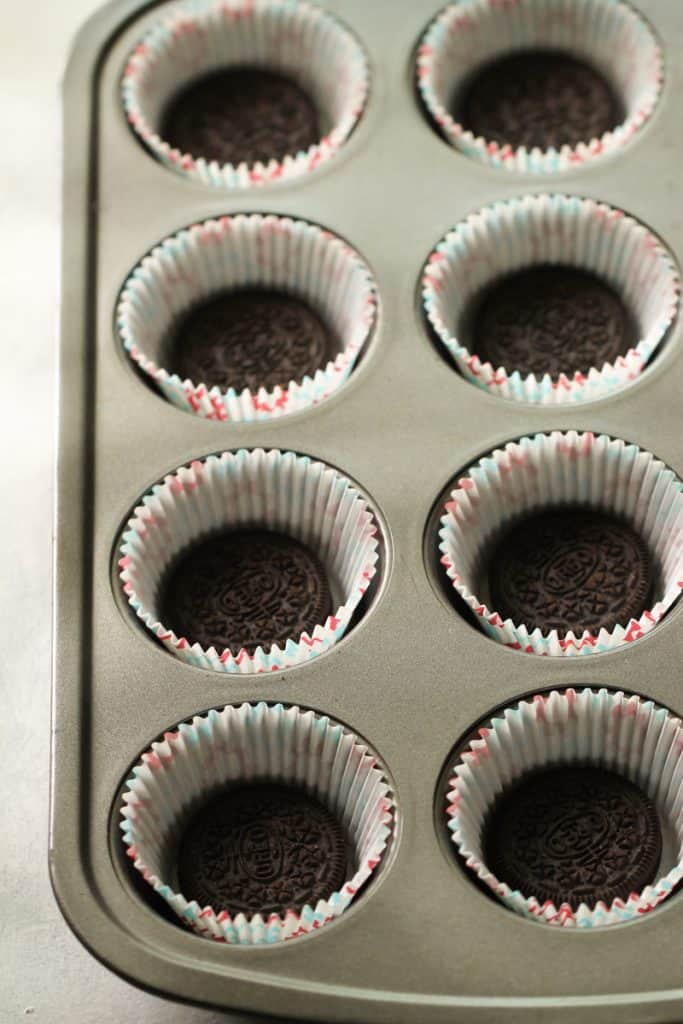 In a medium sized mixing bowl you will want beat together the cream cheese, sugar and vanilla until smooth.  We always use a hand mixer when beating these ingredients together. It really helps to have your cream cheese softened to room temperature.  It will make the mixture much smoother. Then begin to add the eggs in one at a time, mix it just until blended. Gently fold in 12 Oreos that have been crushed. When we crushed our Oreos, we put them in a bag and crushed them with a rolling pin until coarsely broken into pieces. Spoon this cream cheese and Oreo mixture over each Oreo in the muffin tins.  You will need to divide the batter evenly into all 24 muffin cups.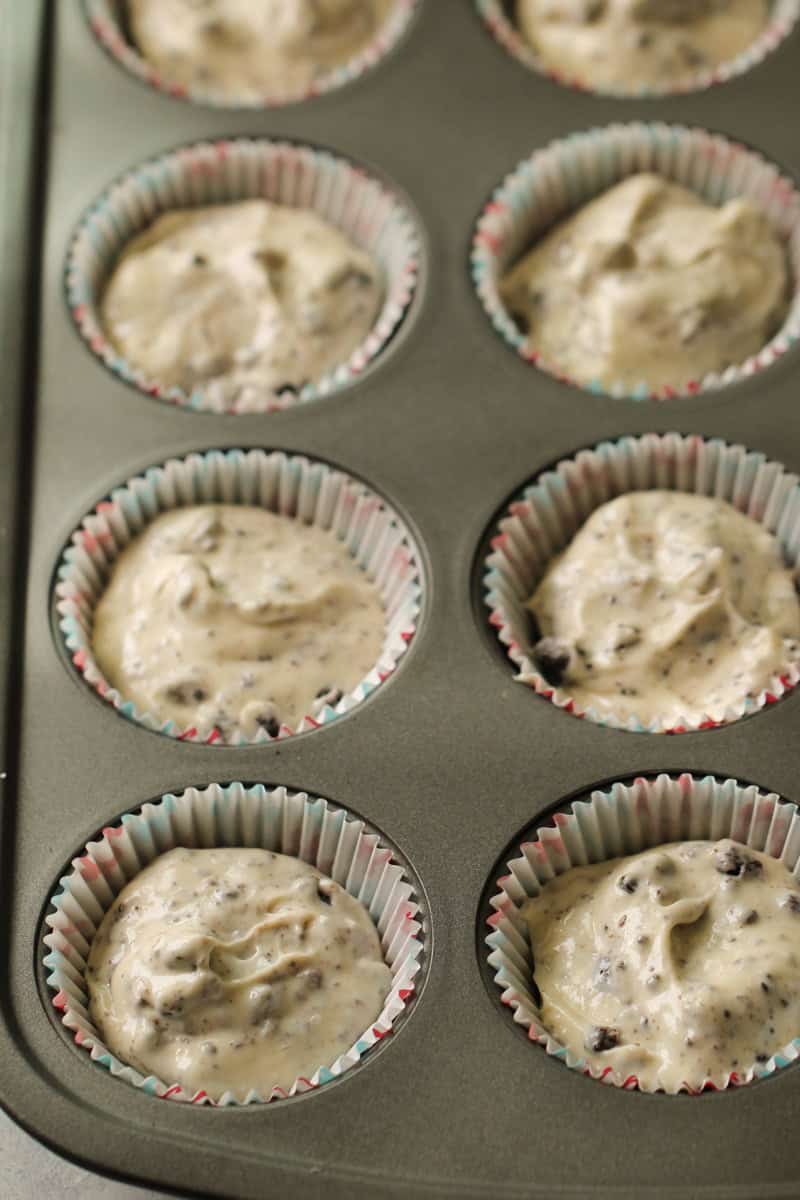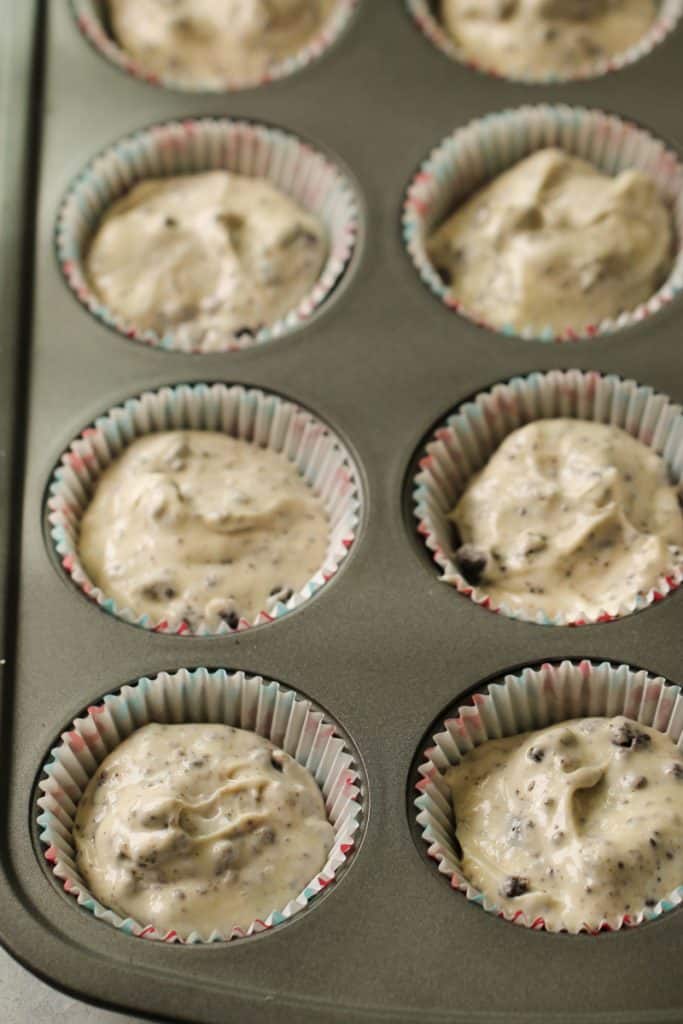 Place them in a preheated oven set at 350 degrees and bake for 15-20 minutes, or until the center of each cheesecake is set. Let them cool completely and then place them in the fridge for about 1 hour. Peel off the cupcake liner from each Mini Oreo Cheesecake. Then the fun begins! Top them off with a spoonful of hot fudge, some whipped topping, and some additional oreo crumbles. And now you are ready to WOW your guests. That is if you can hold back from eating them all yourself. That may have happened before. 🙂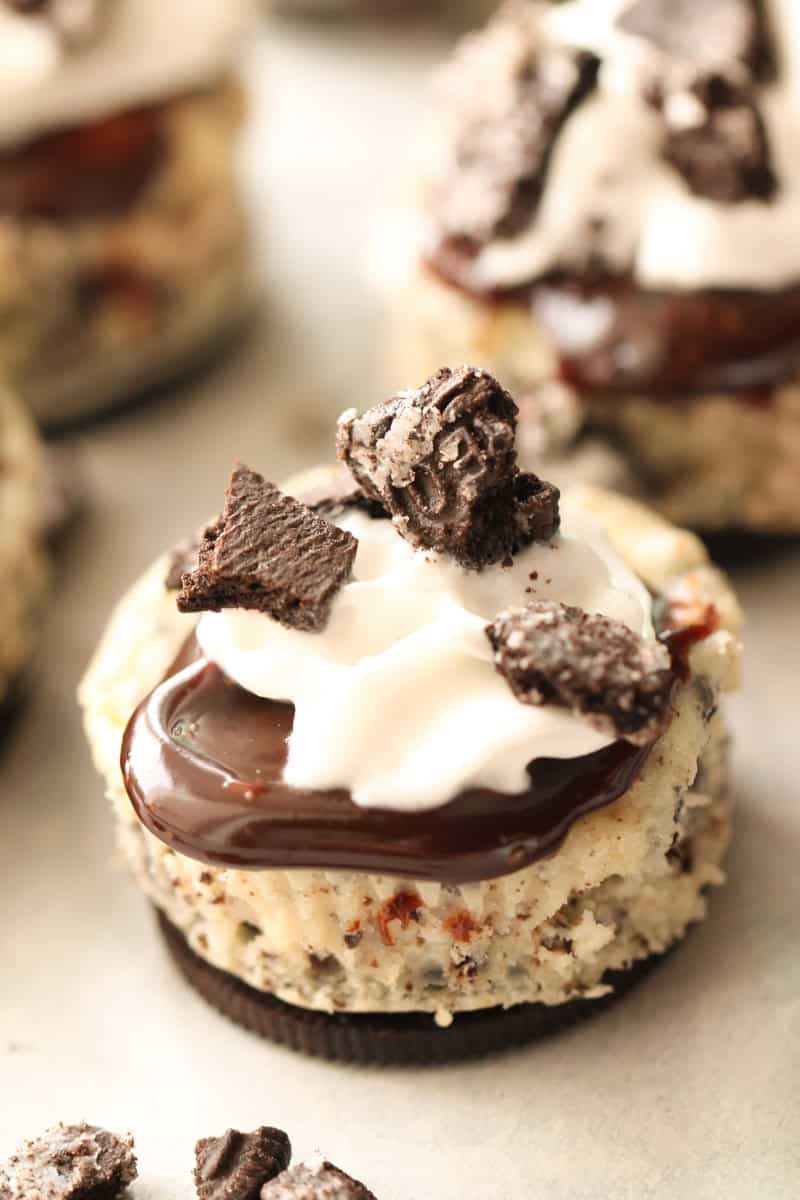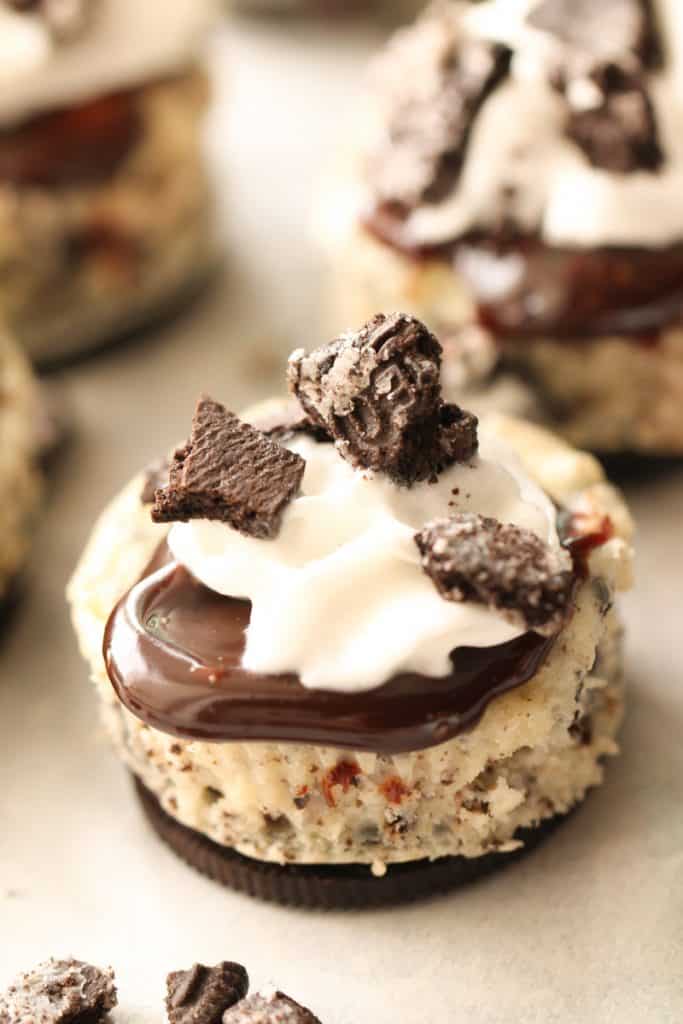 The easiness of mini cheesecakes is less demanding than a full size cheesecake. Water baths in the cooking process scare a lot of people away from making homemade cheesecake. It is actually a very easy process.  The purpose of the water bath with a full size cheesecake is to prevent cracking and ensure even baking. The water bath means that the cheesecake is baked in the springform pan, and then this pan is placed into a larger pan with hot water. So don't let a water bath in the cooking process ever deter you from making a cheesecake. They are absolutely delicious!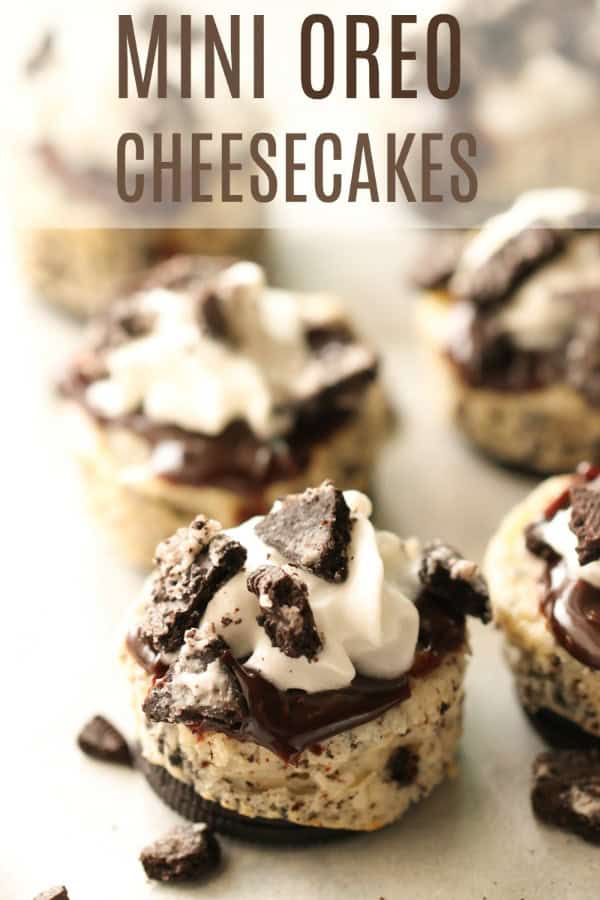 Looking for more cheesecake recipes?
Mini Salted Caramel Cheesecakes
Mini Pumpkin Cheesecakes
Pumpkin Spice Cheesecake
Chocolate Chip Brownie Cheesecake
Peanut Butter Cheesecake
Serves: 24
Mini Oreo Cheesecakes
2 hr, 10 Prep Time
20 minCook Time
2 hr, 30 Total Time
Ingredients
24 Oreo cookies (whole)
3 (8 ounce) packages cream cheese (softened)
3/4 cup sugar
1 teaspoon vanilla
3 eggs
12 Oreo cookies (crushed)
1 cup hot fudge sauce
1 1/2 cups whipped cream
1 (8 ounce) package mini Oreo cookies (crumbled for top)
Instructions
Place 24 cupcake liners in muffin tins. Set a whole Oreo cookie in the bottom of each liner.
In a medium sized mixing bowl beat together softened cream cheese, sugar and vanilla until smooth.
Add the eggs one at a time, mixing until just blended.
Gently fold in 12 crushed Oreo cookies (I put the cookies in a ziploc bag and crushed them with a rolling pin).
Spoon cheesecake mixture over each cookie in the liners.
Bake at 350 degrees for 15-20 minutes or until the center of each cheesecake is almost set.
Cool completely, then refrigerate at least one hour (or overnight).
Top with hot fudge sauce, a dollop of whipped cream, and sprinkle mini crushed Oreo cookies on top.
7.8.1.2
1662
https://www.sixsistersstuff.com/recipe/mini-oreo-cheesecakes/