With a chocolatey Oreo crust and a soft, peanut butter center - this No-Bake Peanut Butter Cheesecake is sure to be a crowd pleaser!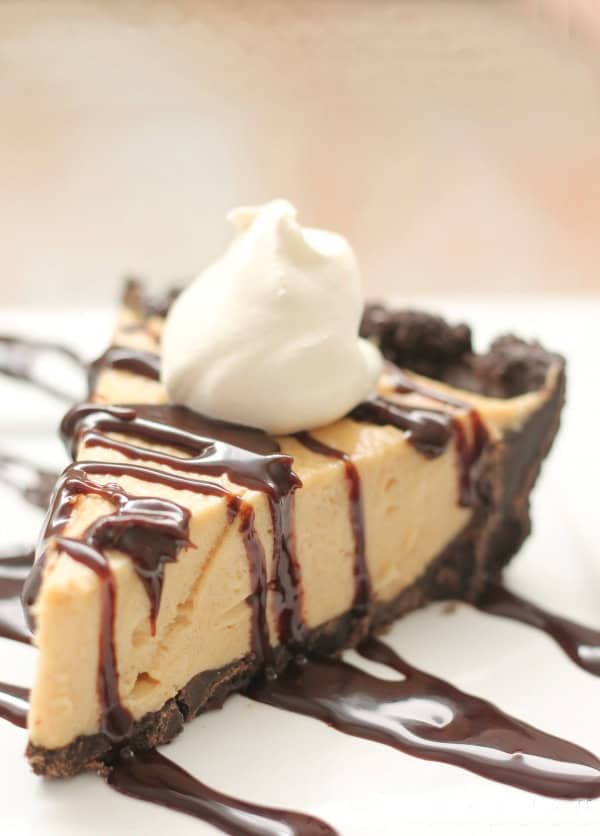 Our No-Bake Peanut Butter Cheesecake is the perfect dessert for a hot day or when you need an easy dessert.
This peanut butter cheesecake is served cold, so it's perfect when you need a cold treat.
With an Oreo crust and a creamy peanut butter center, it's sure to be a crowd pleaser!
Ingredients needed to make this Peanut Butter Cheesecake:
⅓ cup butter
1 cup milk chocolate chips
2 cups Oreos finely crushed
8 ounces cream cheese
½ cup sweetened condensed milk
¾ cup peanut butter
2 Tablespoons lemon juice
1 teaspoon vanilla
¾ cup whipped cream
½ cup chocolate fudge sauce optional topping
How to make No Bake Peanut Butter Cheesecake:
In a small bowl, heat the 1/3 cup butter and chocolate chips in the microwave for 30 seconds. Remove from microwave, stir, and keep heating in 15 second intervals until mixture is completely melted and smooth.
Stir the 2 cups of crushed oreos into the melted chocolate chip mixture, and spread in the bottom of a 9″ pie pan. Let cool completely.
In a large bowl, beat cream cheese until light and fluffy. Slowly add it condensed milk and peanut butter, and continue mixing until smooth. Stir in lemon juice and vanilla, and then fold in whipped cream.
Pour peanut butter mixture into chocolate crust and place in freezer. Freeze for about 4 hours, until it is solid.
Before serving, drizzle with fudge sauce.