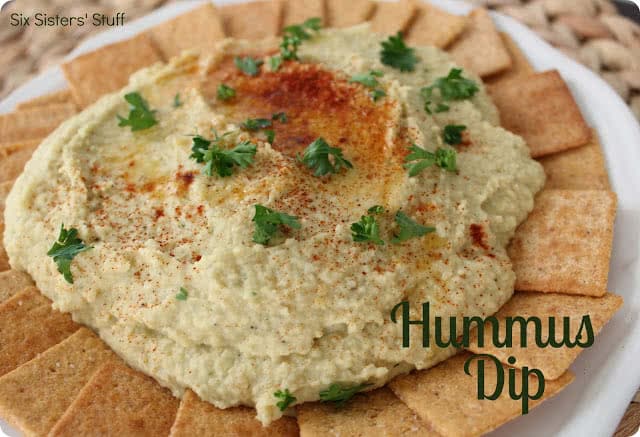 We are big hummus fans!  This recipe comes from the
Food Network
and is so easy to make!  Just throw all of your ingredients into a blender and have a healthy snack in minutes.
Hummus Dip Recipe:
Ingredients:
2 (15 ounce) cans chickpeas, drained and rinsed
1/4 cup olive oil, plus more for garnish
1 Tablespoon lemon juice
2 Tablespoons chopped fresh parsley leaves
2 teaspoons minced garlic
1 1/2 teaspoon salt
1/2 teaspoon dark Asian sesame oil
1/2 teaspoon ground cumin
1/2 teaspoon black pepper
1/2 cup water
Paprika, to garnish

Directions:
In a blender, combine all the ingredients except for the parsley and paprika that will be used as a garnish.  Blend until smooth and pour hummus onto your serving plate.  Drizzle lightly with olive oil, sprinkle parsley and paprika on top and serve.  Cover the top with plastic wrap and store at room temperature or in the fridge.
(Adapted from Food Network)
Looking for more dip recipes?
Here are a few of our favorites: 
Join us for a fun-filled day including lunch, workshops, and panels. This will be a great opportunity to network with lots of other bloggers and businesses, plus you'll get lots of free prizes, swag, and loads of information to help you grow your blog!  
Register today for only $99!