A fun spin on taco night - go Greek! Ground turkey seasoned with Greek flavor and topped with a fresh vegetable relish and homemade yogurt Tzatziki sauce does not get any better than this Ground Turkey Greek Taco.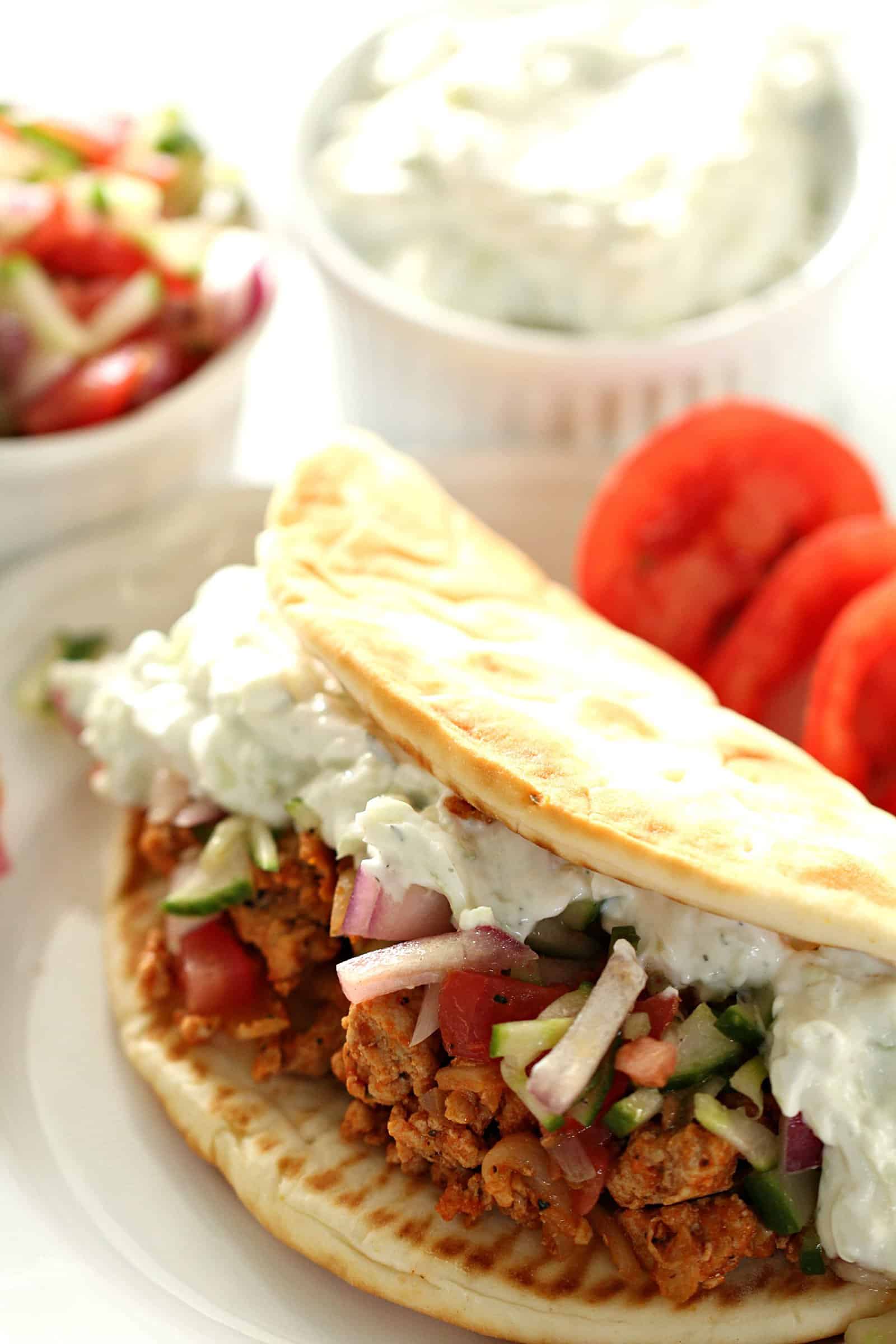 I wanted to mix up our dinner routine a little bit and try something new. We use ground turkey quite a bit in our meal rotations and I thought I would take the freshness of Greek food combined with my love of all things tacos and the end result was nothing short of amazing.
I love Greek food because of the delicious and simple flavor (check out our Slow Cooker Chicken Gyros – one of our most popular slow cooker recipes!). You probably have the ingredients that you need to make the meat mixture of this recipe right now, but it's the relish and the tzatziki that take this recipe over the top.
If you don't love ground turkey, you could easily substitute lean ground beef or even ground lamb (which is even more authentic to Greek food!) and this recipe will still turn out delicious.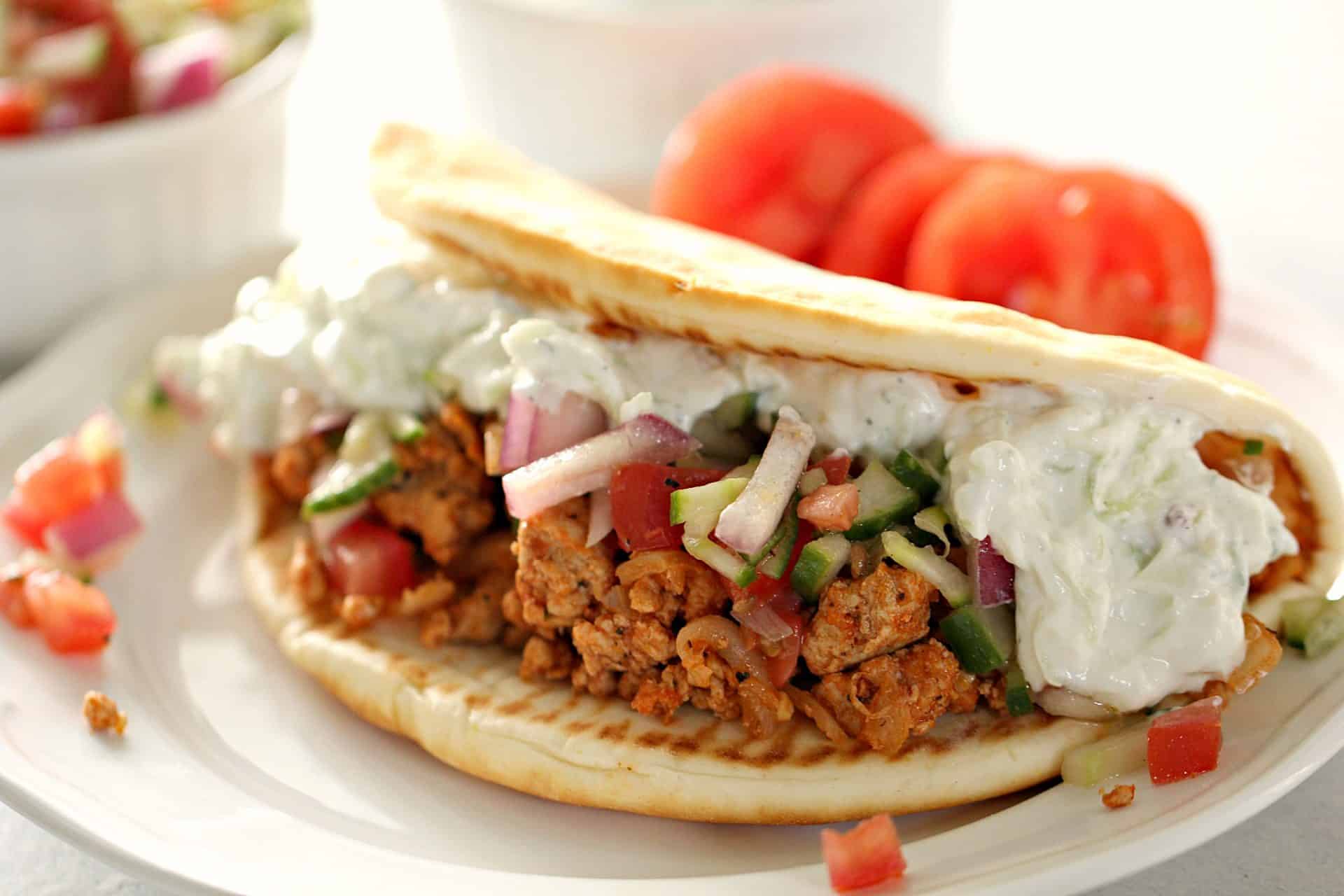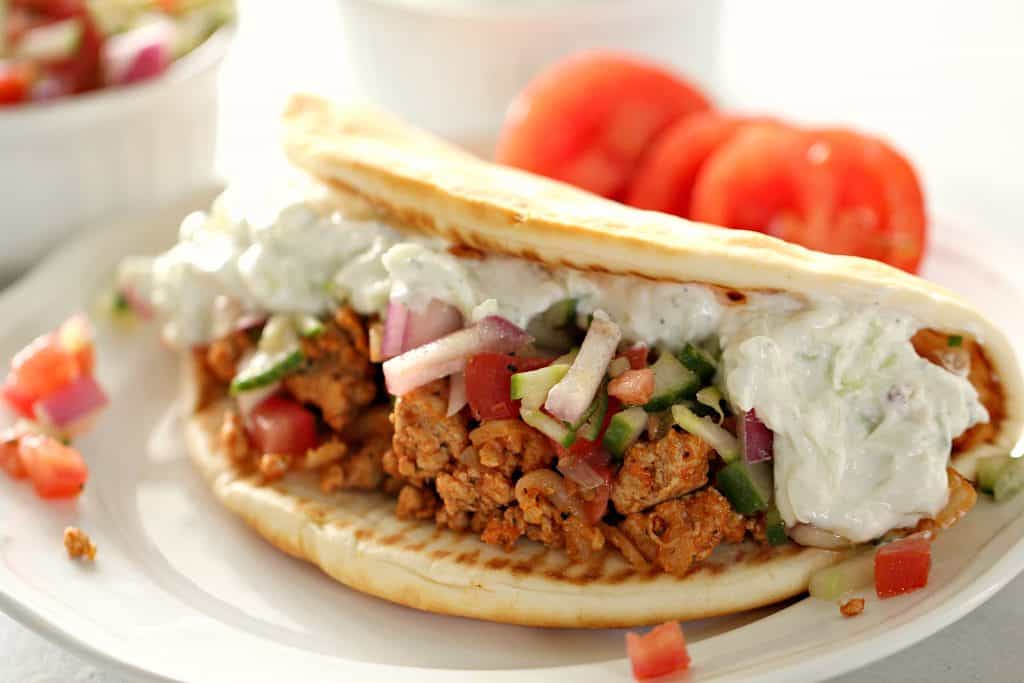 The meat is seasoned with oregano and garlic, then tomato paste and red wine vinegar are added in. I cooked the meat with a minced red onion and the flavor combination was perfect. The meat mixture only takes about 15 minutes to cook from start to finish.
The two toppings – relish and tzatziki – are condiments that make this dish amazing. The great thing is that if you are short on time, these items can be prepped up to 2 days in advance.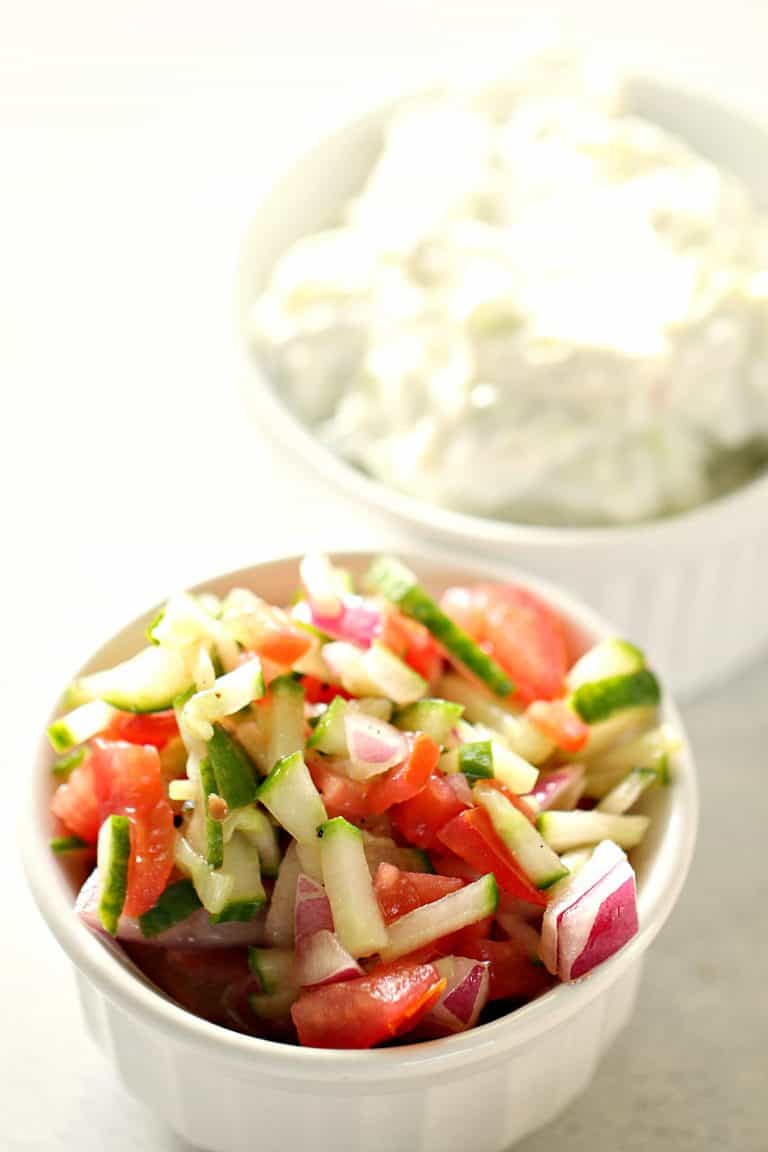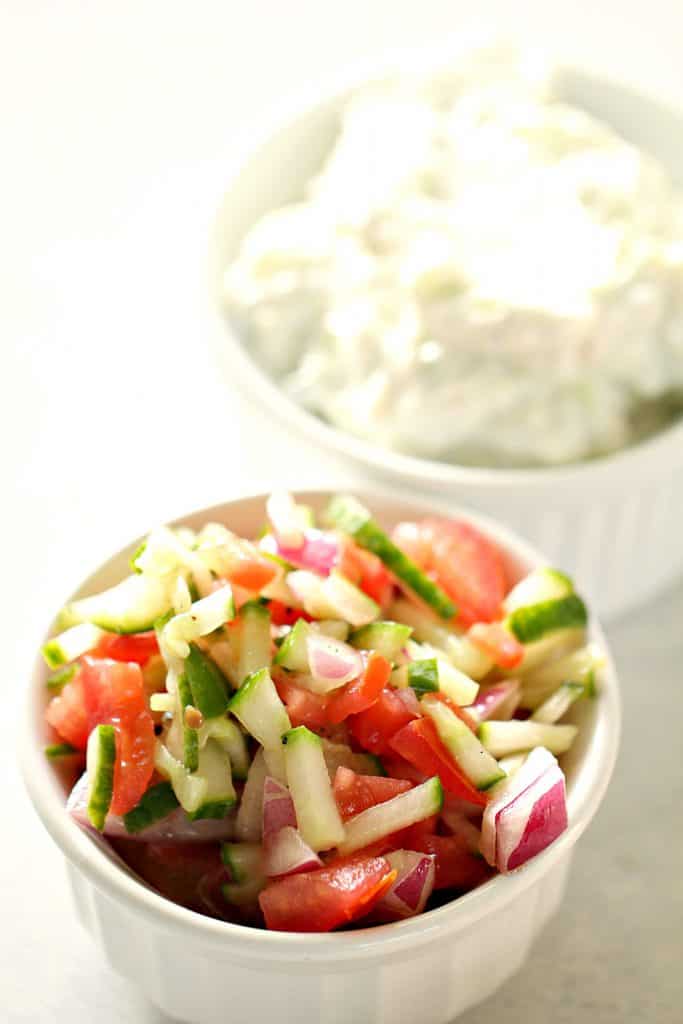 For the fresh vegetable relish, you are going to be using firm Roma tomatoes, an English cucumber, and red onion. If your grocery store does not have English cucumbers available, a regular cucumber will work just fine. However, for this fresh relish, I highly recommend using an English cucumber (also known as a seedless cucumber). They usually can be found in the produce section, covered in plastic wrap. They are longer and thinner than regular cucumbers and a little bit sweeter. I just love that you don't have to deal with cucumber seeds when you use an English cucumber in this recipe (sometimes the seeds can give cucumbers a bitter flavor).
Related Article: Looking for more delicious taco recipes? Try our Mediterranean Chicken Pita Tacos! 
Tzatziki is a traditional Greek sauce that is made with yogurt, cucumber, and garlic. Like I mentioned before, I love the fresh simplicity of Greek food! I like to use plain Greek yogurt because of the little bit of "tang" that it adds, but any plain yogurt will work. Do not make the mistake of using a vanilla-flavored yogurt . . . that flavor combo will not be a good one!
The key to making a good tzatziki is in the cucumbers. You want fresh cucumbers (I usually just use a regular cucumber because they are so inexpensive and I grow them in my garden, but an English cucumber will work great as well!) and after you shred them, you want to make sure you get out as much moisture as possible (I blot them with paper towels until they are pretty try). I did not include peeling the skin off the cucumber in the directions because I actually prefer leaving the skin on, but it's up to you if you want to peel the skin off or not. Some people also strain their yogurt before using it in tzatziki to avoid a runny sauce, but I have found that most yogurts don't need to be strained.
Making the tzatziki does take a few minutes to throw together (and the effort is definitely worth it), but if you are looking to cut back on prep for this recipe, many grocery stores carry some type of tzatziki that you can use instead.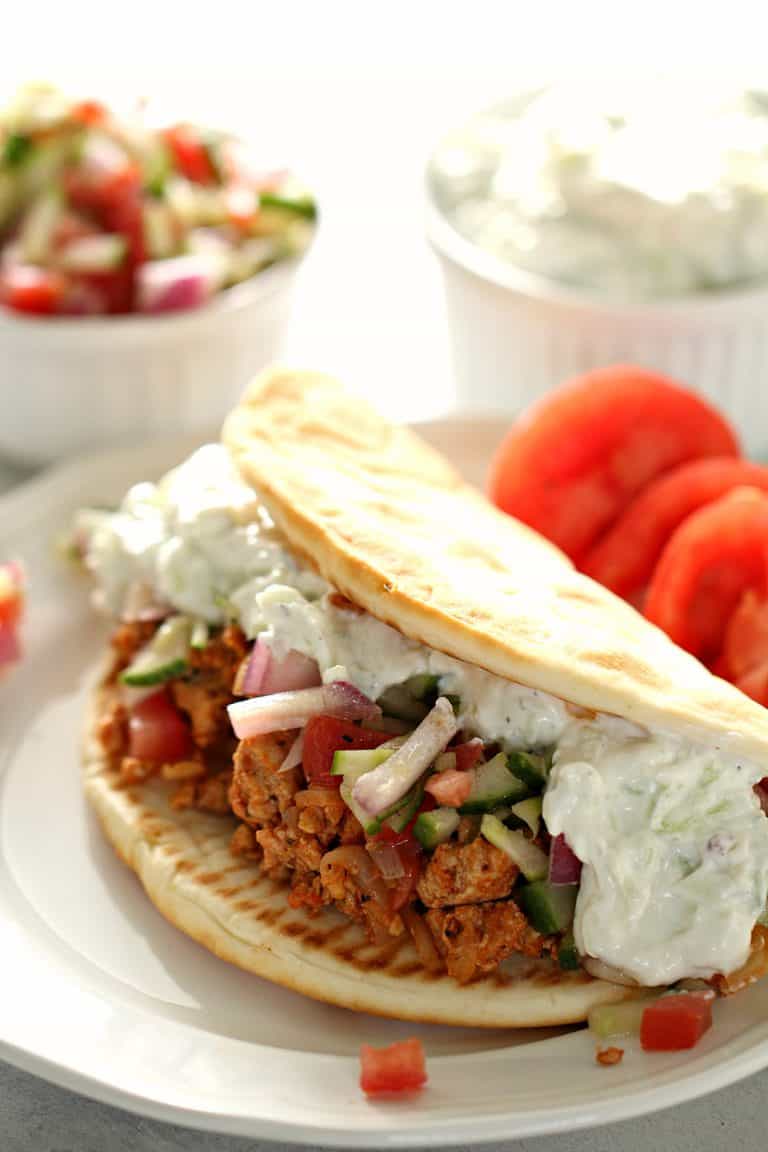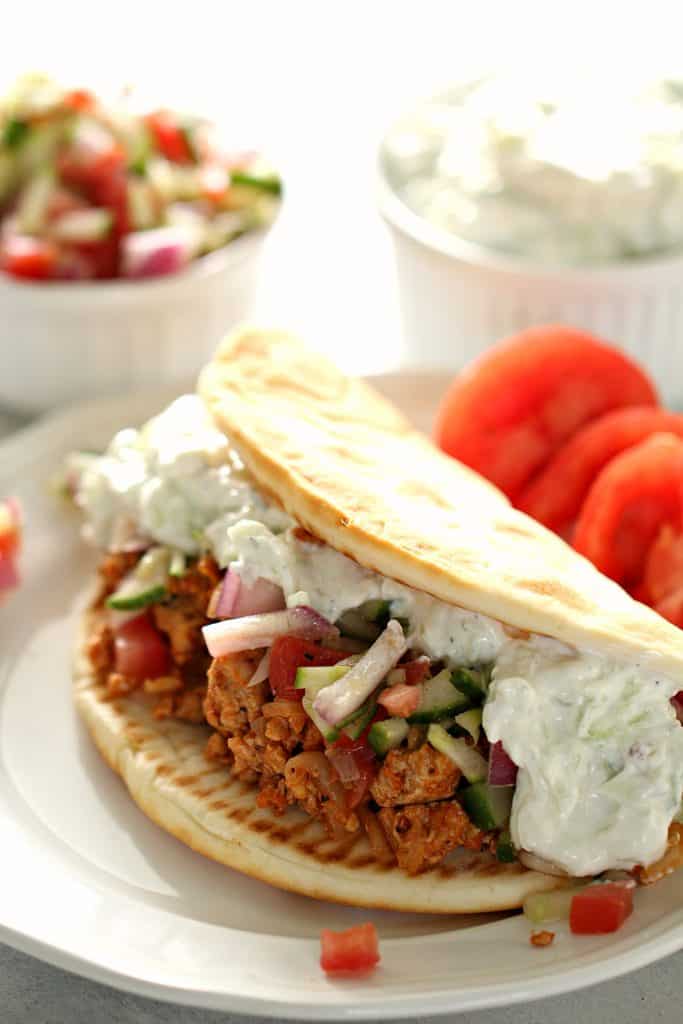 Instead of using tortillas or crunchy shells, I used a pita bread to hold this taco together. You can even use whole wheat pita bread to increase the healthiness of these "tacos." I used a flat pita bread, but you could also use a pita bread with a pocket and stuff it with all the filling. Happy Greek eating! Opa! 😉
Looking for more Greek-inspired recipes?
-Greek Chicken Kabobs
-Greek Pasta Salad
-Slow Cooker Chicken Gyros
-Slow Cooker Beef Gyros
Serves: 6
Ground Turkey Greek Tacos
1 hrPrep Time
20 minCook Time
1 hr, 20 Total Time
Ingredients
Tzatziki:

1 cucumber (peeled and seeded)
16 ounces plain Greek yogurt
2 teaspoons minced garlic
1 teaspoon red wine vinegar
1/2 teaspoon lemon juice
1/4 teaspoon dried dill weed

Fresh Greek Relish:

1 Tablespoon olive oil
1 Tablespoon red wine vinegar
2 Roma tomatoes (seeded and diced)
1 English cucumber (seeded and diced)
1/2 red onion (diced)

Meat:

1 1/2 pounds lean ground turkey
1/2 red onion (minced)
Salt and pepper, to taste
2 teaspoons dried oregano
4 teaspoons minced garlic
2 Tablespoons tomato paste
4 Tablespoons red wine vinegar
6 pita breads
Salt and pepper, to taste
Instructions
Make the tzatziki and relish at least 1 hour ahead or up to 2 days in advance so the flavors meld together.
For the tzatziki, shred the cucumbers and blot with a paper towel or clean kitchen towel to remove as much moisture as possible. Mix together the shredded cucumbers, strained yogurt, garlic, vinegar and lemon juice. Add dill and salt and pepper to taste. Cover and keep in the fridge until serving.
For the relish, gently mix olive oil, vinegar, tomatoes, cucumbers and onions in a medium bowl and add salt and pepper as desired. Cover and let sit in the fridge until serving.
For the meat, in a large skillet over medium-high heat, sauté ground turkey and onions until turkey is no longer pink, drain grease. Season with salt and pepper, as desired. Decrease temperature to low. Add oregano, garlic, tomato paste, and red wine vinegar to skillet and stir until meat is coated with seasonings.
To serve, add meat, relish, and tzatziki to a pita and enjoy.
7.8.1.2
3155
https://www.sixsistersstuff.com/recipe/ground-turkey-greek-tacos-with-tzatziki/