These Grilled Island Chicken Kabobs are so simple to throw together and are perfect for summer. They are so easy and taste absolutely amazing.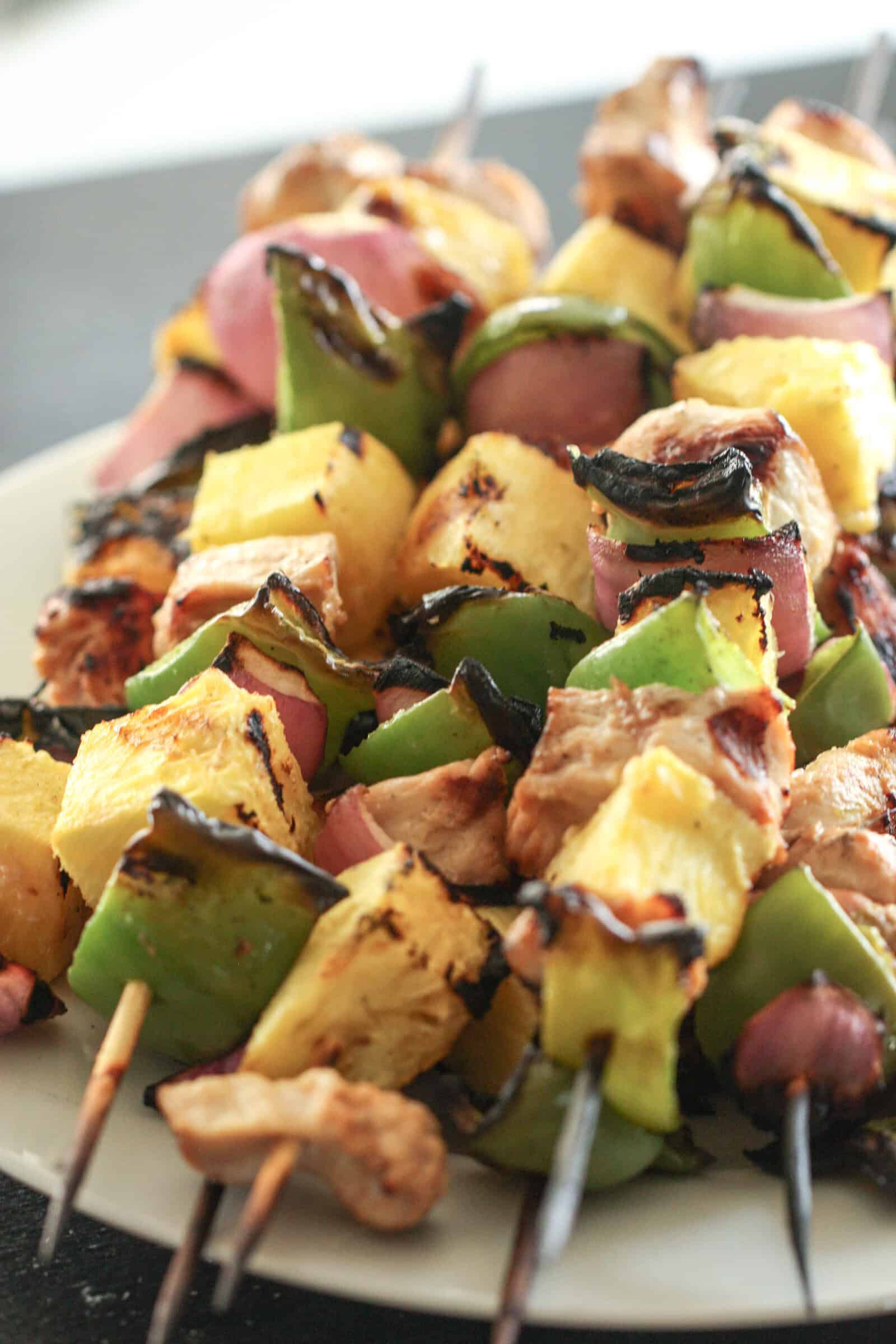 These Grilled Island Chicken Kabobs shout Summer! I signed my kids up for swimming lessons this summer. My 5 year old daughter is like a fish- she loves it.
My 3 year old was so excited to start and on the first day of lessons, he took off running towards the pool and jumped in- completely unattended. Unfortunately, the water was over his head and he kept his mouth open, giving him a mouth full of that lovely chlorinated water.
One of the teachers was in the pool and was able to grab him right after he jumped in, but the damage had already been done. Needless to say, he is terrified of swimming lessons and cries when it's time to go. So for now, I have pulled him out of his class and will just try again next year.
Other than that, our summer has been a blast! We love the warm weather and playing outside. We also love to eat outside and I am always on the lookout for delicious grilling recipes. Shish-kabobs were always one of my favorite meals growing up because I thought it was so fun to eat things on a stick.
My kids love eating food on a stick as much as I do- even the vegetables. This recipe is one of my favorites for a quick and easy chicken marinade. You just can't go wrong with grilled food!
Ingredients needed for these Grilled Island Chicken Kabobs:
1/3 cup vegetable oil
1/4 cup lemon juice
2 Tablespoons soy sauce
1 teaspoon minced garlic
1/2 teaspoon dried oregano
1/4 teaspoon salt
1/4 teaspoon pepper
4 boneless skinless chicken breasts (cut into bite sized pieces)
1 red onion (cut into large chunks)
1 green bell pepper (cut into large chunks)
4 cups fresh pineapple chunks
How to make these delicious Grilled Island Chicken Kabobs:
Combine vegetable oil, lemon juice, soy sauce, garlic, oregano, salt, and pepper in a large resealable bag.
Place chicken in bag, making sure all pieces are covered.
Seal bag and place in fridge and let marinate for at least 4 hours (or overnight).
On metal or soaked wooden skewers, thread chicken, onion, pepper and pineapple.
Discard remaining marinade in bag.
Heat grill to medium heat.
Place skewers on grill and cook for 7-8 minutes per side or until chicken is no longer pink in the middle (if using a meat thermometer, make sure it registers 165 degrees F).
Remove from grill and serve.