We've been eating low carb around here in preparation of the wedding and let me tell you… it is NOT fun. All I want are Christmas treats. I've been messing around with a few low carb recipes and finally found one that I will probably make even when we aren't watching our carb intake.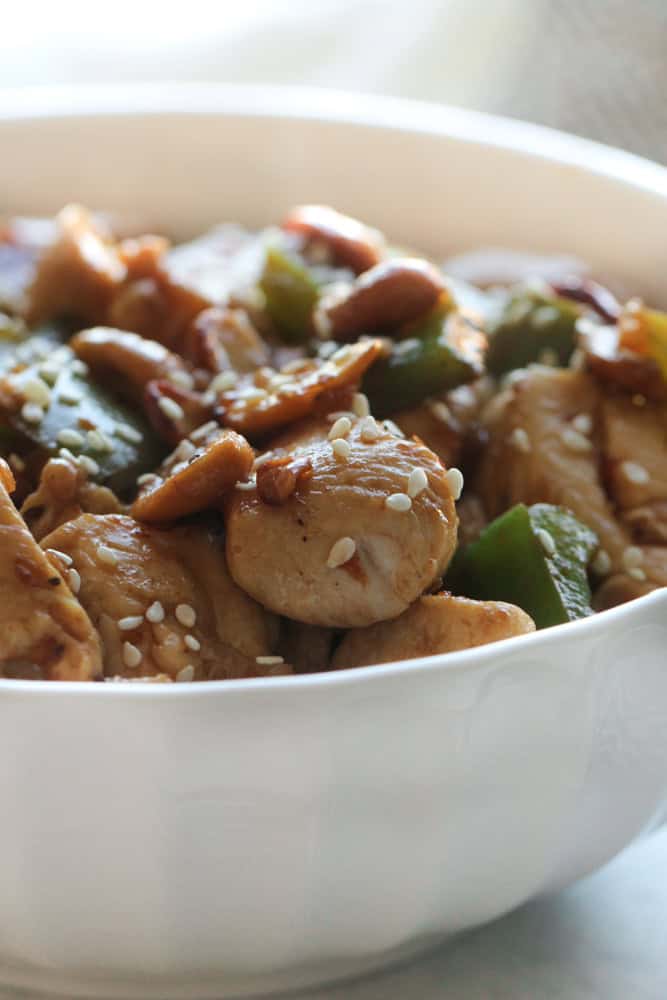 The best part of this dish is the roasted cashews, obviously, but the creamy sauce and fresh green peppers put it over the top. However, I think my favorite ingredient used in this recipe are the freeze dried onions, and freeze dried minced garlic that I found at my local Kroger Store. Once put into any type of moisture they immediately return to their original state and taste exactly like fresh would. So if you hate chopping onions or mincing garlic, be sure to check out those products! (That was not a sponsored thing, I for reals am just obsessed with them!)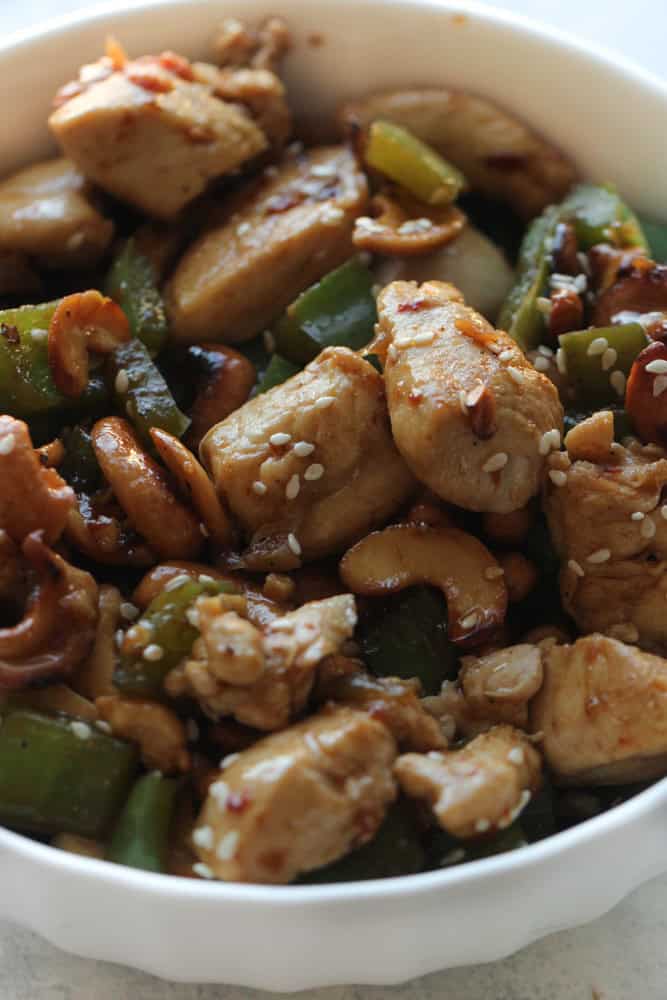 Because of that little shortcut, this recipe was ready in 15 minutes, which is all I have to spare this time of year!
Serves: 4
Cashew Chicken
15 minCook Time
15 minTotal Time
Ingredients
1/4 cup cashews
2 boneless skinless chicken breasts
2 Tablespoons canola oil
1 green pepper, chopped
1/4 cup chopped red onion
2 teaspoons minced garlic
1 Tablespoon sunflower oil
1 Tablespoon white rice vinegar
1 Tablespoon chili garlic sauce
2 Tablespoons soy sauce
1/2 teaspoon ginger
1/4 teaspoon salt
1/4 teaspoon pepper
Instructions
In a pan over medium heat, roast cashews until golden brown.
Remove cashews from pan and set aside.
Add canola oil and chicken (diced into one inch pieces) to pan and cook until chicken is completely cooked through.
Add peppers, onions, and garlic to pan and cook for 2-3 minutes or until peppers begin to soften.
Add remaining ingredients and stir until sauce thickens.
Mix in cashews and mix until coated in sauce (there won't be a lot of sauce left in the pan.)
Serve over rice or noodles. We served ours over cauliflower rice to keep with the low carb theme.
7.8.0.1
2424
https://www.sixsistersstuff.com/recipe/cashew-chicken/
Recipe Adapted from Keto Connect
SaveSave