These Slow Cooker Cheesy Chicken Quesadillas are the perfect meal for busy weeknights. A crispy tortilla filled with a creamy, cheesy chicken center makes this one meal everyone will eat without complaining! Top with or dip in sour cream, guacamole or your favorite salsa for an amazing flavor combination.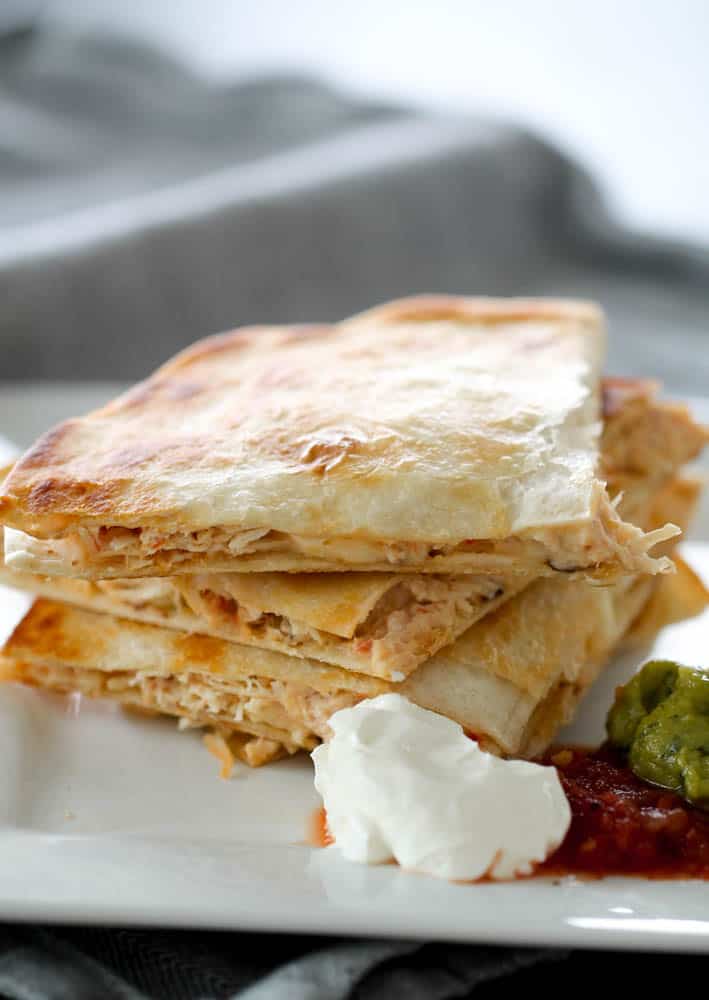 When I was pregnant with my first baby, so many people gave me advice on how to care for a baby.
Then each one of those babies grew up to be a toddler and kid who became the pickiest eaters in the world. Where was the advice for that?!
I'm here to give you a few words of wisdom from one exhausted mom to another. Kids love foods they can hold in their hands, cheese, and dipping things.
These Slow Cooker Chicken Quesadillas fit the bill. I use a pizza cutter to cut each quesadilla into slices and then I let them eat them with their hands and dip them in salsa (that counts as a vegetable serving, right?). I have a 9-year-old that dips his in ranch…. I'm just going with it and turning a blind eye. Haha!
These might not be the healthiest dinner ever, but it beats going through the drive thru. And my whole family ate them without complaining which is a total win at our house!
Just serve these with a green salad or something to balance it out.