Make all things green this St. Patrick's day, including our green mac and cheese without food coloring! Enjoy this healthy macaroni and cheese loaded with delicious green veggies.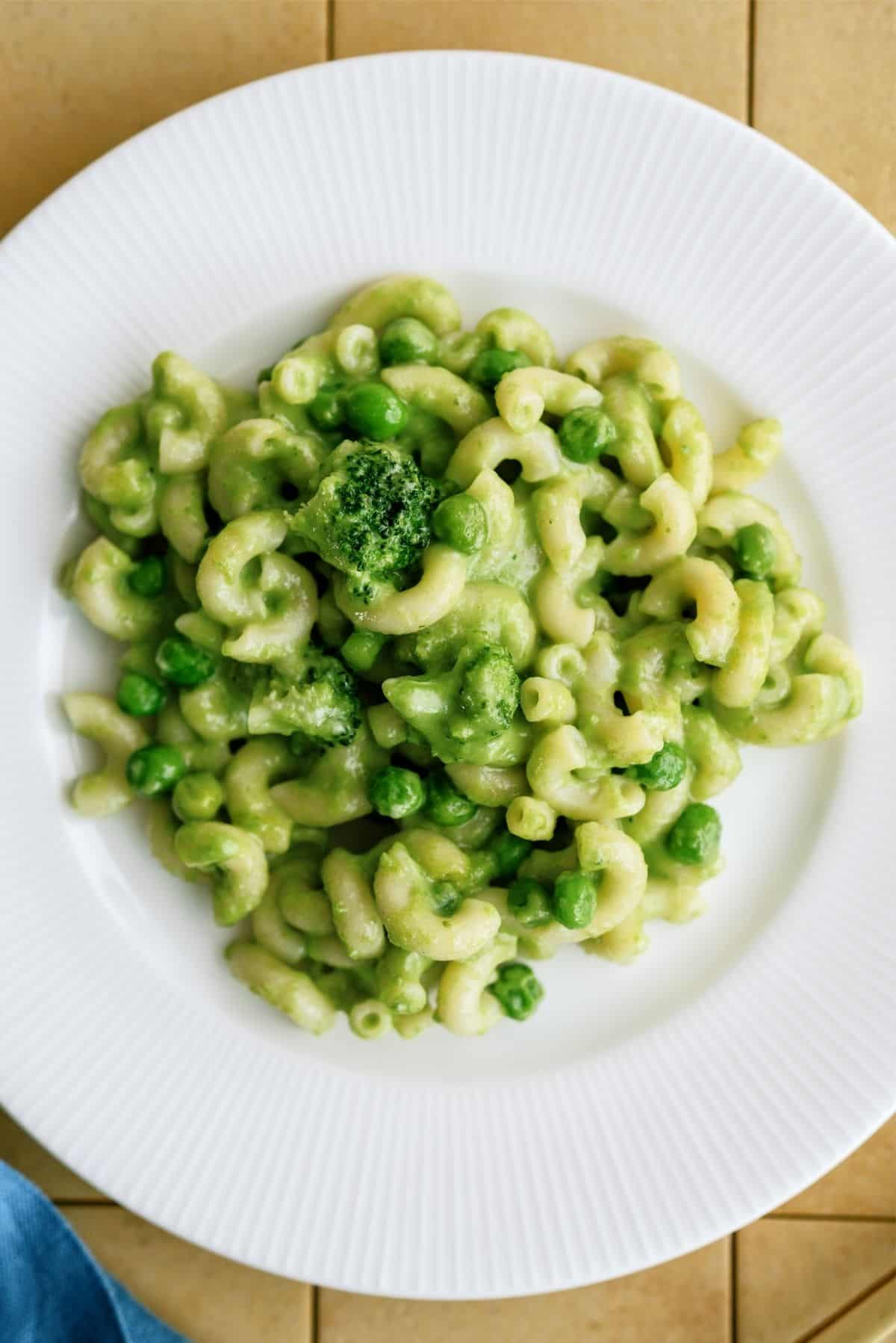 Our green mac and cheese without food coloring is a fun way to get your kids to eat vegetables by putting it directly into the tasty pasta. It is a fun take on the traditional mac and cheese recipe.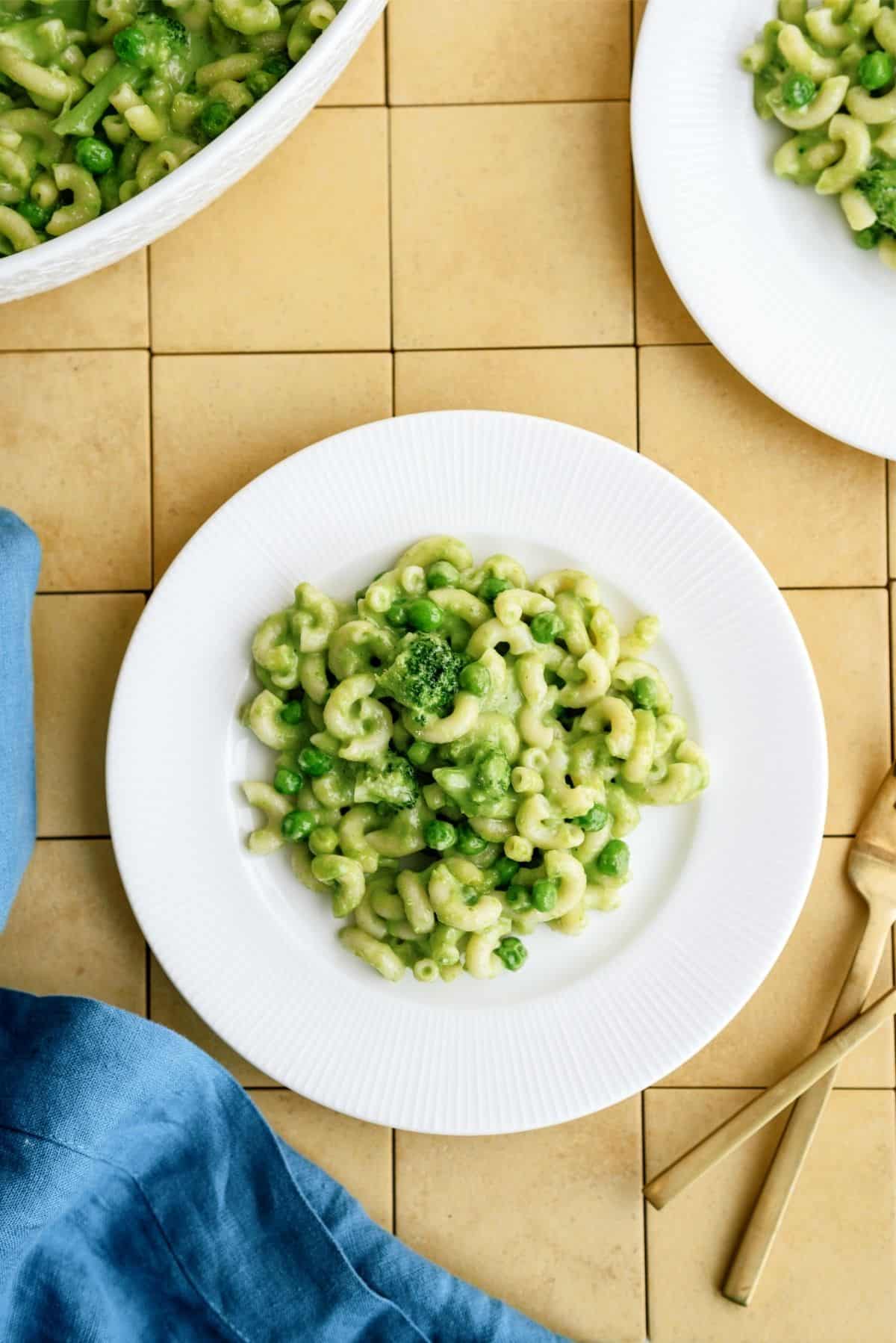 I'm sure you are wondering how to make food green without food coloring. Well, not only is it actually super simple, but it is also delicious, so make sure you finish reading to find out, I promise, it's worth it.
With our broccoli mac and cheese, you can add as much broccoli as you like, or even more of your other favorite green veggies. This recipe also calls for peas which I love because it give just another delightful texture to this macaroni and cheese dish.
Since St. Patty's day is right around the corner, make sure you take a look at our copycat McDonald's Shamrock shake recipe, rainbow jello cups, and our lucky cereal bars recipe for some fun recipe ideas!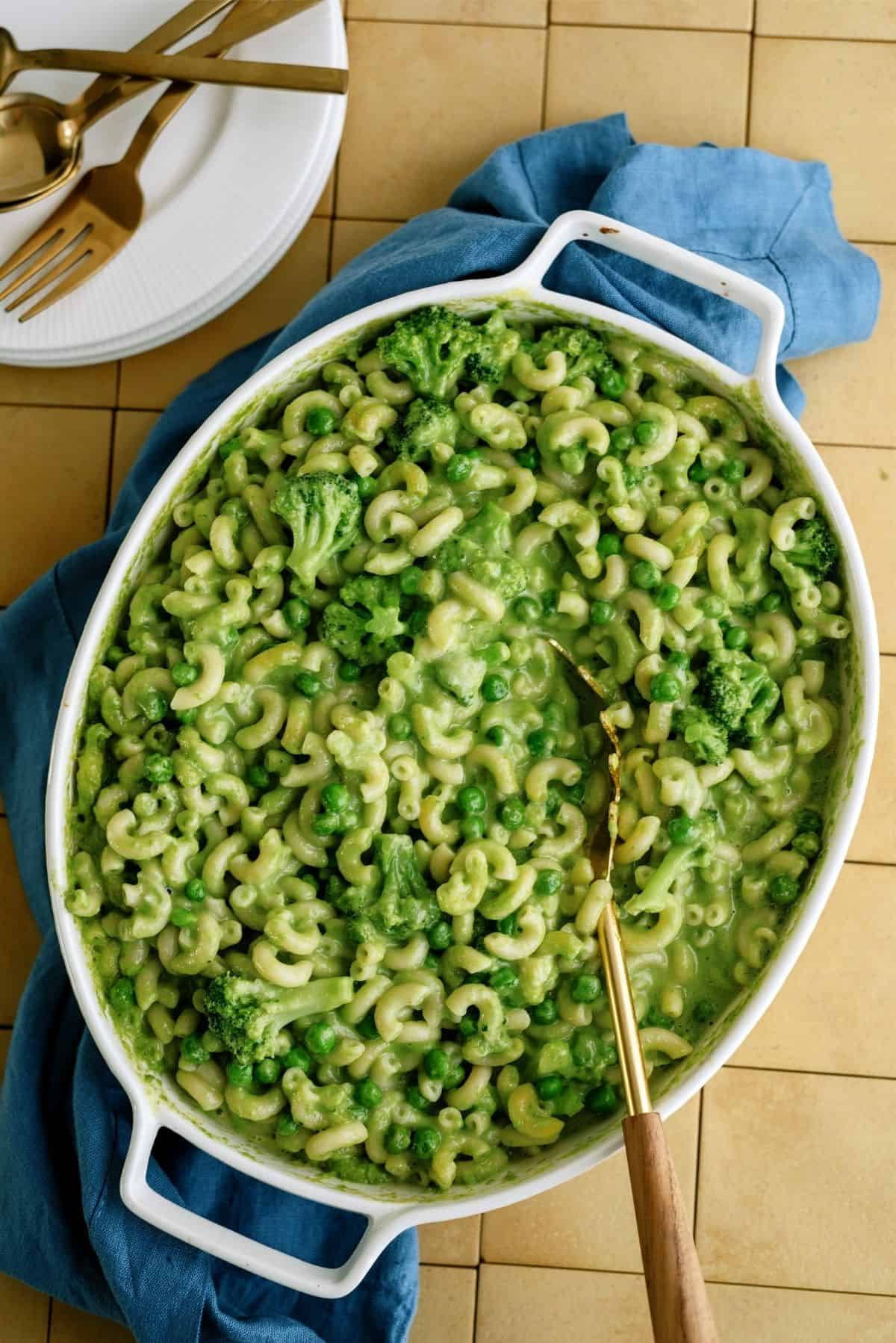 Ingredients You'll Need For This Green Mac and Cheese without Food Coloring Recipe:
Elbow macaroni
Milk
Spinach
Butter
Flour
Water
Grated white cheddar cheese
Broccoli florets
Peas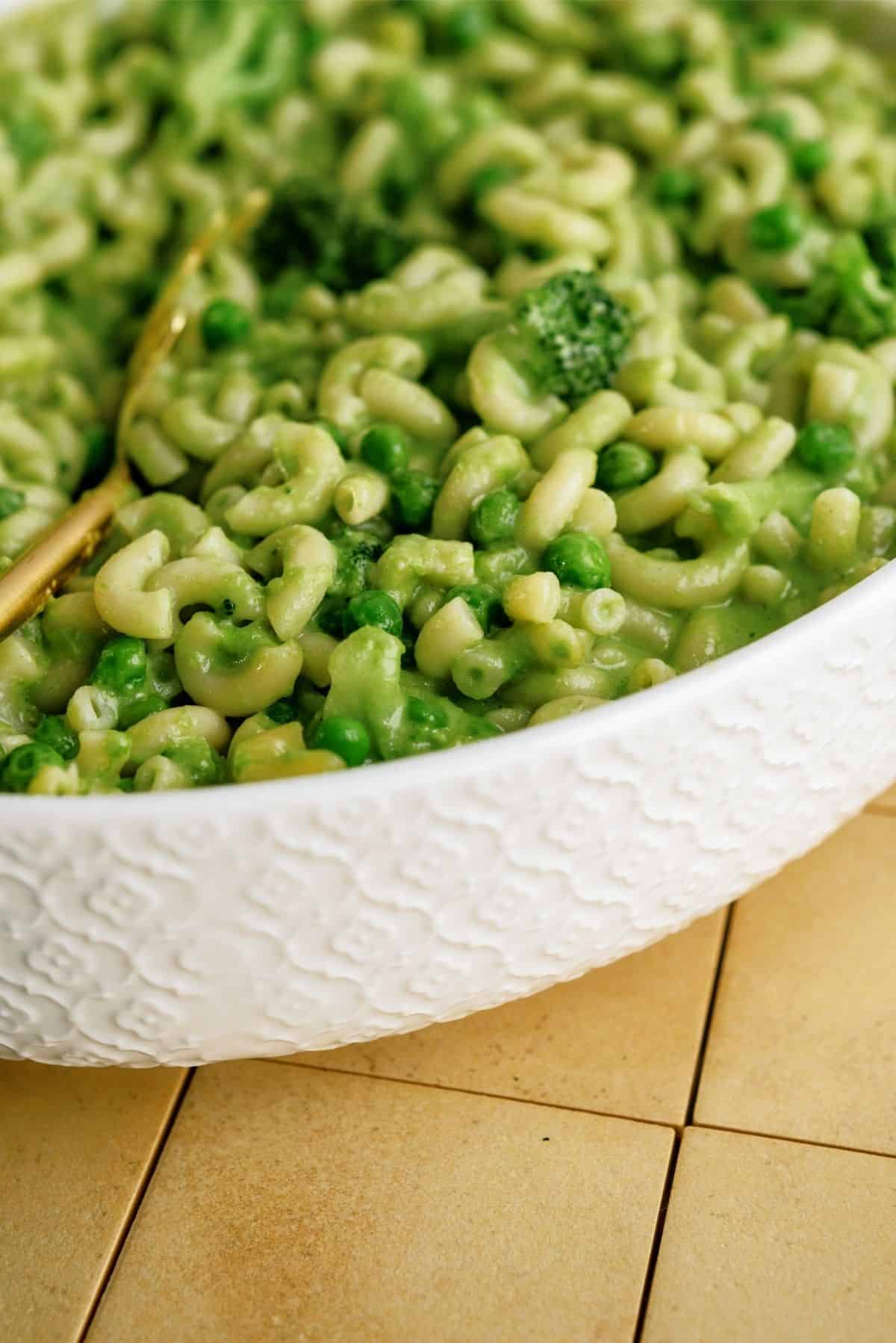 How To Make This Green Mac and Cheese without Food Coloring Recipe:
Begin by preheating the oven to 350 degrees.
Then, cook the elbow pasta according to the directions on the back of the packaging for al dente.
Now, place the milk and the spinach in a blender and blend it together until it is nice and smooth.
Get out a large sauce pan and melt the butter in the pan.
Once the butter is melted, add in the flour and whisk it together for 2-3 minutes. Continue whisking it while bringing it to a boil.
After the butter roux begins to boil, reduce the heat to low for 3-4 minutes, and occassionally whisking it until it thickens up.
When the roux is thick, add ½ cup of water to the butter mixture as well as the cheese, and continue to whisk it together until the cheese is melted.
Now, stir in the cooked pasta, chopped broccoli, and peas.
After it is all mixed together, pour the mac and cheese into a 9×13 inch baking dish that has been generously sprayed with nonstick cooking spray.
Place the baking dish in the oven, uncovered for 20 minutes or until the cheese is bubbling.
Then just remove the dish from the oven, and serve!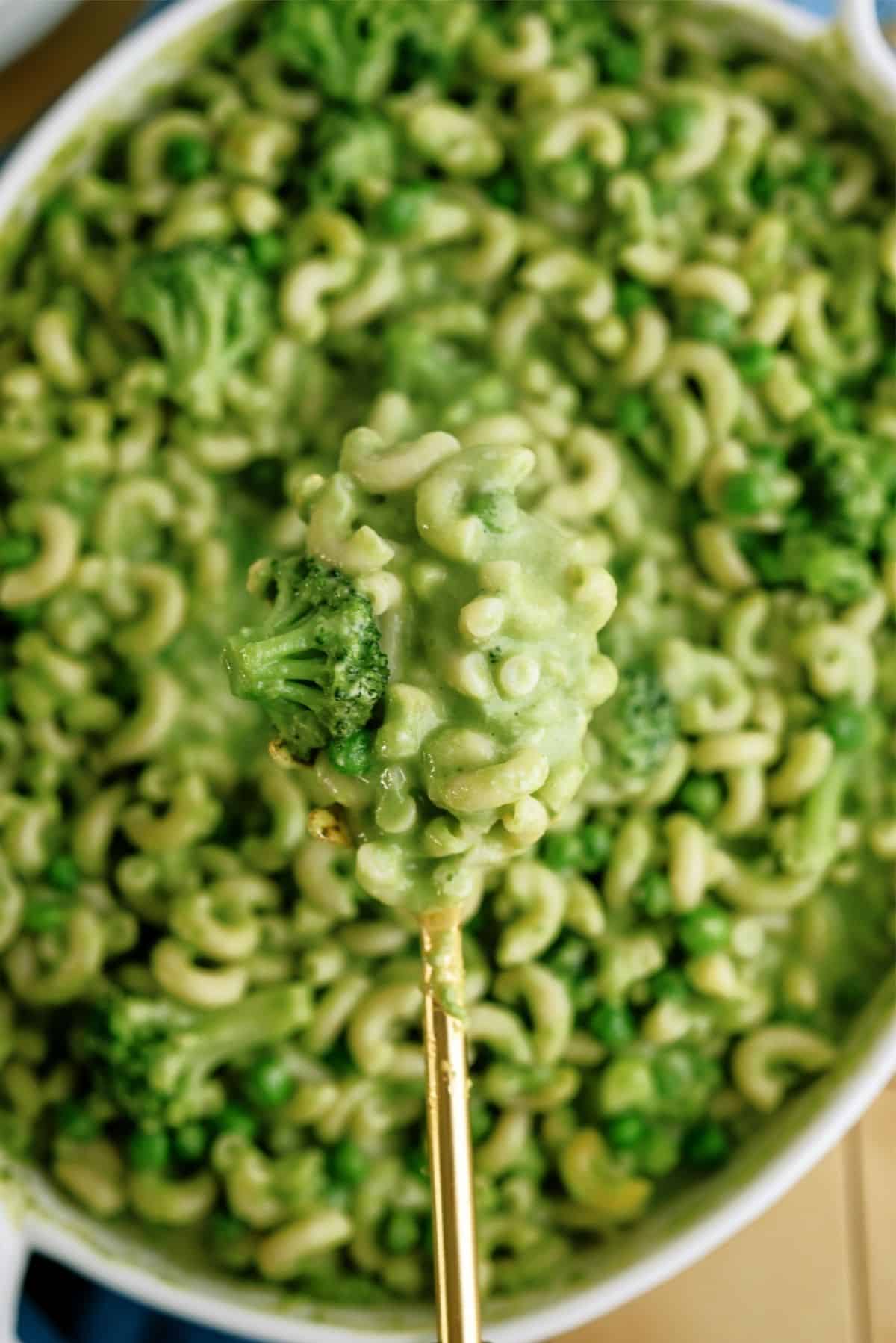 To Make Instant Pot Loaded Mac and Cheese You Will Need:
Medium pan
Large pan
Colander
Whisk
9×13 inch baking dish (like THIS one)