Do you feel like St. Patrick's Day is skipped over? We like to have some fun with this holiday by wearing green and making some lucky treats. Lucky cereal bars come together in less than 15 minutes. Super easy to make and magically delicious.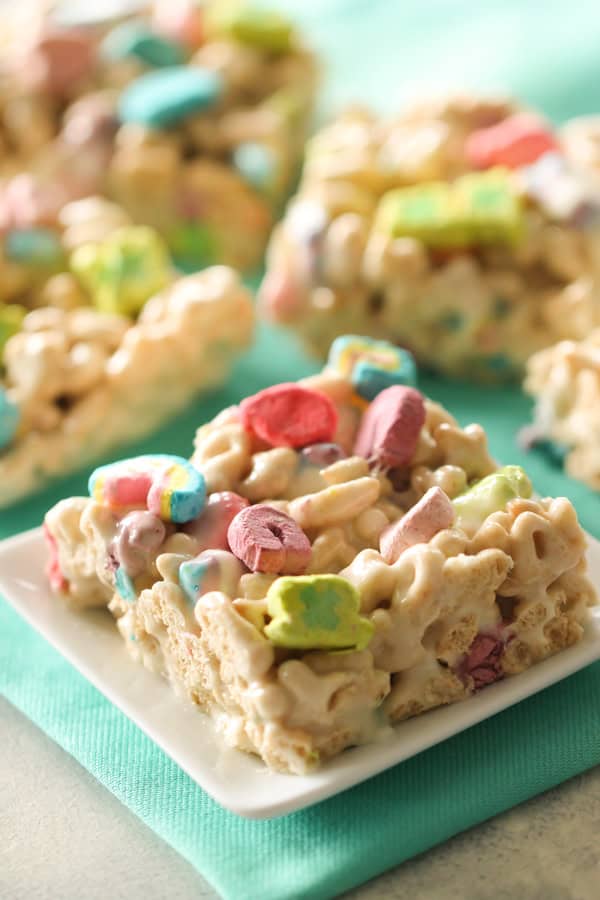 Do you need a fun and easy dessert that comes together super fast? Lucky cereal bars are just what you are looking for. And if you love Lucky Charms cereal, it's a double win!
These Lucky cereal bars are similar to Rice Krispie Treats. Even though they are so simple and easy to make, you'll be surprised how addicting they are. Kendra made them for her college roommates and they were gone in no time at all.
The best part about this recipe is that you only need 3 ingredients. And they are all inexpensive. So you have a delicious dessert that can be made fast and it will fit into your budget.
What other cereals will work with this Lucky Cereal Bars recipe?
Lucky charms is our cereal of choice for this recipe. The marshmallows add a little sweetness and crunch. Rice Krispies cereal is also a great option.
A lot of Cheerios will also work. We like the frosted Cheerios, Honey Nut Cheerios, and regular cheerios. The marshmallows help to sweeten it up. The cereal options are endless.
It's fun to make these cereal bars with Count Chocula cereal at Halloween. That's one of our favorites. It's delicious with the chocolate flavored cereal and marshmallows.