Chocolate cake smothered with sweetened condensed milk and hot fudge, then topped with a creamy mint frosting and Andes Mints.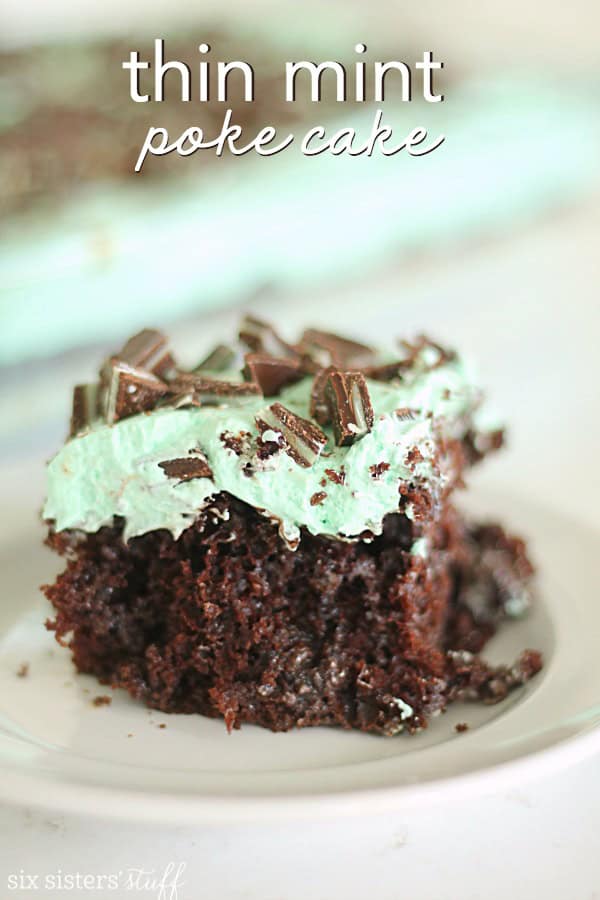 This Thin Mint Poke Cake makes the perfect St. Patrick's Day dessert. This cake is so addicting that you might be tempted to eat it straight out of the pan with a fork. Not saying we've tried that or anything..
I am not a huge cake lover, but I do love chocolate and mint, and after eating this cake, I suddenly become a cake lover. It was so delicious, and so full of chocolaty mint flavor.
It was the best combination, and now I am salivating, just thinking about it.
If you need a quick cake recipe, we recommend this one. It is full of delicious flavor, and is so moist.
I know that's a terrible word to describe food, but it was seriously so moist. It's the only word I can use to truly describe this cake.
Related Recipe: Looking for more of our favorite Poke Cakes?! Try this Caramel Pumpkin Poke Cake!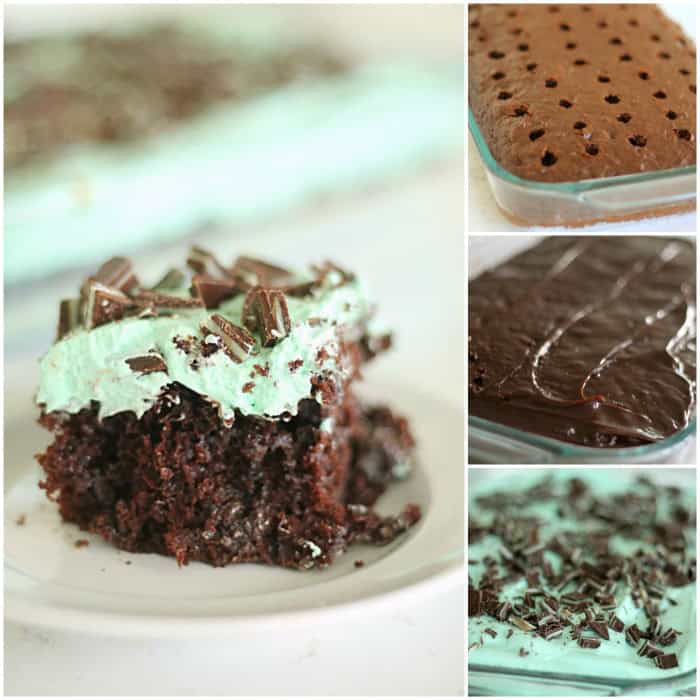 Tips for making the mint frosting:
Frosting used to be so intimidating to me, until I learned the proper way to make it. Let me tell you a little secret, it' all about room temperature.
The butter is the most critical ingredient, in the frosting. Do not melt your butter in the microwave, or it will be runny, and you'll have to add more powdered sugar, which will ruin the look, taste and texture.
Make sure your butter is at room temperature when making the frosting. If you don't have time for your butter to get to room temperature, you could also use crisco or shortening. It would work just as well.
Your milk should also be a little bit at room temperature. You obviously don't want to let it sit on the counter long, but we recommend letting just the two tablespoons of milk, sit out for 10 minutes.
We also recommend using an electric mixer when making frosting. We usually use a hand mixer, but you could also use a standing mixer.
If you only have a whisk, this will work as well, but prepare to get an arm workout in.
Related Article: This White Raspberry Poke Cake is light and refreshing because of one secret ingredient!