Change up breakfast with our easy ham and cheese quiche recipe. Enjoy this flaky pie crust filled with a cheesy, ham and egg mixture - this will be an easy breakfast that everyone will rave about!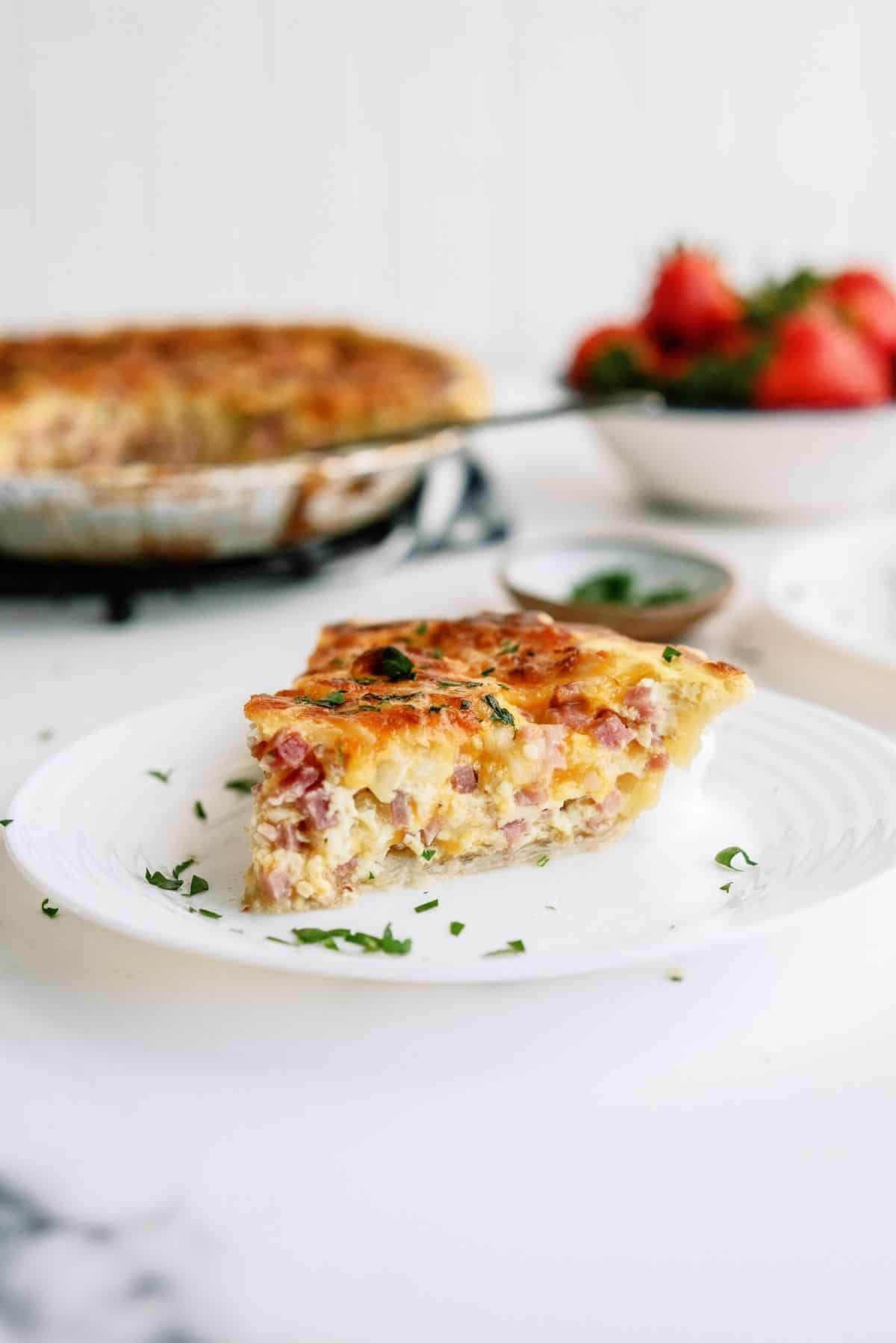 Our easy ham and cheese quiche will make you consider breakfast for lunch and dinner too! If you ask me, breakfast food is really any time of the day food in our house.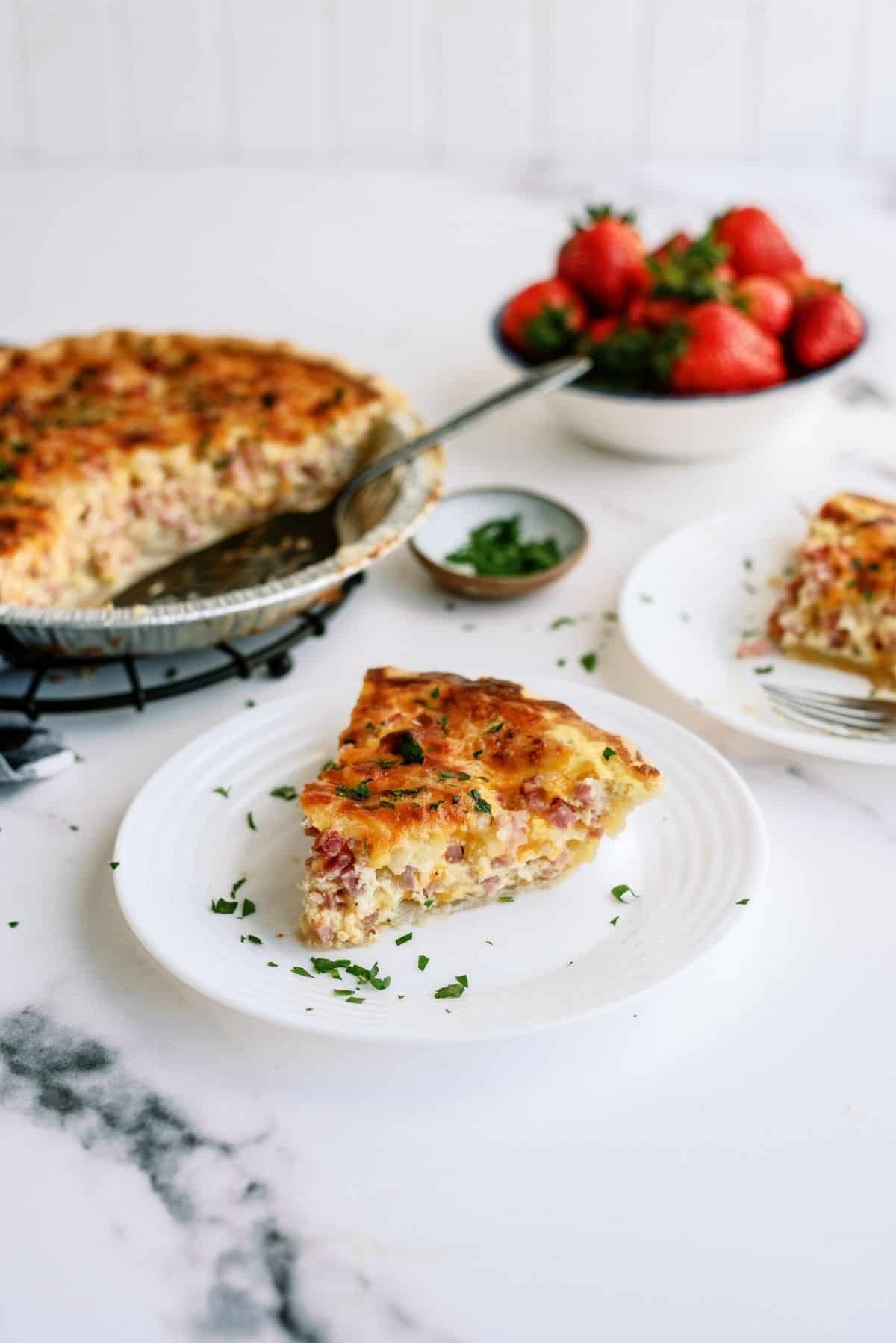 Our family loves to have some version of a ham and cheese breakfast recipe on the menu for the week. And this is the best quiche recipe to use for a tasty breakfast meal.
One thing I love about quiche is that you can throw in what you like, fill it up with some eggs, and boom you have a delicious family break recipe. So if the ham isn't your thing, that's okay, just replace it with some bacon or sausage!
Since breakfast is such a hit at our house, we do have it often. A few of my favorite recipes to make with this quiche are our sweet potato sausage hash, easy blackberry cream cheese danish, and a sweet strawberry kiwi smoothie!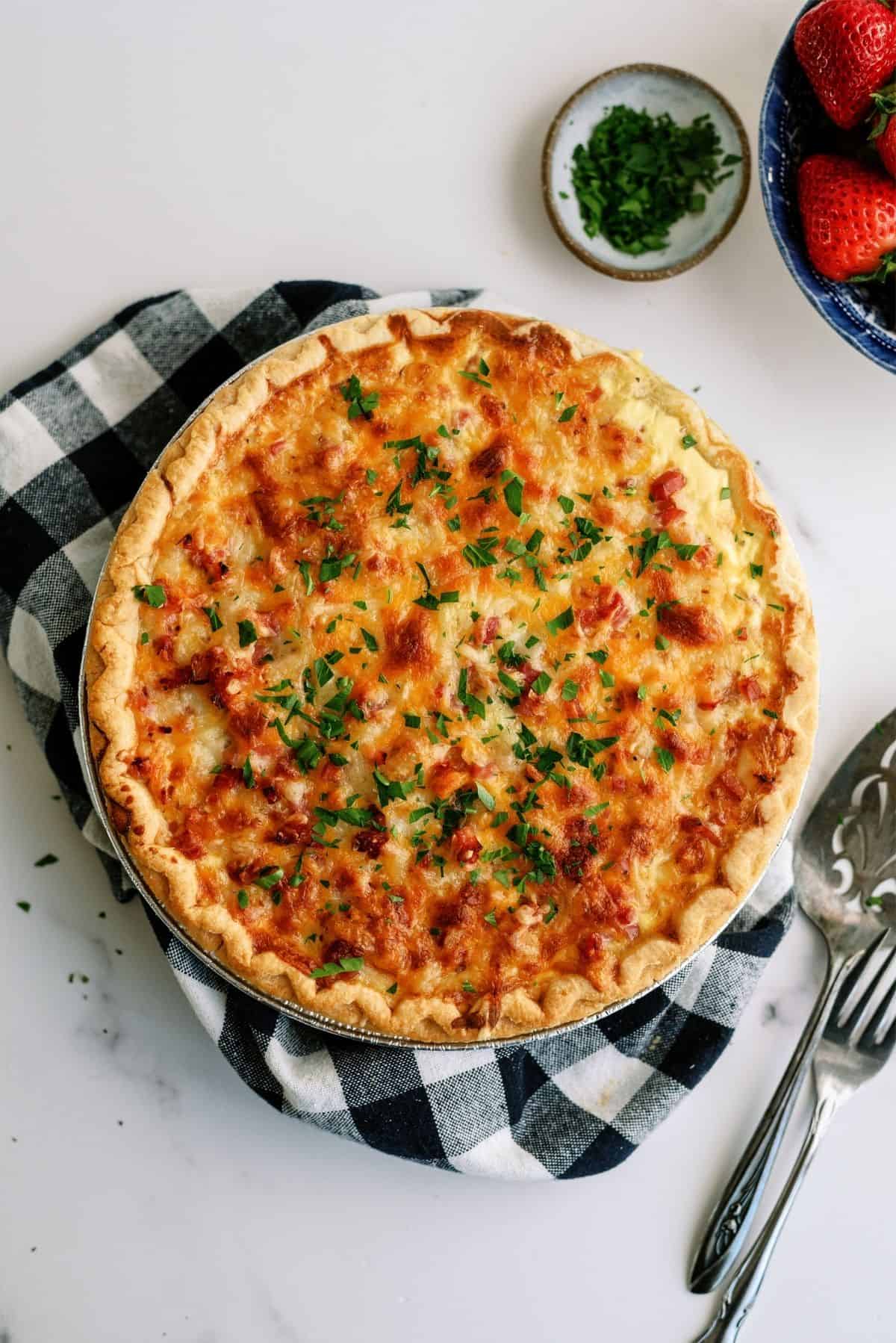 Ingredients You'll Need For Our Easy Ham and Cheese Quiche Recipe:
Butter
Yellow onion
Minced garlic
Eggs
Half and half
Salt
Pepper
Shredded Swiss cheese
Shredded cheddar cheese
Cooked diced ham
Deep dish frozen pie crust
Fresh parsley
How To Make Our Easy Ham and Cheese Quiche Recipe: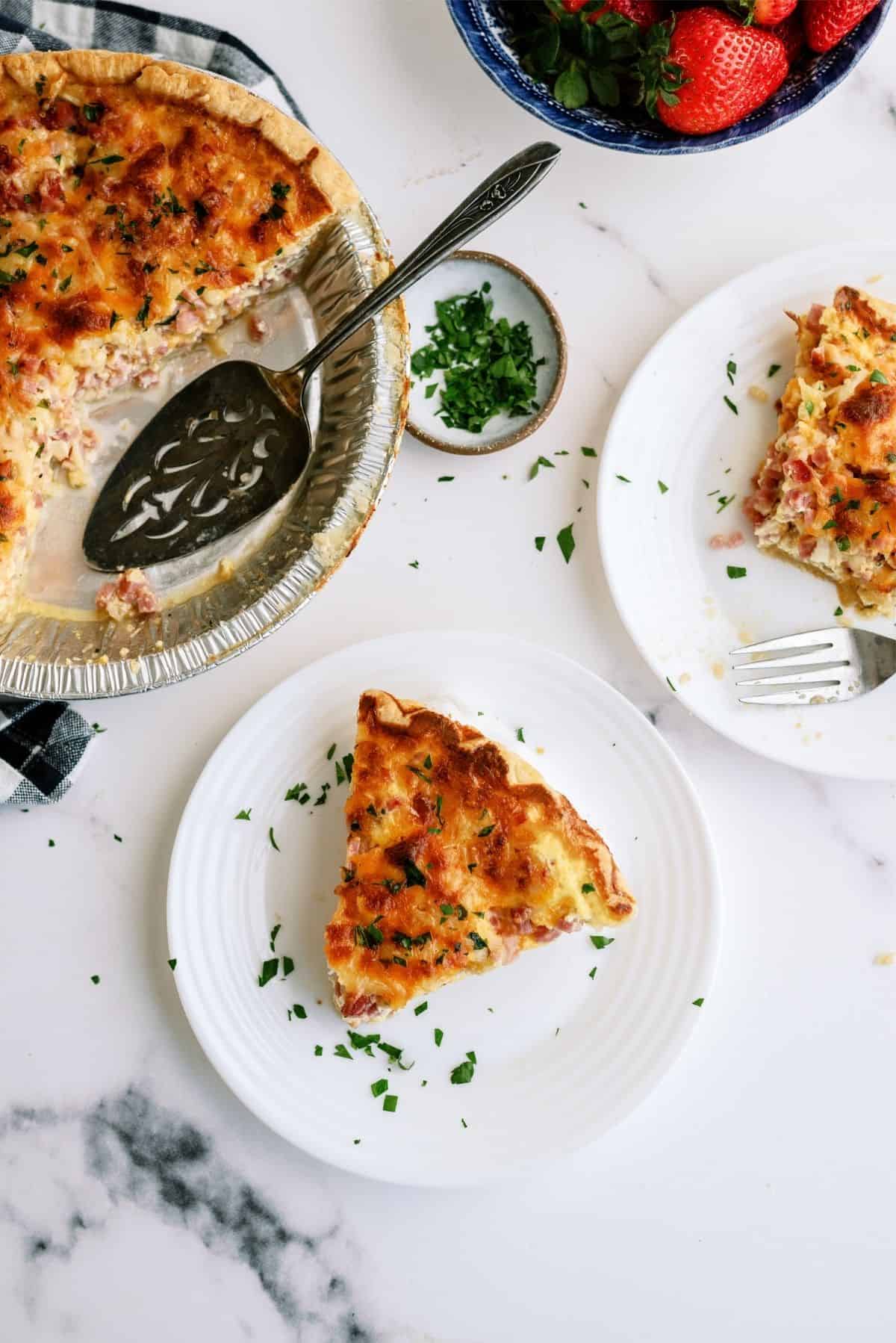 Begin by preheating the oven to 375 degrees.
Then in a small saucepan, heat up the butter and onion over medium-high heat and cook it for 2-3 minutes or until the onion becomes translucent.
Now add in the minced garlic and continue cooking for another minute and then remove it from the heat.
Then in a large bowl whisk together the eggs, half and half, salt, and pepper until it is all well combined.
Once that is done, fold in ¾ cup of swiss cheese, ¾ cup of cheddar cheese, the diced baked ham, and the cooked onion mixture.
Now pour all of that into the thawed pie crust and place it on a baking sheet. I like to place a piece of aluminum foil on the baking sheet for easy clean-up after the quiche is done baking.
Then just top of the quiche with the remaining cheese and place it in the oven to bake for 40-45 minutes or until the quiche is set and not jiggly.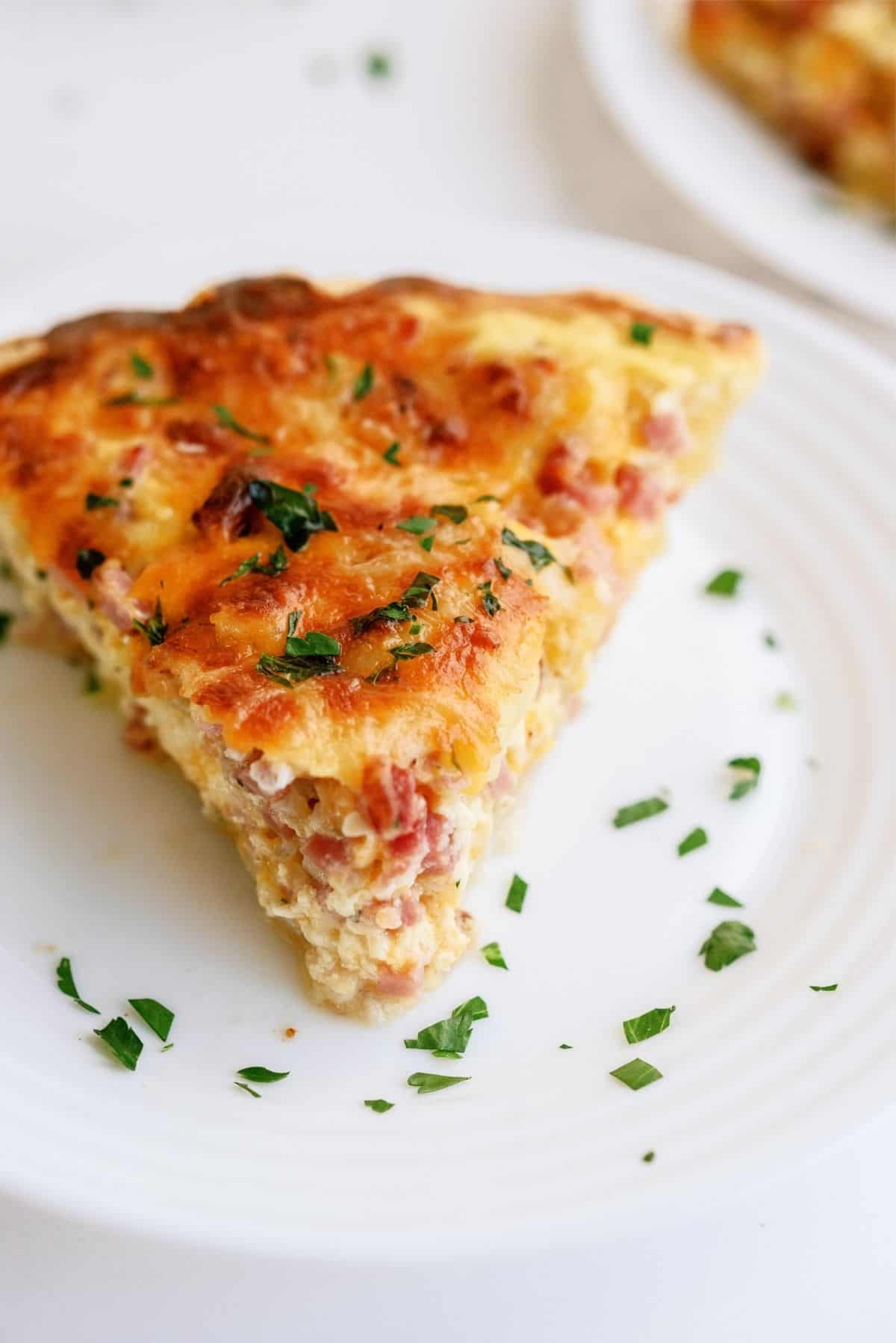 When it is done, remove it from the oven, garnish it with the fresh parsley, then just serve and enjoy!!
To Make The Best Quiche Recipe You Will Need:
Small saucepan
Wooden spoon
Whisk
Large mixing bowl
Baking sheet (THESE work wonderfully!)