If you need to feed a crowd for breakfast but don't want to wake up hours beforehand to start fixing it, this Overnight Baked Creme Brulee French Toast is the recipe you need. Prep it the night before, keep it in the fridge overnight, and bake in the oven the next morning. Each bite literally melts in your mouth.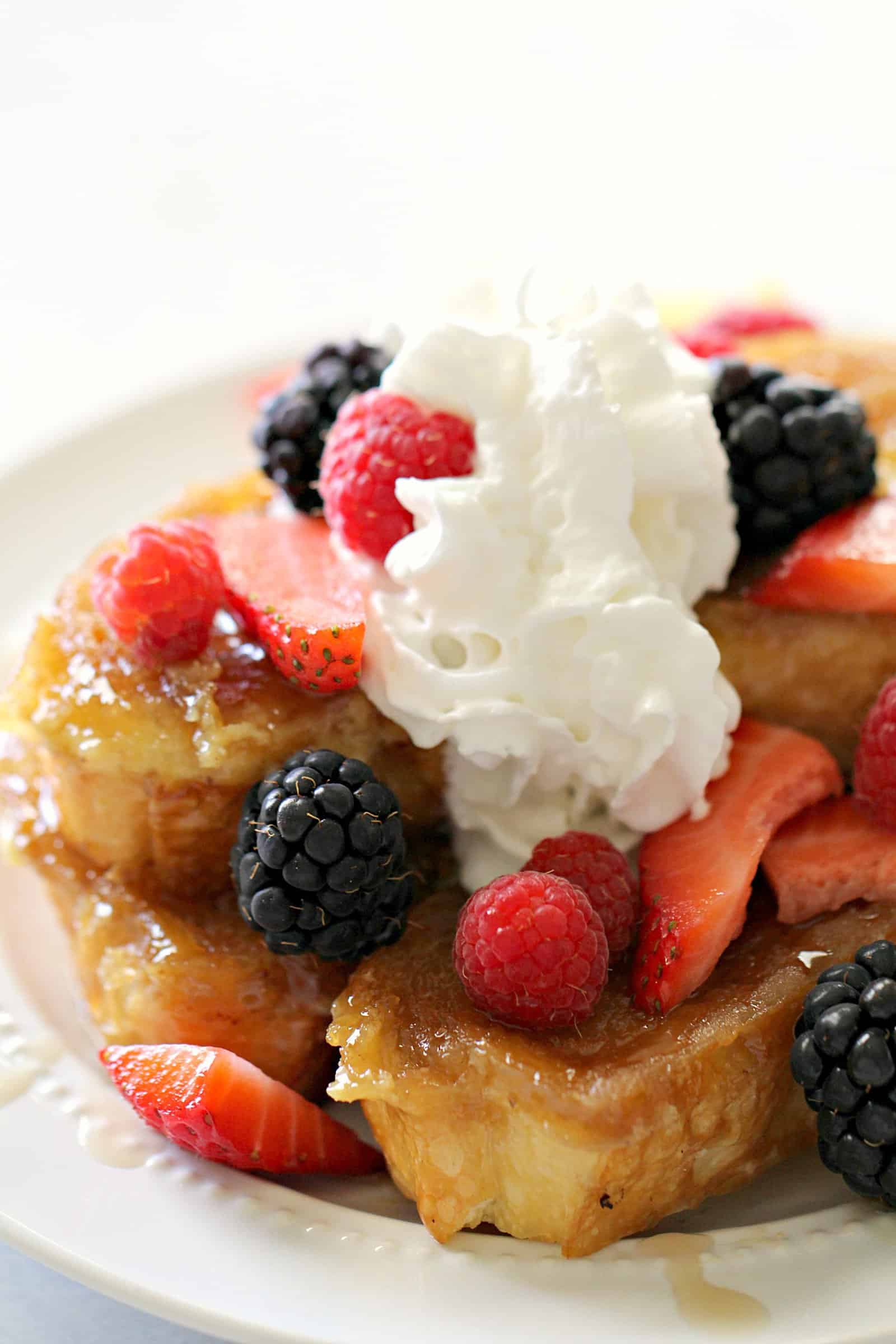 When it comes to breakfast, I love to eat as soon as I wake up. Pretty much my whole life I have been a cereal-eater because it can be thrown together in a matter of minutes with very little work on my end – I am definitely not a morning person and it takes me a little while before I am up and running!
I first made this breakfast over 7 years ago for my husband on Father's Day – I loved that I could prep it the night before (being the night owl that I am), let it sit in the fridge overnight (and soak up all that egg/cream/vanilla mixture), then bake it the next morning. Basically the only work that I have to do in the morning is pre-heat the oven!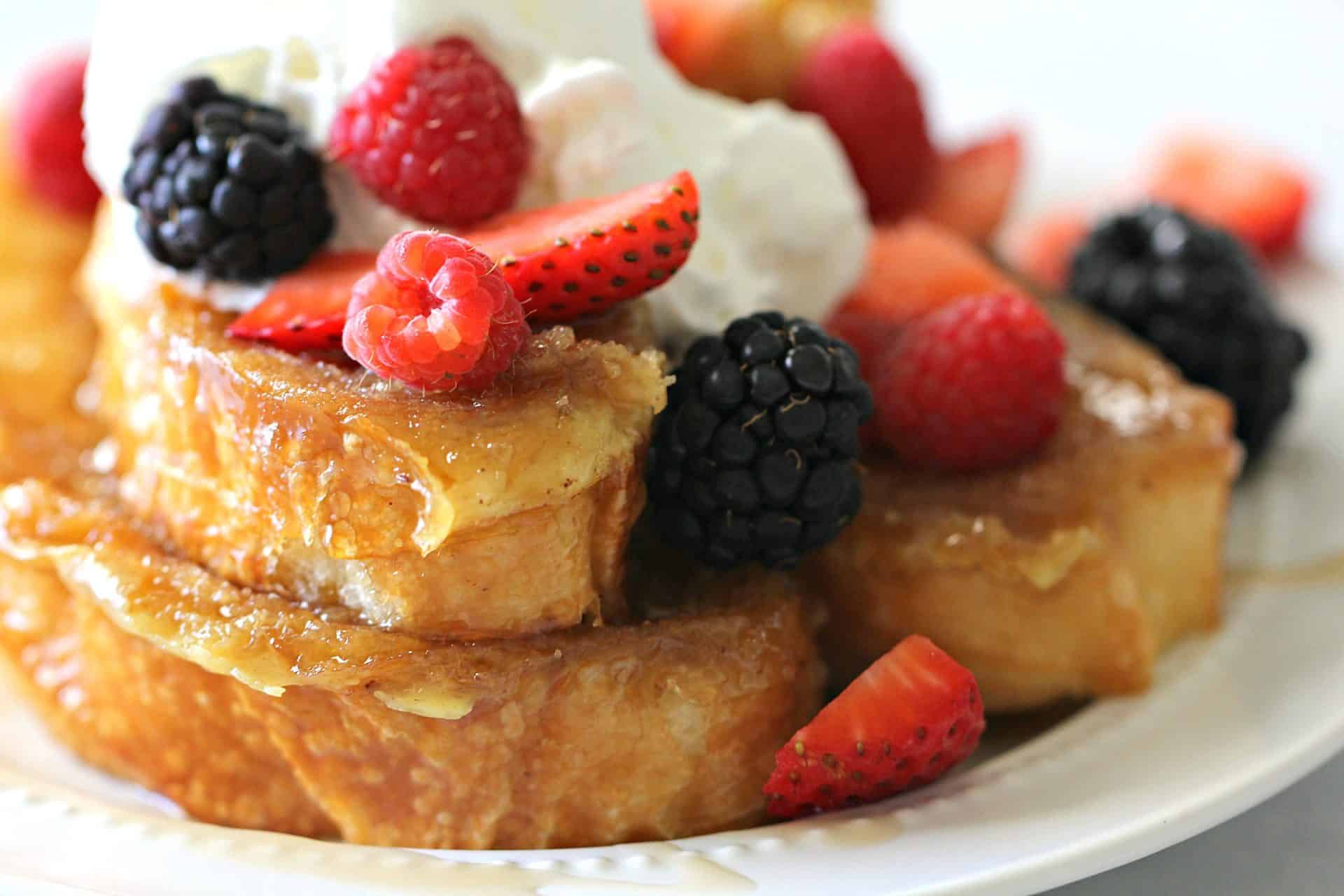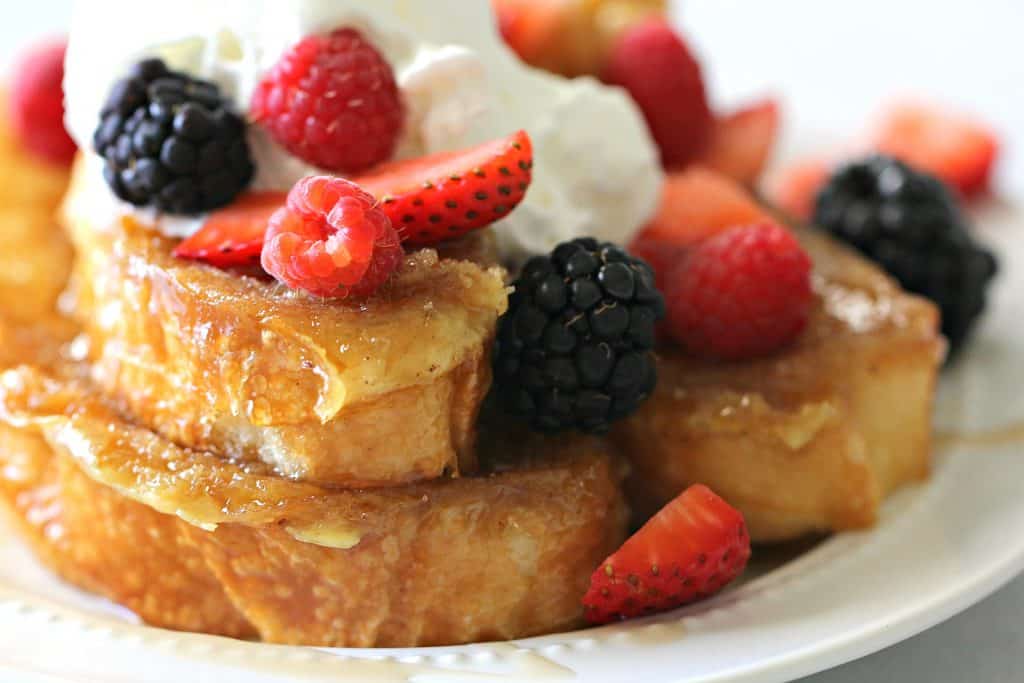 To get the perfect French toast, I recommend using day-old or stale bread. Sometimes I even cut my bread into slices and let it sit out for a day or two. If you use a fresh loaf of soft bread, you will end up with soggy slices of French toast. I like to use a loaf of French bread for this recipe, but I always make sure that its a day or two old.
Many times in French toast, the ingredients call for milk. However, because this dish has more of a custard-like texture and flavor, I prefer using full-fat half-and-half. This will give it a rich flavor and each bite will literally melt in your mouth.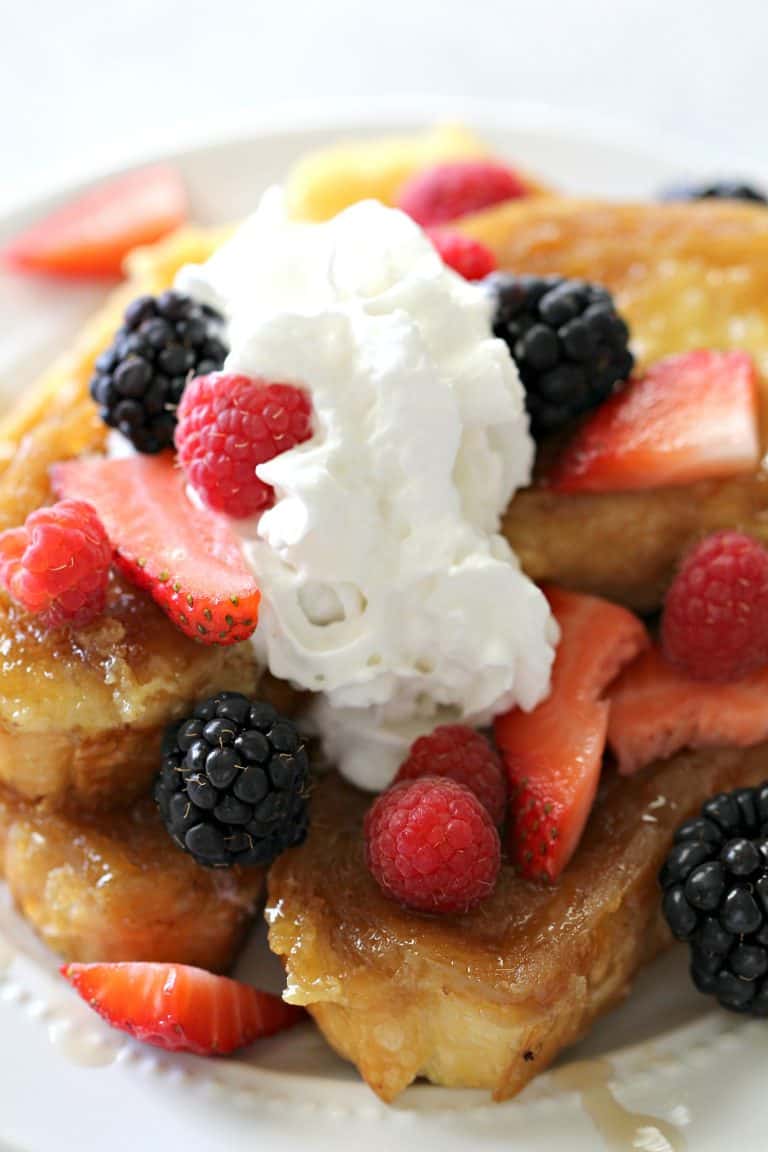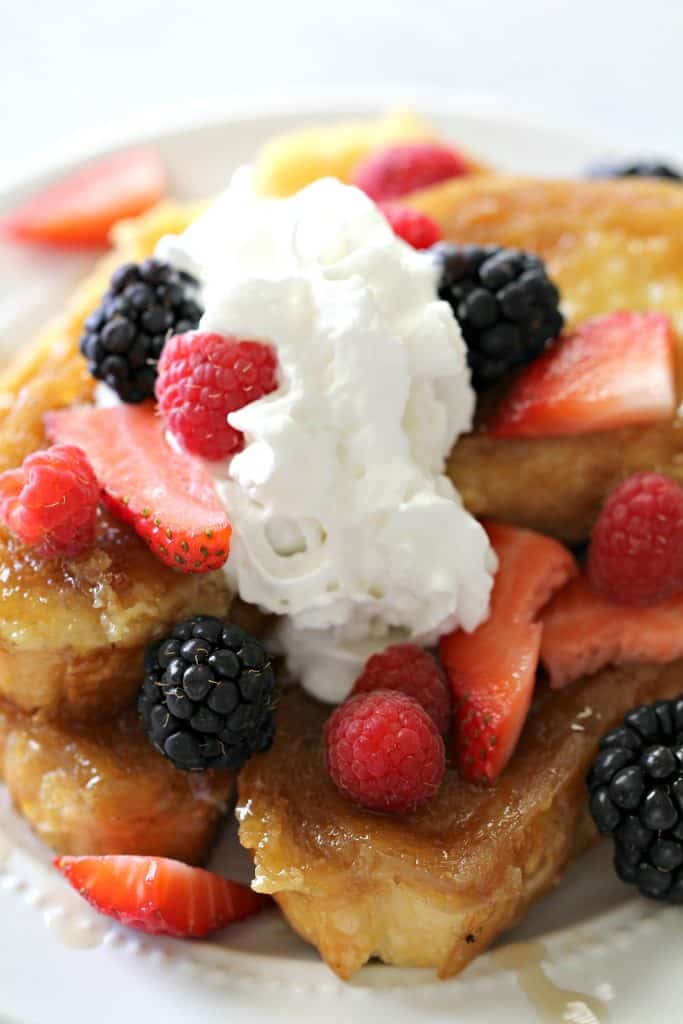 To make your creamy sauce that the bread will soak in overnight, you will bring butter, brown sugar, and corn syrup to a boil. Spread the sticky sauce in the bottom of a large baking sheet (I used a jelly-roll pan that was 18″x13″x1″ – you want to make sure that it has at least a 1″ lip around the edges to keep the sauce from spilling out).
Place the day-old sliced bread in the pan on top of the sauce, making sure to not overlap the slices (you want them to be in a single layer). Now mix together the eggs, cream, salt, vanilla, and cinnamon and then pour over the top of the slices of bread. Cover the pan and place in the fridge overnight.
In the morning, uncover the pan and bake for about 30 minutes for French toast perfection!You can top your French toast with syrup or fresh berries and cream – or it's even delicious without any topping. If you aren't going to eat this French toast immediately, I recommend flipping each piece in the pan over, to prevent it from sticking to the bottom of the pan.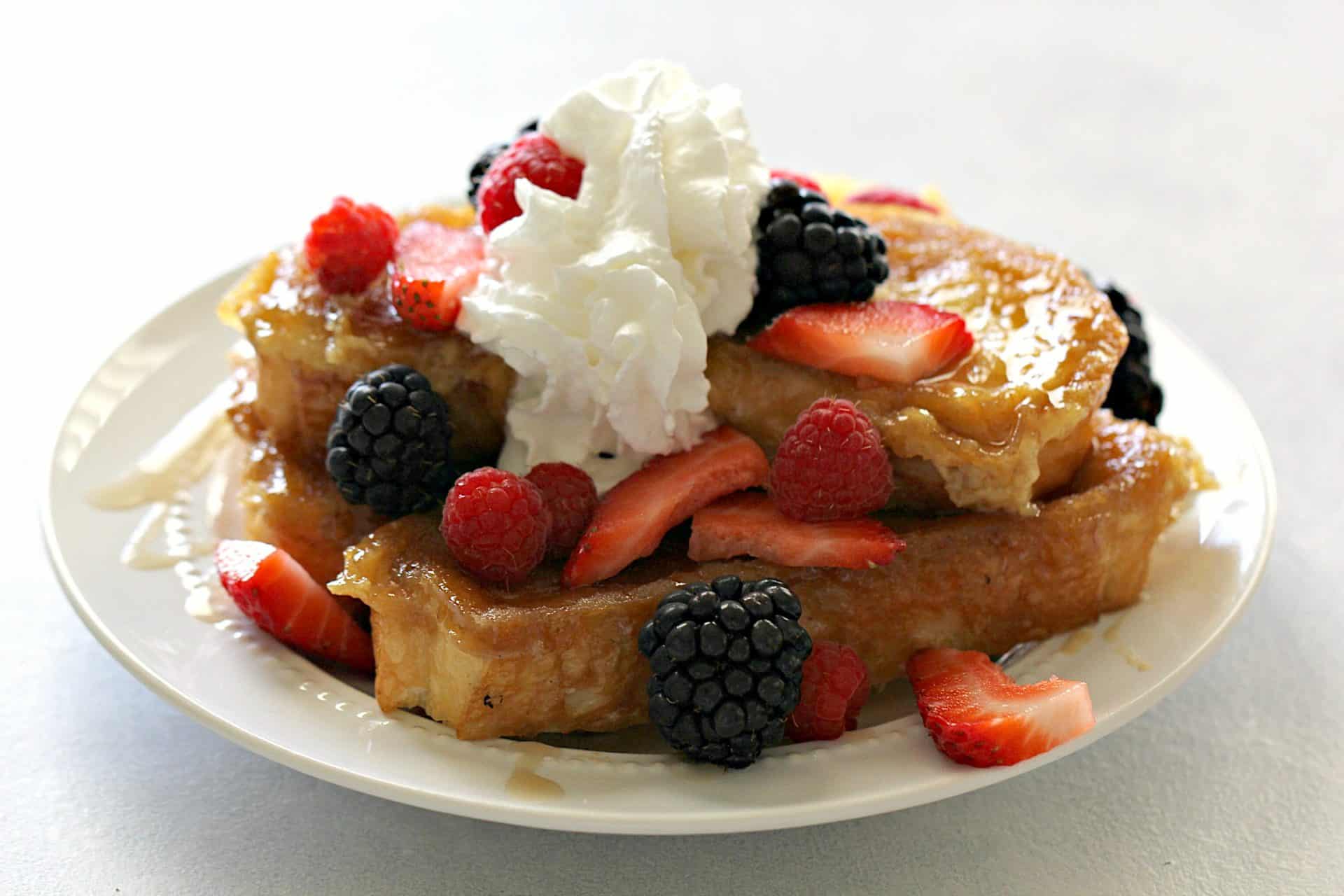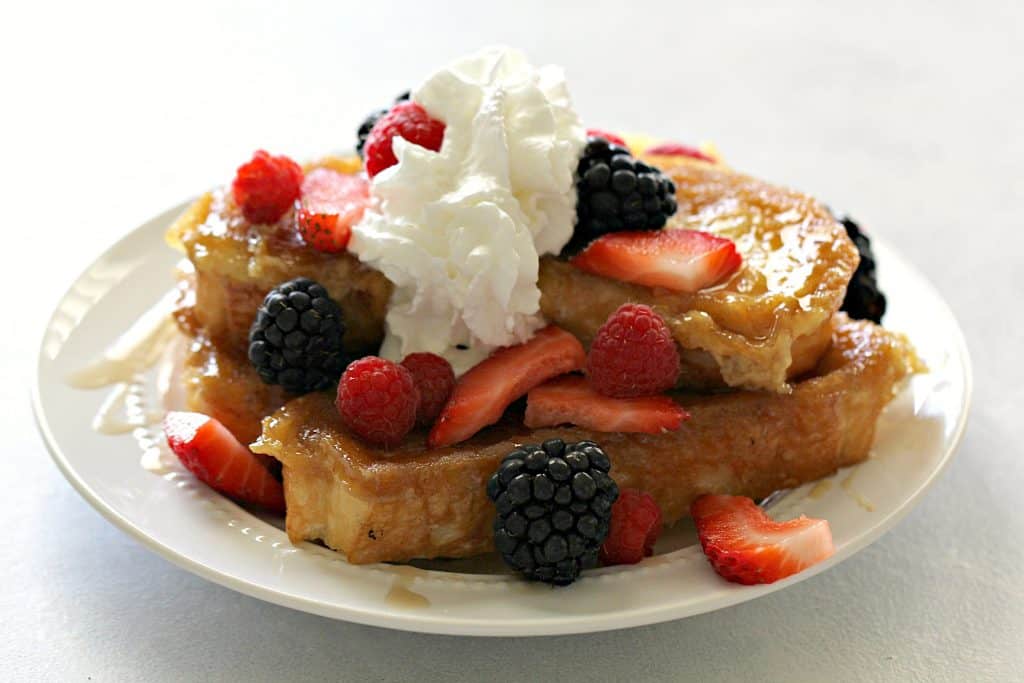 I have also heard of Overnight French Toast being called "Company French Toast". It really is the perfect way to feed a lot of people in a short amount of time (as opposed to dipping each individual slice of bread and cooking it on a skillet). This breakfast is perfect for brunch, Christmas morning, or even when you need a good family breakfast.
Looking for more French Toast recipes? Check these out:
-Peaches and Cream French Toast
-Overnight Blueberry French Toast
-Overnight Baked Caramel French Toast
-Overnight Pecan Praline French Toast
-Puffy Strawberry Cream Cheese French Toast
Six Sisters Stuff
Creme Brulee French Toast
Throw this together in 10 minutes, let it sit overnight, and then enjoy a delicious hot breakfast in the morning!
10 minPrep Time
25 minCook Time
35 minTotal Time
Ingredients
1/2 cup butter
1 cup packed brown sugar
2 Tablespoons corn syrup
12 slices thickly sliced bread, day-old or stale bread recommended (I just bought French bread and cut into thick slices)
5 eggs
1 1/2 cups half-and-half cream
1/4 teaspoon salt
1 teaspoon vanilla
Dash of cinnamon
Instructions
In a small saucepan melt butter, brown sugar, and corn syrup over medium heat until smooth, stirring occasionally. Pour mixture onto large, greased jelly roll pan (18x13x1"). Spread around to cover surface.
Place 12 slices of bread in a single layer to cover pan.
Mix together eggs, cream, salt, vanilla, and cinnamon. Spoon mixture over each piece of bread. Cover and refrigerate overnight.
Bake uncovered at 350 degrees for about 25-30 minutes. Remove from pan and serve.
Notes
If not serving immediately, turn each slice of bread over (this will prevent bread from sticking to the bottom of the pan). Serve with syrup or berries and whipped cream (both ways are yummy!).
7.8.1.2
173
https://www.sixsistersstuff.com/recipe/creme-brulee-french-toast/