This Strawberry Kiwi Smoothie, is my new healthy snack or breakfast go to. It is easy to make, and has so much delicious fruity flavor to it. I just want to close my eyes and pretend I am on a beach, without a worry in the world. That's honestly how I feel when I drink this smoothie. It is that good.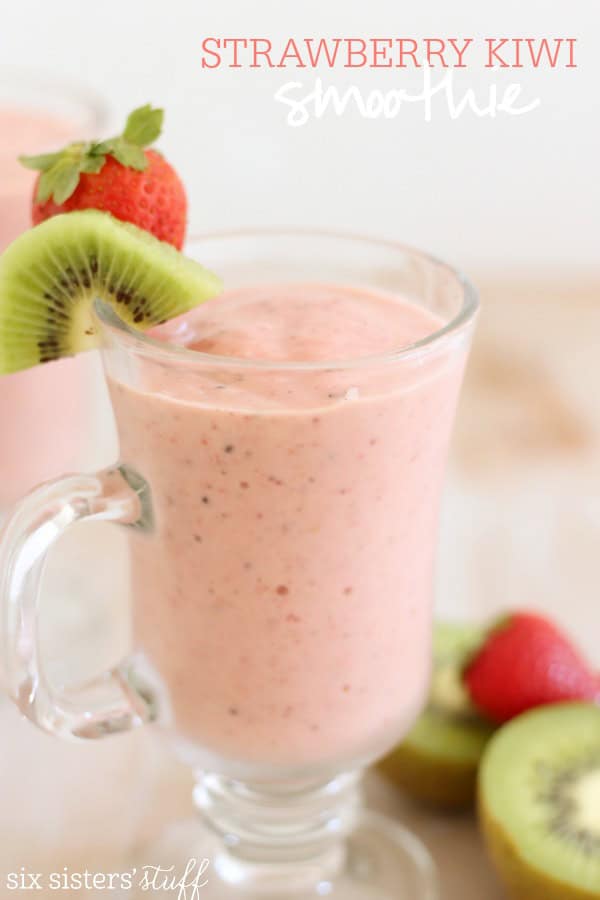 Eating healthy is hard. But I've decided baby steps are the best option when trying to lose this baby weight.
I didn't gain it overnight, so I won't be losing it overnight, either. This quick strawberry kiwi smoothie is a great way for me to get in some fruit servings and the best part is, I can drink it on the go.
What banana's work best for this Strawberry Kiwi Smoothie recipe?
This is an option that is totally up to you. I will tell you, the more brown the bananas, the sweeter they are, because they have had more time to create those natural fruit sugars, in the banana.
I prefer to use medium bananas. I don't like my bananas bright green, but I don't like them with brown. I like them perfectly yellow.
This is because I prefer that taste as I eat them plain, but I have tried ripe bananas in this smoothie, and it was just as delicious.
I make my frozen banana's ahead of time. Once they are too ripe for me to eat, I remove the peel, cut them into fourths, and place them in a large gallon, ziploc bag.
I then seal that bag, pushing all the air out, and put them in the freezer. They are ready to go in your smoothies about an hour or two later.
I usually don't keep my banana's in the freezer for more than four weeks, because then I feel like they start tasting like the freezer, and not like banana.