We've added a new flavorful twist to these Easter Bunny Muddy Buddies. There is a secret ingredient - Strawberry Cake Mix. A favorite Muddy Buddy recipe that can be adapted for any occasion. It's so easy to swap out the candies for some in season.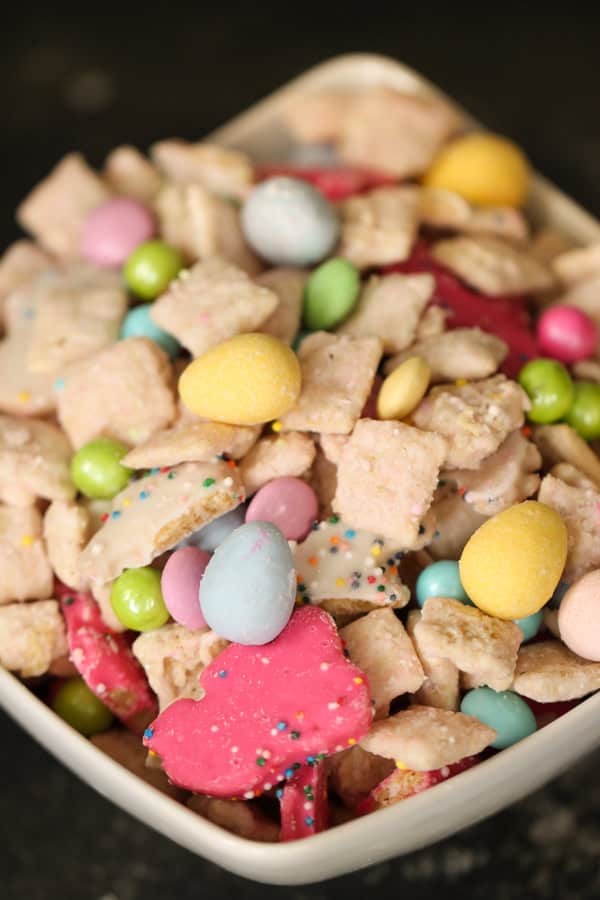 Easter Bunny Muddy Buddies is the best family dessert.
It's the perfect treat for movie nights, picnics, or just any time!
It's always a favorite snack no matter the occasion.
The best part about these delicious Easter Bunny muddy buddies is that they are simple and come together in a few minutes.
We have a secret ingredient that gives them a little extra flavor – Strawberry Cake Mix.
Looking for another fun Easter recipe? Try these Easy Easter Sugar Cookies and our Chocolate Thumbprint Cookies!
Can you adapt this Easter Bunny Muddy Buddies recipe for other holidays or parties?
Easter Bunny Muddy Buddies can easily be adapted to any holiday or party. Here are a few ideas.
Switch out the M&M's candy to colors in season. You can even special order certain M&M colors for special occasions.
Sixlets come in many colors and you can also order them in certain colors.
Switch out the cake mix to another flavor or leave out all together and add in an extra 1/3 cup of powdered sugar.
Cadbury Eggs are pastel in the spring. They come in Christmas colors for the holidays.
What other kinds of cereal will work in this recipe?
Chex cereal comes in so many flavors, but here are some flavors that will work great with most add-ins.
Corn Chex
Vanilla Chex
Honey Nut Chex
Golden Grahams
Related Recipe: Try our NEW Easter Bunny Pudding Dirt Cake!
How to make Easter Bunny Muddy Buddies:
Easter Bunny Muddy Buddies are the perfect snack that come together so fast. It's a tasty snack the whole family loves – old and young alike.
Here are some easy ingredients needed for these Muddy Buddies.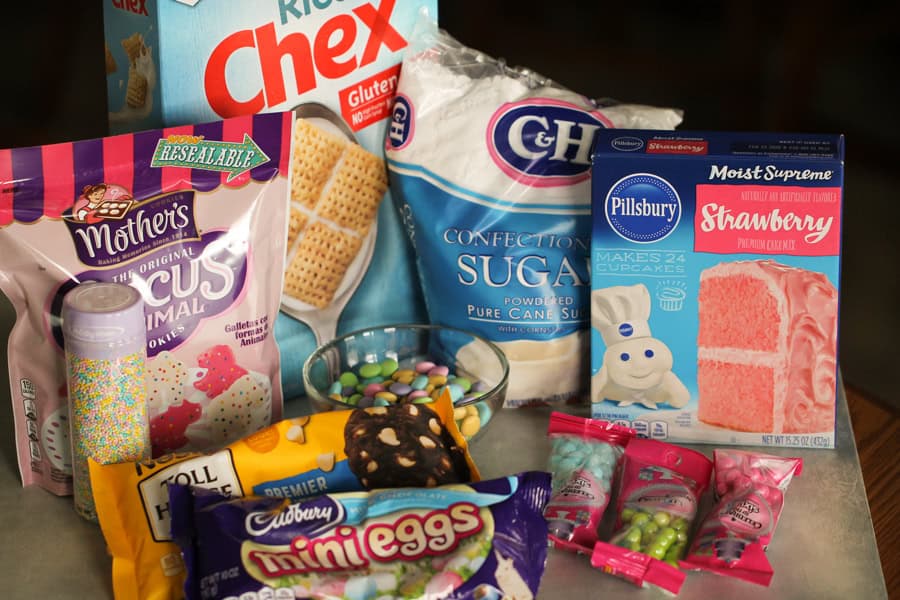 Place Rice Chex cereal in a big mixing bowl.
Melt the white chips in a microwave bowl. Be careful to place on "melt" setting on your microwave to chips don't seize or burn.
After the chips are melted, pour over dry cereal in bowl.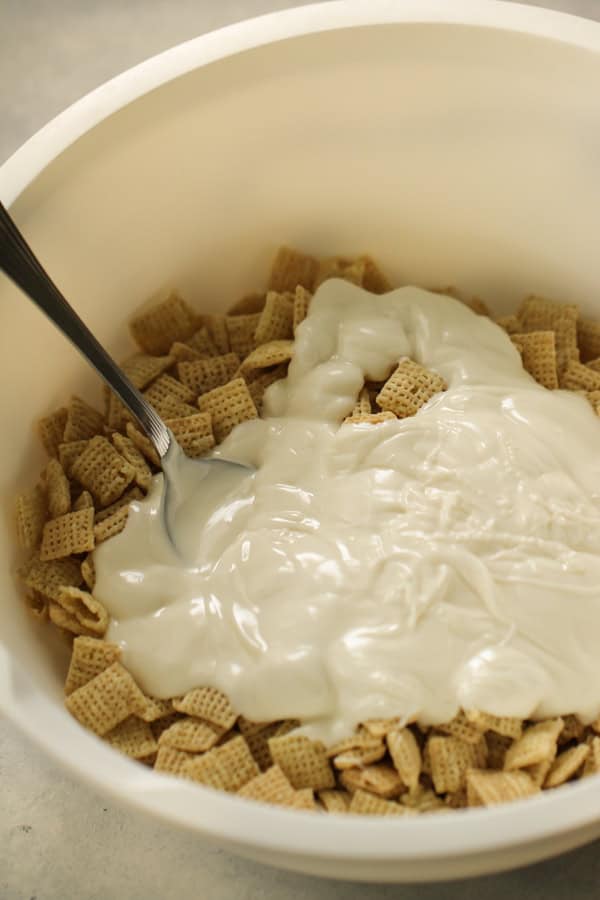 Add in the powdered sugar and strawberry cake mix. Stir together well.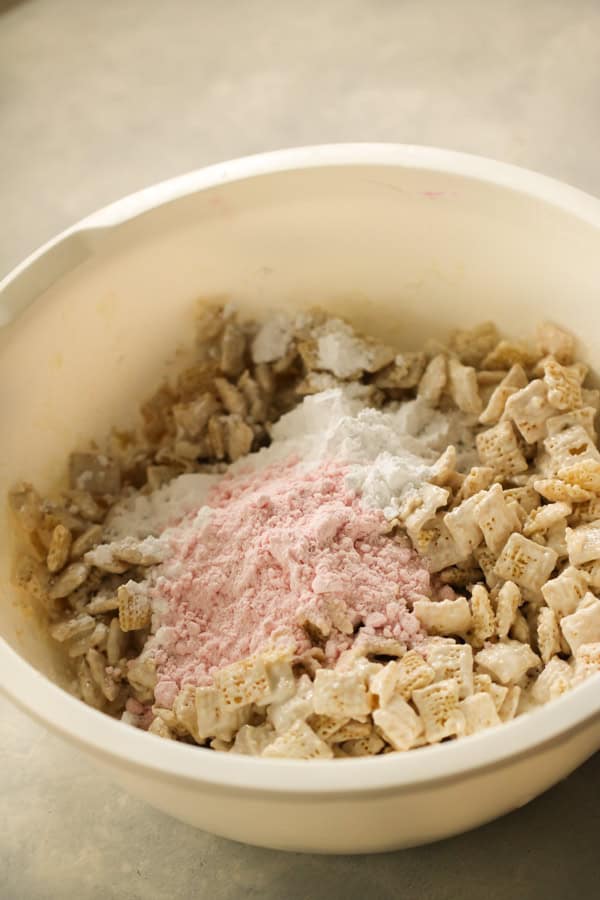 Add in sprinkles, animal cookies, M&M's, Sixlets, and Cadbury Eggs. Stir in gently so the cereal doesn't break apart.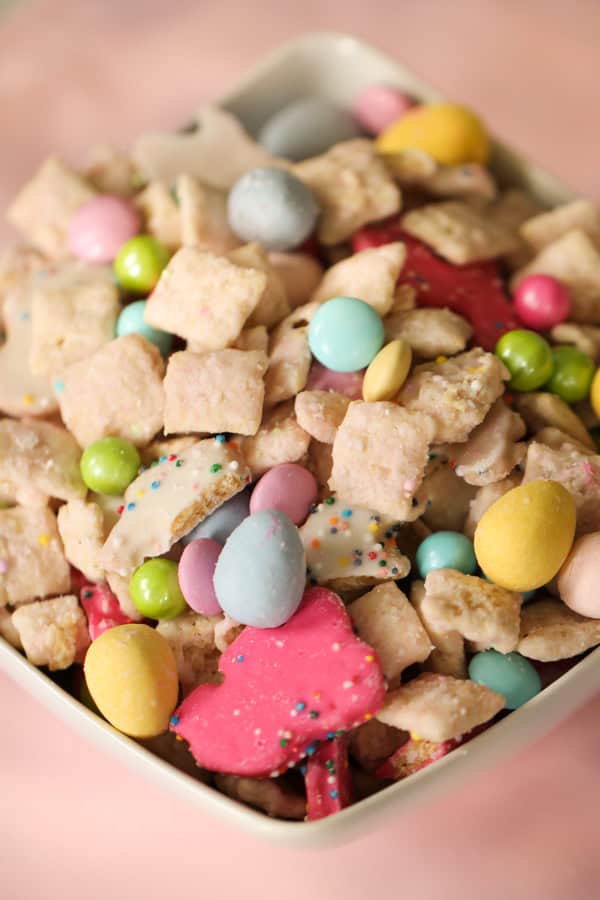 Serve immediately, or store in an airtight container for up to a week.
Try more of our favorite Easter desserts: Chocolate Dipped Strawberry Easter Eggs and Homemade Reese's Eggs!