Casseroles are always loved in our house and this chicken and broccoli stuffing casserole is a true favorite. It's is an easy broccoli chicken casserole that is filled with cheese, chicken, broccoli, and all that delicious stuffing bits.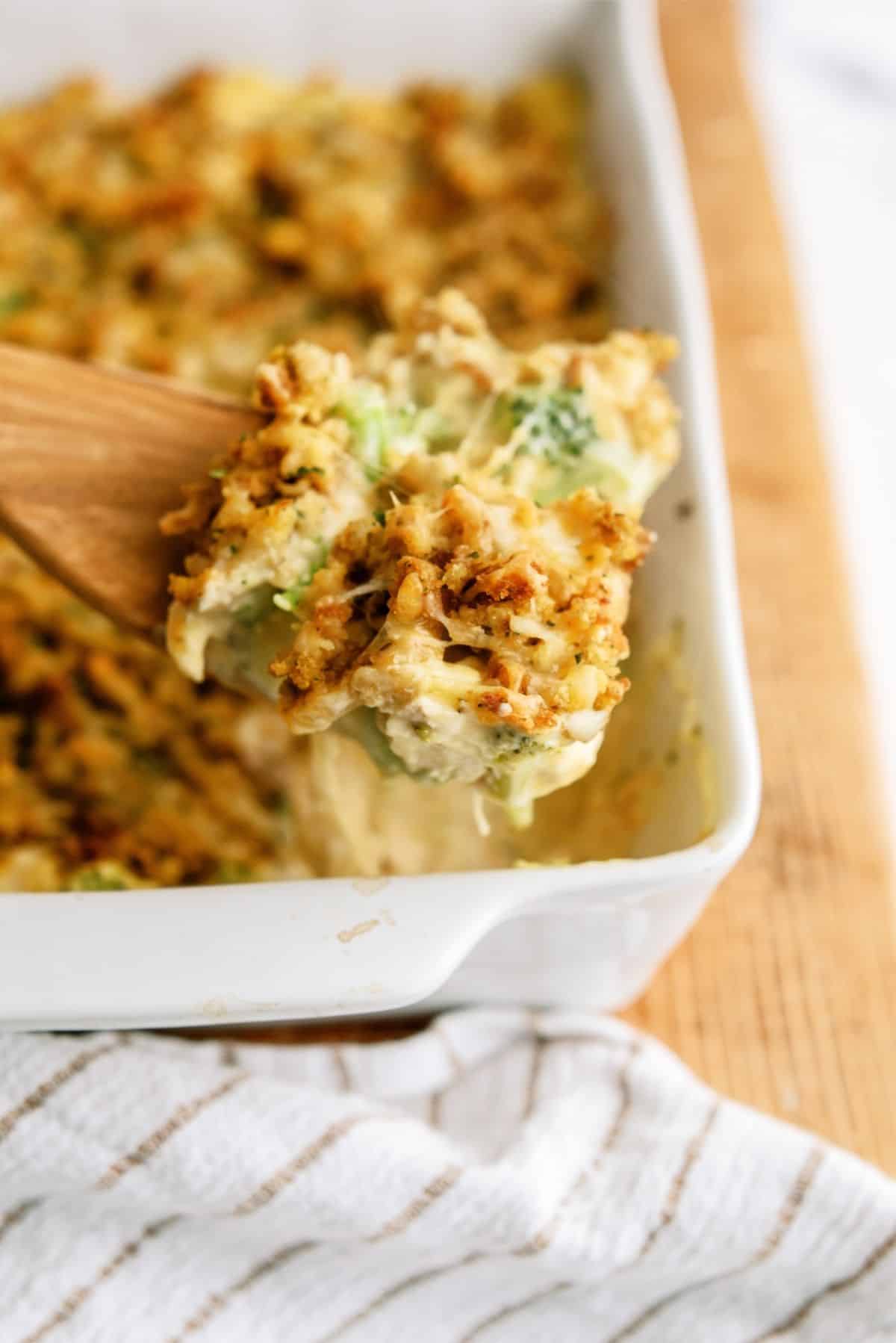 Be prepared to add this chicken and broccoli stuffing casserole to the favorite family dinner list! It is such an easy dinner to prepare and tastes amazing.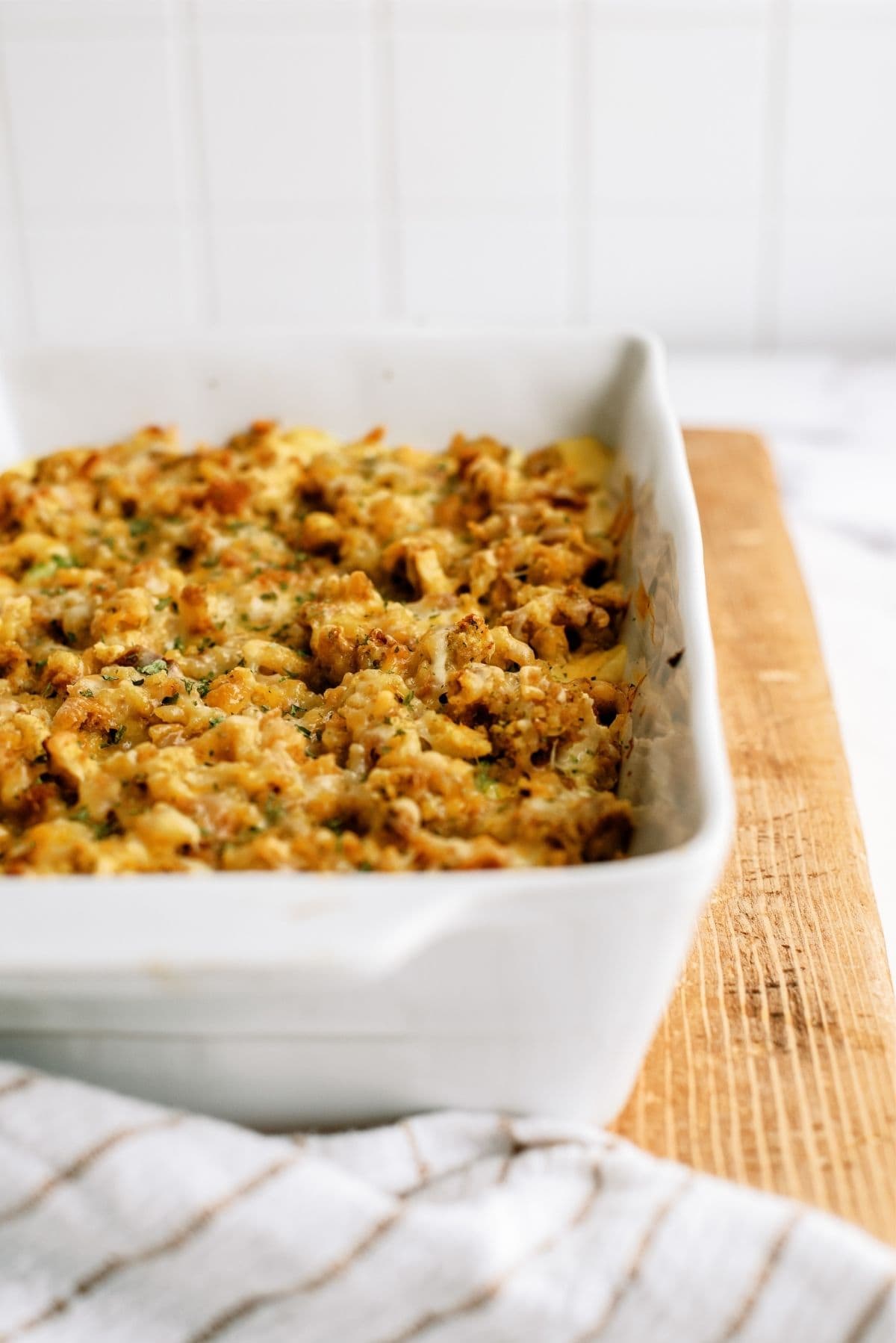 I get sick of making the same old chicken and broccoli bake recipes, so this stove top stuffing broccoli casserole is a nice change of pace. You will have everything everyone loves to eat all in one dish, baked in the oven and ready in no time.
This is also a great dish to make up if you and your significant other want to go out on a date night! Just prepare it ahead of time and put it in the refrigerator and then the babysitter just has to pop it in the oven. It's also great for those busy weeknights too when everyone is driving literally everywhere!
If you want to add sides to this dish you can always prepare some of our air fryer roasted sweet potatoes, slow cooker creamed corn, and end the night with some amazing blueberry fluff salad. But, if you're not looking to add any extra work, this is a casserole that can stand on its own as a meal too!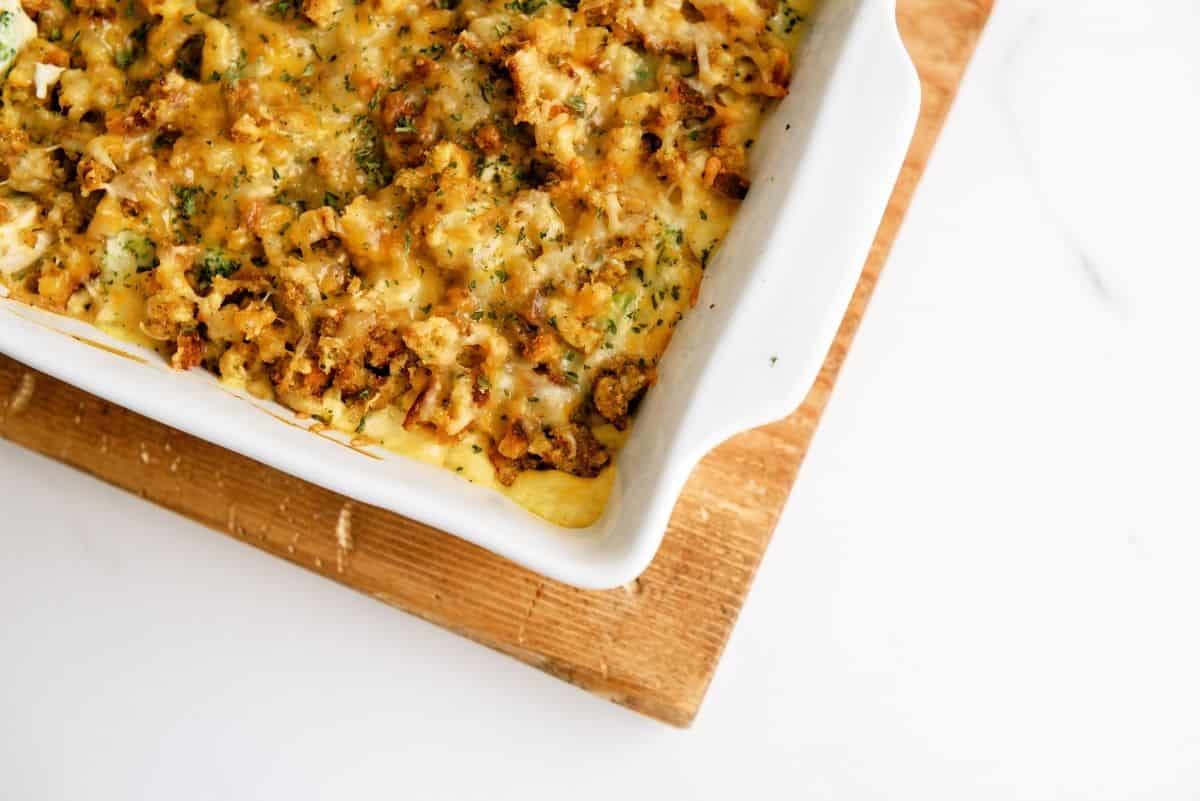 Ingredients You Need to For Our Chicken and Broccoli Stuffing Casserole Recipe:
Chicken stuffing mix
Broccoli florets, steamed
Boneless, skin less, chicken breast, cooked and cubed
Cream of broccoli soup
Sour cream
Shredded cheese (we like to use cheddar)
How To Make Our Chicken and Broccoli Stuffing Casserole Recipe: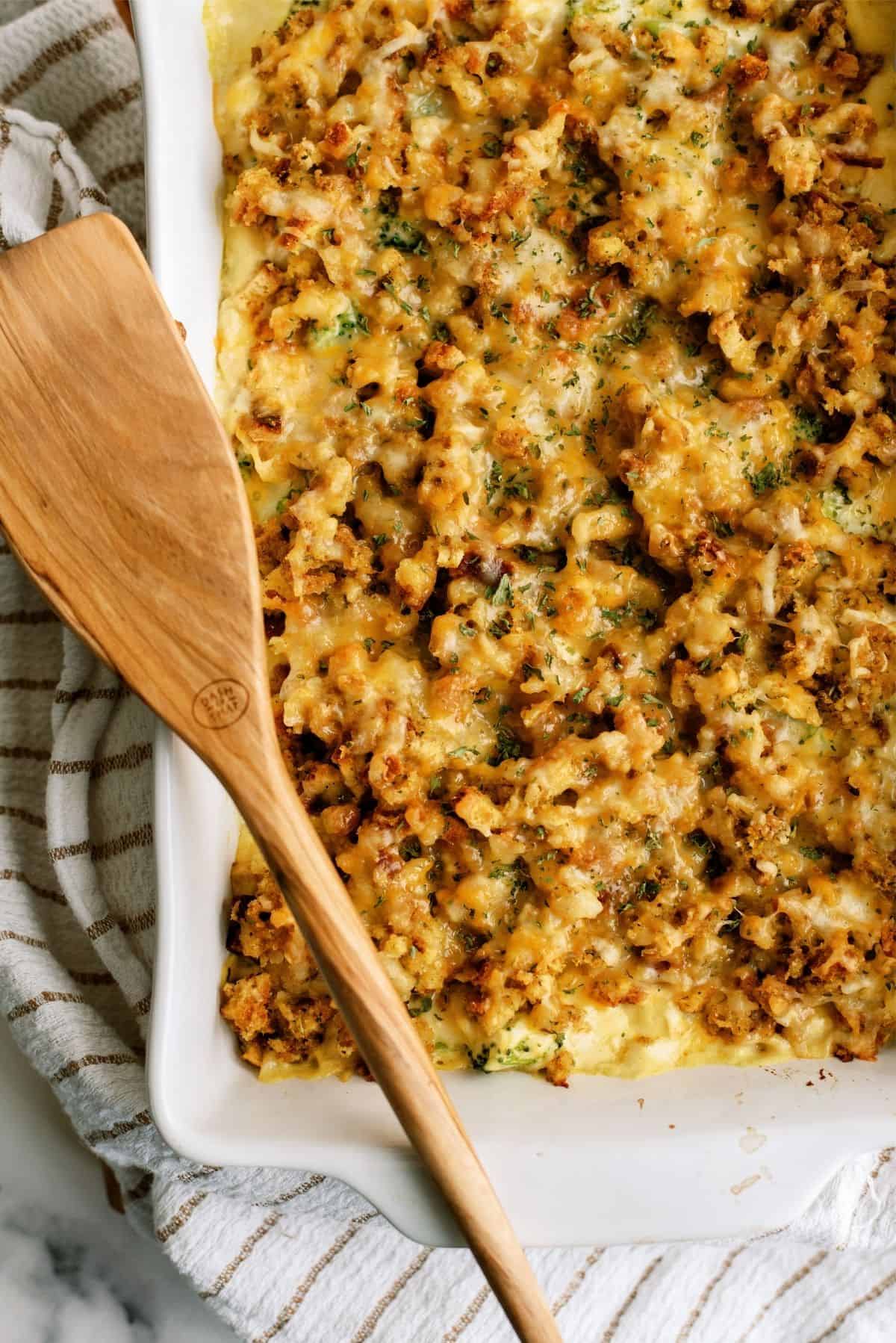 To begin, start by preheating the oven to 350 degrees.
Then in a medium saucepan, prepare the box chicken stuffing mix according to the directions on the box.
While the stuffing is cooking, prepare the broccoli. You will need to steam the broccoli until it is tender.
If you are short on time, I like to put the broccoli in a microwave safe bowl with about ½ cup of wanted and then place a damp paper towel over top and put it in the microwave for 4-5 minutes or until the broccoli is tender.
Once the broccoli is done, in a large bowl, combine the sour cream, cans of cream of broccoli soup, and the cooked broccoli and mix it all together.
When you are done mixing, pour the broccoli mixture into a 9×13 in. baking dish and spread it out evenly.
Now take the prepared chicken stuffing mix and spread it out over top of the broccoli layer.
Once the stuffing is in place,sprinkle the shredded cheese over top.
Place tinfoil over top of the casserole and bake it in the oven for 20 minutes.
After 20 minutes, remove the tinfoil and place it back in the oven and let it bake for another 10 minutes, or until the cheese is melted.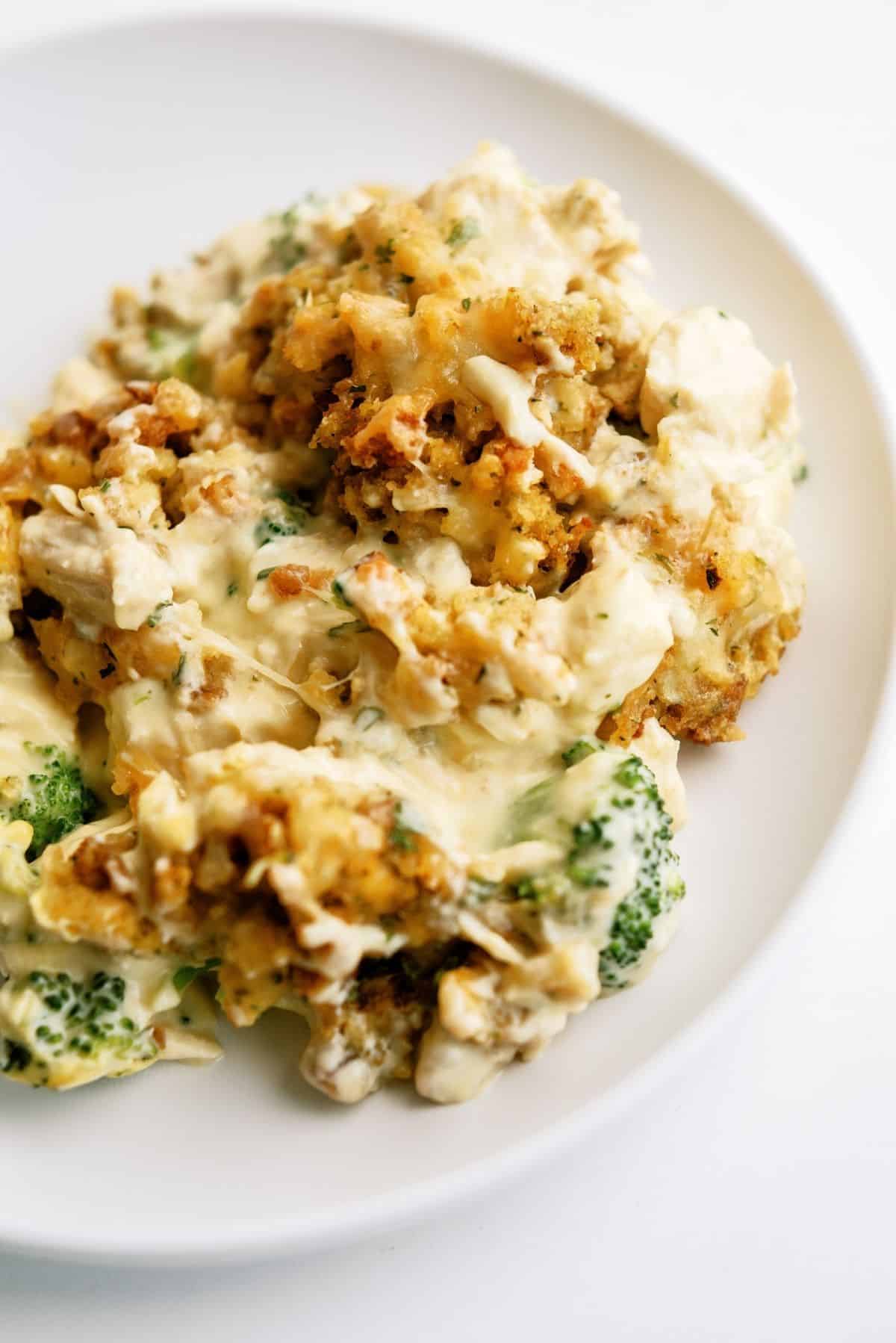 Then simply remove the casserole from the oven and serve it!
To Make This Chicken and Broccoli Bake Recipe You Will Need:
Medium saucepan (THIS is a great one!)
Wooden spoon
Medium mixing bowl
Microwave safe bowl
Tinfoil
9×13 in. baking dish