Take your sweet potatoes up a notch with this Air Fryer Roasted Sweet Potatoes recipe! The air fryer makes these potatoes perfectly crispy!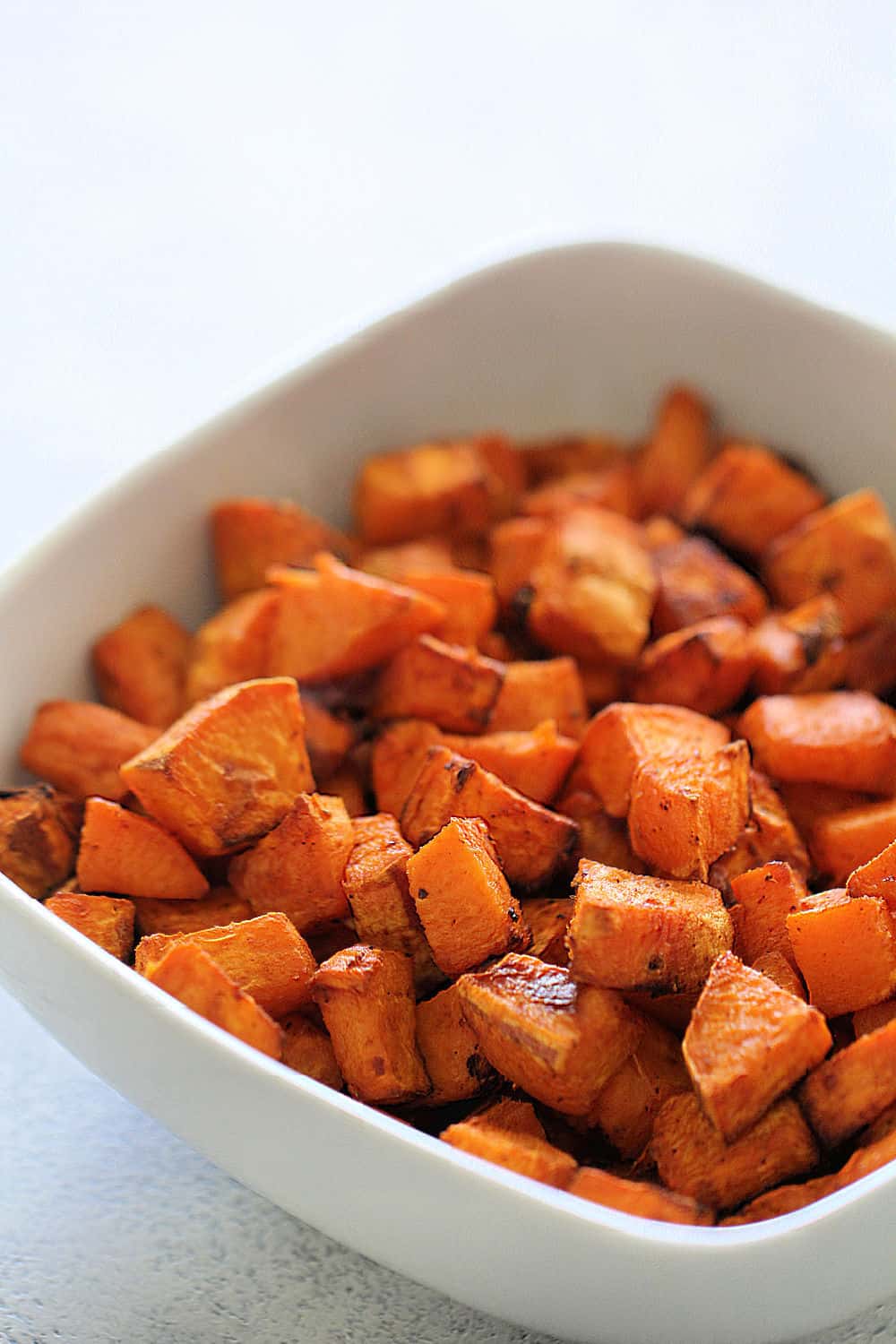 Have you used your Air Fryer yet? This Air Fryer Roasted Sweet Potatoes recipe is the perfect beginner recipe! So easy and your potatoes will be full of flavor and perfectly crispy!
A few other favorite air fryer recipes that are completely delicious are our Garlic Parmesan Chicken Wings in an Air Fryer, Air Fryer Chicken Tenders, or to spice up a healthy recipe, try our Air Fryer Zucchini Fries.
Ingredients needed for Air Fryer Roasted Sweet Potatoes:
3 sweet potatoes, peeled and cubed
1½ Tablespoons olive oil
½ teaspoon paprika
½ teaspoon garlic powder
¼ teaspoon salt
ground pepper to taste
How to make these simple Air Fryer Roasted Sweet Potatoes:
In a large bowl, toss sweet potatoes with oil and all seasonings.
Place potatoes in air fryer basket. If using Instant Pot air fryer, put the basket into the inner pot, place the air fryer lid on top.
Set the temperature on the air fryer to 400 degrees and cook potatoes for 10 minutes.
Remove air fryer basket (or remove lid if using Instant Pot air fryer) and stir potatoes. Continue to cook potatoes until they are golden and tender (about 4-5 more minutes, but you can go longer if you prefer a crispier potato).
Remove and top with additional salt and pepper if desired. Serve and enjoy!
Related Recipe: Make sure and try our tasty Roasted Parmesan Potatoes!
To make this family favorite recipe you'll need:
Large mixing bowl
Instant Pot Air Fryer Lid (THIS one works great!) or any air fryer
Serving plate
Spatula
How to cut your Sweet Potatoes:
The trick to having evenly cooked potatoes is to cut the sweet potatoes as close to the same size as possible.
You'll also want to be sure to shake them after they cook for 10 minutes because it helps the potatoes to evenly cook.