Deliciously sweet, with a little kick, our baked honey lime chicken taquitos recipe is always a hit! It has the perfect amount of honey, lime juice, and enchilada sauce to make the best baked taquitos.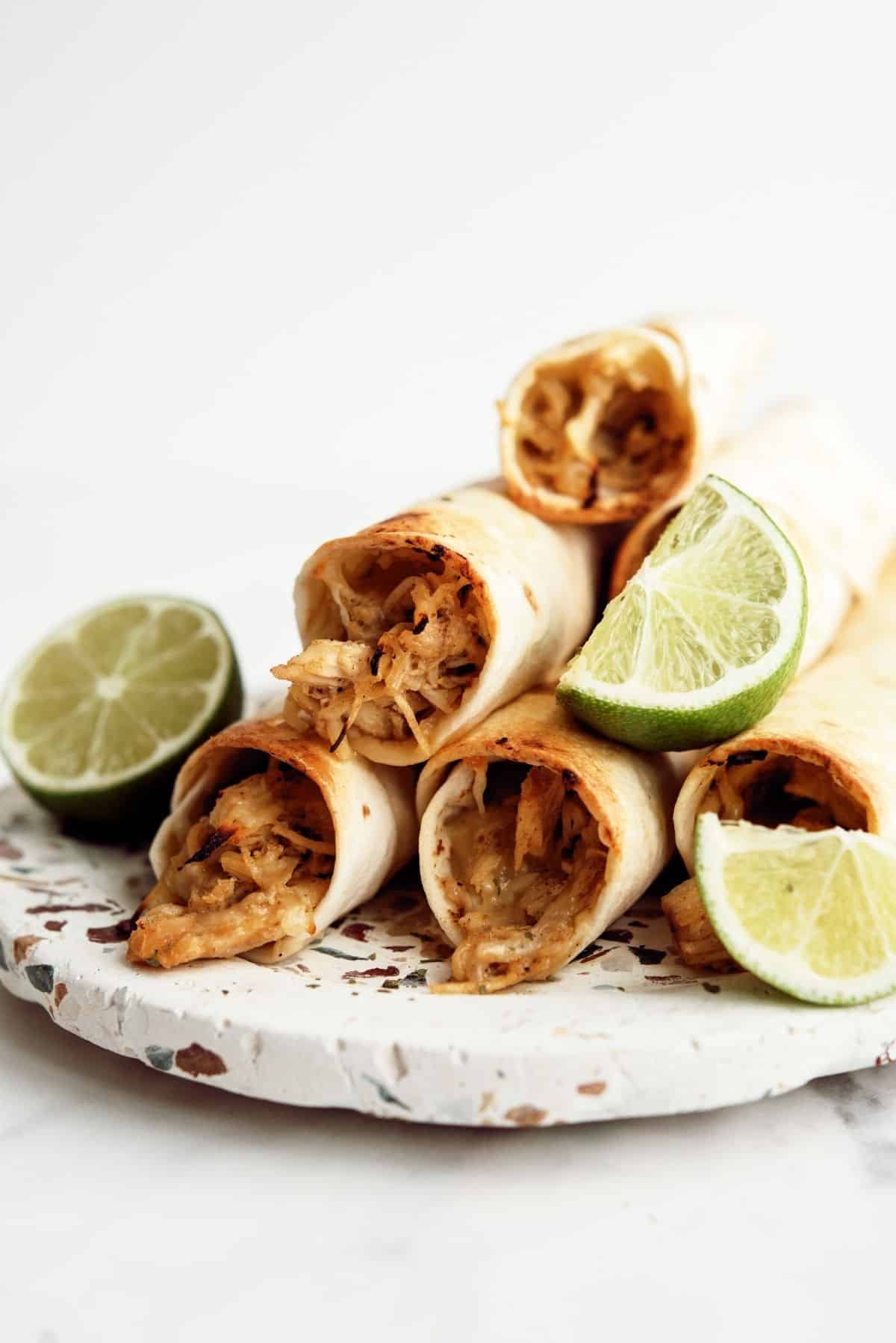 Our baked honey lime chicken recipe is the perfect budget-friendly dinner recipe that everyone will enjoy. It's an easy chicken dinner recipe you can make up and know the kids will devour everything on their plate with no complaints.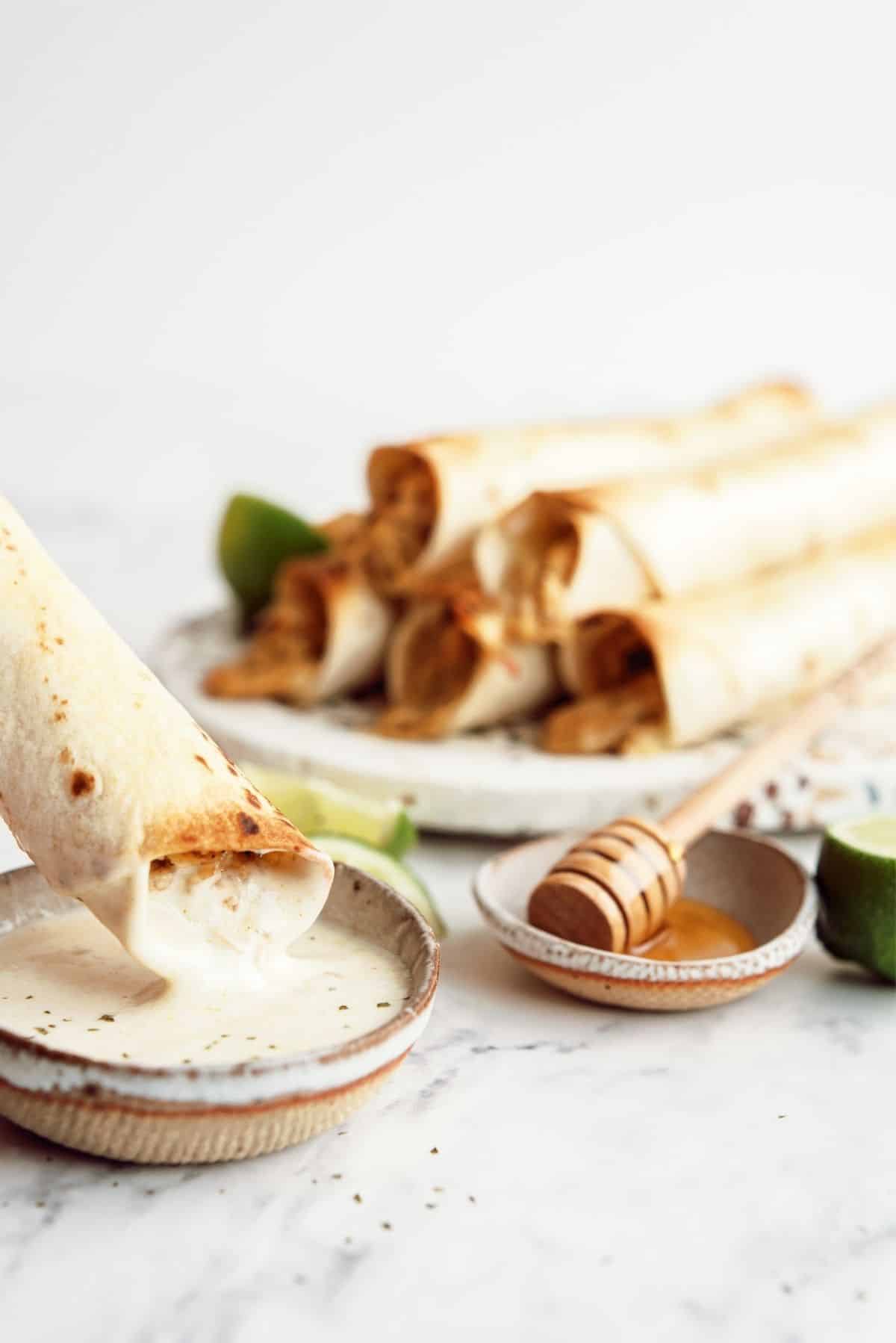 So, if you have a picky eater, this honey lime chicken recipe might just become a staple recipe for you. It's always nice to find something our kids will eat that is more than just chicken nuggets.
We love to have this recipe as a simple and fun dinner, but I've also made it as a great appetizer for game nights ormovie nights. Everyone raves about them!
Pair it with some salsa or sour cream, or both and everyone will enjoy them. If you've found you and your family like the flavors of this recipe but you want to change it up a bit, try making either our honey lime chicken enchiladas, honey lime grilled chicken marinade, or baked honey chicken tenders.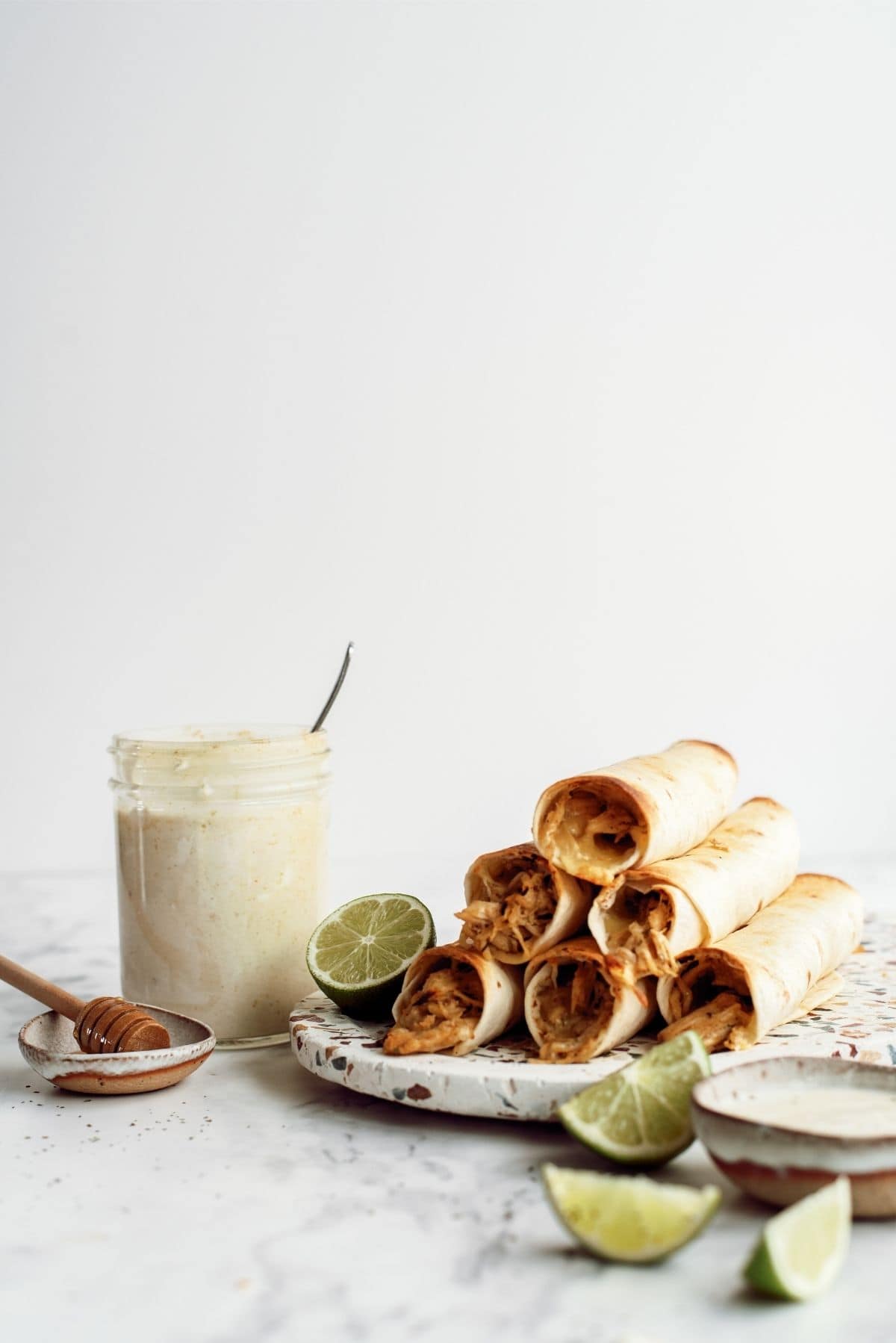 Ingredients You'll Need For Our Baked Honey Lime Chicken Taquitos Recipe:
Honey
Lime juice
Chili powder
Garlic powder
Boneless, skinless chicken breasts (cooked and shredded)
Flour tortillas
Shredded Monterey Jack cheese
Green enchilada sauce
Sour cream
How To Make Our Baked Honey Lime Chicken Taquitos Recipe: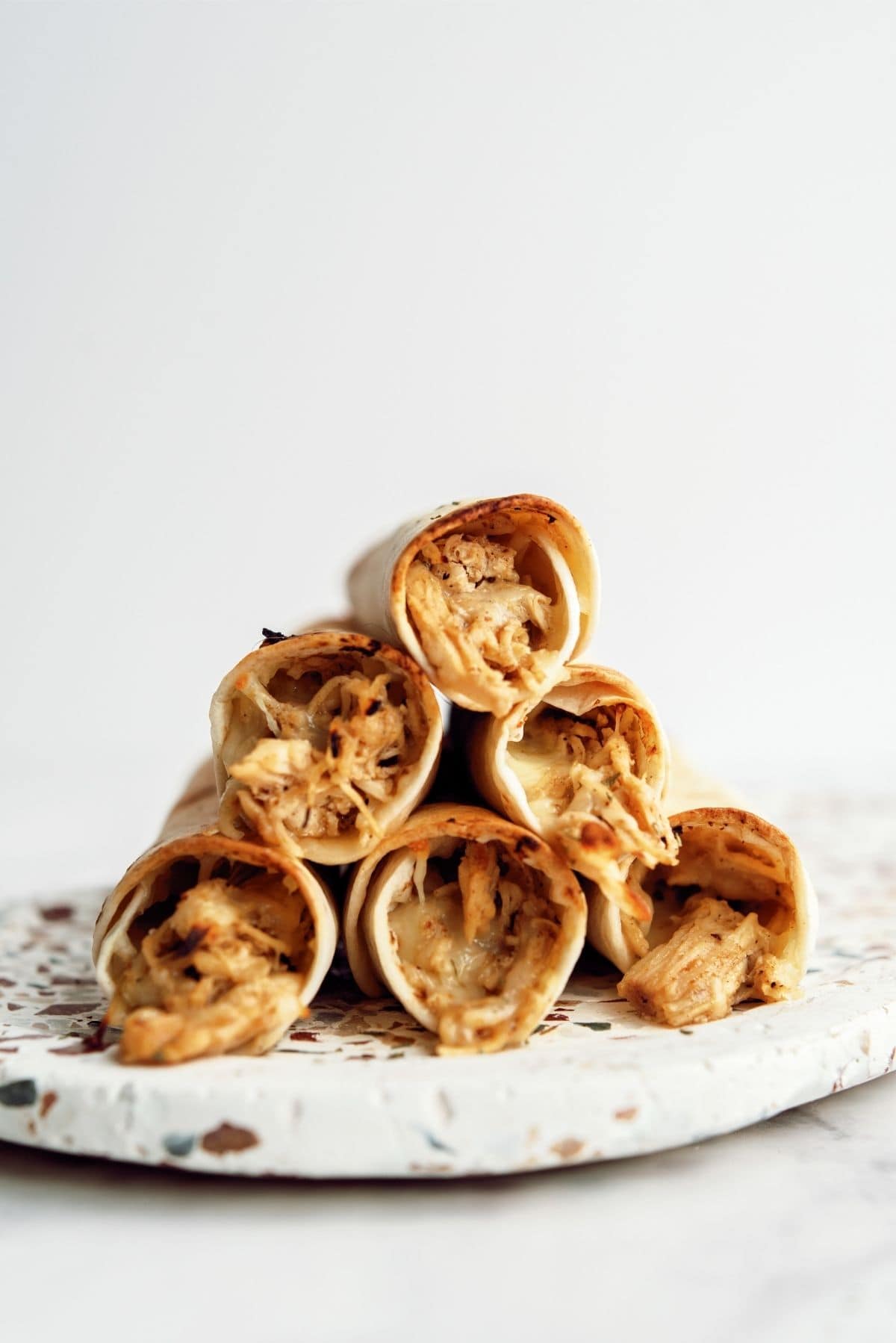 *Please note this recipe needs a little marinating time so you will need to plan ahead a little bit!*
Start by adding the honey, lime juice, chili powder, and garlic powder in a medium sized bowl and whisk it all together.
Once that is combined, add in the cooked and shredded chicken breast and mix it all together.
Then, place the bowl in the fridge for a minimum of 30 minutes, but the flavor will be impeccable when you allow the chicken to marinate for 4-6 hours.
When the chicken is done marinating, preheat the oven to 400 degrees.
Remove the chicken from the fridge and then do the best you can to evenly distribute the marinated chicken between all the flour tortillas.
After you have the chicken in the tortilla, top it with some of the Monterey Jack cheese, roll it up tightly and then place the taquito seam side down on a baking sheet.
Do this with all of the tortillas until the chicken is gone.
When all the rolled tortillas are on the baking sheet, spray them with nonstick cooking spray or brush them lightly with vegetable oil.
Now, place the baking sheet in the oven for 15-20 minutes or until the tortillas turn a nice golden brown.
When those are ready, combine the green enchilada sauce and sour cream in a small bowl and whisk them together to create the perfect dipping sauce.
The just serve the taquitos with the dipping sauce and enjoy!!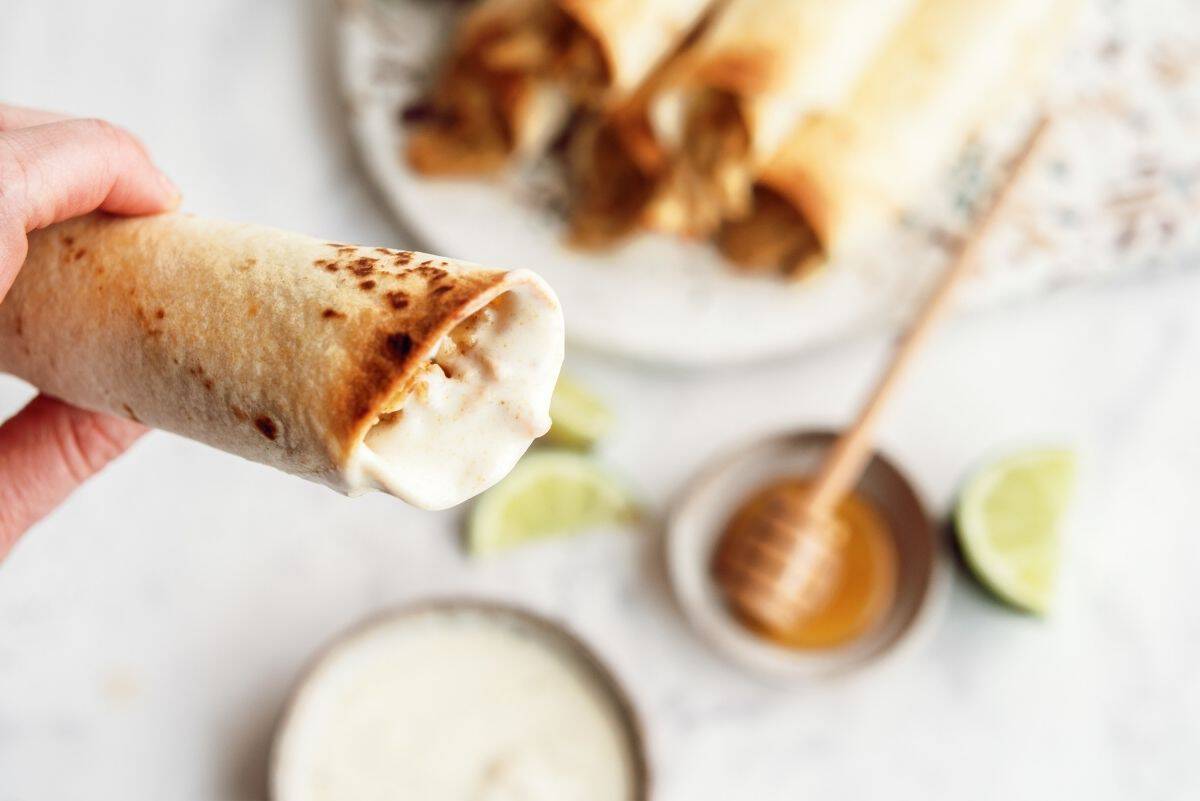 To Make This Easy Chicken Dinner Recipe You Will Need:
Baking sheet (THESE are great ones to use)
Large mixing bowl
Small mixing bowl
Nonstick cooking spray