Our cashew chicken skillet stir-fry recipe is so tasty and a great way to get those veggies into your day. It has the wonderful soy sauce and peanut butter taste that make for a great stir-fry.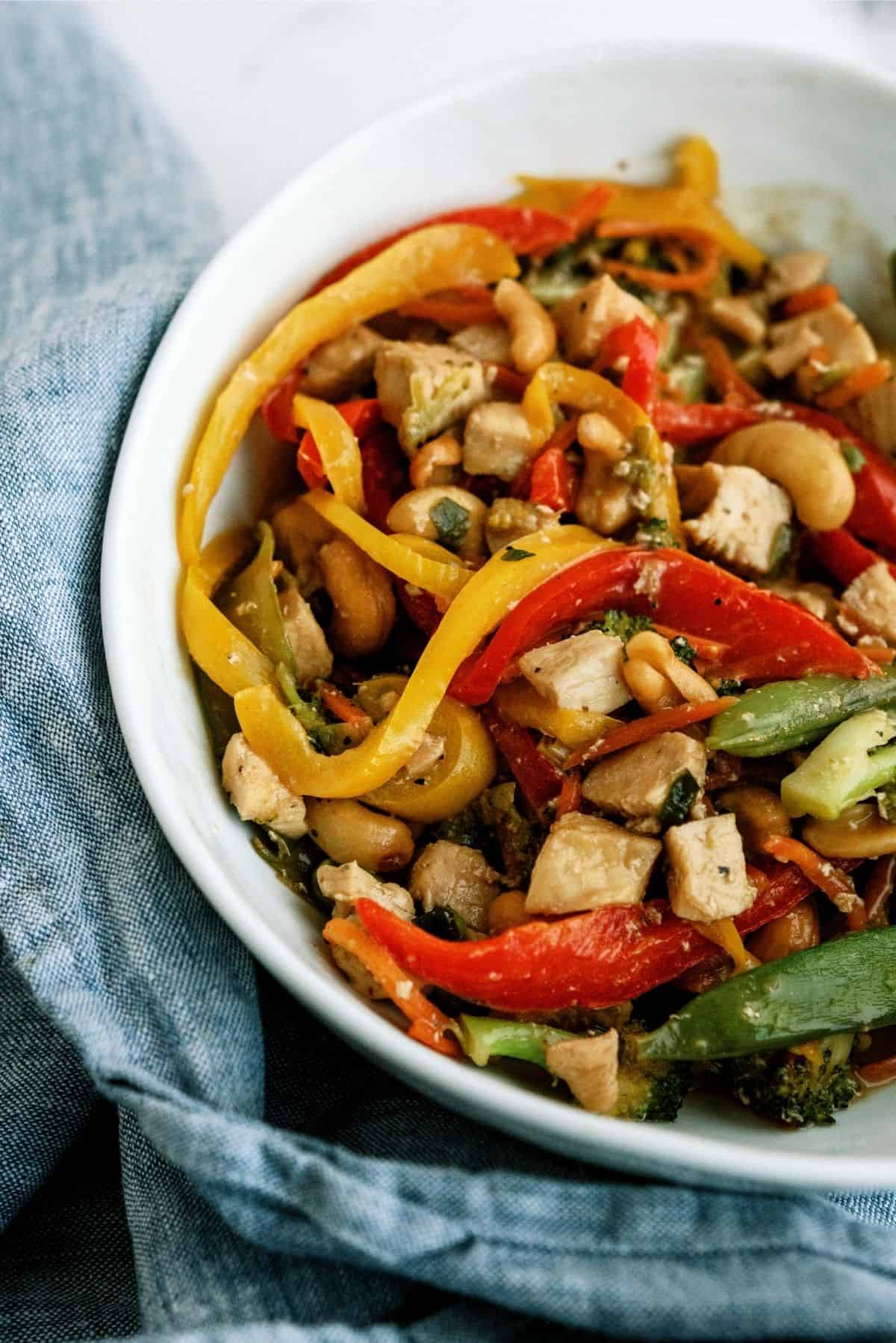 I love making this Cashew Chicken Skillet Stir-Fry recipe, especially on the weekends! It makes a lot so I can have leftovers for the next day! 
Plus it satisfies my fast food cravings without having to leave the house and a healthy dinner idea. And of course, the whole family loves it so I never have to bribe my kids to eat it, that is always a plus, making this a great family dinner recipe. 😉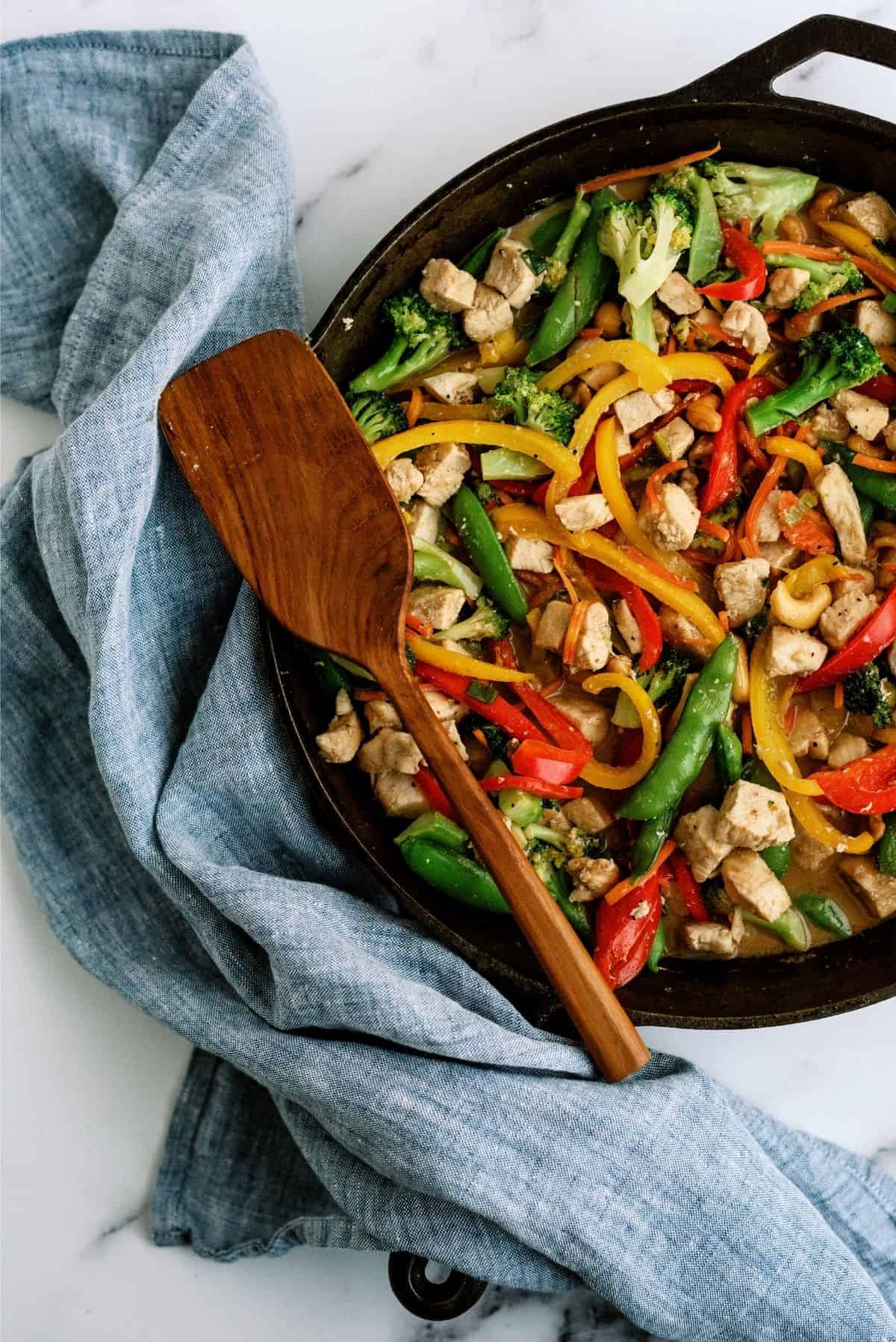 It's also nice because you will have most everything you'll need to make this, especially if you've ever tried to make a stir-fry skillet recipe before. I'm always looking for great and new chicken breast recipes to switch it up a bit and this is a great recipe for that.
You can also make up some of our Spanish Cauliflower Rice as another healthy choice. Or pair it with our Bean and Rice Burritos or Chinese Fried Rice.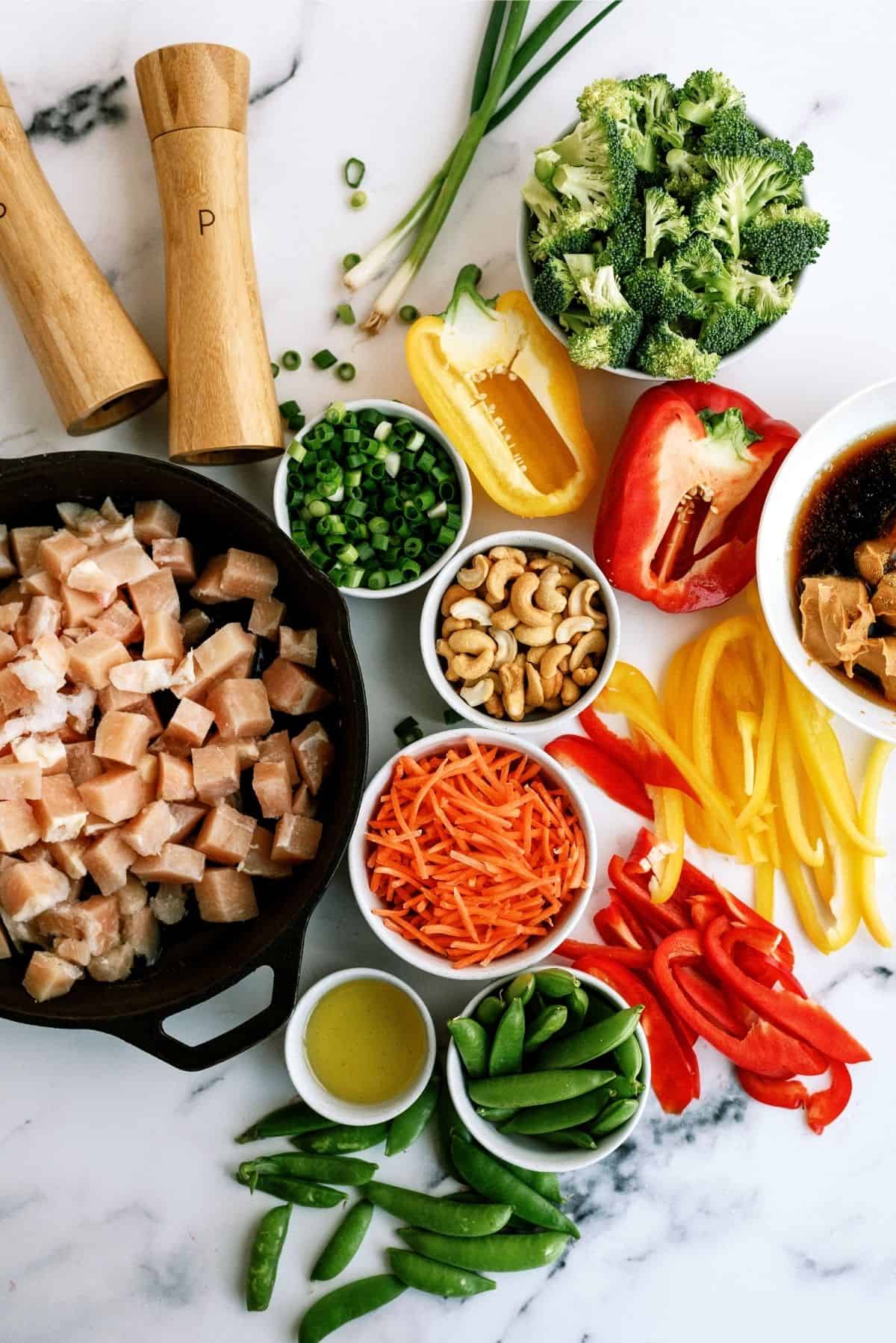 Ingredients Needed For Our Cashew Chicken Skillet Stir-Fry Recipe:
Entree Ingredients:
Olive oil
Boneless skinless chicken breasts
Salt
Pepper
Cashews
Minced garlic
Broccoli florets
Red bell pepper
Yellow bell pepper
Sugar snap peas
Shredded carrots
Green onions
Homemade Sauce Ingredients:
Reduced-sodium soy sauce
Natural peanut butter
Honey
Sesame oil
Ground ginger
Water
How To Make Our Cashew Chicken Skillet Stir-Fry Recipe:
Get out your largest skillet and place it on the stovetop and turn the heat on high and add in some olive oil.
While that is going, chop up your chicken and season it with salt and pepper.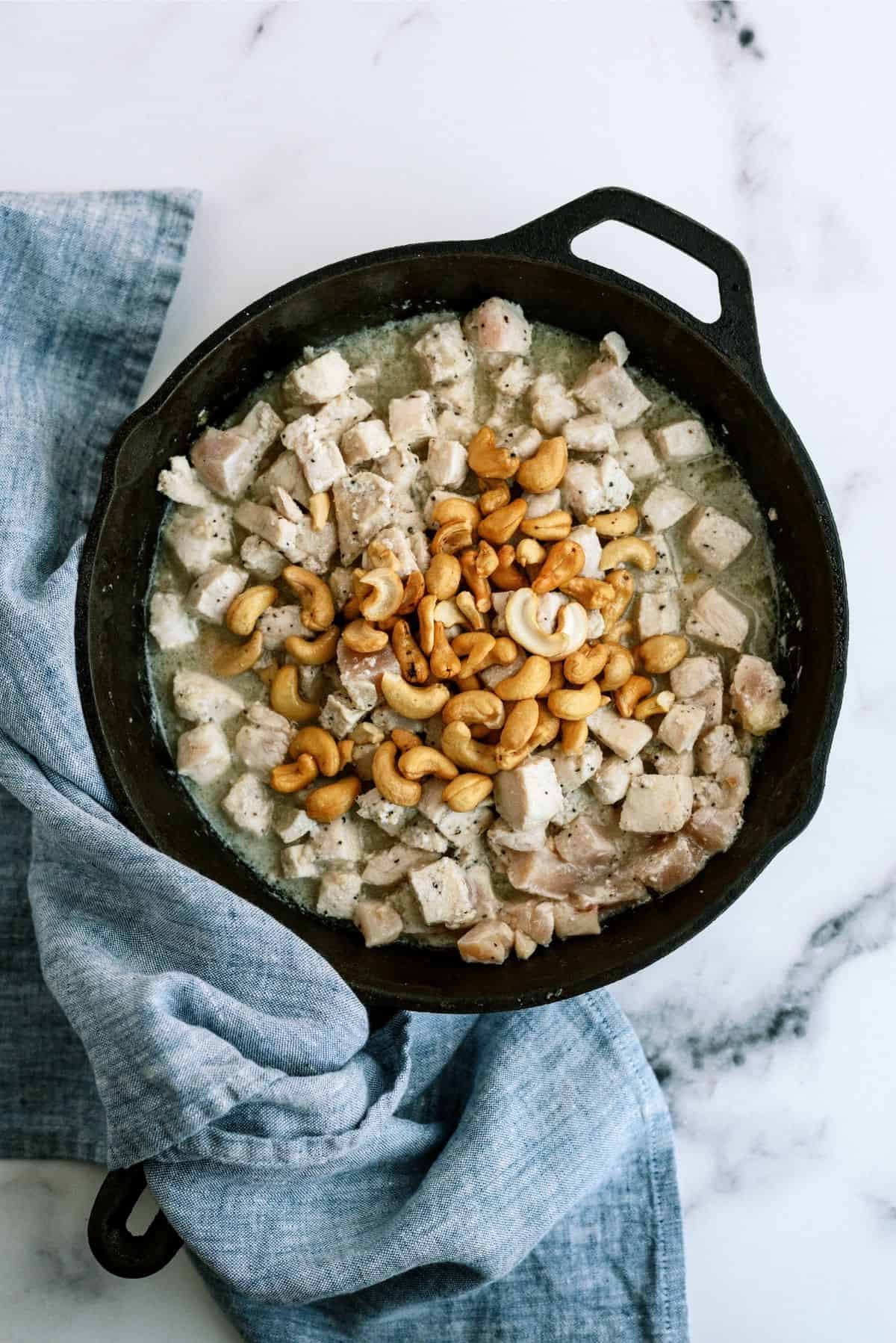 Once you are done with that, add the chicken and cashews to the skillet (you can also wait to add the cashews at the end if you prefer also).
Cook the chicken for about 4-5 minutes while stirring it occasionally.
Then, add in the minced garlic along with the chicken and continue cooking everything for another 30 seconds.
Don't worry your chicken isn't supposed to be done cooking yet! 😉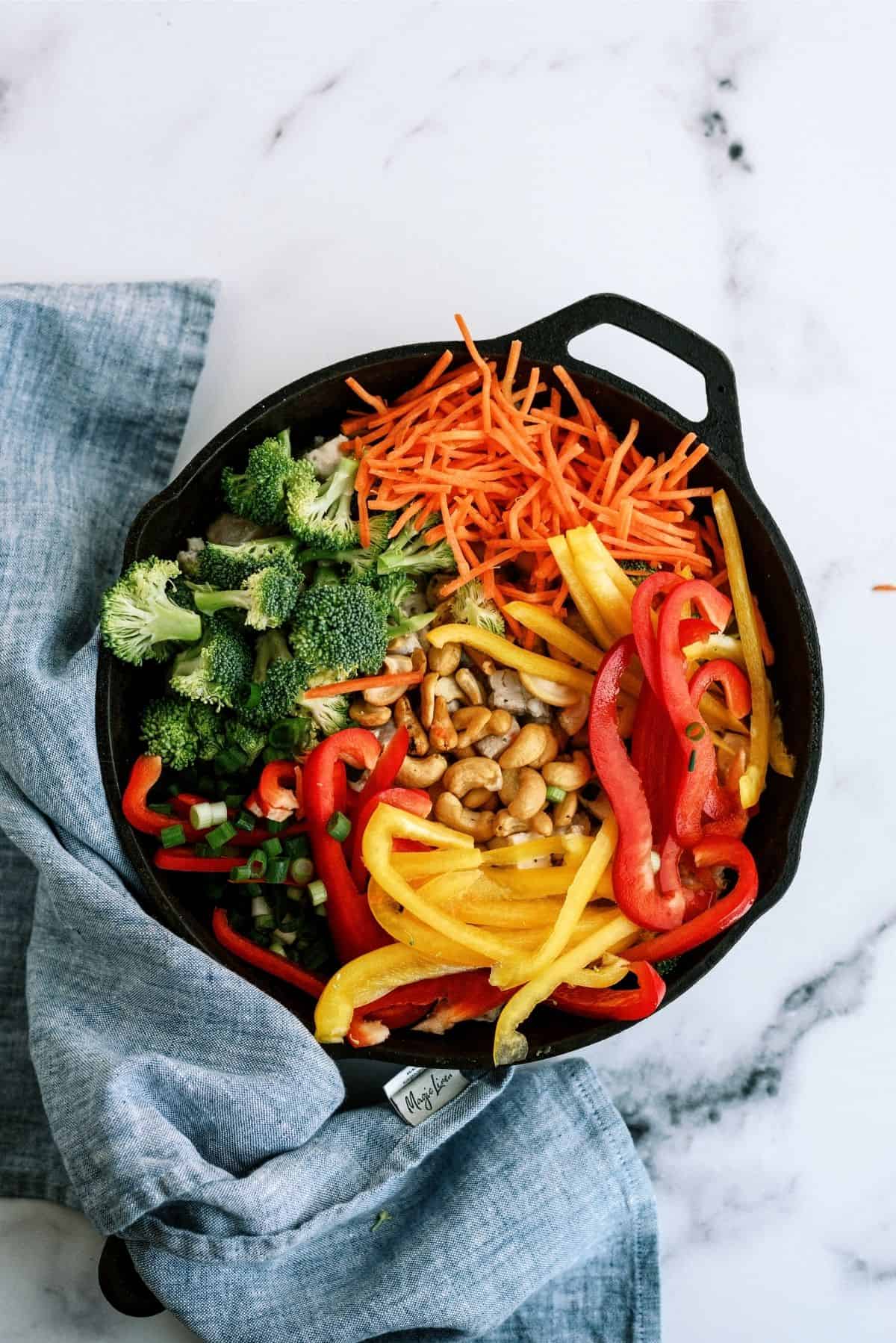 Then, add in the peppers, broccoli, sugar snap peas, and shredded carrots to the chicken and continue to cook everything for another 5-7 minutes or until the veggies are tender and the chicken is cooked all the way through.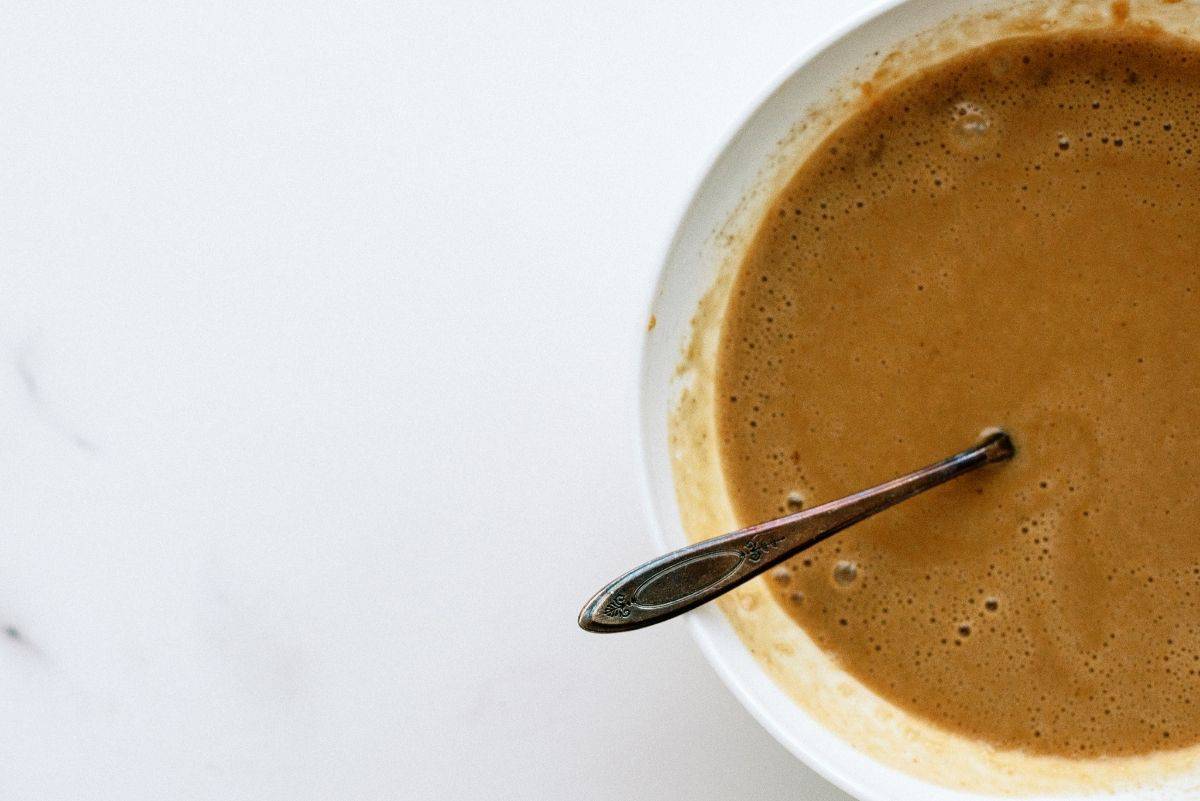 While that is cooking, take a medium sized mixing bowl and mix together all of the sauce ingredients until it is well combined.
After you have the sauce made up, pour it into the skillet with the chicken and vegetables.
Continue cooking the chicken, vegetables, and sauce until everything is hot and ready to eat!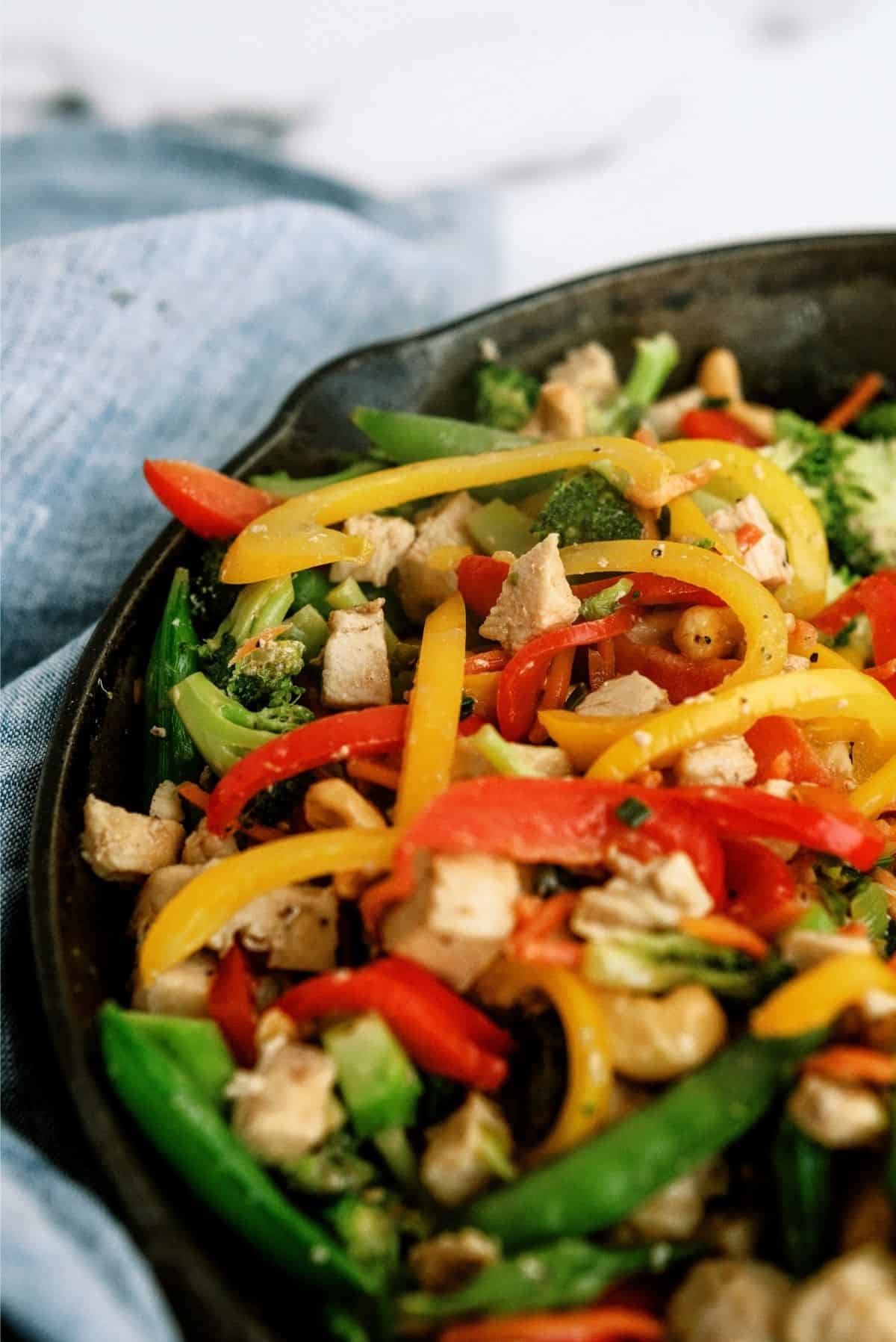 Now all you have to do is serve and enjoy your tasty meal!
To Make This Easy Cashew Chicken Skillet Stir-Fry Dinner Recipe You Will Need:
Medium mixing bowl