These Easy Boston Baked Beans are a simpler version of the traditional recipe. The homemade baked bean sauce poured over bacon and beans for the ultimate summer side dish.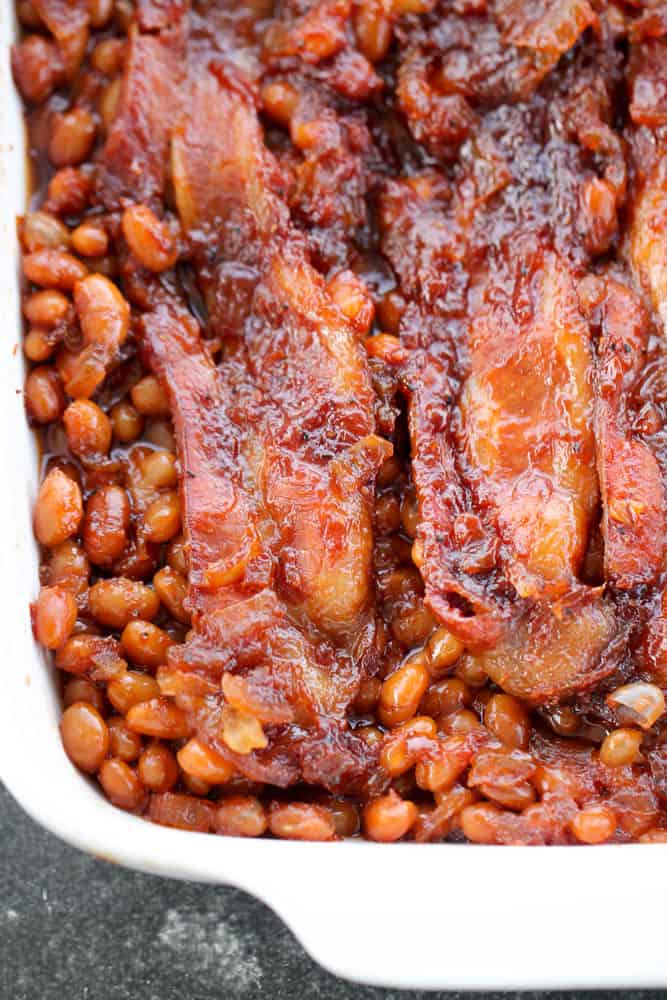 My family loves barbecue and these EASY Boston Baked Beans.
My ultimate summer dinner would be our Smoked BBQ Ribs, Cornbread Muffins, Potato Salad and these Easy Boston Baked Beans.
I have always loved baked beans, but wanted to make some authentic Boston Baked Beans for an upcoming family barbecue.
It turns out, most beans recipes require you to soak your beans overnight and then reserve some of the bean water to use later in the recipe.
But with this recipe – no soaking of beans required. No reserving bean water.
This recipe calls for canned navy beans so the hardest part is opening the cans.
Where did this recipe originate?
Authentic Boston Baked Beans include a variety of beans that have been cooked in a sweet sauce made of molasses or maple syrup and are flavored with pork.
In the 18th Century, Boston was an exporter of rum, which is produced by the distillation of fermented molasses.
At the time, people began adding molasses to local baked bean recipes which then became known as Boston Baked Beans.
In colonial New England, baked beans were traditionally cooked overnight beginning on Saturday so that on Sunday, the beans were still hot and people could enjoy a hot meal and still comply with Sabbath restrictions.
I would say we hit the nail on the head! Our Easy Boston Baked Beans are cooked in a sweet, sticky sauce made of molasses and brown sugar that is poured over bacon covered navy beans.
It doesn't get much better than that!