These Slow Cooker Roasted Vegetables are made with red potatoes, carrots, zucchini and onion tossed in olive oil and seasoned to perfection. Let your slow cooker do the work for you and you will have the best roasted vegetables by dinnertime!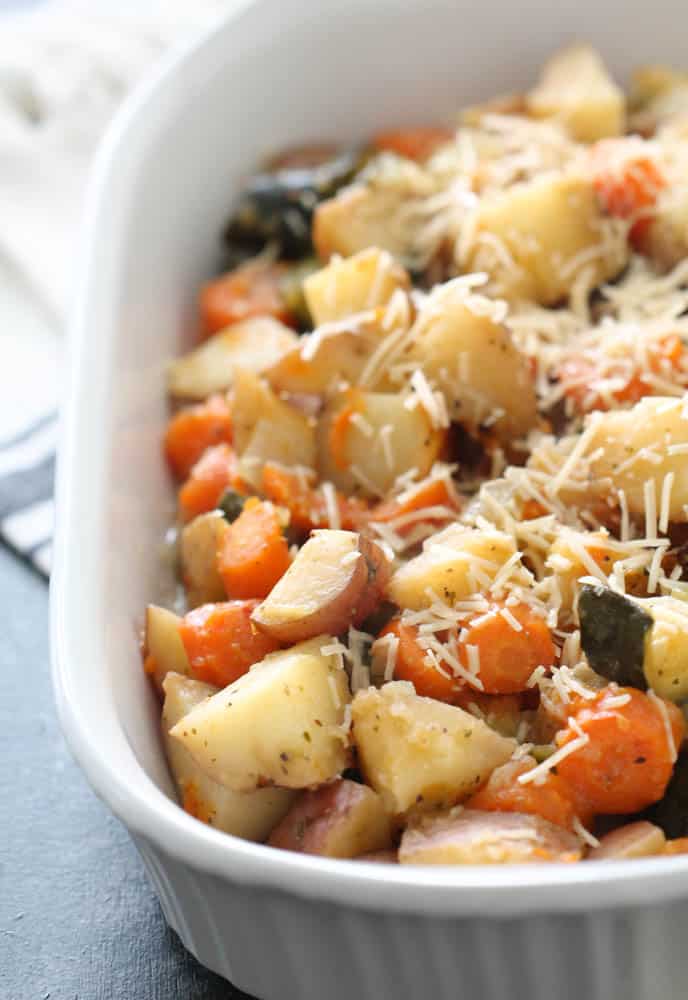 I love cooking delicious dinners for my family, but by the time I've made the main dish, the side dish is usually an afterthought.
I love roasting vegetables in the oven because it is quick, easy and they come out perfectly tender.
I knew I wasn't going to have a lot of time later in the day to make dinner, so I whipped these Slow Cooker Roasted Vegetables up in a few minutes, let my slow cooker do the work for me and we had a tasty side dish ready by dinnertime!
How to Roast Vegetables in the Oven:
If you prefer to roast your vegetables in the oven or didn't put these veggies in your slow cooker early enough in the day to be ready by dinner time you CAN make cook them in the oven.
Prepare the vegetables according to the recipe instructions, then spread in an even layer on a baking sheet sprayed with nonstick cooking spray rather than placing them in the slow cooker.
Cook at 425 degrees F. for 25-30 minutes, or until vegetables are tender and start to brown.
How to Roast Vegetables in the Slow Cooker:
These Slow Cooker Roasted Vegetables might be my new favorite side dish because they are so easy to make.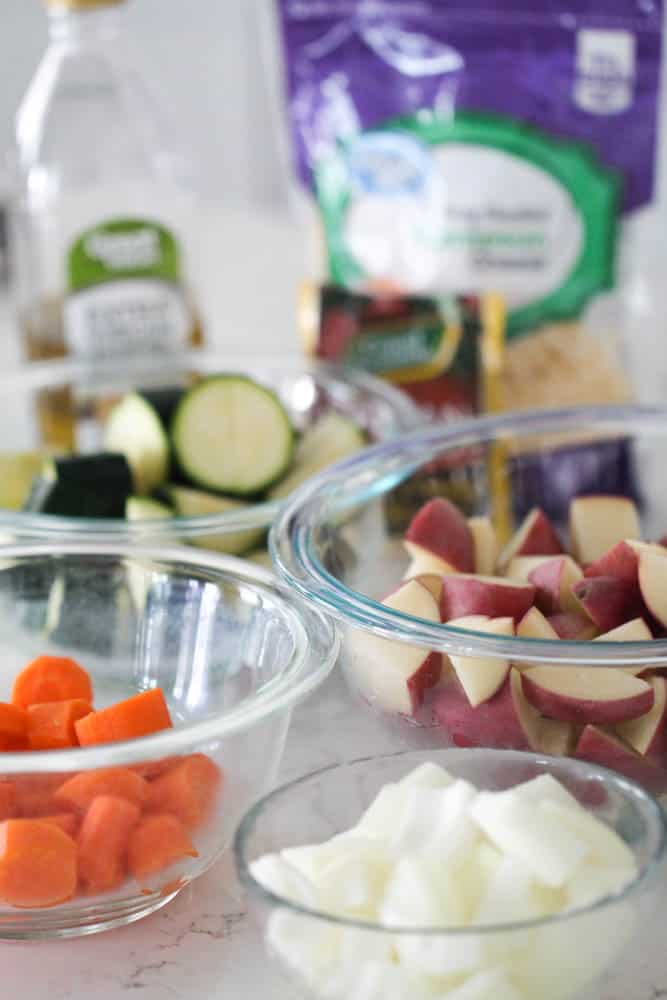 Start by cutting your vegetables into bite-sized pieces. If you dice your vegetables, they will be cut too small.
You also want to be sure to cut your zucchini into larger pieces as it will cook the fastest.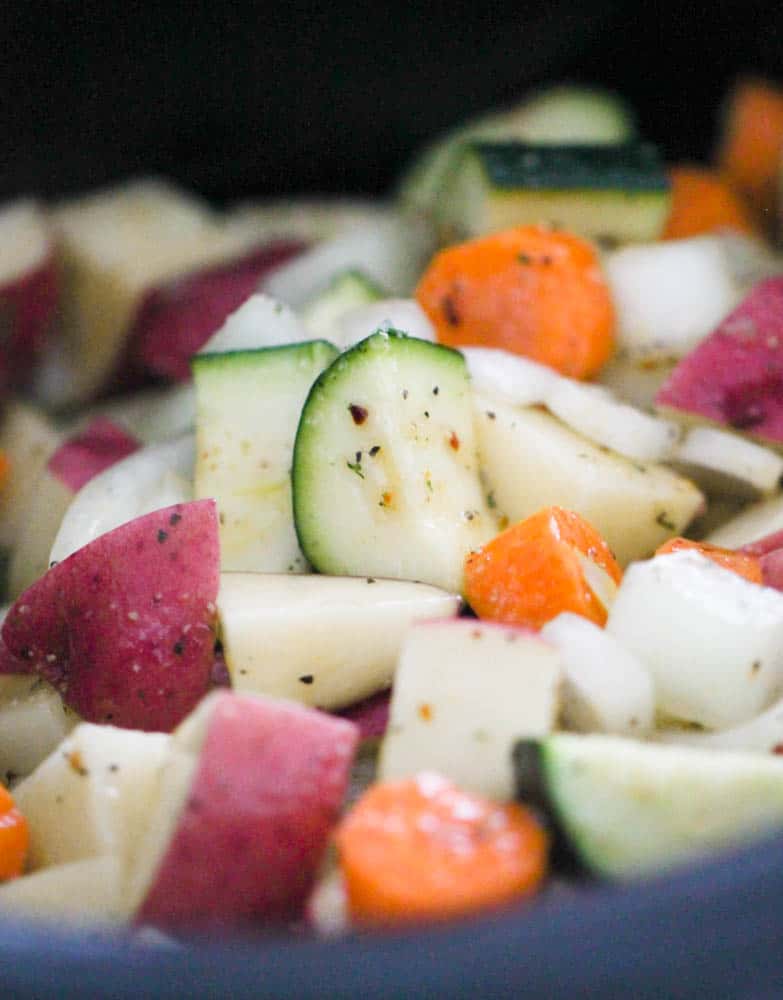 Pour all of the cut vegetables into a gallon-sized resealable bag, pour olive oil over the vegetables and sprinkle with Italian seasoning.
Seal the bag then shake to coat all the vegetables in oil and seasoning.
Pour the bag of seasoned vegetables into a slow cooker sprayed with nonstick cooking spray.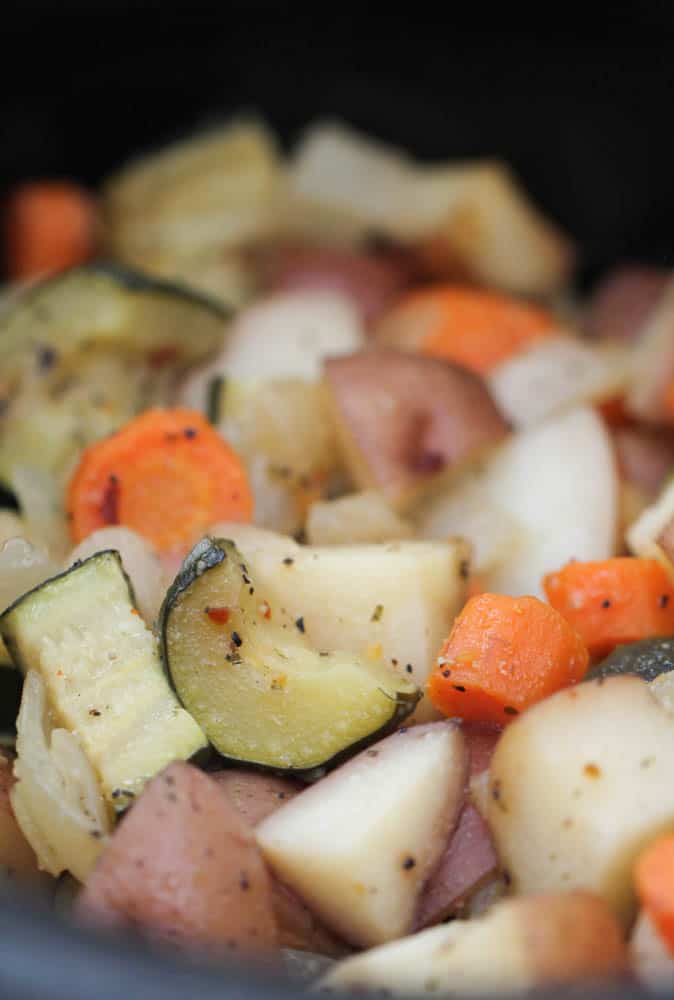 Cover the slow cooker with the lid then cook on low for 5-7 hours or high for 3-4 hours.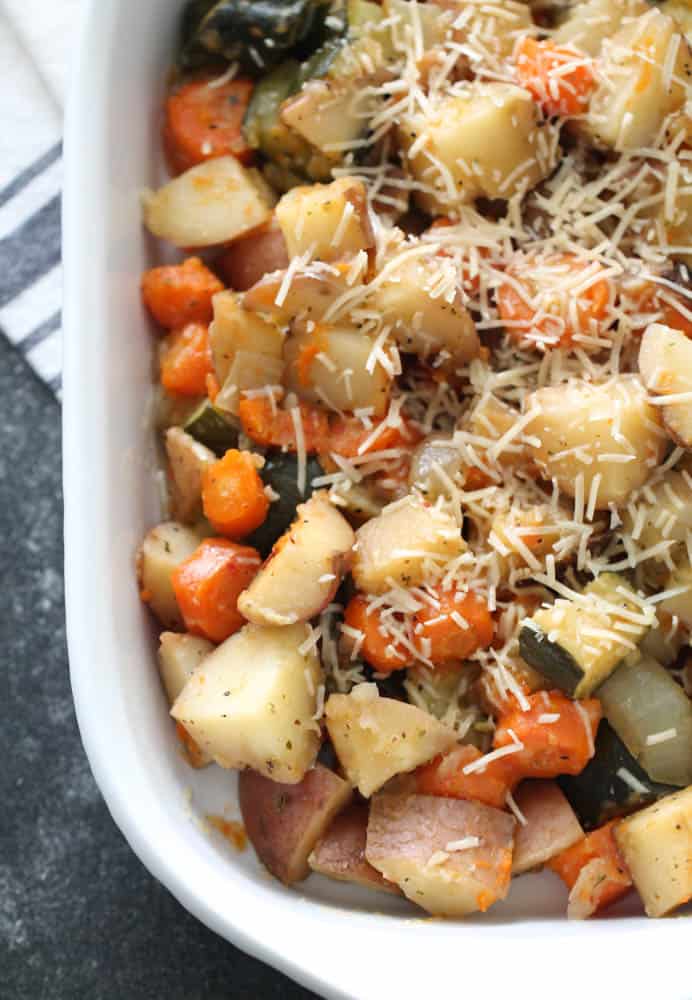 Sprinkle grated Parmesan on top of vegetables after cooking.
Serve immediately to avoid vegetables getting cold or soggy (I'm looking at you, zucchini).