A delicious baked chicken chimichangas recipe, perfect for a weeknight meal. The perfect mixture of creamy and a little spicy, with a tasty homemade green sauce.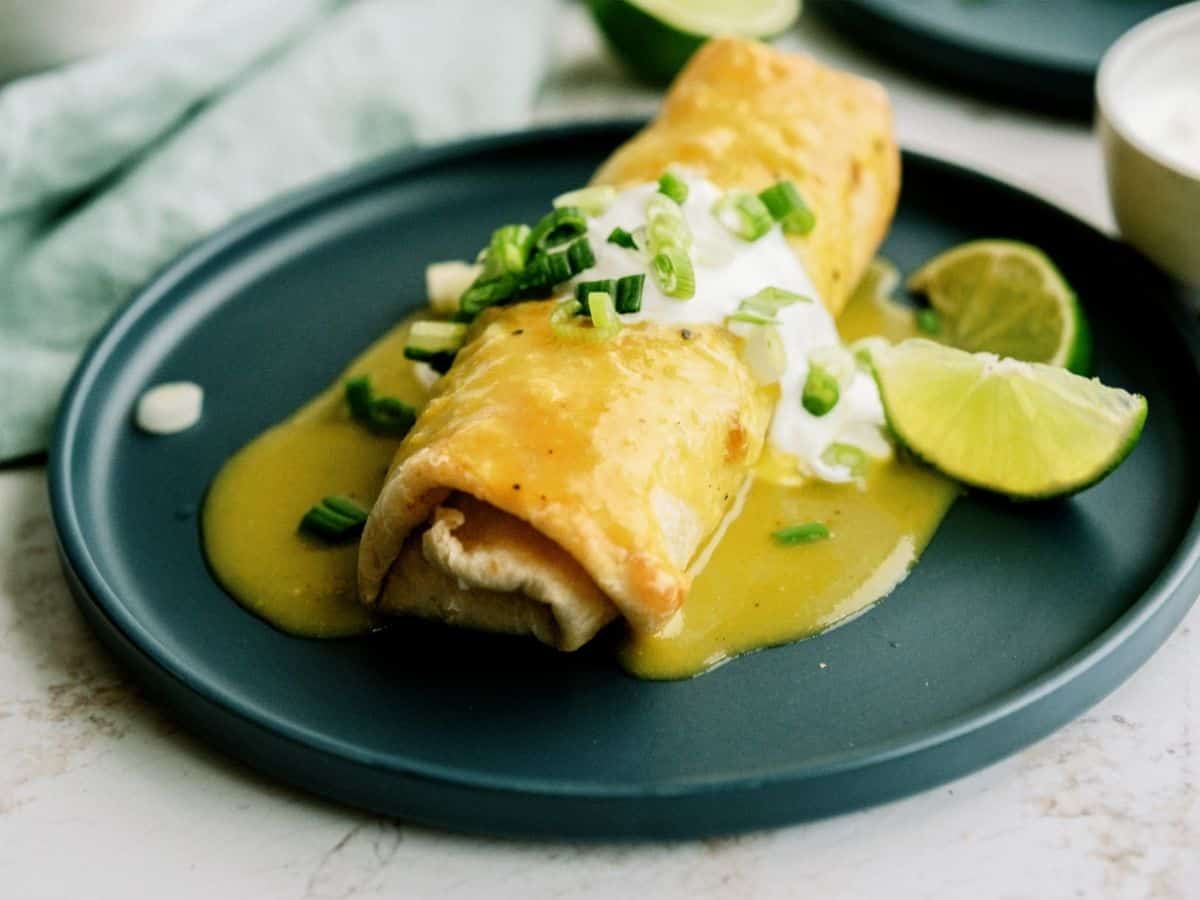 I love the different types of Mexican dishes, and our baked chicken chimichangas recipe is top on the list! I love that I can prepare this ahead of time and then pop it in the oven a half hour before we are ready to eat.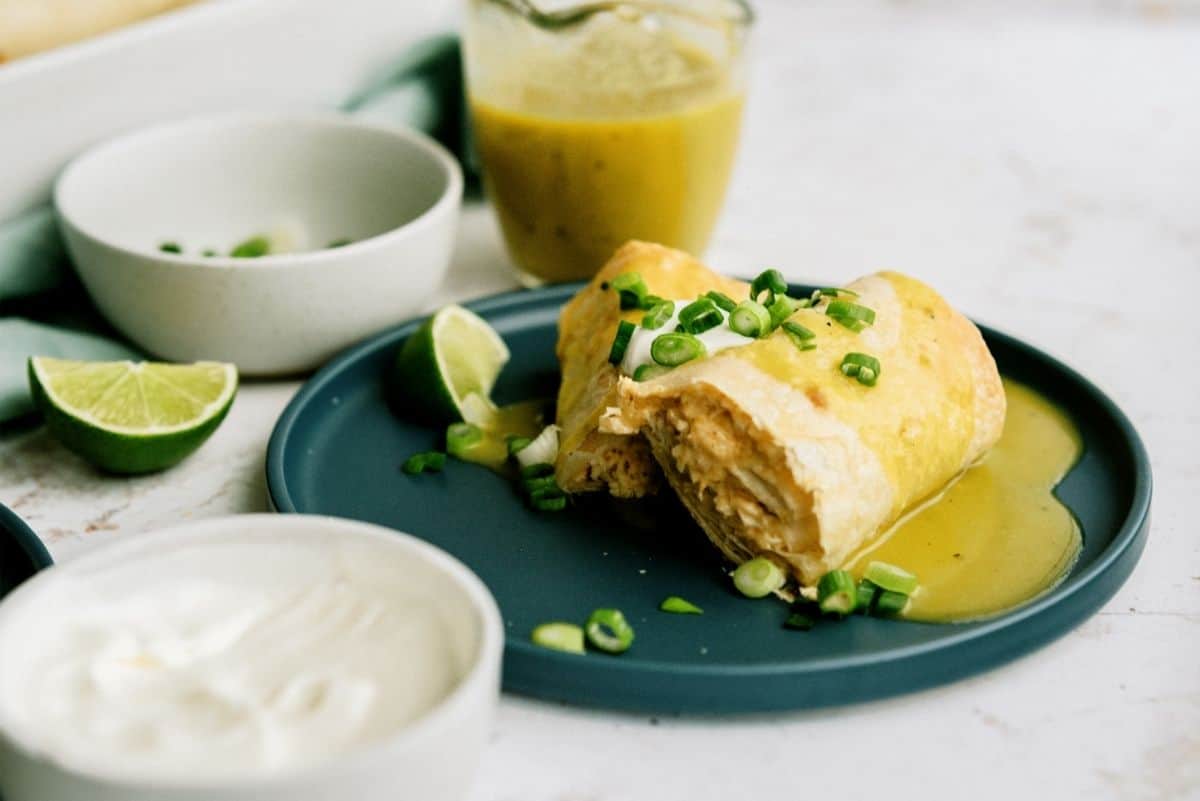 Since this is a baked version of chimichangas, this is a healthier chimichangas recipe. Plus I would say it is even easier to make this favorite chicken dinner in the oven anyways! No need to stand over the pot while they are frying.
Then when they are done, just plate your oven-fried chicken chimichangas with your favorite mexican dishes.
If you need some suggestions on what to serve with this delicious family dinner recipe, try our Fully Loaded Guacamole recipe, Chili's Copycat Skillet Queso recipe, or a new favorite, our Mexican Street Corn Salad recipe is always a crowd pleaser!
Want even more recipe ideas that use already made chicken ?! Try these 45 Cold Chicken Recipes (Best Leftover Chicken Ideas)!
Looking for more Chimichangas?! Try our Instant Pot Sweet Pork Chimichangas!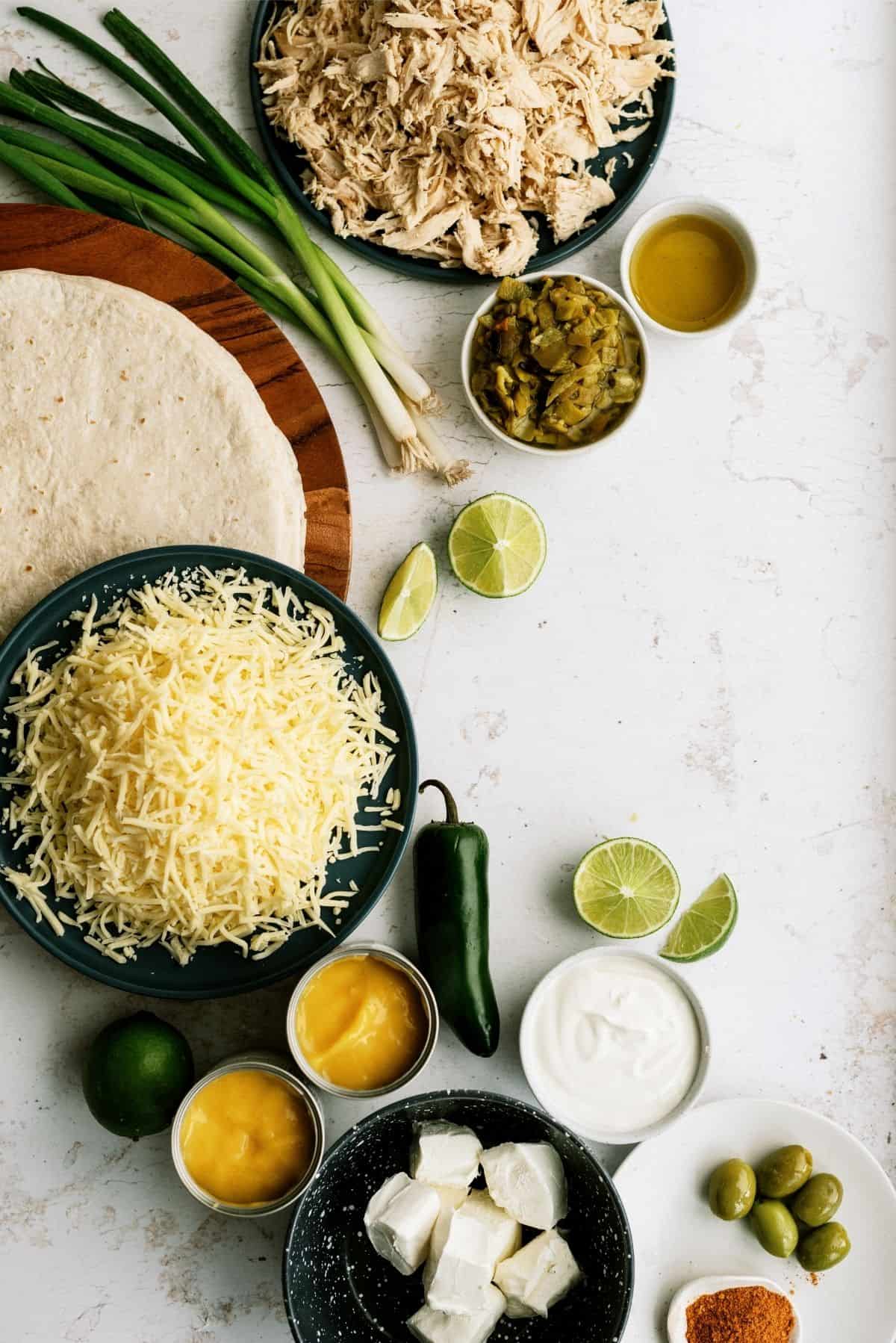 Ingredients Needed For This Baked Chicken Chimichangas Recipe:
Cream of chicken soup
Diced green chiles (can)
Pitted green olives
Jalapeno peppers
Fresh lime juice
Cream cheese
Shredded Monterey Jack cheese
Taco seasoning mix
Boneless skinless chicken breasts
Flour tortillas
Olive oil
Shredded cheddar cheese (topping)
Sour cream (topping)
Green onions (topping)
How To Make This Baked Chicken Chimichangas Recipe:
To make these amazing chimichangas, start by preheating your oven to 350 degrees fahrenheit.
Then, in a blender, pour in the cream of chicken soup cans, green chiles, pitted green olives, seeded jalapeno peppers, and lime juice.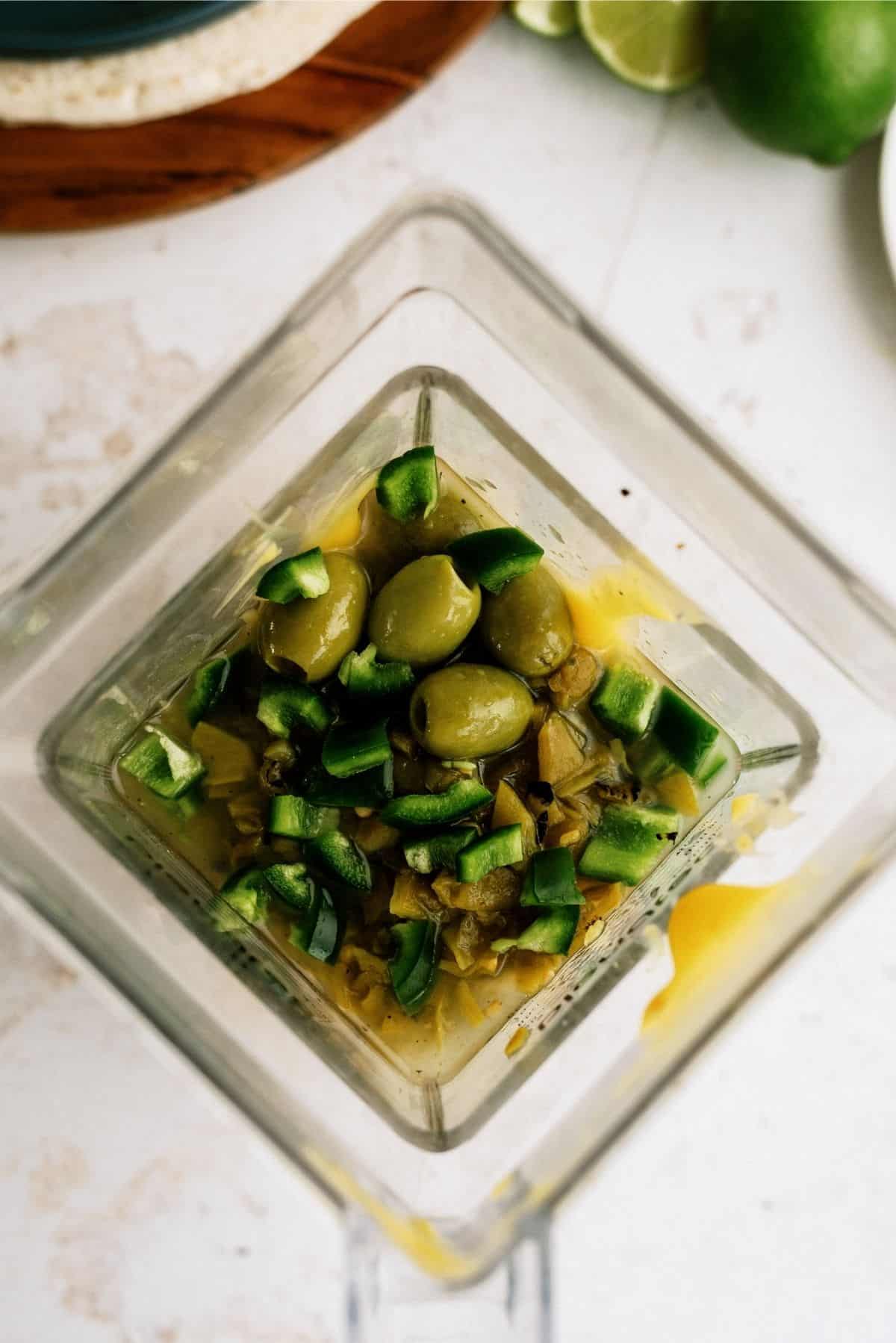 Put the top on the blender container and puree everything together until it is completely smooth.
Once it is done, pour the green sauce into a medium saucepan and heat the sauce over medium-low heat while continuing with the rest of the recipe.
While the sauce is cooking, in a large bowl, stir together the softened cream cheese, monterey jack cheese, and half the taco seasoning packet. Mix it all together until it is well combined.
Then, begin to fold in the cooked, shredded chicken breasts and continue to mix it together until the chicken is completely combined.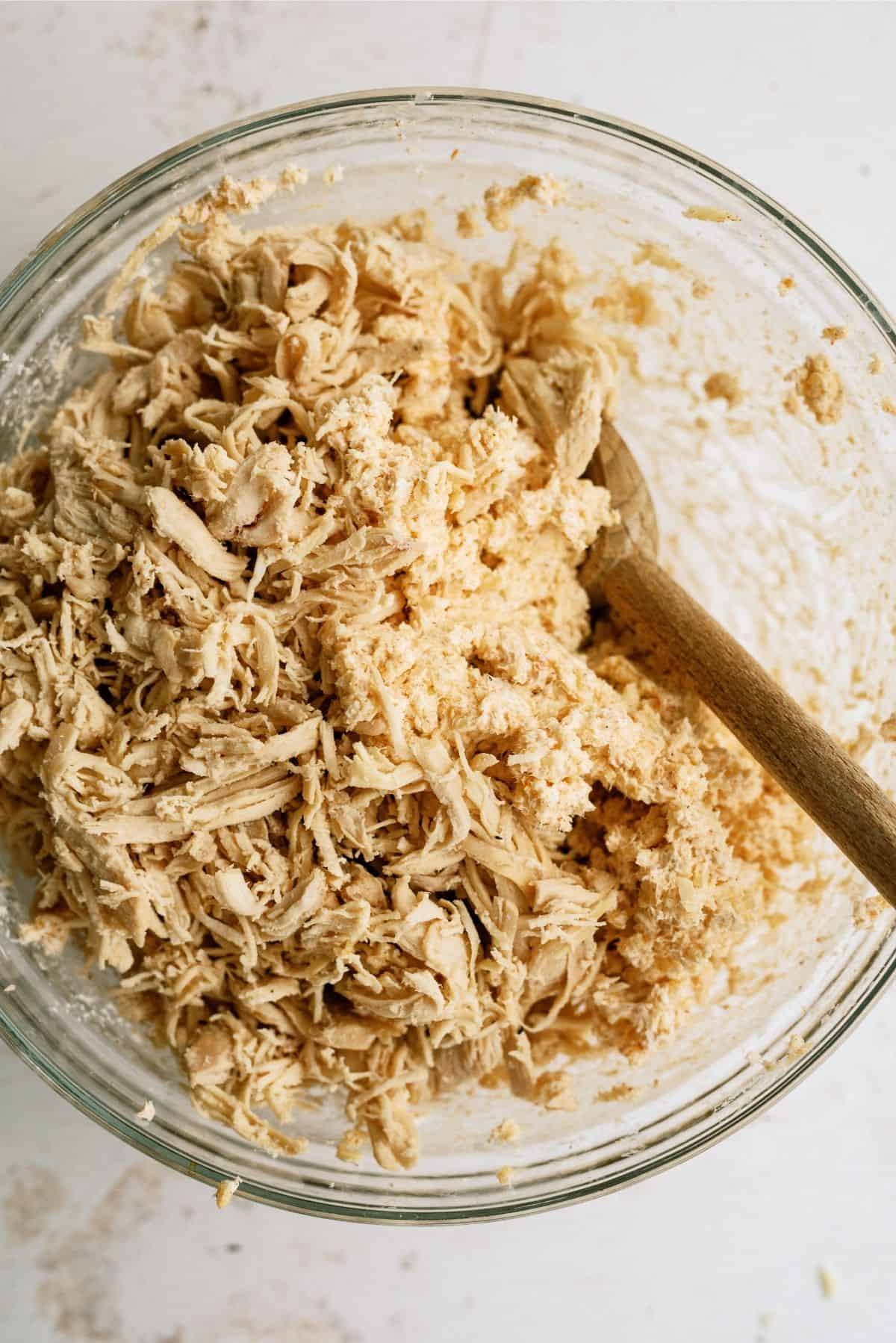 After the chicken filling has been made, try your best to evenly divide the mixture amoungst the 8 tortilla shells.
When the shell has been filled, fold in the top and the bottom and then roll the tortilla to seal off the filling inside.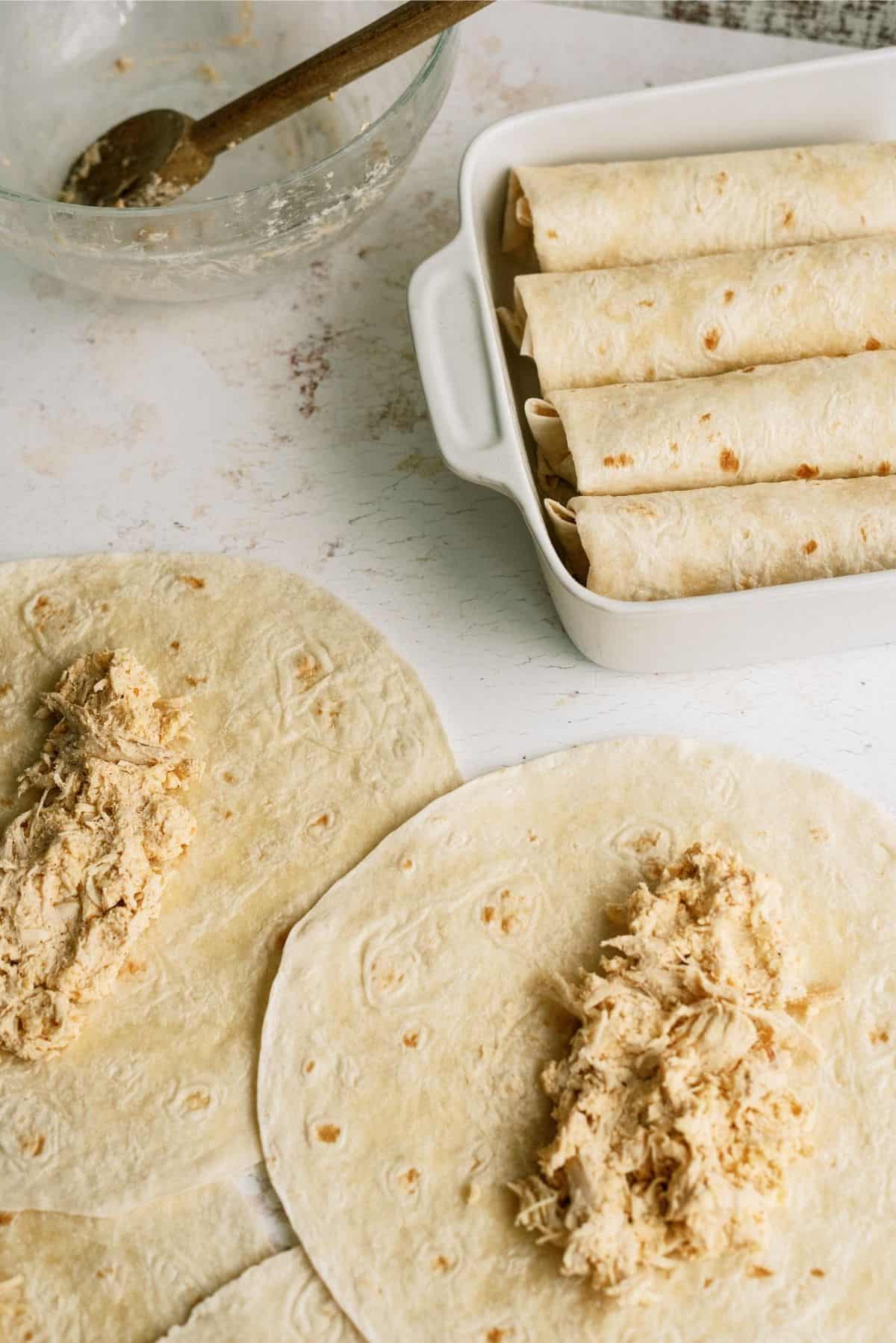 Then, place each of the chimichangas in a greased 9×13 inch pan.
Once they are all in the pan, brush each of the chimichangas with a little bit of olive oil and then place them in the preheated oven for 15 minutes.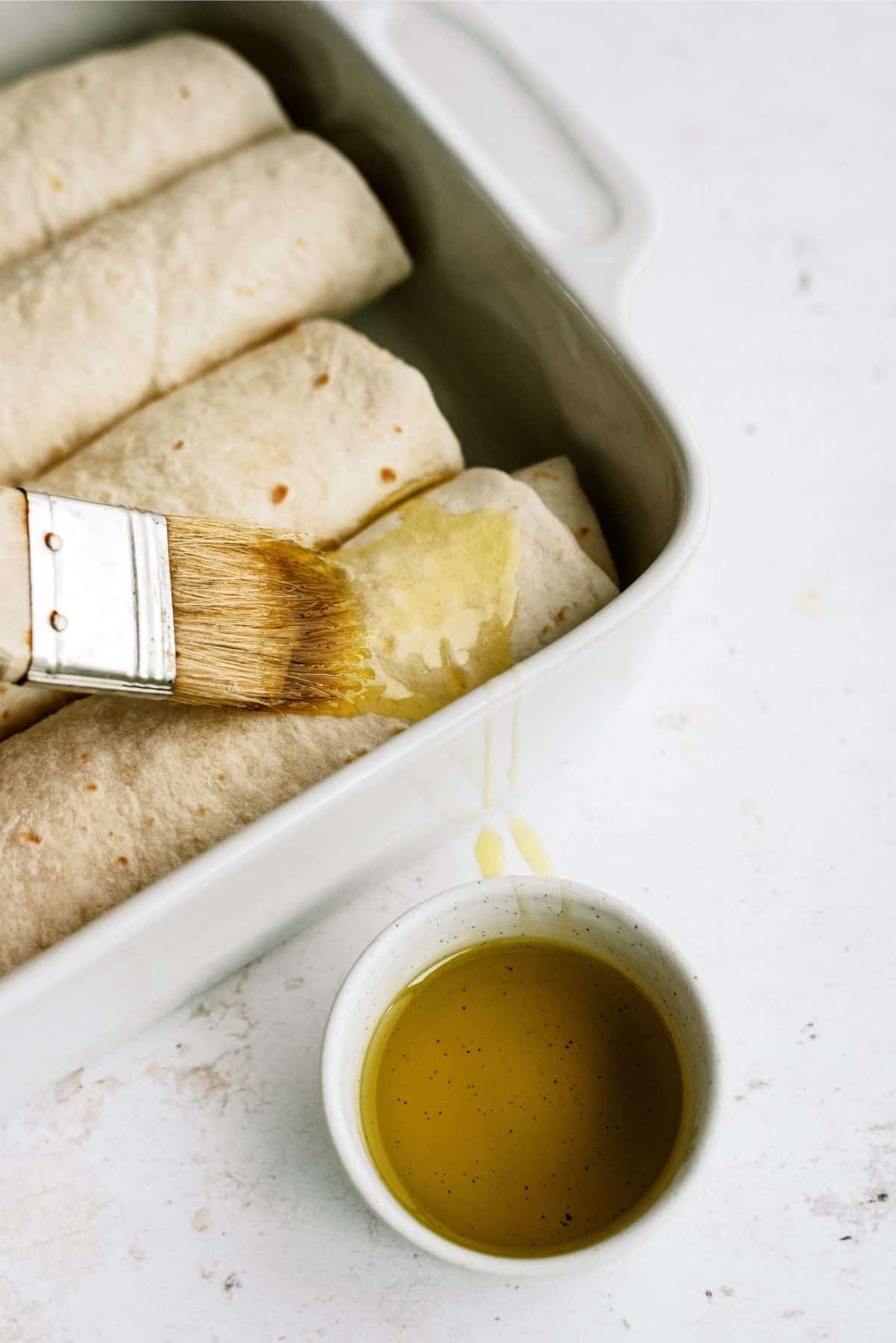 After 15 minutes is up, pull out the pan and flip over each of the chimichangas.
Then return the 9×13 pan to the oven and bake them for another 15 minutes.
Once they are done, serve them hot with the green sauce poured over them, and then sprinkle with cheddar cheese, sour cream, and green onions!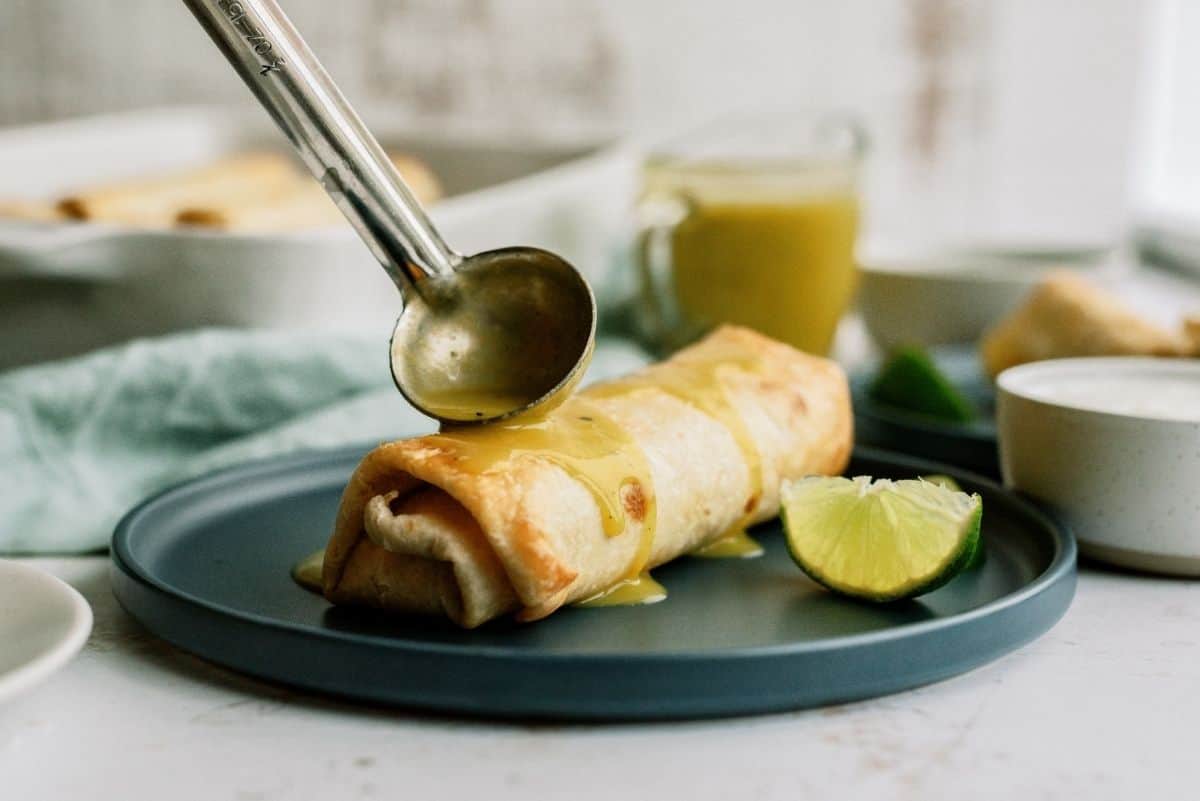 To Make Oven-Fried Chicken Chimichangas You Will Need:
Blender (THIS is a great blender!)
Large mixing bowl
Wooden Spoon
9×13 inch pan
Medium saucepan
Nonstick spray