These Chicken Ranch Tacos take 20 minutes from start to finish and are a fast weeknight dinner when you need something quick!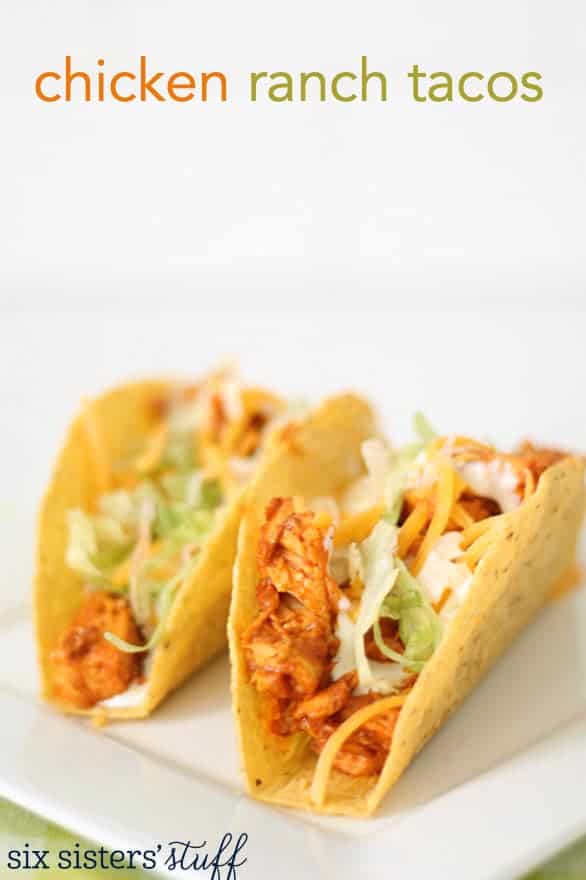 These Chicken Ranch Tacos are on repeat at our house! Our family loves every food with ranch. It's usually our dressing of choice for salad.
I decided to mix our love for Mexican food with our love for ranch. Everybody was happy! This meal that only takes a few minutes from start to finish and tastes great!
Your family will never know you weren't slaving away in the kitchen over these tasty tacos!
Ingredients needed to make Chicken Ranch Tacos:
3 cups cooked chicken shredded
1 ounce taco seasoning packet
½ cup ranch dressing
8 taco shells
1 cup shredded cheddar cheese
1 cup shredded lettuce
1 cup ranch dressing
How to make 20 Minute Chicken Ranch Tacos:
Heat a skillet over medium-high heat.
Add cooked chicken and warm it for a few minutes.
Sprinkle on the whole package of dry taco seasoning. Do not add any water! Heat for 5-7 minutes until all heated through and taco seasoning sticks to the chicken.
Add ranch dressing, heat an additional 2-3 minutes to warm through.
Serve in taco shells and top with shredded cheddar cheese, shredded lettuce and ranch dressing, if desired.