This Chili's Copycat Skillet Queso Recipe is quick, simple, full of flavor and the perfect appetizer. If you are more of a savory person, you will go crazy for this dip. You can make it as mild or as spicy as you'd like.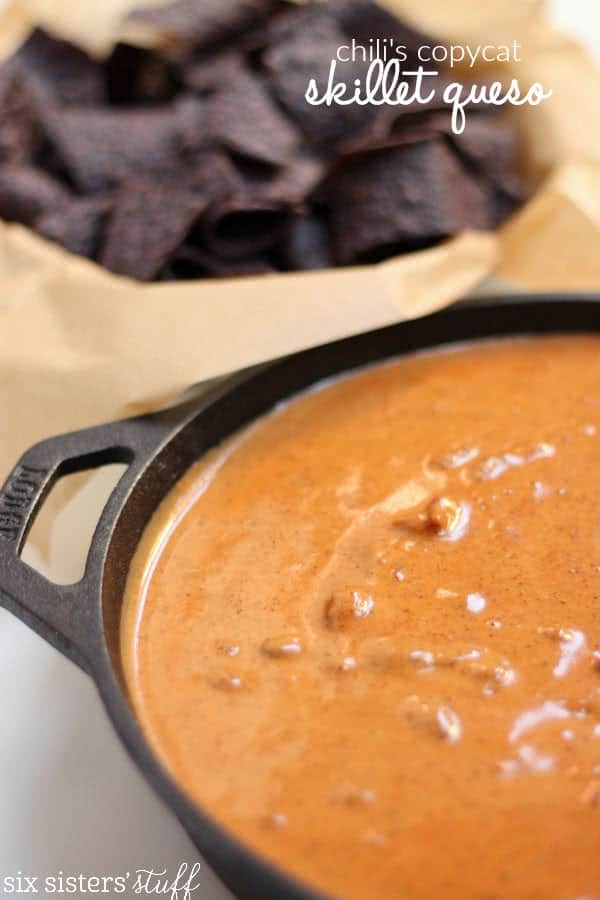 If you liked our Chili's Copycat Salsa Recipe, then you will love this Chili's Copycat Skillet Queso recipe.
It's simple to throw together and tastes SO good.
This makes a great appetizer or snack.
What could I replace the Velveeta cheese with in this Chili's Copycat Skillet Queso:
This recipe calls for Velveeta Cheese. I am personally a big fan of it. I know it's considered not a "real" cheese, but I do think it is delicious, especially in this dish.
If you are looking for a replacement, we have an easy switch.
Here is what we recommend:
3-4 cups sharp cheddar cheese
1/2 cup milk
1/4 cup sour cream
Bring the ingredients to a small boil over the stove top, at medium heat, stirring constantly.
Continue to make the recipe as directed, in the instructions. This will be a little thinner of a substance, so you may need to add more sharp cheddar cheese, depending on how thick you want the sauce.
We made it using 4 cups and it was thick, but still delicious. For the best results we recommend using Velveeta cheese.