If you're looking for a healthy chicken dinner recipe, this chicken and black bean casserole is what you need! Even though it is on the healthier side it does NOT lack in amazing flavor.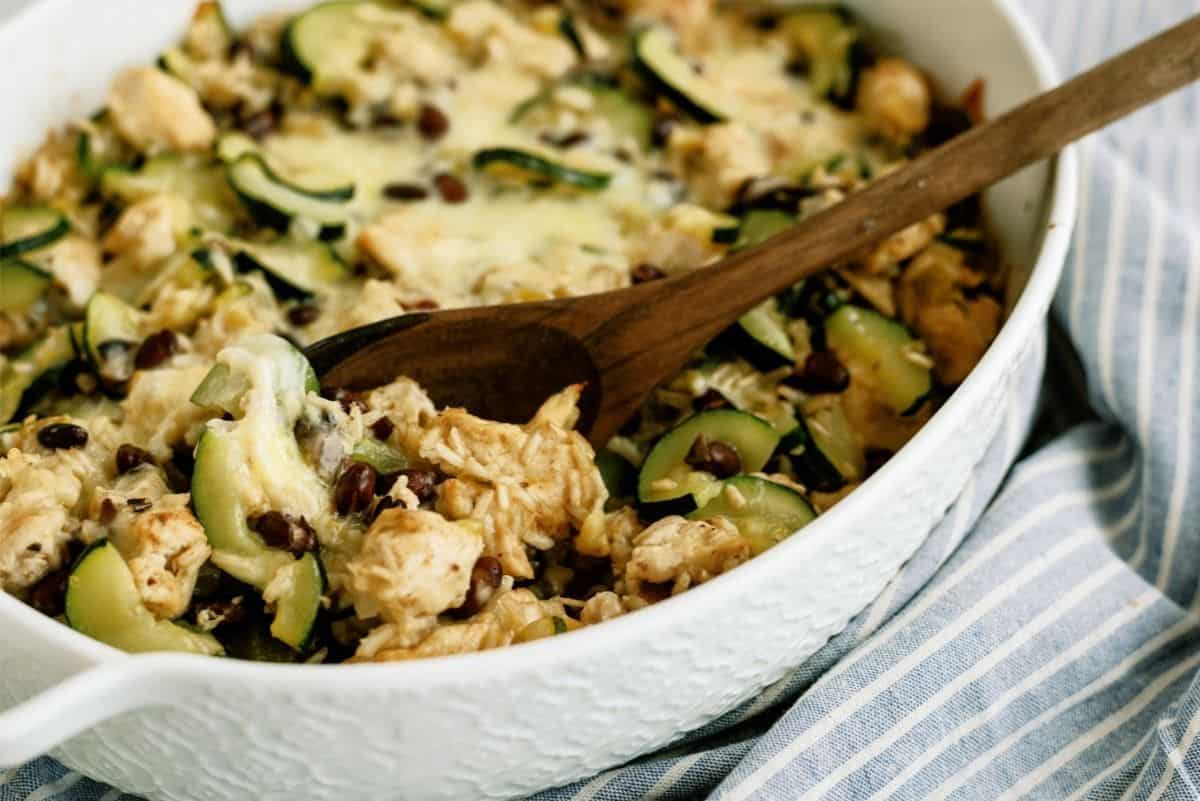 Our families' favorite chicken casserole is this chicken and black bean casserole. It is absolutely amazing, you will love it.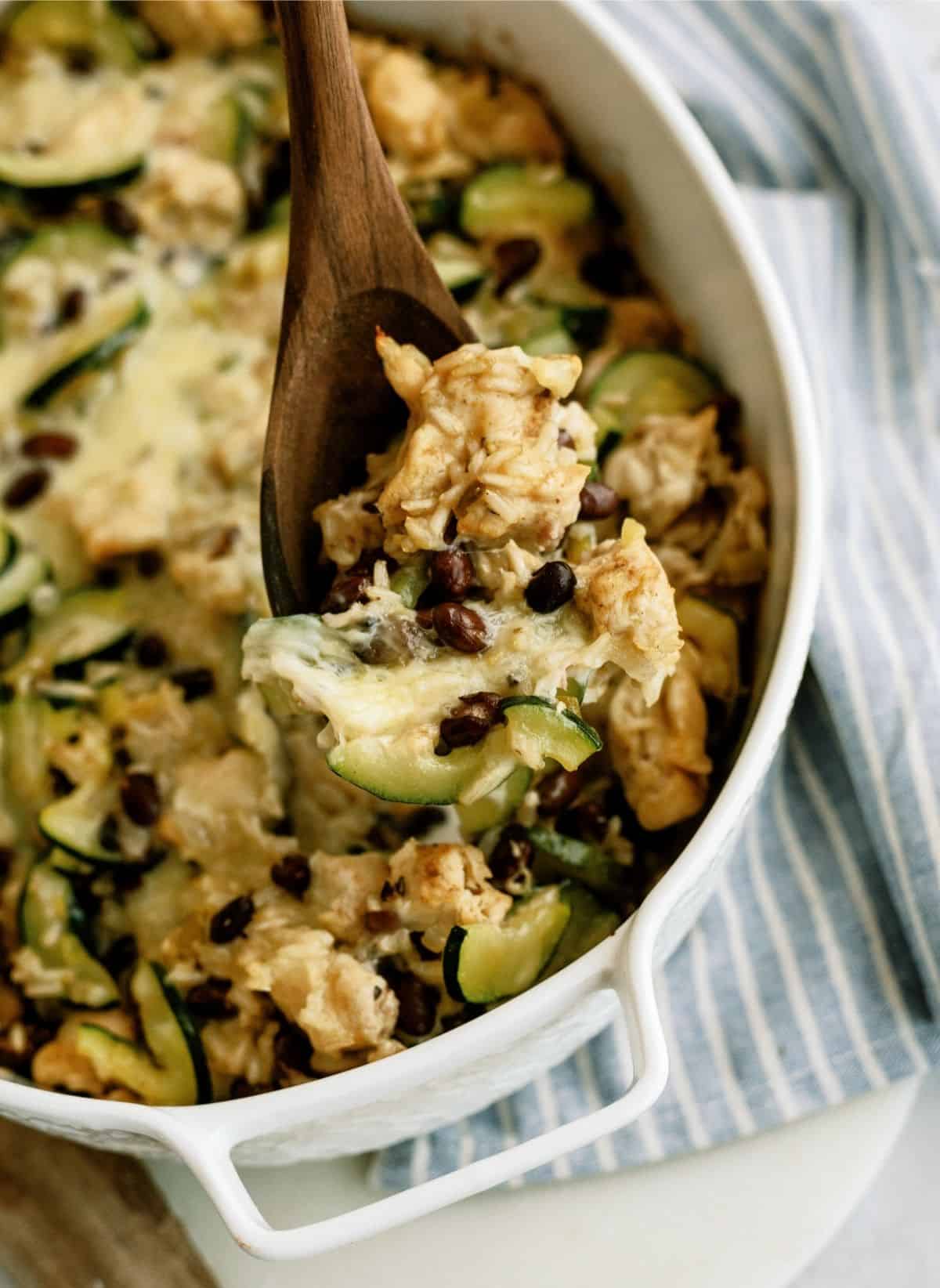 It is one of those healthy chicken dinners that you can make as a budget-friendly dinner. So, no need to break the bank with this meal, or your diet.
You can make this easy healthy dinner in no time, even on those nights where you really just don't feel like cooking. This recipe is easier than loading your whole family up in the car to get take out, I promise.
You can finish the casserole off with some of our Oven Roasted Vegetables, 30 Minute Homemade Rolls, and little Strawberries and Cream Jello Dessert Salad and enjoy an awesome meal!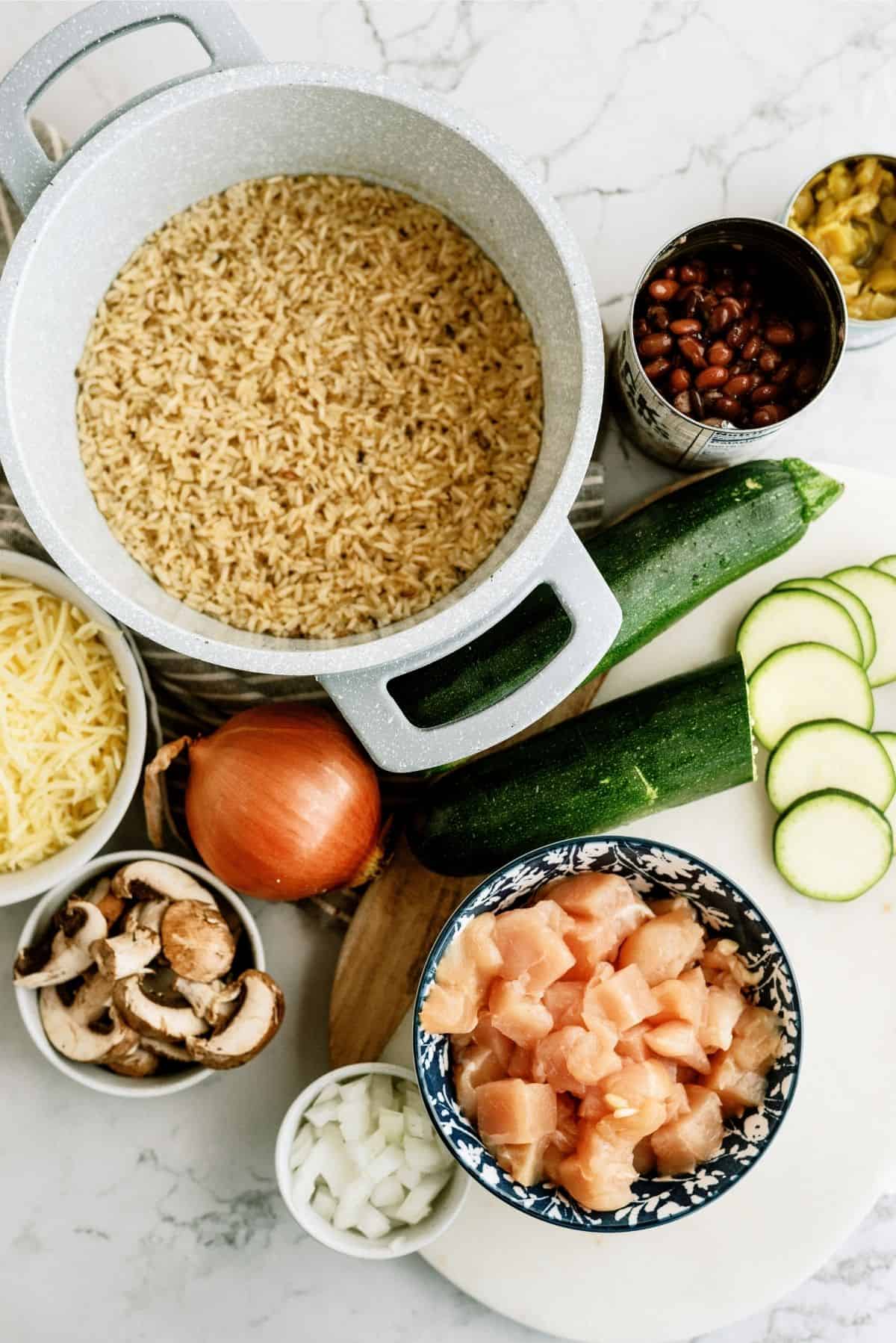 Ingredients Needed For This Chicken and Black Bean Casserole:
Brown rice
Vegetable broth (or chicken broth)
Olive oil
Diced onion
Zucchini, thinly sliced
Diced boneless skinless chicken breasts
Mushrooms, sliced
Cumin
Salt
Cayenne pepper
Black beans, rinsed and drained
Green chilies, drained
Shredded cheddar cheese (monterey jack or swiss cheese could work too)
How To Make This Chicken and Black Bean Casserole:
Start this recipe by combining the rice and vegetable broth in a pot and bring it to a boil.
After it reaches a boil, turn the heat down, cover the pot and let the rice simmer for 45 minutes or until the rice is tender.
Then, preheat the oven to 350 degrees and lightly grease a 9×13 casserole dish.
Next, in a skillet, heat the oilve oil over medium heat. Once the oil is hot, add in the diced onion and cook the onion until it is tender.
Once the onion is tender, add in the zucchini, chicken, and sliced mushrooms.
Now, add in the cumin, salt, and ground cayenne pepper and stir everything together.
Continue cooking everything together until the zucchini is browned and the chicken is heated through.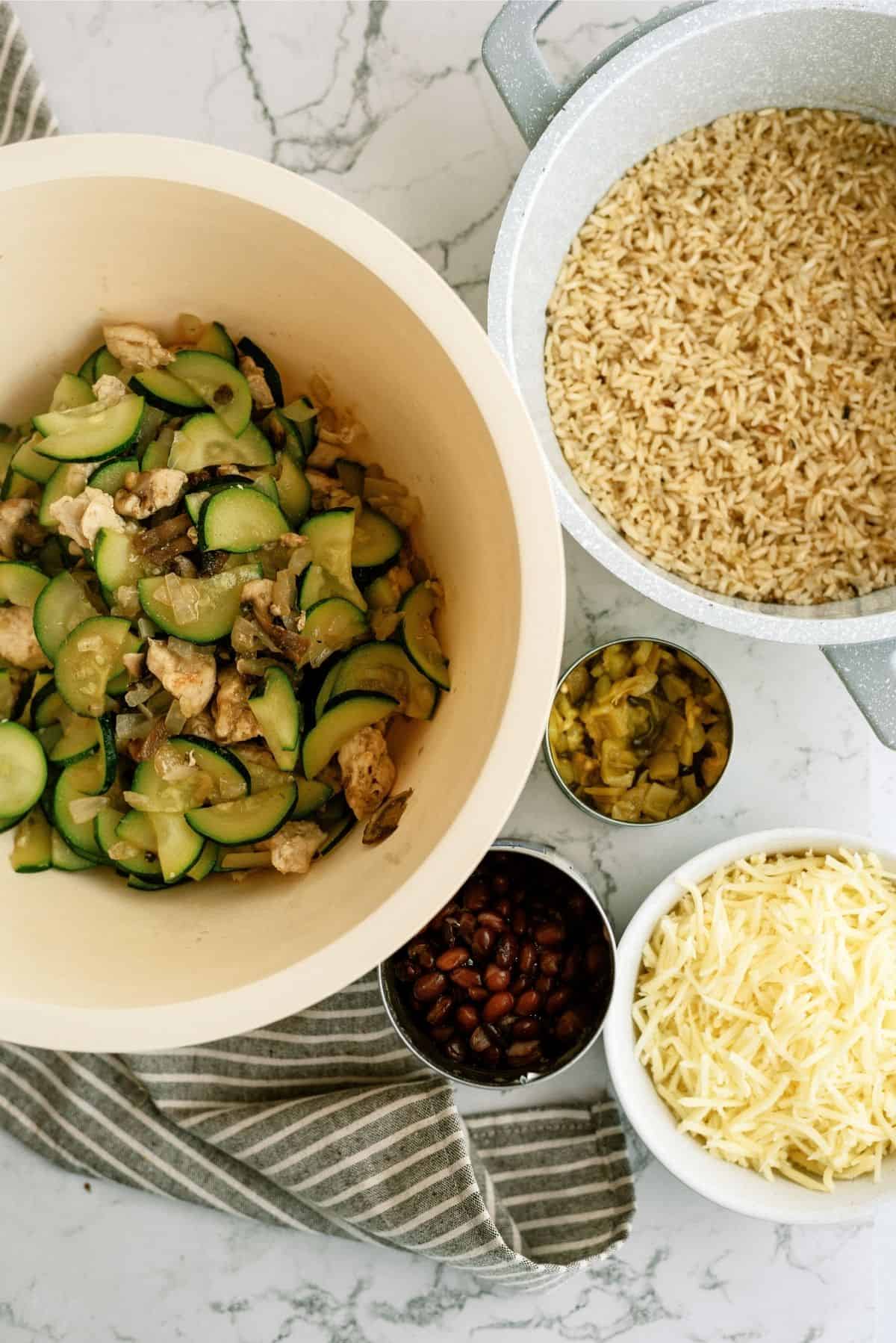 Using a large mixing bowl, add in the cooked rice, onion, zucchini, chicken, mushrooms, beans, chiles, and half of the cheddar cheese and mix it all together.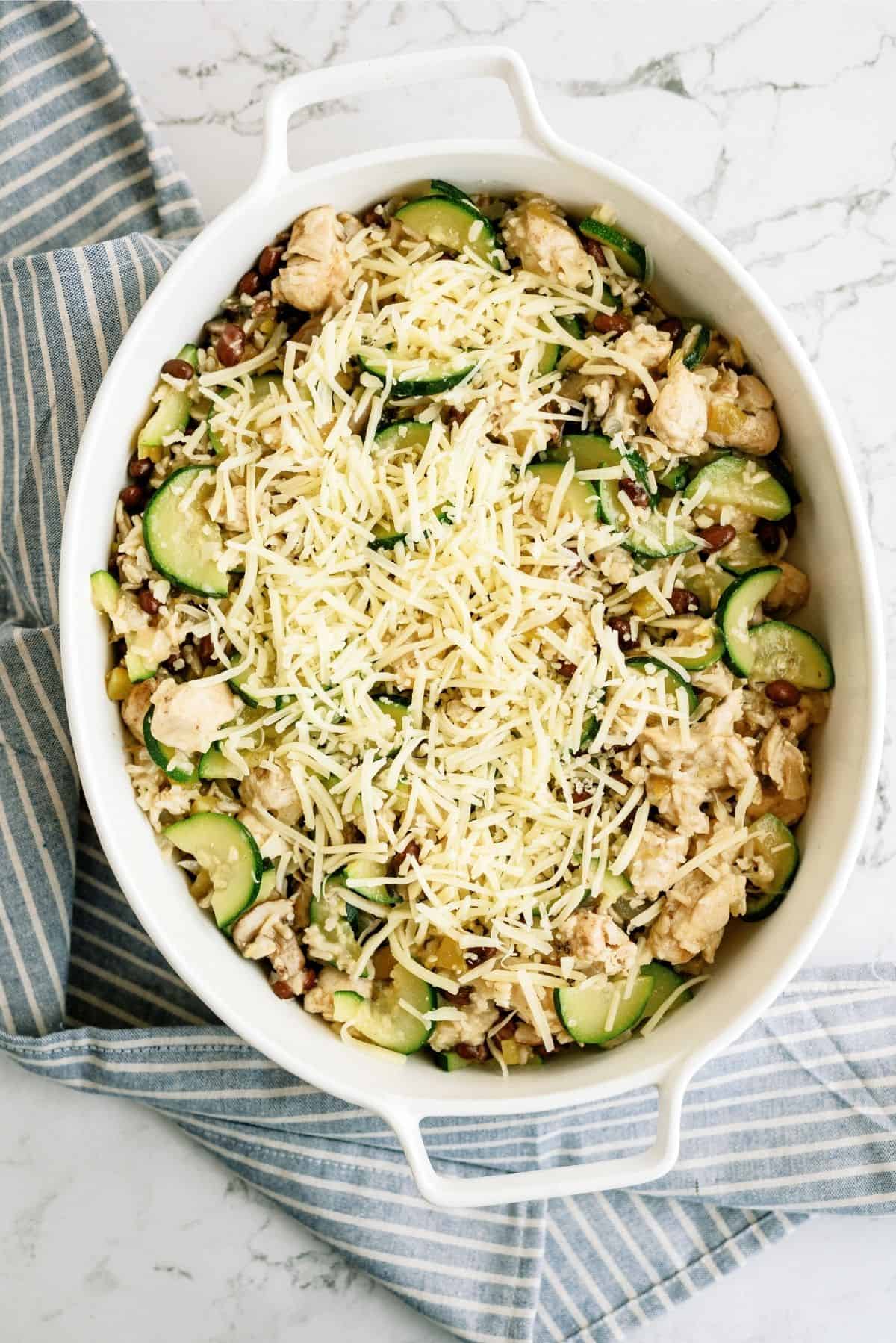 Then, transfer all of the casserole mixings into the 9×13 pan and top it off with the rest of the cheese.
Now, just cover the casserole lightly with foil, and bake it for 30 minutes.
After 30 minutes, take the aluminum foil off and let the casserole bake for another 10 minutes or until it is bubbly and lightly browned.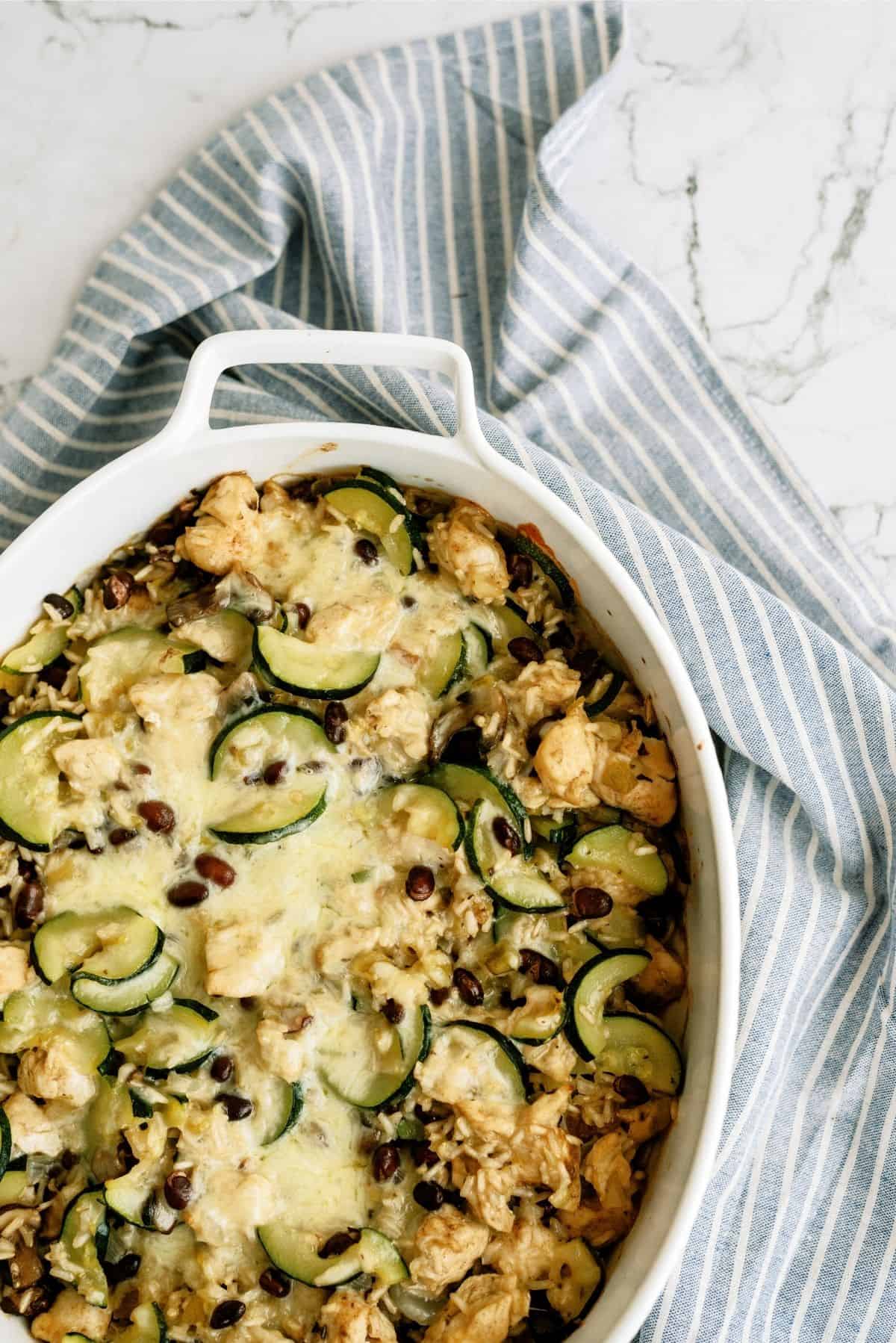 To Make This Healthy Chicken Dinner Recipe You Will Need:
Large pot
Skillet
Wooden spatula
Large mixing bowl
Aluminum foil