Cheesecake lovers unite!!
For those of you who have no control when it comes to cheesecake (like me),
I give you bite-sized cheesecakes in the form of a cookie.
The cheesecake cookie dough is absolutely divine (I may or may not have eaten it by the spoonful), then you roll the yummy dough in crushed graham crackers and top it off with sweet cherries . . . basically heaven.
You are welcome.

Cherry Cheesecake Cookies
Ingredients:
3 1/2 cups all-purpose flour
2 teaspoons baking powder
1 teaspoon salt
2 (8 oz) packages cream cheese, softened (I used Neufchatel cheese and it worked perfect)
2 1/2 sticks butter, softened (I used unsalted)
3/4 cup Truvia® Baking Blend (or 1 1/2 cups sugar)
2 large eggs
2 teaspoons vanilla extract
1 cup graham cracker crumbs
2 (20 oz) cans cherry pie filling
(*You can substitute 1 1/2 cups sugar)
Directions:
Mix together the flour, baking powder and salt in a bowl. In another bowl with an electric mixer, beat cream cheese, butter and Truvia® Baking Blend until smooth and creamy (about 2 minutes). Add eggs and vanilla and mix together. Reduce speed to low, add the flour mixture, and mix until just combined. Refrigerate dough until firm (about 20-30 minutes).
Preheat oven to 350 degrees. Line 2 baking sheets with parchment paper. Place graham cracker crumbs in a bowl.
Roll the dough into 1 1/2-inch balls, then roll the balls in graham cracker crumbs. Place balls 2 inches apart on prepared baking sheets. Using a spoon (I used a tablespoon from my measuring spoon), make an indentation in the center of each ball. Place 1-2 cherries in the dimple of the cookie. Bake until golden brown around the edges, 12 to 14 minutes. Cool for five minutes on the sheet and then transfer to a wire rack to cool completely.
Recipe slightly adapted from Mel's Kitchen Cafe


Craving more cheesecake?
Here are some of our favorites: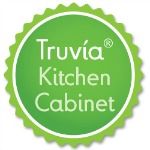 Want more recipes using Truvia products? You can easily convert any recipe by using half as much baking blend as you would sugar. This great-tasting, reduced-calorie baking blend is definitely a must-have for all your holiday baking!
For more information, recipes, baking tips, and fun facts, visit

Truvia.com

.
Summary
Recipe Name
Cherry Cheesecake Cookies
Published On
Preparation Time
Cook Time
Total Time
Review
Based on 1 Review(s)
Other interesting food sites: