You can make pizza a little differently this Friday by making our cheesy pizza pasta casserole recipe. It has all the pasta, cheese, and sauce you will need!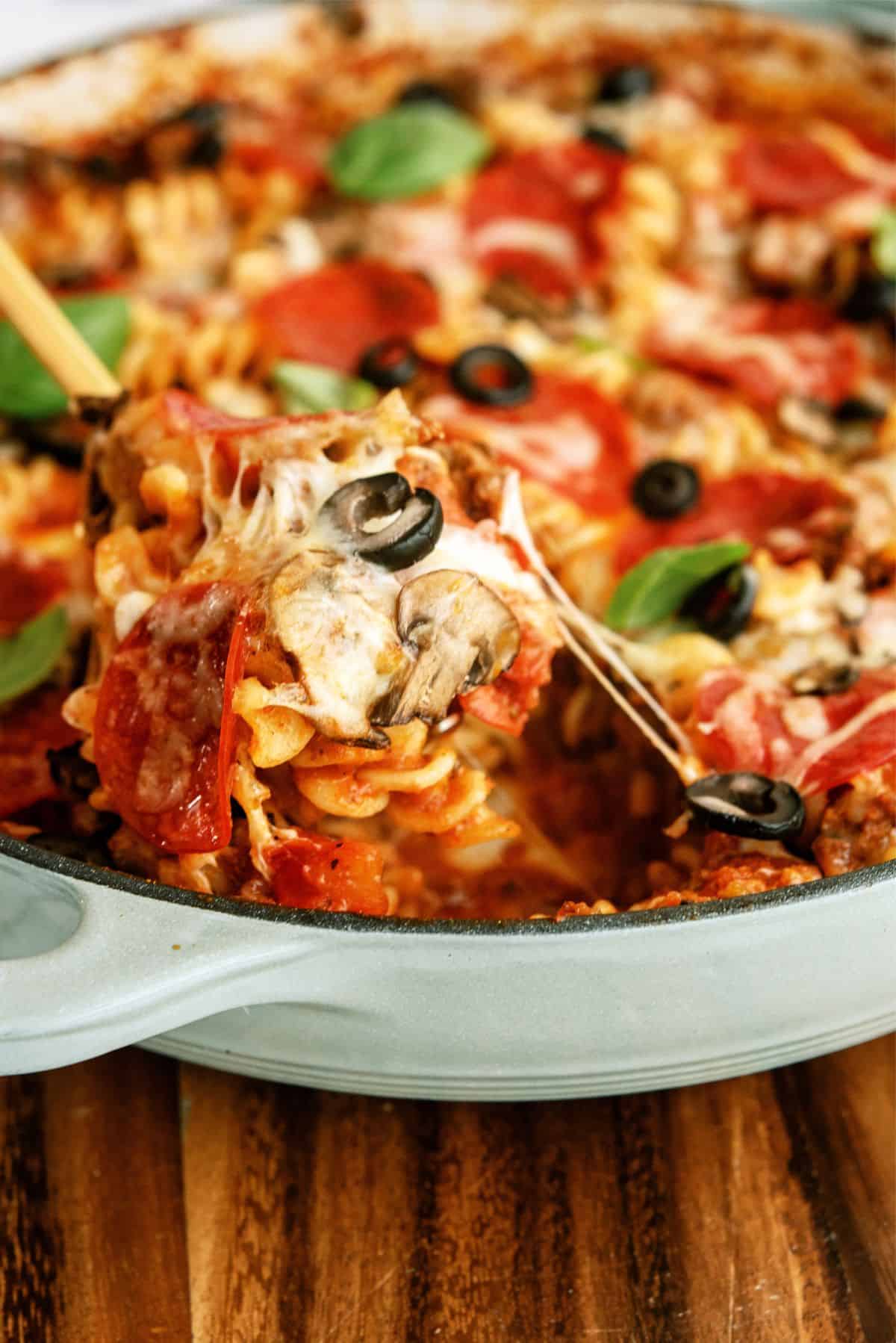 Our cheesy pizza pasta casserole recipe is a super kid friendly pizza casserole that you and everyone in your family is going to love. Whether you want to eat it instead of your traditional pizza on friday night, or are craving pizza, this easy pizza casserole recipe will hit the spot!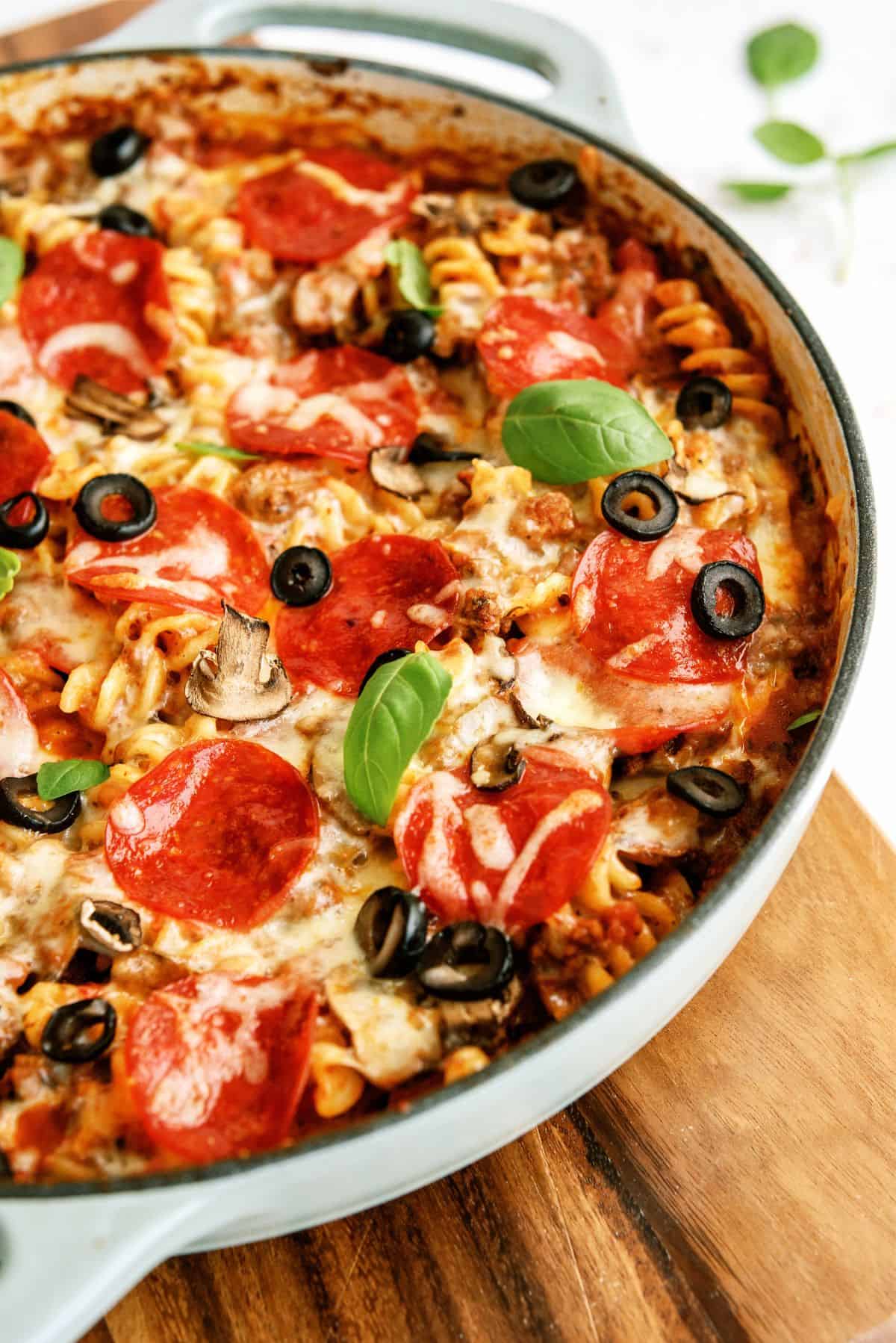 Plus you can make this cheesy pizza pasta bake for dinner and enjoy the leftovers the next day and it will still be just as delicious. If you're anything like me and leftovers are where it's at, then you will love this recipe.
It is also a great ground beef recipe that is not a traditional recipe so you can switch it up a bit without going too crazy. By making pizza casserole with ground beef you still get a good amount of protein, but don't have to compromise on flavor.
You can even serve our air fryer crispy zucchini bites, layered cobb salad, or some tasty sheet pan garlic bread sticks as sides and have a scrumptious meal! Not to mention a very filling meal. Everyone will leave the table happy. 😉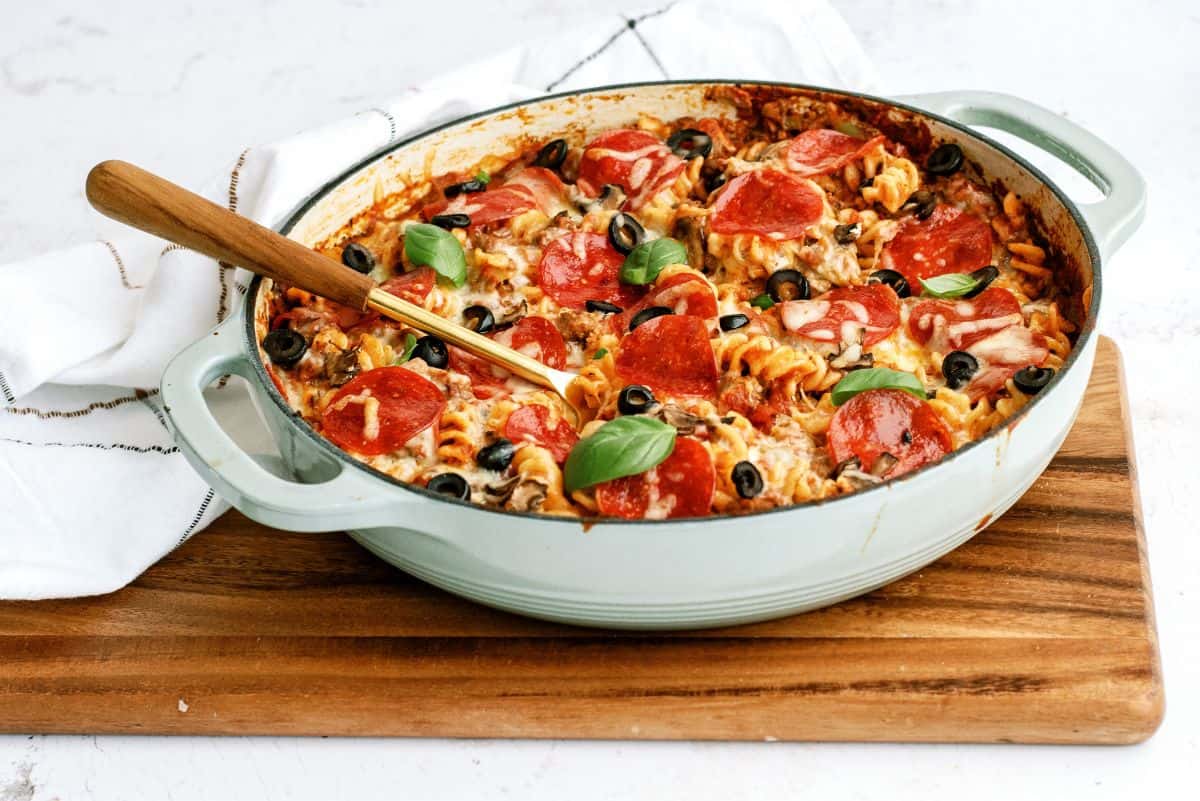 Ingredients You Need to For Our Cheesy Pizza Pasta Casserole Recipe:
Ground beef
Diced onion
Green bell pepper diced
Pizza sauce
Mushrooms, drained
Sliced pepperoni
Salt
Oregano
Garlic powder
Dried basil
Rotini pasta, cooked
Shredded mozzarella cheese
Fresh basil
How To Make Our Cheesy Pizza Pasta Casserole Recipe: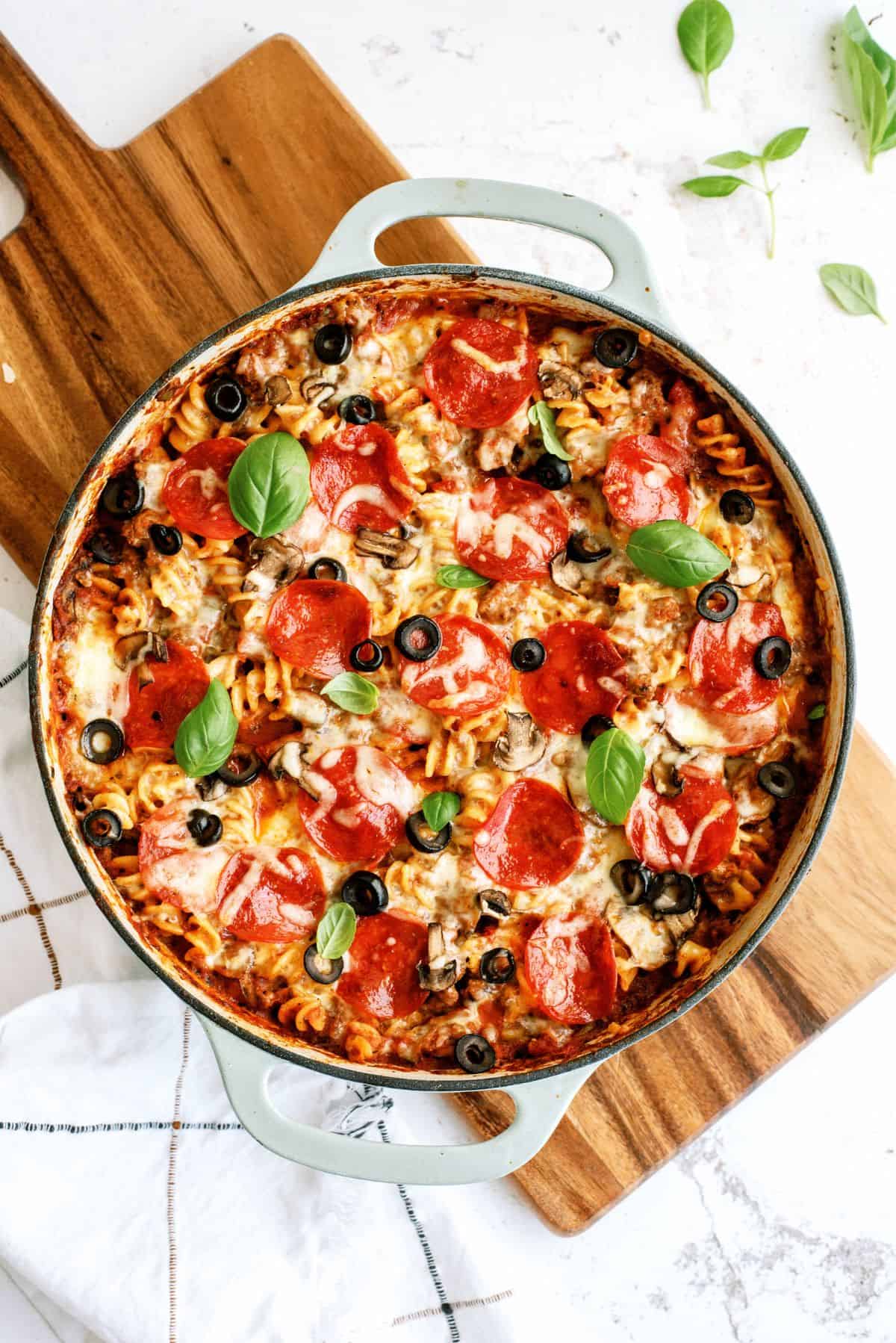 When you are ready to make this delicious pizza pasta casserole, start by cooking the noodles according to the directions on the package.
Then while those are cooking, preheat the oven to 350 degrees.
Now in a large skillet over medium heat, brown the ground beef with the diced onion and green pepper.
Once the meat is cooked completely, use a strainer and drain the grease from the pan.
Add the beef mixture back to the pan and add in the pizza sauce, mushrooms, pepperoni, salt, oregano, garlic powder, and dried basil and mix it all together.
Next add in the cooked macaroni noodles and stir it all together.
After the noodles are completely covered in sauce, pour the pasta into a 9×13 inch pan that has been greased with nonstick cooking spray and sprinkle cheese over top.
Then place the pasta in the oven and let it bake for 30-45 minutes or until it is heated through and the cheese is melted.
When it is done, remove it from the oven, top it with the freshly chopped basil, then just serve and dig in!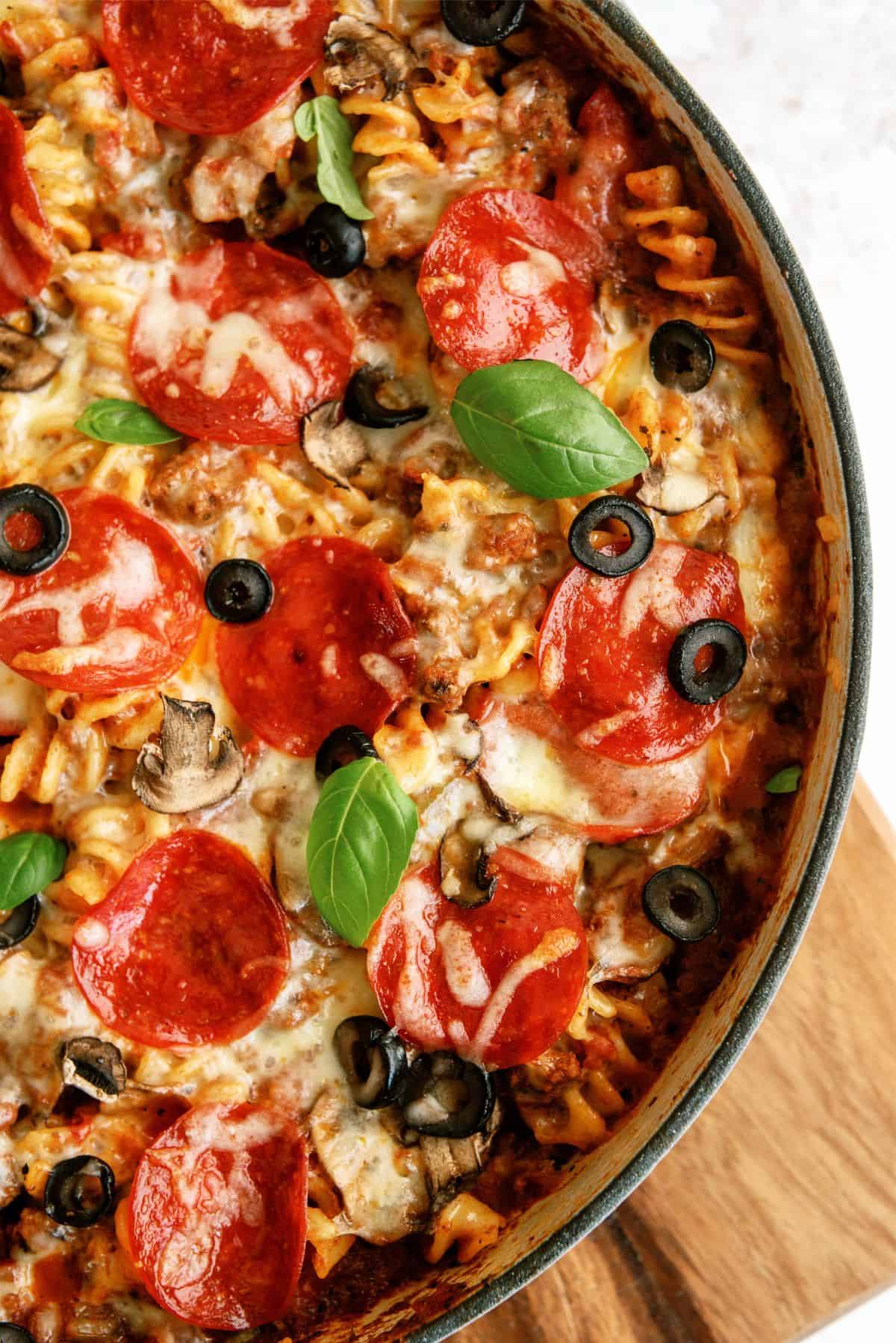 To Make Pizza Casserole With Ground Beef You Will Need:
Large skillet
Strainer (THIS one works great for sinks of all different sizes)
9×13 inch pan
Spatula