Pizza is our go-to recipe on the weekend, and this homemade Pizza Hut deep dish pizza hits the spot every time! With our secret Pizza Hut dough recipe, you can make your favorite pizza at home and at a fraction of the cost.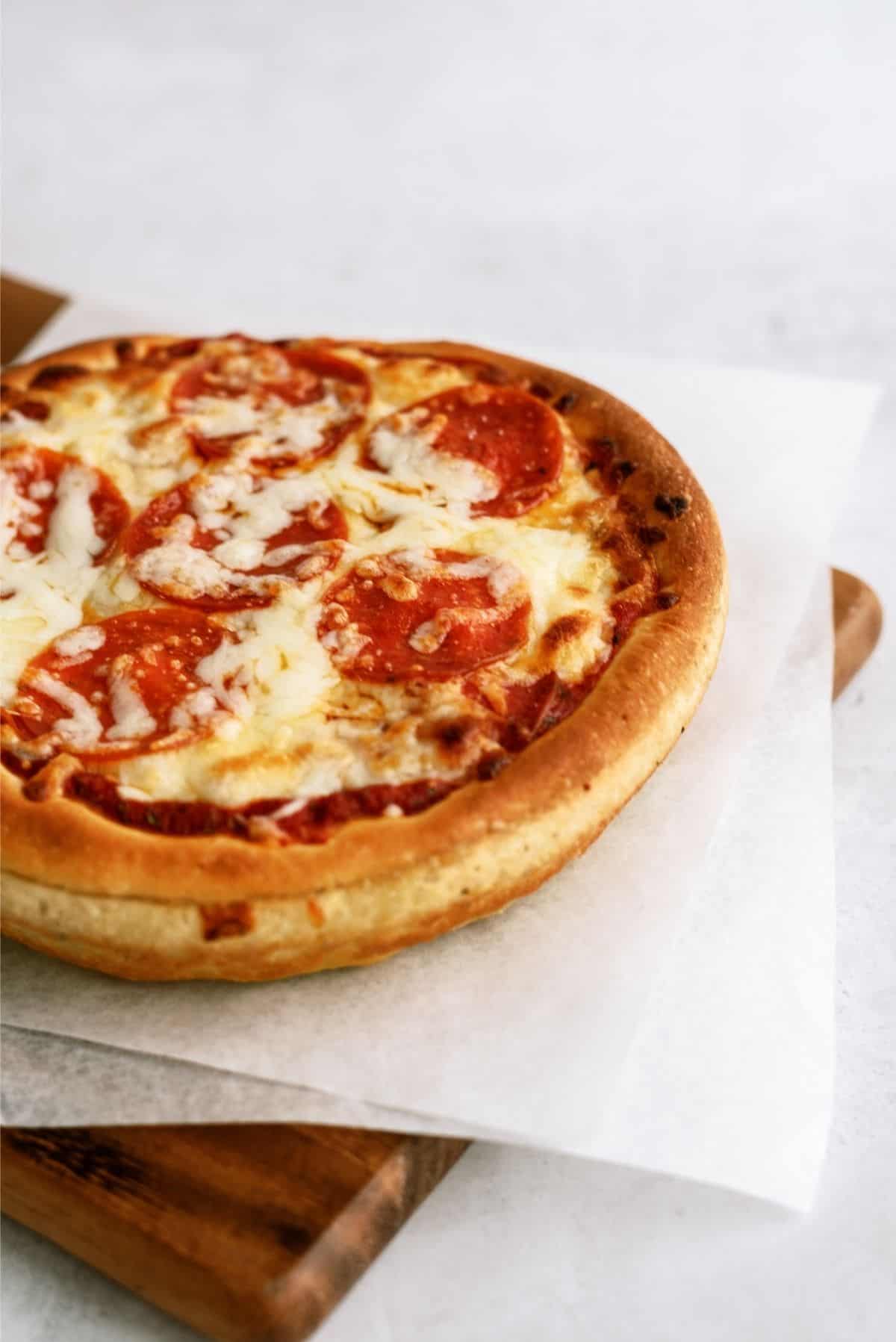 If you are looking for the best pizza dough recipe, then you will be glad you found our homemade Pizza Hut original deep dish pizza recipe.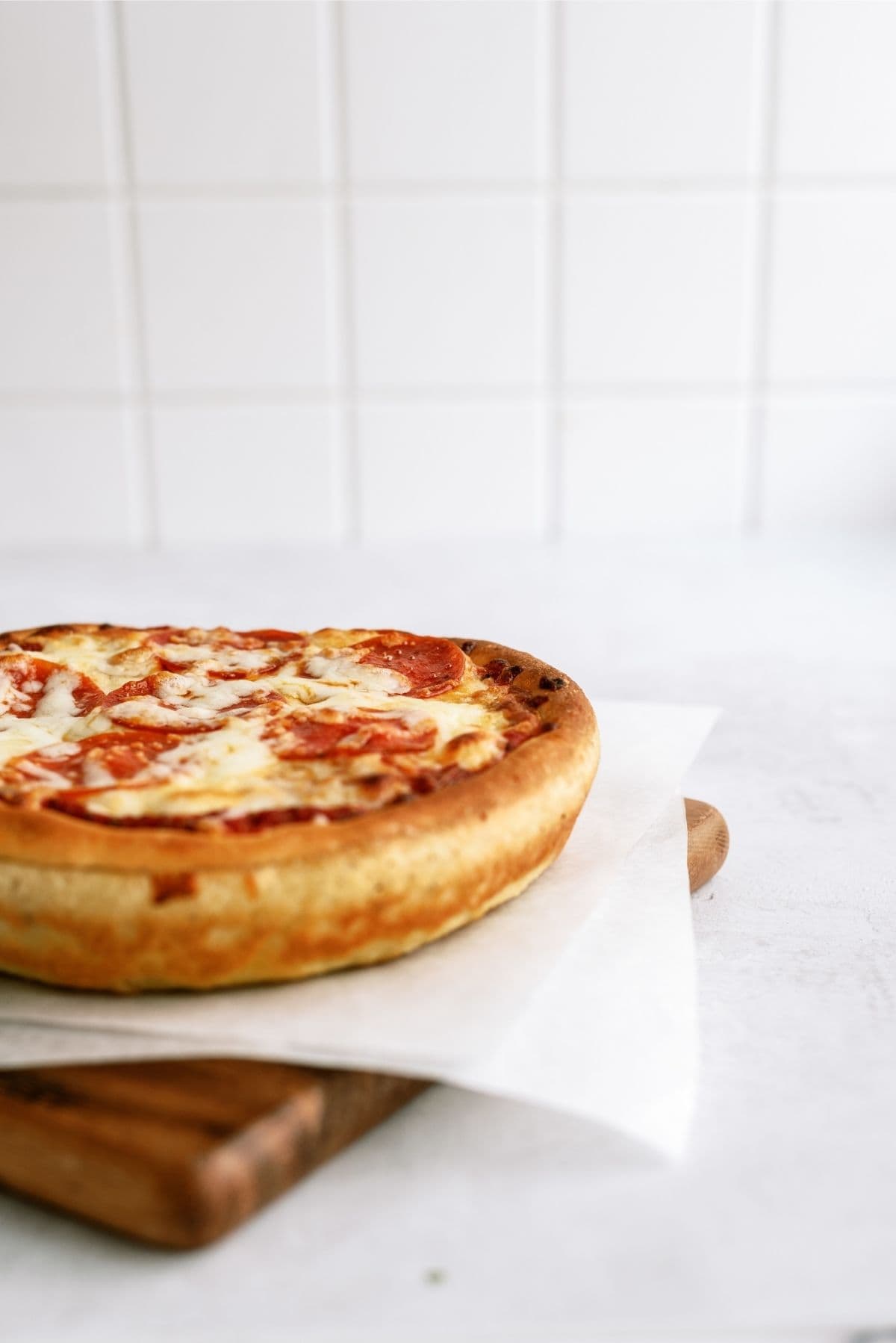 Do you remember when you were a kid the distinct taste of the Pizza Hut old recipe in comparison to a $5 hot and ready pizza? Or even now, the two are worlds apart in taste.
Well, our deep dish pizza recipe reminds you of Pizza Hut's deep dish pizza right away. It has the perfect consistency and flavor that you dreamt about as the weekend approached.
Since going out and about is not all it's cracked up to be these days, try making our deep dish pizza recipe from home, and save the extra money for ice cream or wine or whatever you enjoy most!
When we make this pizza recipe, I love to have our homemade pizza factory breadsticks, and an easy caprese salad! Plus if you want another pizza recipe to try next weekend, take a look at our chicken bacon alfredo french bread pizza recipe, it is truly amazing!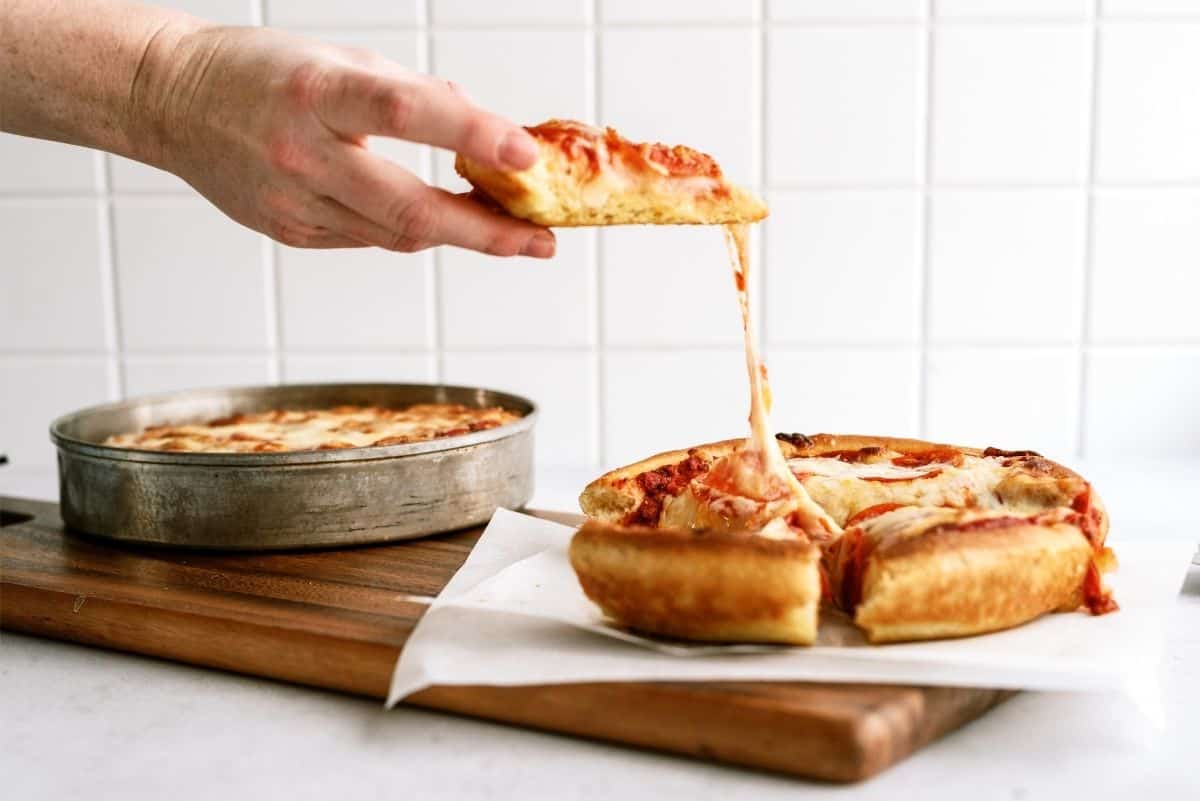 Ingredients Needed For Our Homemade Pizza Hut Deep Dish Pizza:
Dough
Warm water
Non-fat dry milk
Salt
Flour
Sugar
Dry yeast
Vegetable oil
Sauce
Tomato sauce
Dried oregano
Marjoram
Dried basil
Garlic salt
Other
Shredded Mozzarella cheese
Vegetable oil
Make Our Homemade Pizza Hut Deep Dish Pizza Recipe:
Dough Instructions:
Start by putting the yeast, sugar, salt, and dry milk in a large mixing bowl.
Once all of that is in the bowl, add in the warm water and stir it all together well and allow it to sit for 2 minutes.
After 2 minutes, add in the vegetable oil and stir it all together.
Now, add in the flour and stir mixture together until the dough begins to form and all of the flour has been absorbed.
Then, turn the dough out onto the counter and knead the dough for about 10 minutes.
When you are done kneading the dough, divide the dough into 3 balls.
In three 9 inch cake pans, put 3 tablespoons of vegetable oil in each cake pan, making sure it is evenly spread out.
Using a rolling pin, try to roll each ball into a 9 inch circle and then place the dough into each pan.
Once the dough is in the cake pan, spray the outer edge of the dough with nonstick cooking spray and then cover the pan with a plate.
Place the cake pan in a warm area (TIP: I like to preheat the oven to 200 and then turn it off and put the cake pans in there) and allow the dough to rise for 1 to 1 ½ hours.
Sauce Instructions:
While the dough is rising, combine the tomato sauce, oregano, marjoram, basil, and garlic salt in a medium mixing bowl.
Pizza Baking Instructions:
To bake the pizza, preheat the oven to 475 degrees.
Then spoon about ⅓ cup of pizza sauce on top of the dough (more or less to your liking) and spread it to about 1 inch of the edge of the dough.
Now add ¼ cup of shredded mozzarella cheese on top of the sauce.
Once you have some cheese placed in the pan, place your favorite toppings such as pepperoni, ham, vegetables, and cooked meats.
Now top it off with a ½ cup of mozzarella cheese and then place it in the oven and cook the pizza until the cheese is bubbling and the outer crust is brown, about 10-15 minutes or so.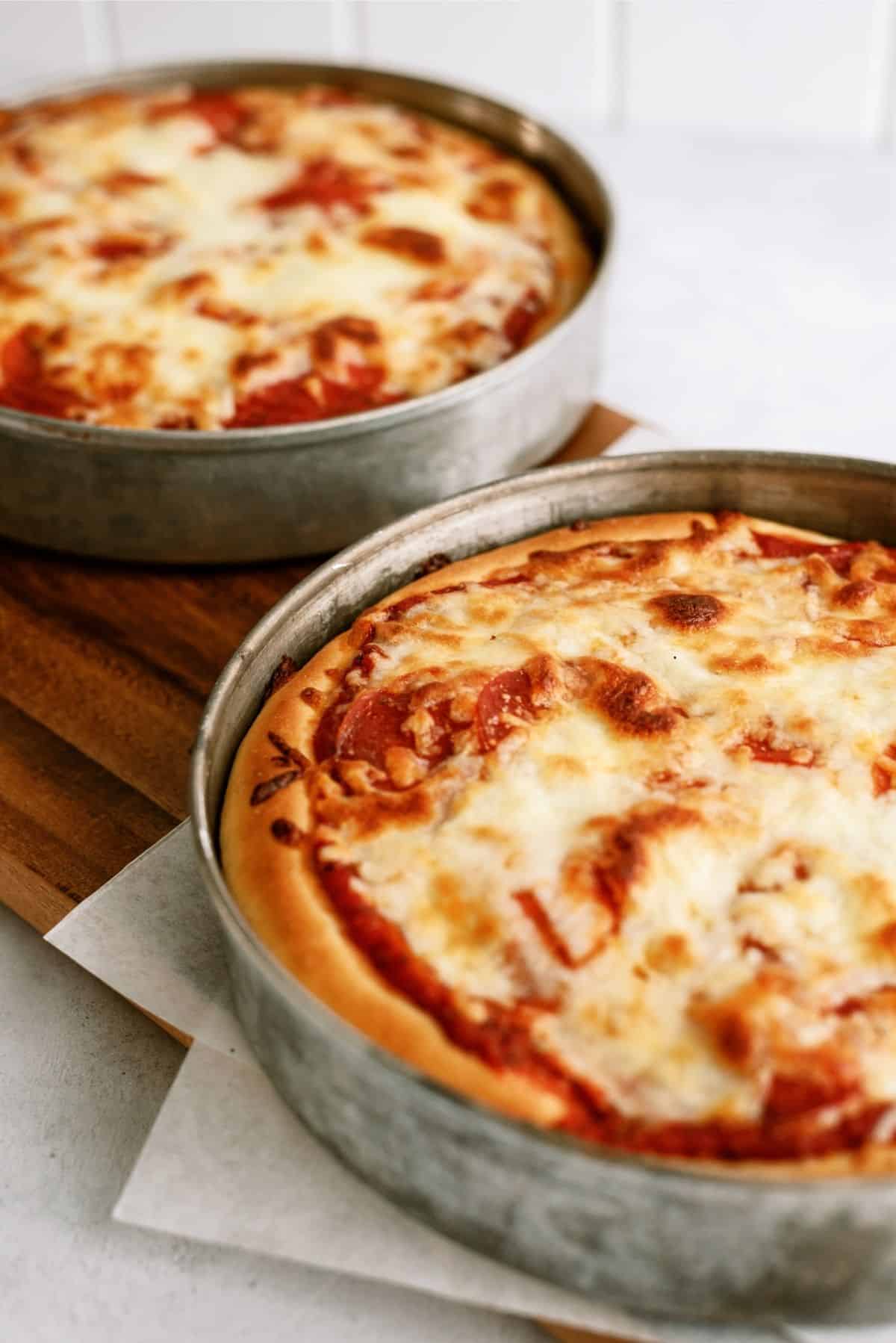 Then just cut and serve your delicious pizza!
To Make This Pizza Hut Original Recipe You'll Need:
Large mixing bowl
Medium mixing bowl
9 inch cake pan (3) (THESE work great!)
Plates
Nonstick cooking spray
If you don't have cake pans, you can always use a cast iron skillet and it will turn out delicious too!