Pepperoni and sauce tucked into gooey cheese, these Easy Pizza Quesadillas are a kid-friendly meal everyone will love! All the deliciousness of homemade pepperoni pizza, ready in a fraction of the time.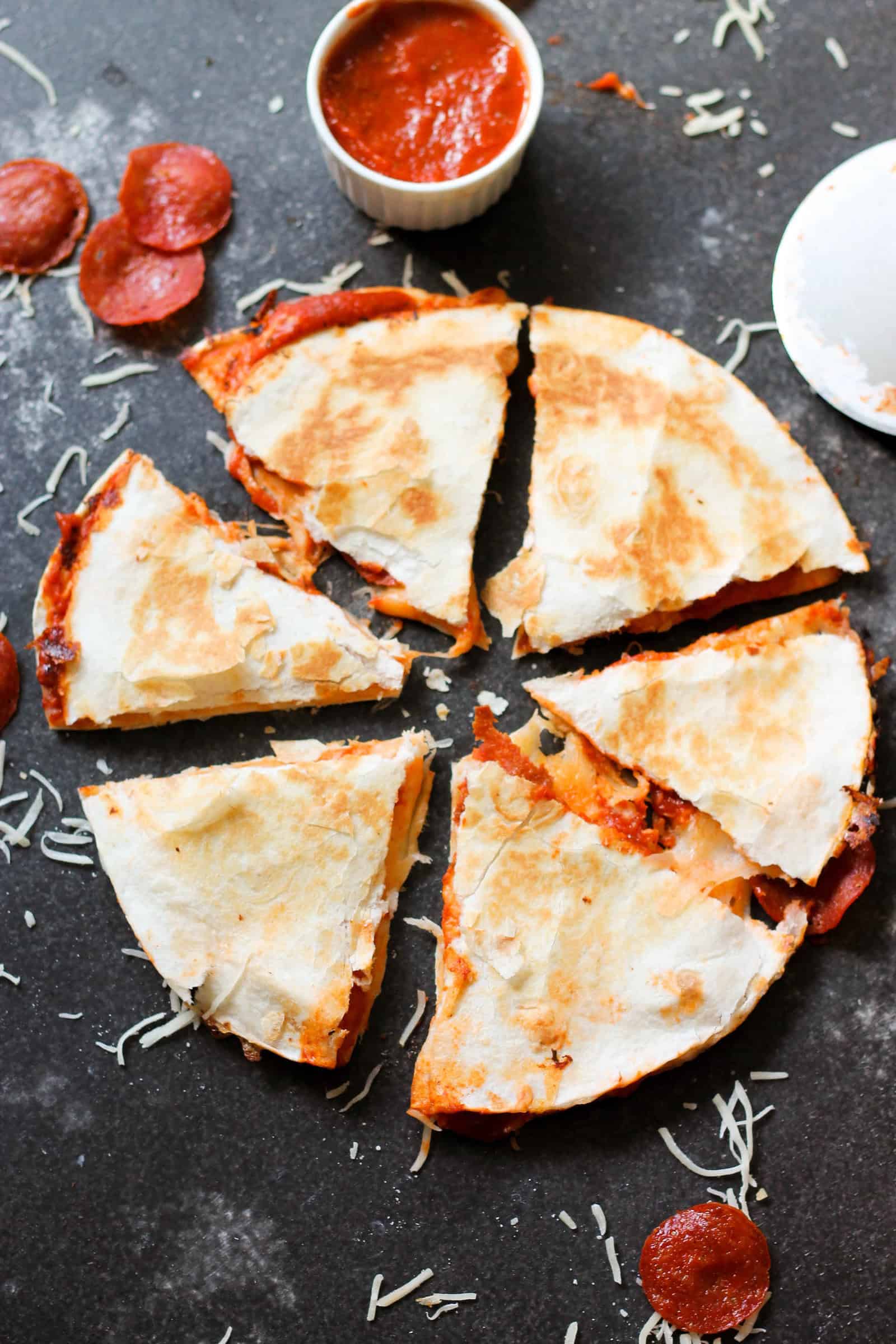 Love homemade pizza, but hate making the dough? Enter, easy pizza quesadillas!
These pizza quesadillas are a perfect twist on a classic weekend meal that will leave you, your kids, AND your husband happy. Don't forget to dip it in the pizza sauce!
Love pizza? Try our EASY Homemade Pizza Dough!
How to make Easy Pizza Quesadillas:
Heat a skillet over medium heat and fry the pepperoni until crisp – transfer to a paper towel to drain. You can skip this step if you're short on time, but we feel like it makes the pepperoni taste more like it does on a regular pizza.
Brush each tortilla with a thin layer of pizza sauce. Most pizza quesadilla or "pizzadilla" recipes skip this step – but this is what MAKES these quesadillas.
Assemble quesadillas by sprinkling cheese on top of the sauce on the bottom tortilla, topping it with pepperoni, and sprinkling another layer of cheese on top. Place a second tortilla on top, sauce side down.
Preheat a greased skillet over medium heat. While cooking spray works well, we prefer to brush the skillet slightly with butter. It tastes a little more authentic that way. Don't skip this step, or your tortillas won't turn out as nicely browned or crispy.
Gently place quesadilla in the pan and cook for 3 to 5 minutes on each side, until cheese is melted and tortillas are crispy.
Slice into quarters and serve with a bowl of warm pizza sauce.
Related Recipe: Try our Sheet Pan Beef Quesadillas, they are a family favorite!