Ground beef and vegetables in a creamy sauce topped with golden tater tots - this Cowboy Casserole (Tater Tot Casserole) is the perfect weeknight dinner.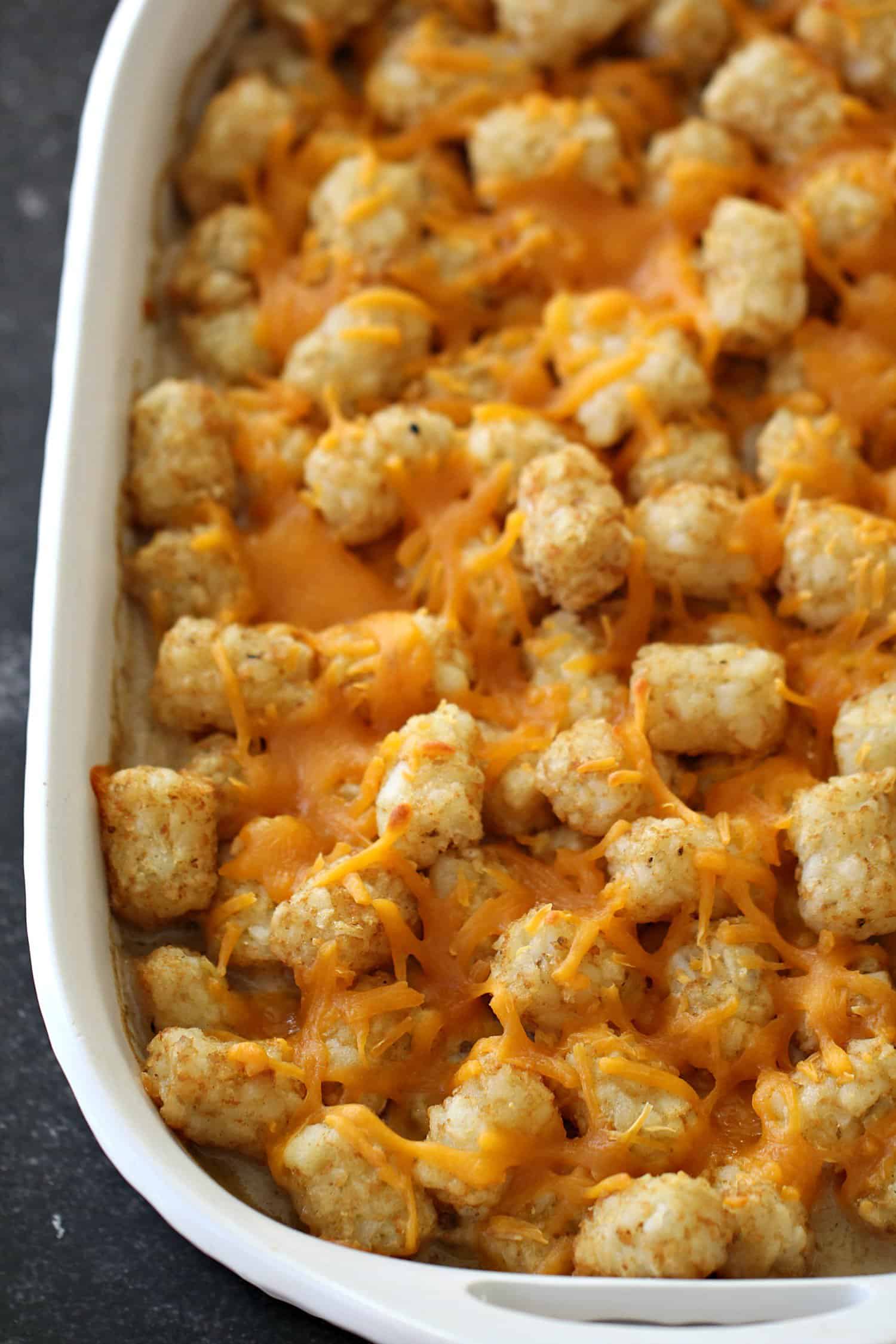 Ground beef and vegetables in a creamy sauce topped with golden tater tots – this Cowboy Casserole (Tater Tot Casserole) is the perfect weeknight dinner for the whole family.
I had never had "Cowboy Casserole" (aka Tater Tot Casserole) until after I met my husband and it quickly became a family favorite.
Whenever he is in charge of family dinner, this is his go-to dish.
He asked why I hadn't put it on the blog yet, so I decided to share this easy comfort food with you. It's perfect for picky eaters too!
This dish is also very affordable and comes together in minutes!
You can throw it together super quick on those super busy weekday nights when you are running all over the place.
This easy casserole recipe is one of our favorites! Try the Slow Cooker version here!
Check out more of our most popular casseroles: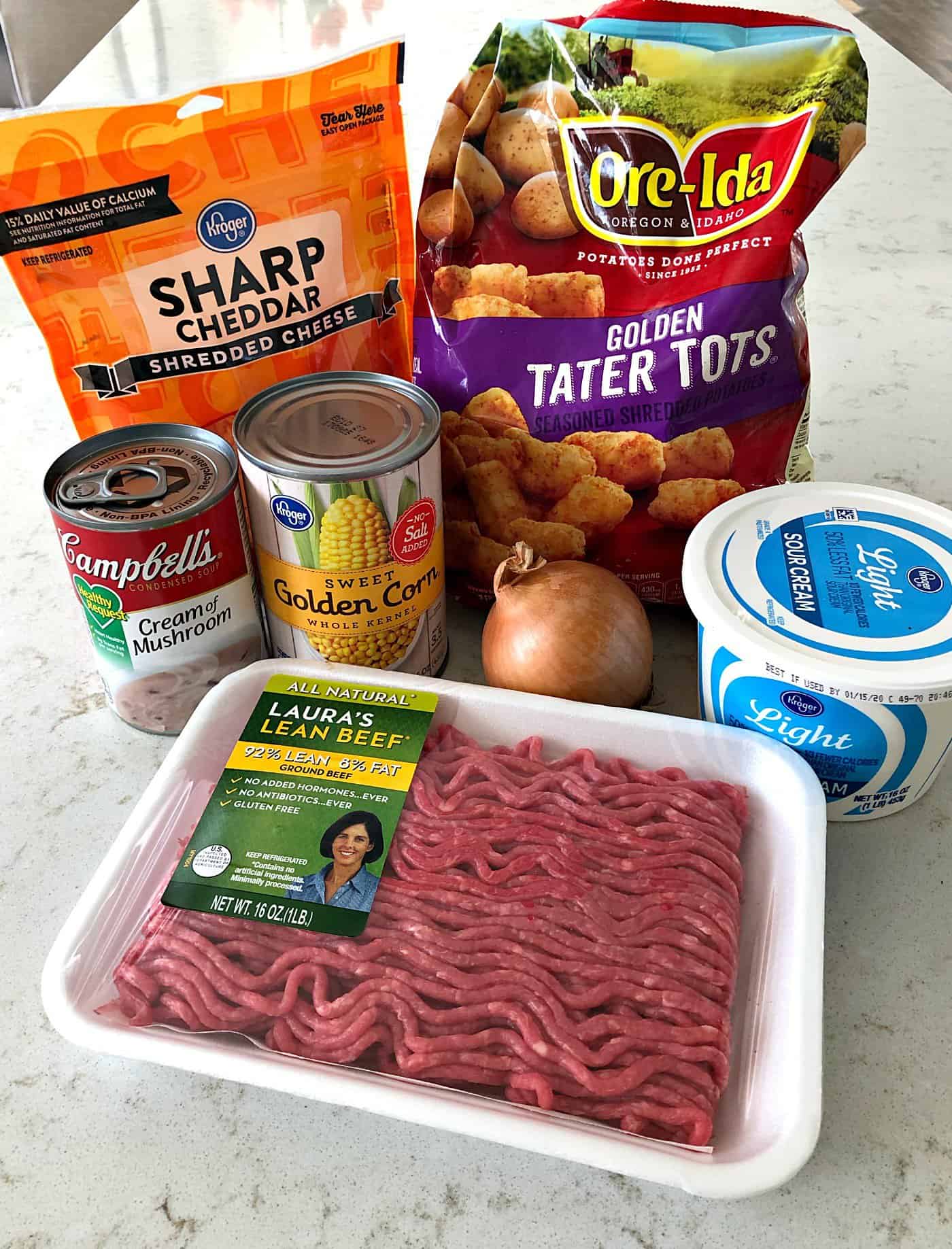 Ingredients in Cowboy casserole with tatertots:
Ground beef
Diced onion
Corn
Cream of mushroom soup *
Cheddar cheese
Milk
Sour cream
Garlic powder
Onion powder
Salt
Pepper
Frozen tater tots
*If you aren't a fan of condensed cream of mushroom soup, you should try out this recipe for a quick cream of mushroom soup from Taste of Home. You can also use cream of chicken soup. If you or someone in your family doesn't like mushrooms, you could also substitute it with cream of chicken or celery, but it will change the overall taste a bit.
Cowboy casserole recipe tools:
Large skillet
Can opener (this automatic can opener is my FAVORITE!)
Turner spatula (like THIS one)
Colander
9×13 baking pan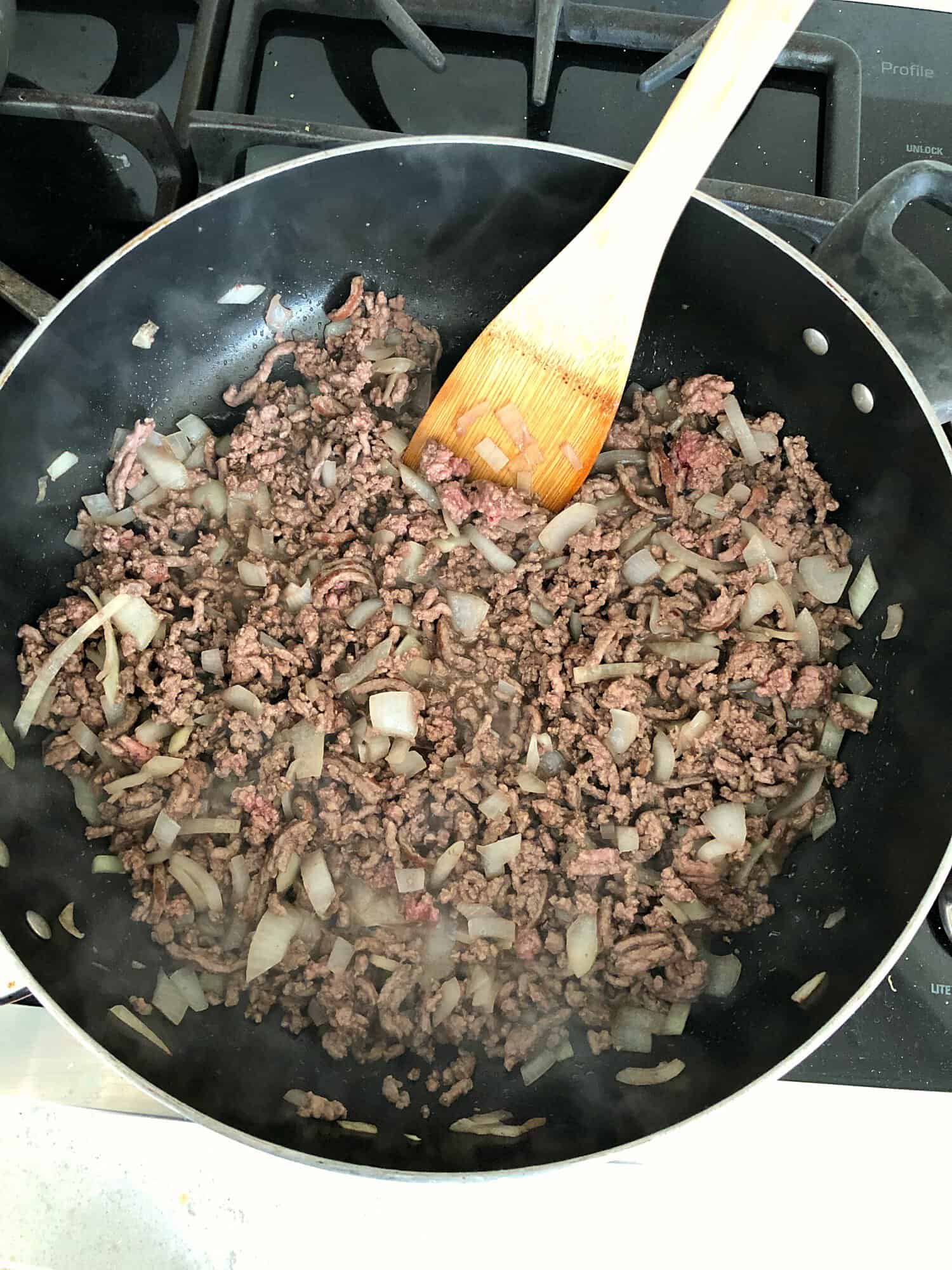 How to make this easy dinner cowboy casserole:
Start by preheating your oven to 375 degrees.
Then, in a large skillet add in the ground beef and diced onion.
Heat it all the way through until the beef is no longer pink and onions are transparent and soft.
Once the beef is cooked pour it into the colander to drain the grease from the meat.
Then return the meat back into the skillet and pour in the can of corn (drained), cheese, milk, sour cream, garlic powder, onion powder, salt and pepper to taste.
After everything has been added to the skillet, stir it all together until everything is well combined.
Then, pour the beef and corn mixture into the 9×13 baking pan and spread it out evenly.
Pull out the frozen tater tots and place them on top of the beef mixture.
Try as best as you can to keep the tater tots to one layer so that everything bakes evenly.
Then just sprinkle the remaining cheddar cheese on top of the tater tots until it is covered.
Now that cowboy casserole is put together, put the 9x 13 pan in the oven uncovered for about 25-30 minutes or until you see the cheese start to bubble.
Be sure to check the tater tots and see if they are cooked all the way through.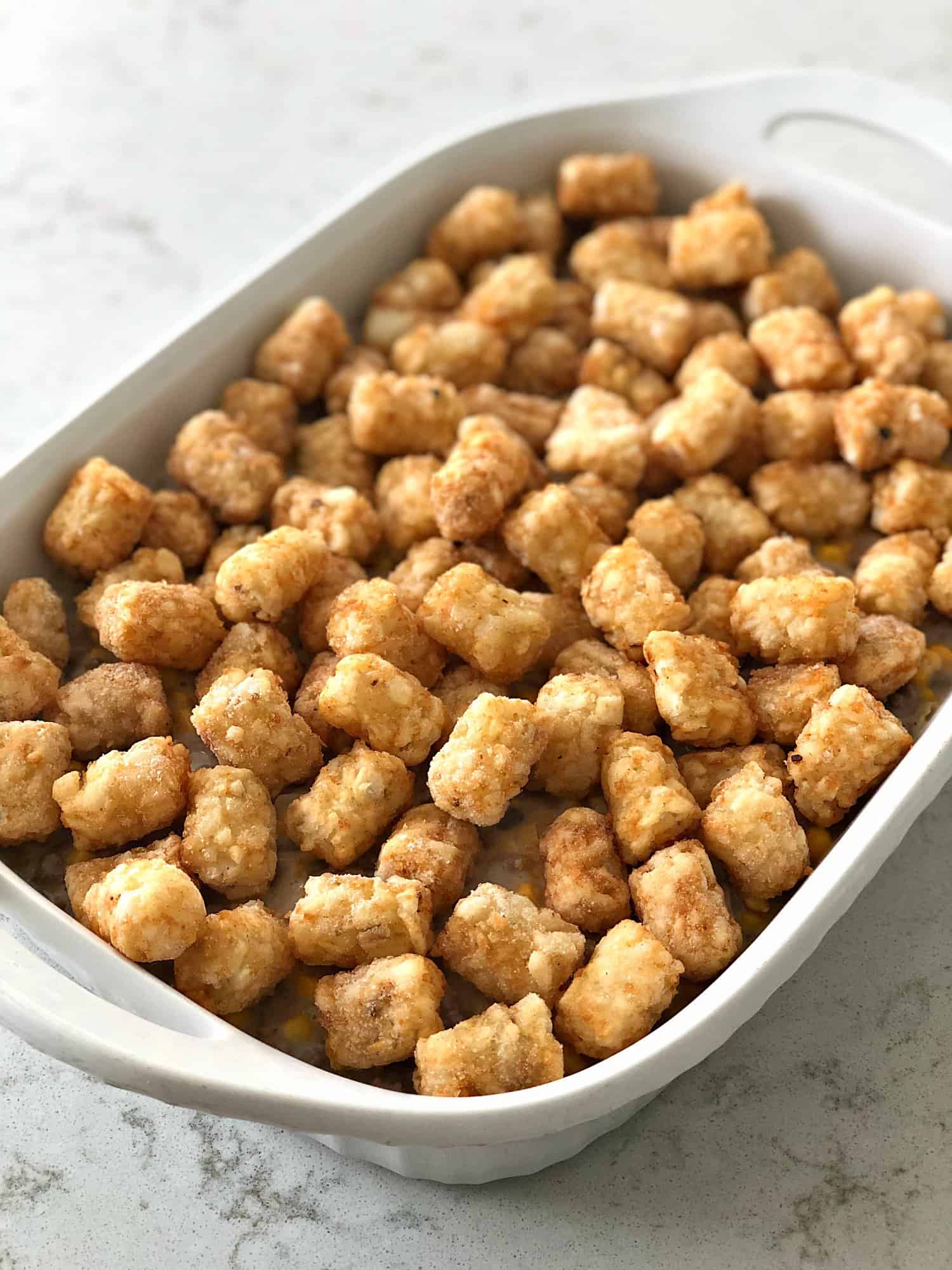 What to add to cowboy casserole?
If you want to add some extra tastes and maybe hide in some veggies, you can always throw in a can of green beans, a bell pepper, green chiles or a bag of frozen veggies. It also tastes delicious with hot sauce!
Add in whatever your family will like best!
How to make cowboy casserole into a freezer meal:
If you are looking for a freezer meal that you want to make and bake later, or even bring to another family, this is a great hearty meal to freeze! Instead of popping it in the oven, after everything is made up and mixed together place the casserole in the freezer.

You will want to be sure that you place the hearty casserole in an aluminum pan that is freezer-friendly. Then be sure to cover it tightly in aluminum foil.

When you are ready to bake it just take it out and thaw it completely before cooking. If it doesn't thaw the whole way while by the time you are ready to cook it, add on a few more minutes for it to bake to make sure the ground beef mixture is cooked all the way through.

Use the casserole within 2 months to avoid freezer burn.