Try this ravioli casserole for a delicious budget-friendly family dinner that you can make right away or freeze for later. This frozen ravioli recipe is extremely easy to make, and full of wonderful tomato sauce and creamy cheese flavor.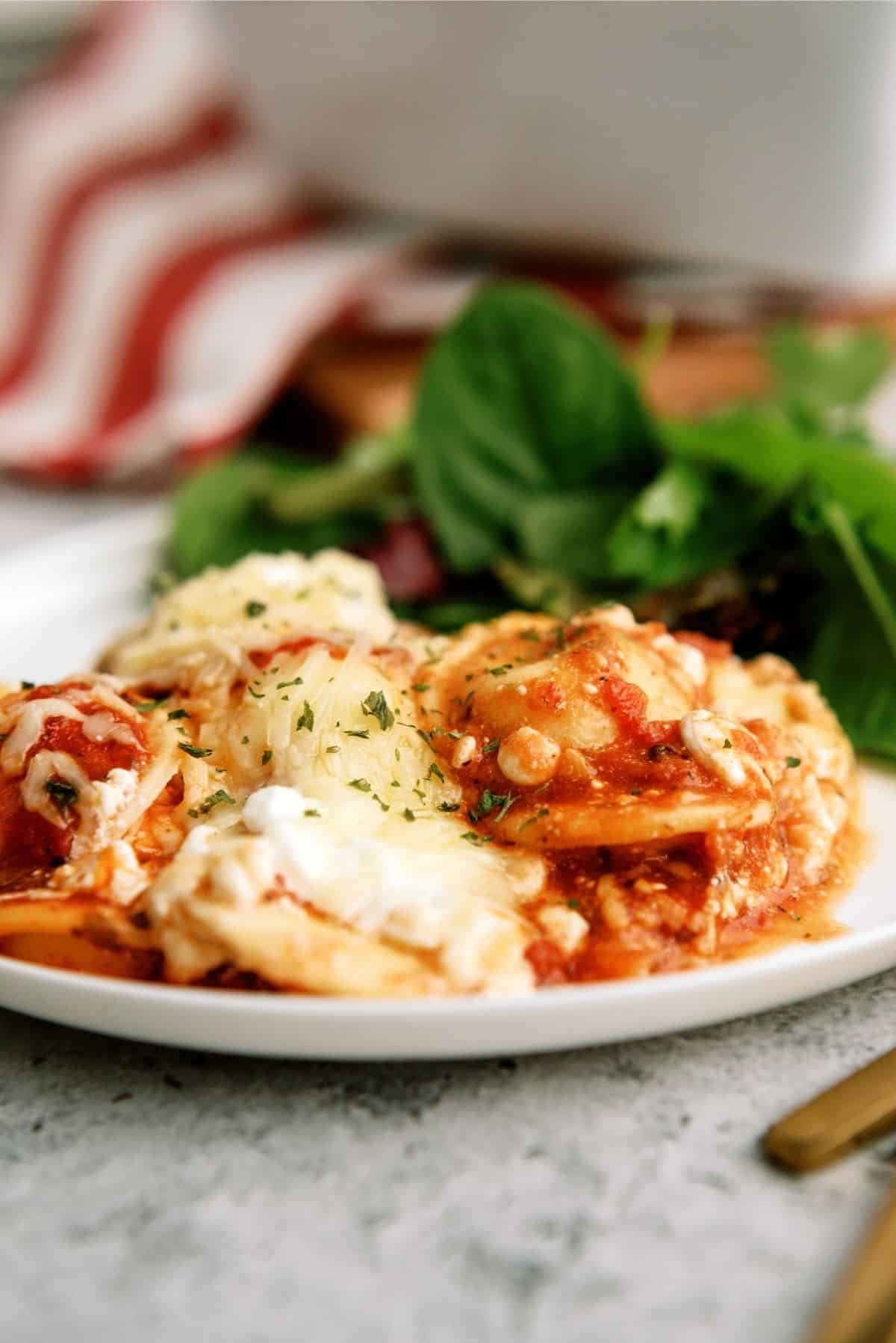 With the holidays in full swing it is nice to have a tasty freezer meal you can pull out, and this ravioli casserole recipe can be made fresh or frozen! Aka the perfect meal.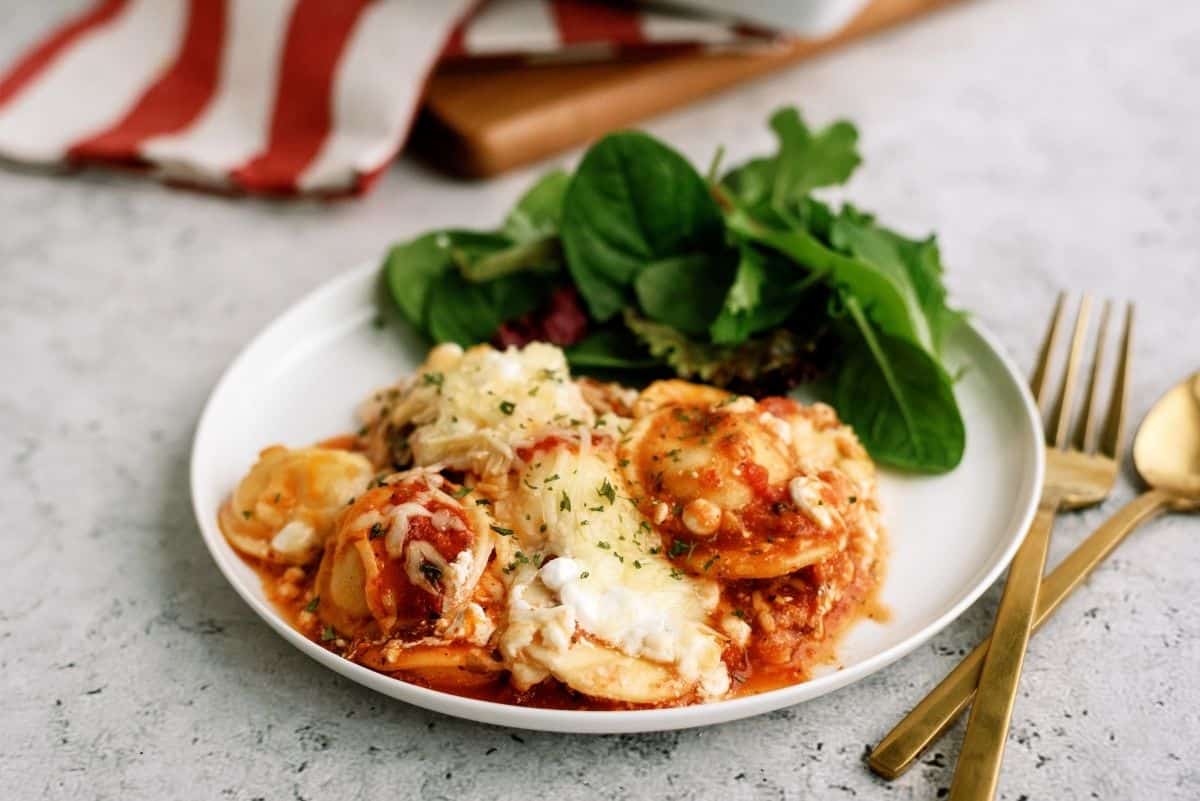 It is also a great recipe to make a double batch and then you can do both fresh and frozen meals at the same time! Honestly it is one of my favorites for that reason. We all have those nights where dinner is not happening if I have to actually make it, and that is when this recipe comes in clutch.
This is even a perfect meal for when you and your spouse want a date night and you can just pull it out for the babysitter to pop in the oven and know your kids will eat well with no complaints!
Just pair it with some honey roasted carrots, cheesy garlic texas toast (perfect for dipping in the extra sauce), and a citrus fruit salad to have the perfect dinner menu for your family.
Ingredients You'll Need For Our Ravioli Casserole Recipe:
Pasta sauce
Frozen cheese ravioli
Cottage cheese
Mozzarella cheese
Parmesan cheese
How To Make Our Ravioli Casserole Recipe:
Start by preheating the oven to 350 degrees.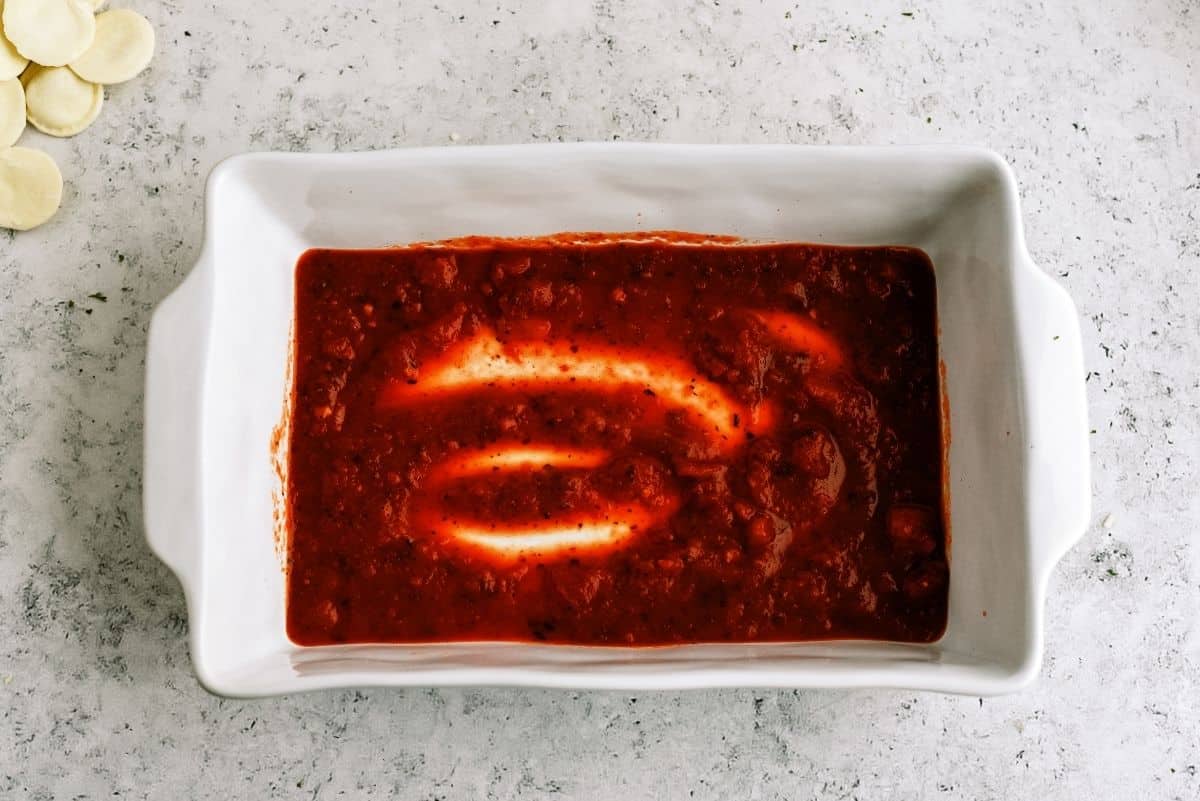 Then in the bottom of a 9×13 inch pan spread 1 cup of the pasta sauce.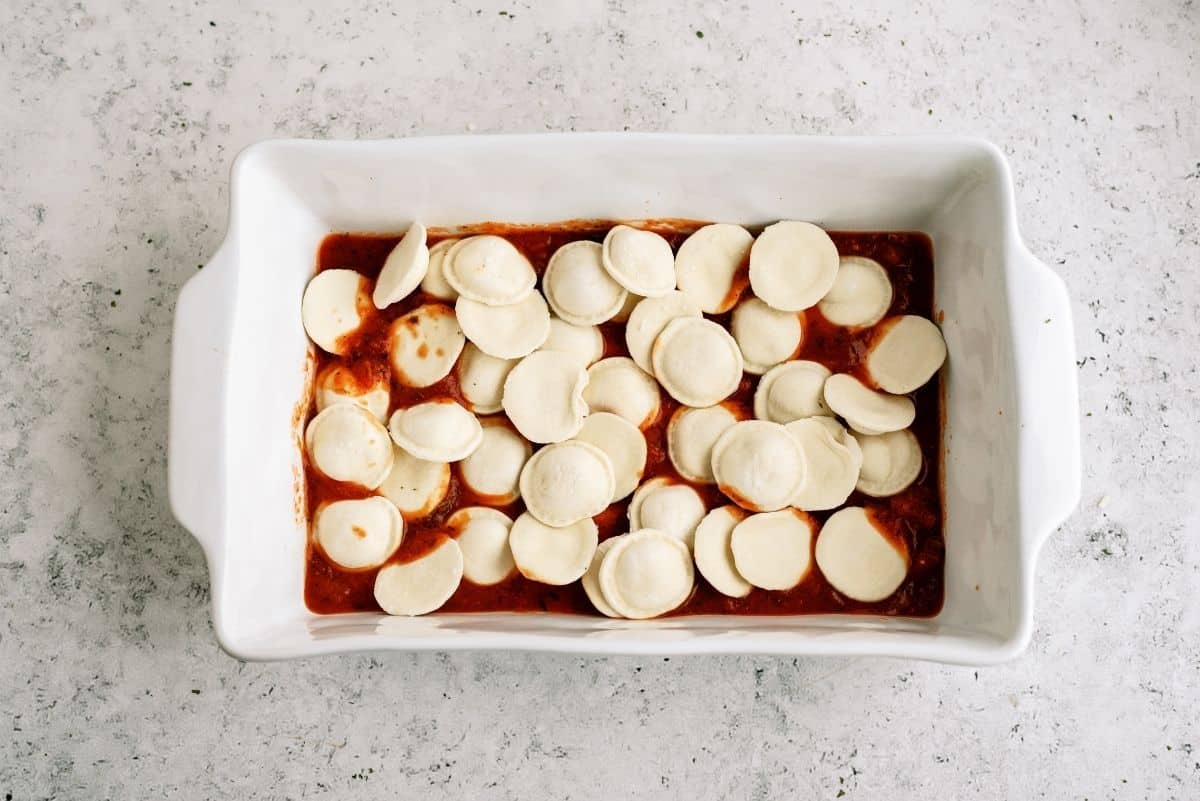 Once the pasta sauce is spread out, arrange half of the frozen ravioli over top, covering the whole bottom of the 9×13 inch pan.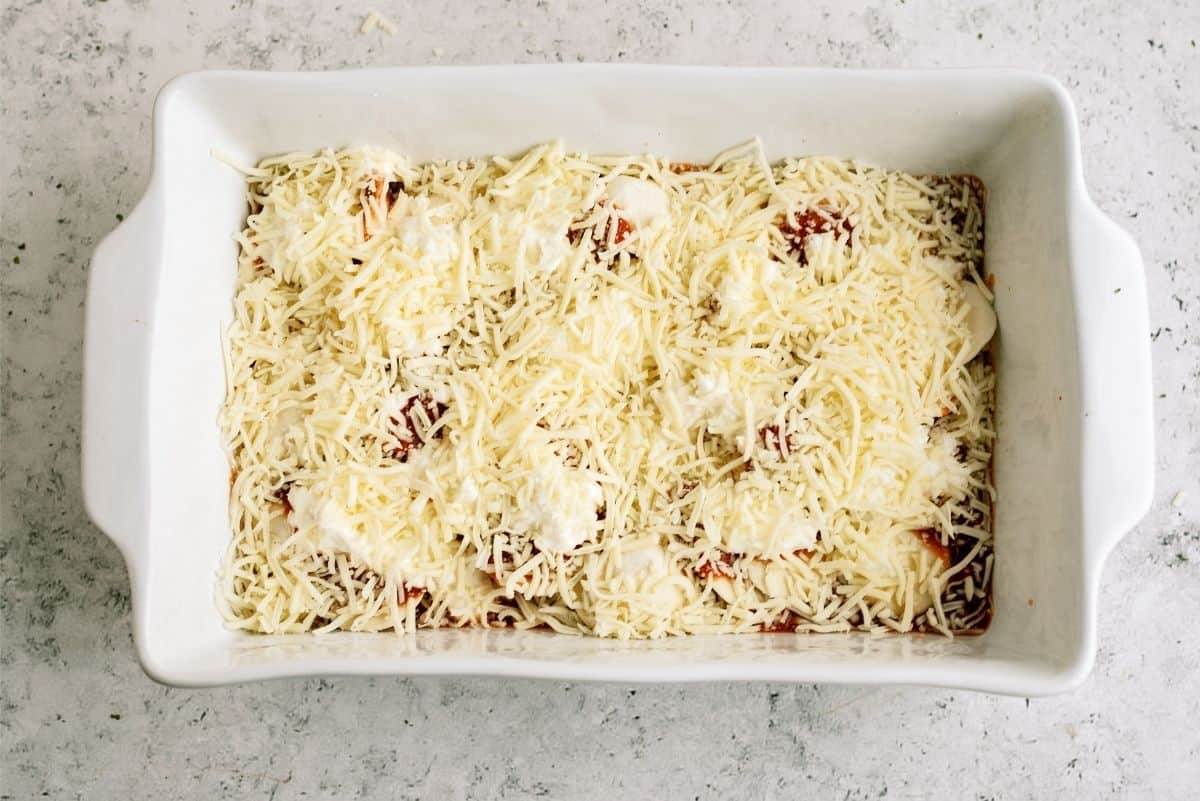 Then spread about 1 more cup of sauce on top of the frozen ravioli, along with 1 cup of cottage cheese, and 1 cup of mozzarella cheese.
Repeat each of those layers, starting with the ravioli, pasta sauce, cottage cheese, and mozzarella cheese.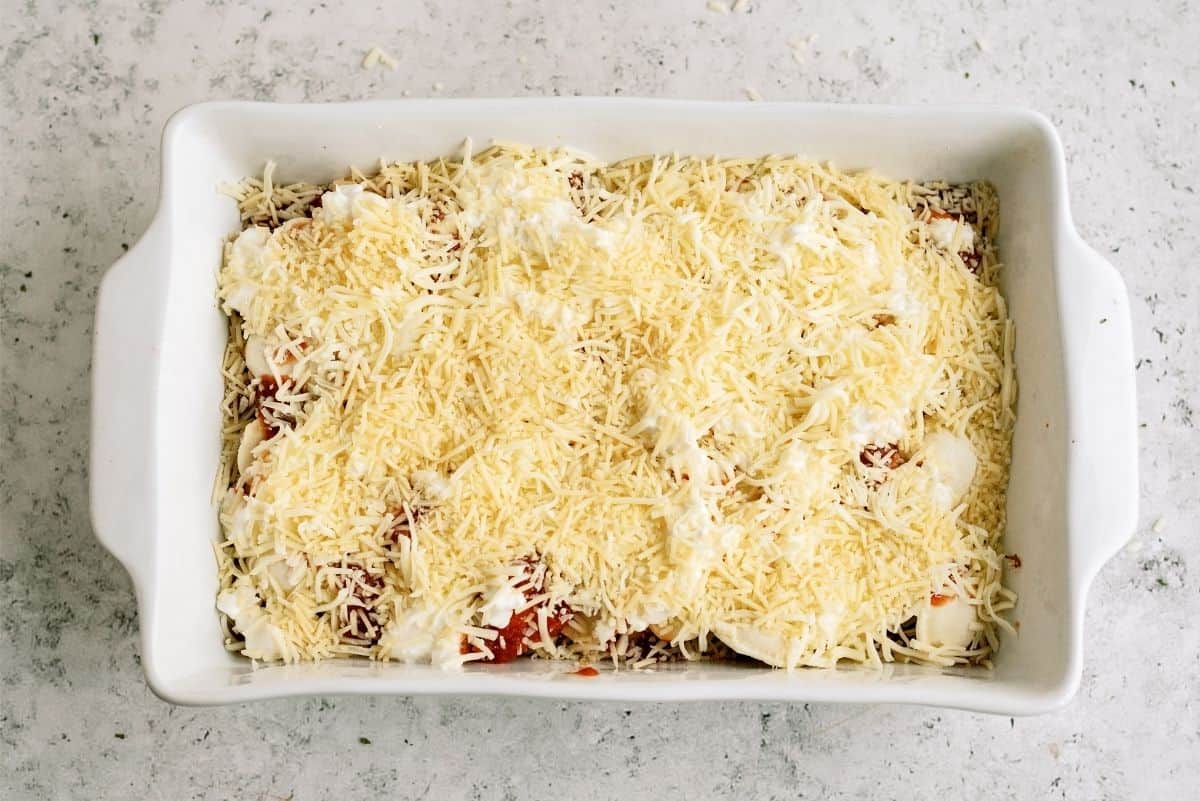 Now top it all off with the Parmesan cheese.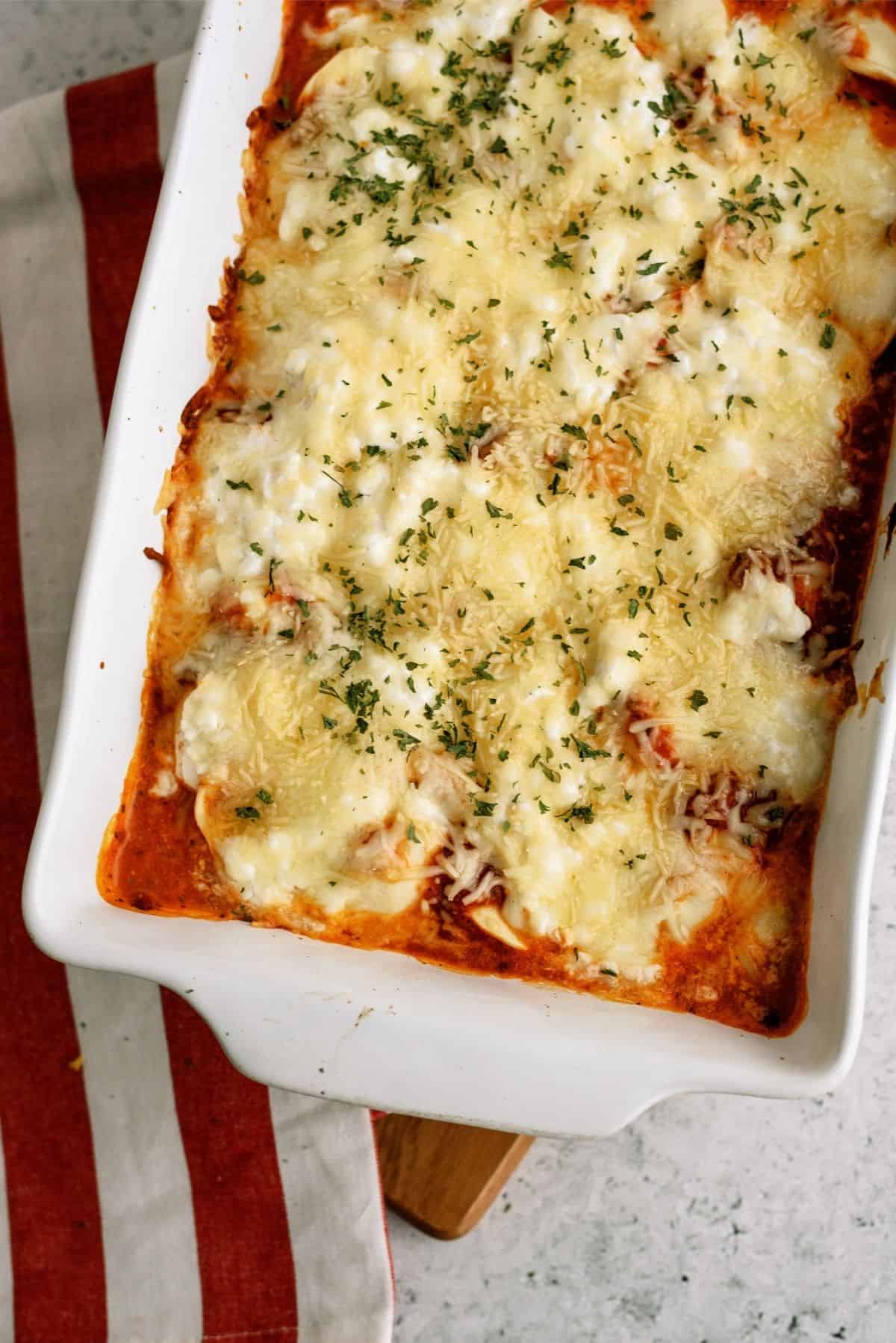 Once all of the layers are complete, place the baking pan in the oven uncovered for 30-40 minutes or until the cheese begins to bubble.
To freeze this recipe, stop after building the layers in a freezer-safe container and then place the lid on and store it for up to 30 days in the freezer.
When you are ready to make it, allow the casserole to thaw for an hour before baking it.
Then bake the casserole at 350 for 40-50 minutes or until the cheese begins to bubble.
To Make This Ravioli Casserole You Will Need:
9×13 inch baking pan (THIS is a great one to use!)
Spatula