When it comes to soup, I could eat it all year long! I love how simple it is to throw together, but also how filling and delicious it can be. I also love that soup makes it easy to sneak lots of vegetables into my family's diet. 🙂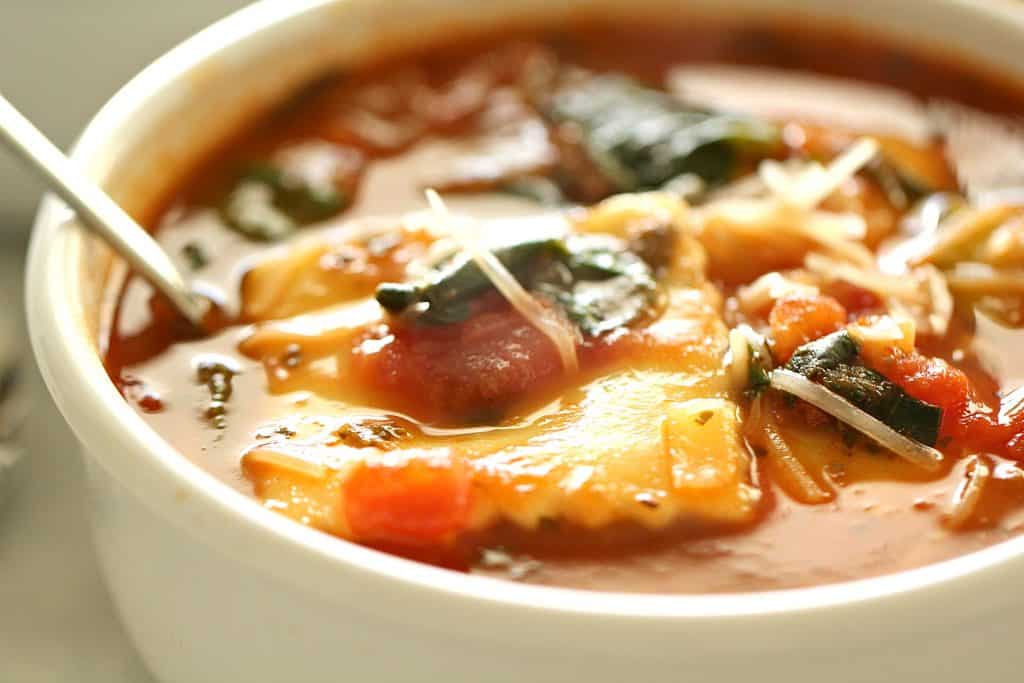 This delicious soup comes together in a matter of minutes in one big stock pot (hooray for not cleaning extra dishes!). This is the perfect dish to whip up on a busy weeknight and BONUS – you can eat the leftovers for lunch the next day.
This recipe starts with browning ground turkey sausage and onion in a large soup pot. I love using turkey sausage because it's a little higher in protein and lower in calories than pork sausage. However, pork sausage or even chicken sausage would work great in this recipe! And if you don't have any ground sausage on hand, you can use a lean ground beef mixed with some Italian seasoning and it will still be delicious.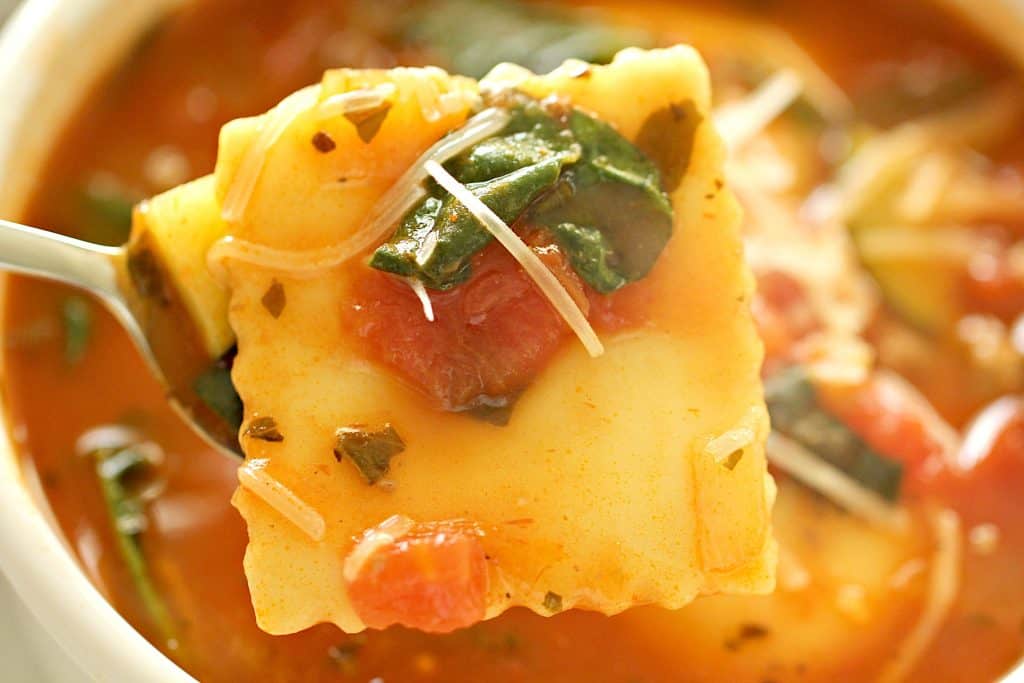 Next you add in tomatoes, spaghetti sauce, garlic, beef broth, basil, and sugar. Whenever I am using canned food items (such as beef broth), I always make sure to use a low-sodium variety. We have more than enough flavor in this dish to make it taste good, so there is no need for extra sodium.
You'll notice that one of the ingredients is sugar . . . which is strange, right? I mean, who wants a sweet soup? But sugar is actually one of the ingredients that makes this soup delicious! Canned tomatoes sometimes can be a little acidic and sugar helps to bring out the natural sweetness of the tomatoes. Here's the thing – a little bit goes a long way and you don't need much to really bring the sweetness out of the tomatoes! Make sure that you also read the ingredient label on your can of tomatoes and see if sugar has already been added. If it has, omit the sugar that is called for in the recipe.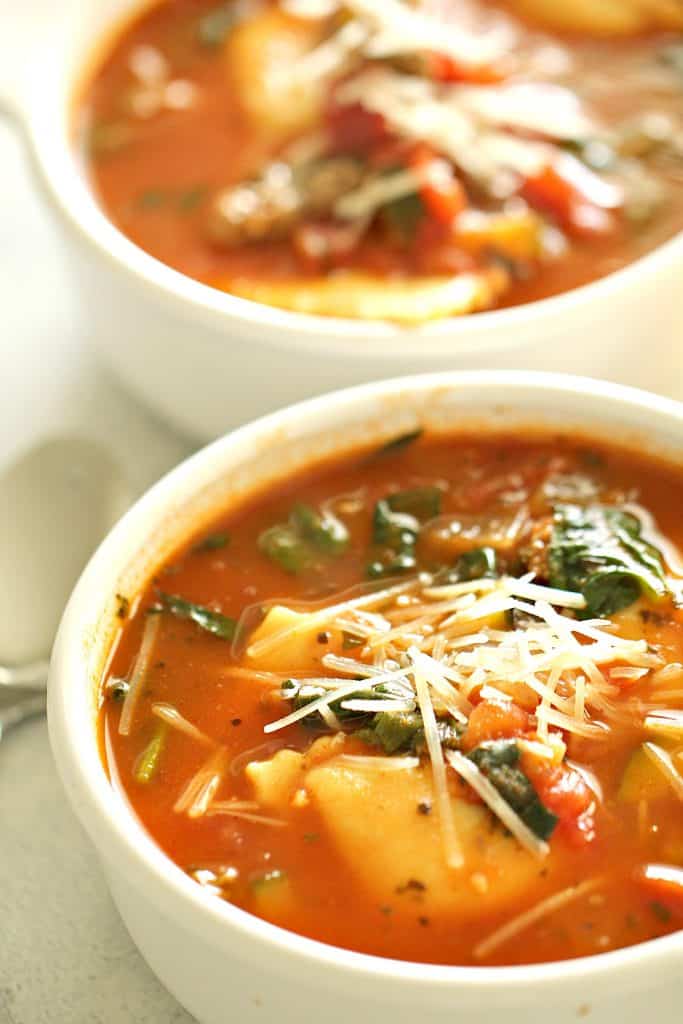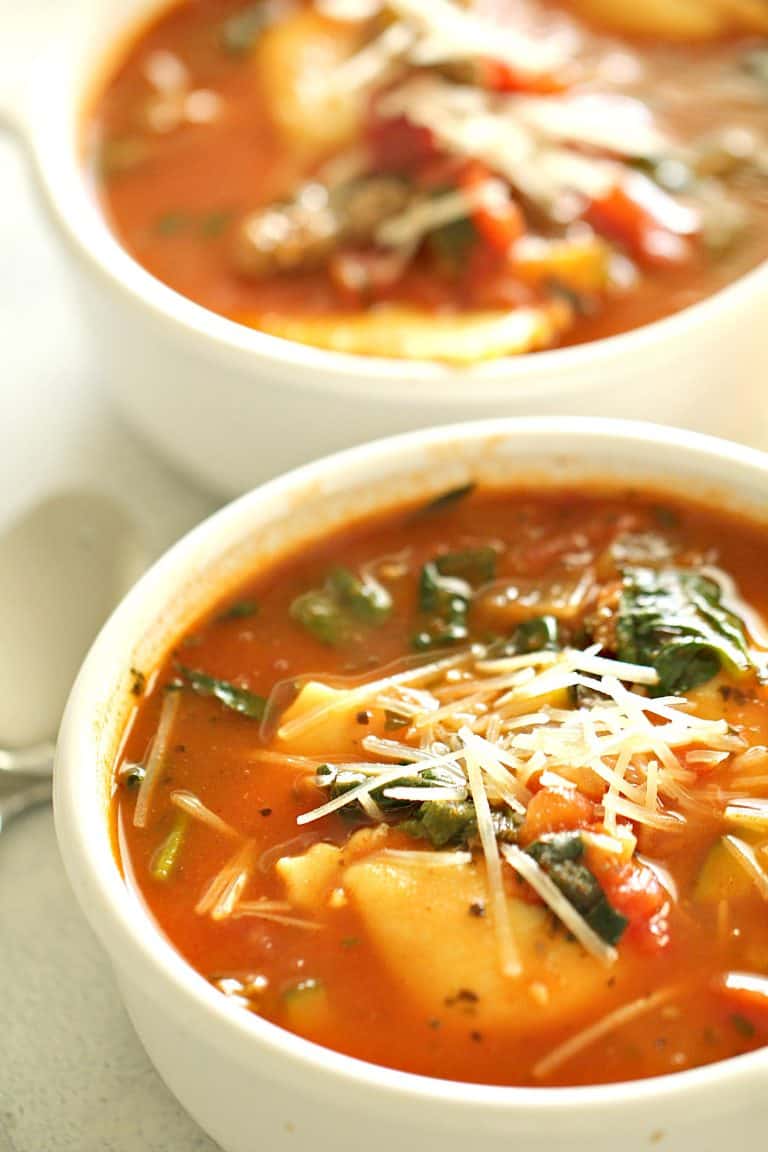 Once you have let the tomatoes simmer for a little while, add in the spinach, zucchini and the frozen ravioli. I LOVE using frozen ravioli in dishes – just pull it out of the freezer, pop it into the soup, and let it simmer until it's cooked. You do not have to thaw or cook the ravioli before you use it, which makes it so easy to cook in this soup.
When it comes to spinach, 2 cups is going to look like SO MUCH SPINACH. The beautiful thing about spinach is that it cooks down to literally the tiniest amount. If you have picky eaters, feel free to leave the spinach out . . . but I promise you that my picky-eater kids didn't even notice it (I did tear it into small pieces before I threw it in the soup pot, so that makes the pieces even smaller!).
Serve this soup with some homemade french bread and a fresh green salad and dinner is DONE (and it's going to be delicious!
Looking for some more soup recipes?
-Hamburger Vegetable Soup
-Slow Cooker Buffalo Chicken Chili
-Ground Beef and Tomato Macaroni Soup
-Cheesy Southwest Soup
-Low Carb Chicken Pot Pie Soup
Camille
Serves: 6-8
Ground Turkey Sausage Ravioli Soup
Comfort food that you can feel good about eating! Ground turkey sausage, ravioli, tomatoes, and spinach come together to make this a quick one-pot dinner that your whole family will love.
5 minPrep Time
45 minCook Time
50 minTotal Time
Ingredients
1 pound ground turkey sausage
1 onion (diced)
1 (28 ounce) can diced tomatoes
1 (26 ounce) jar spaghetti sauce
2 cloves garlic (minced)
1 (15 ounce) can low-sodium beef broth
1/2 teaspoon dry basil
1 teaspoon sugar
1 (25 ounce) bag frozen cheese ravioli
1 zucchini (diced)
2 cups spinach (roughly torn into smaller pieces)
Instructions
In a large stock pot, brown ground turkey sausage and onion until sausage is full cooked.
Add tomatoes, spaghetti sauce, garlic, beef broth, basil, and sugar to stock pot. Bring to a boil, then reduce heat to low, cover with lid, and let simmer for 20 minutes.
Remove lid and add frozen ravioli (do not thaw), zucchini, and spinach to pot. Cook for 14-16 minutes or until ravioli are cooked through.
Serve and enjoy!
7.8.0.1
3012
https://www.sixsistersstuff.com/recipe/ground-turkey-sausage-ravioli-soup/